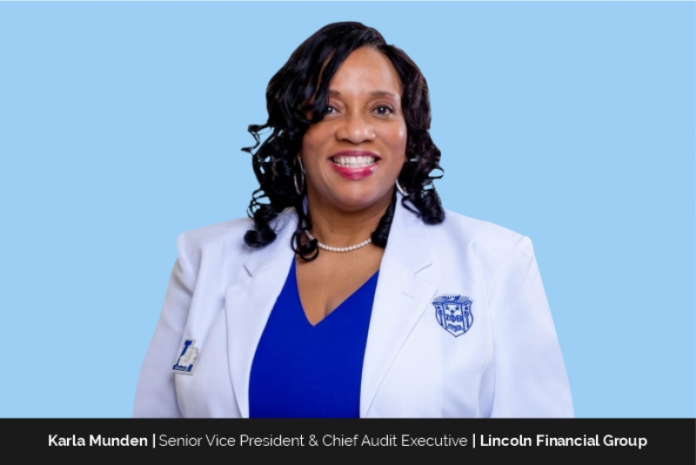 Karla Munden, Senior Vice President and Chief Audit Executive at Lincoln Financial Group is passionate about promoting diversity and inclusion in the industry. She has a strong reputation for her ability to inspire and motivate teams to achieve goals and for her ability to forge strong relationships within the organization. Her reputation as an inspiring and reliable leader has made her a respected figure in her industry.
Karla has built an impressive career as a senior executive in the auditing field, with a strong focus on internal audit management and strategic business planning. With nearly 16 years at Lincoln Financial Group and prior experience at Nationwide Insurance, Karla has amassed a wealth of expertise in critical areas such as contract development and negotiations, budget administration, cost reduction, team building and leadership. Her peers have recognized her professional accomplishments and she has been featured in several industry publications and lists of the most influential women in the field.
One of Karla's strengths is her ability to build strong relationships with internal and external partners. She excels at developing a culture of success and accountability by masterfully navigating matrixed organizations and creating alignment across departments.  Her ability to bring different teams together and move them towards a common goal is a skill that has been valuable to the organization.
Her achievements, including developing and implementing internal audit management processes, creating cost reduction and avoidance strategies and executing successful process redesigns, have marked Karla's tenure at Lincoln Financial Group. Her skills in change management and financial services are also particularly noteworthy. In addition, she has a reputation for being a leader who can inspire and motivate teams to achieve goals. Her leadership style is often described as collaborative and inclusive, which has helped to create a culture that supports diversity and inclusion.
In her role at Lincoln, Karla ensures that the company complies with applicable laws, regulations and industry standards, and has accurate reporting and safeguarding of assets. Her work has been critical in ensuring the company maintains the highest integrity, governance and risk management levels. Her ability to identify potential risks and take proactive steps to mitigate them has been one of her most significant contributions to the company.
The Journey from Bachelor's to Board Member
Karla Munden's career trajectory is a testament to her hard work and dedication to her field. Starting with her Bachelor's of Business Administration in Accounting from the College of William and Mary, Karla continued to build her expertise with a Master's in Business Administration from the University of Phoenix.
She further strengthened her skills with a certificate in cyber-risk oversight from Carnegie Mellon University and multiple professional certifications, including the Qualification in Internal Audit Leadership (QIAL), Certification in Control Self-Assessment (CSSA), Certification in Risk Management Assurance (CRMA), Certified Financial Services Auditor (CFSA), Certified Fraud Examiner, a Fellow of the Life Management Institute and a Certified Internal Auditor.
Commitment to Community
Karla Munden is a successful businesswoman and a dedicated volunteer with extensive experience. She has served several years on various boards, including the Board of Visitors for North Carolina Agricultural and Technical State University, the Accounting and Advisory Board of the Martha and Spencer Love School of Business at Elon University and the Exam Development Committee at the Institute of Internal Auditors, Inc.
Additionally, Karla has held leadership roles with The Community Foundation of Greater Greensboro and various non-profit organizations such as the Junior League of Greensboro, the Junior League of Cleveland, the YWCA Greensboro and Hospice and Palliative Care of Greensboro, displaying her commitment to give back and improve her community.
Reimagining the traditional definition of success
Having established herself as a senior executive in auditing, Karla is no stranger to success. But for her, the journey of success is not one she's taken alone. She believes that no one person can succeed on their own and that giving back and bringing others along with you is essential as you reach new heights.
Karla credits the lessons and work ethic instilled in her by her parents as a crucial aspect of her achievements. Her philosophy, "reaching while climbing," reflects her commitment to empowering others and helping them achieve success, personally and professionally.
Throughout her career, Karla has been a role model, mentor and leader to many. Her ability to inspire and motivate others makes her stand out as a leader. Her journey of success is about her accomplishments and how she has helped others reach their own heights. Her dedication to empowering others is a testament to the type of leader she aspires to be.
Building a culture of diversity, equity, and inclusion
Having spent nearly 16 years leading teams with her unique combination of business acumen and leadership skills, Karla is a valuable asset to her organization. But what indeed sets her apart from many of her peers is her commitment to diversity, equity and inclusion.
For Karla, DE&I leadership is fundamental as a woman of color, and she believes that diversity of voice and thought makes any team and organization more robust. She explains, "Creating an environment where people feel their voices and ideas are needed to create a great culture and product is essential to strong leadership."
Karla's belief in the importance of diversity, equity and inclusion is deeply rooted in her experiences, particularly her time in the U.S. Navy Reserves, where she learned the true meaning of teamwork and equal consideration. "During my time in the U.S. Navy Reserves, I've learned the true sense of being on a team where everyone is considered equal. No matter your status, you always look out for and listen to one another," she shares. "My experience gave me confidence and the realization that no matter what color or gender you are, we are all equal and better as a community."
Karla brings this belief to her role at Lincoln Financial, making her a leader who prioritizes DE&I in all aspects of her work. Her commitment to building a culture of inclusion is reflected in her leadership style and the team she leads. Her leadership is about achieving success, empowering others, and creating a culture of inclusivity.
Overcoming challenges and the power of self-belief
Despite her many accomplishments, Karla quickly acknowledges that the biggest roadblock she has encountered on her path to success is one that many women can relate to – herself. Karla candidly shares, "As a woman, I've found it can be easy to talk myself out of anything quickly." Doubts such as "I'm not ready for this" or "I don't want people to see me this way" have held her back in the past, and it took a lot of work to overcome her self-imposed limitations.
Karla overcame these limitations with the help of her personal and professional networks. They helped her recognize her strengths and talents and her potential. Karla explains, "My mentors, colleagues and people closest to me saw qualities and talents that I didn't see in myself." This support and encouragement have helped Karla develop a sense of self-belief. She has learned to relay the message of being "good enough" to accomplish her goals in her professional journey.
Today, Karla uses her experiences to empower and inspire others. She encourages others to trust in themselves and their abilities and not to be afraid of taking a chance and taking risks to achieve their goals. She emphasizes the importance of fostering an inclusive environment and having diverse voices in the workplace and encourages people not to limit themselves. Her story is a reminder that, sometimes, the only thing holding you back from success is yourself, but with the right mindset, it is possible to overcome self-doubt and achieve greatness.
Leading By Example
Karla understands the importance of adhering to ethical standards in auditing. She sets high standards for herself and her team and makes sure that they "walk the walk" and "talk the talk" when representing the company.
She believes that as accountants and auditors, it is essential for her and her team to uphold the ethical standards of their profession and model those standards in everything they do. Therefore, she often tells her team that they must hold themselves up to the same scrutiny they apply to others when auditing the company.
Karla's leadership style is built on integrity, and this approach has helped her create a culture of accountability within her team. By leading by example and holding herself and her team to the highest standards of ethical behavior, Karla has ensured that her team is providing accurate and trustworthy representation of the company. Her dedication to upholding ethical standards is an inspiration to others in the field and a reflection of her commitment to excellence in her work.
Life before Lincoln Financial Group
Karla took accounting classes in high school and had the opportunity to participate in co-op programs, where she gained practical experience and an understanding of how organizations operate. This experience solidified her passion for accounting and her ambition to excel in this field from an early age. With a clear understanding of her career aspirations and a solid foundation in accounting, Karla was well-equipped to tackle the challenges of the industry head-on and become a respected leader in the field.
With more than 30 years of experience in the financial services industry, Karla has established herself as a seasoned professional in internal auditing. Before joining Lincoln Financial in 2006, Karla had an impressive track record in the industry. She began her career with Celanese Corporation, formerly known as Hoechst Celanese, and later joined Scottsdale Insurance Company, a subsidiary of Nationwide Insurance Company. She has also worked for top companies like Ernest & Young, LLP. Though what set the foundation of her career was her 14 years of service in the United States Navy Reserves, which provided her with a strong sense of discipline and developed her passion for philanthropic work and civic leadership.
Recognition Beyond Awards
Karla has received numerous awards and industry recognitions throughout her career, including her recent appointment to the American Express National Bank Board of Directors. But despite these accolades, she believes that the best recognition comes from the teams and people she manages. Karla understands that leading a team is not just about achieving industry recognition but also about building strong relationships and fostering a sense of community.
She works tirelessly to create an environment where her team members feel valued and appreciated. She sets an example by leading with integrity, empathy and humility and encourages her team members to do the same. Recently, she went through a difficult time as she lost a family member. During this time, her team stepped in to offer support, which meant more to her than any industry recognition.
Karla's dedication to her team and her belief in leading by example set her apart as a leader. Her ability to inspire and motivate her team members is why she is not just a leader in the financial services industry but also an advocate for the importance of building a solid team culture.
Breaking Barriers as a Woman Leader
As one of the few female Chief Audit Executives in the industry, Karla Munden has faced her share of challenges. Yet, despite the obstacles she has encountered, she has remained steadfast in her determination to succeed, rising through the ranks and earning recognition for her leadership skills.
For Karla, the accurate measure of a leader is not their accomplishments but the number of people they cultivate, develop, lift and bring along. This is why she is passionate and intentional about helping others identify and prepare for success and achievement in their lives.
Her hard work, dedication, and determination to succeed have earned her a reputation as a respected leader in the industry, with a track record of success in her various roles. In addition, her focus on empowering others has been instrumental in her leadership success. This philosophy has led to her recognition as one of the most influential women in the industry today.
Let's look at a day at work for Karla Munden
As a senior executive at Lincoln Financial, Karla Munden is a driven individual who constantly strives to protect the company and its stakeholders from potential risks. Her days are filled with conversations with industry experts to identify critical issues and risks around the company. A crucial part of her role is to ensure that stakeholders at the highest level of the company understand how to overcome obstacles on their own and to be able to navigate the complexities that come with being a leader at a large financial organization.
When she's not on calls, Karla is constantly researching and understanding what Lincoln needs to be focused on and what might be coming on the horizon. It's her job to know how to protect the company best and ensure its success. But Karla's dedication to her job continues even after she leaves the office. She spends evenings speaking at local colleges and universities, participating in sorority and philanthropy events, and giving back to her community. While her schedule can be demanding and hectic, she is constantly fulfilled by the knowledge that she is helping her organization and others in her community succeed.
Finding Balance in a Post-COVID World
Karla understands the importance of balancing professional and personal responsibilities, especially in today's fast-paced and constantly-evolving business world. But the global pandemic of COVID-19 has brought this topic to the forefront, forcing companies and individuals alike to re-evaluate their priorities and find new ways to maintain balance and well-being.
For Karla, this has meant recognizing that mental and physical health sometimes must take precedence over one's job responsibilities. "I firmly believe that mental and physical health sometimes will demand precedence over your job," Karla says. "And I try to instill that as a leader and employee." She also notes that corporate America, specifically Lincoln, has evolved and is no longer afraid of flexibility. "I believe a post-COVID world has helped us get to the point where we are willing to admit that some things will take precedence over others," Karla reflects.
This mindset is crucial for the well-being of employees and the company's success as a whole. Prioritizing health and wellness leads to a more motivated, engaged and productive workforce, ultimately benefiting the organization.
Through her leadership and example, Karla is helping to create a culture at Lincoln that values and supports balance and well-being. As she continues navigating the challenges and opportunities of a post-COVID world, she is determined to make sure that her team and the company prioritize the well-being of its employees and stakeholders.
Personal Goals and Aspirations
As Lincoln Financial's Chief Audit Executive, Karla Munden spends time working with the Lincoln National Board of Directors. Through her work with the board and understanding of their decisions, Karla set a goal early on to join a company's Board of Directors someday. Recently, she has been honored and elated to become a part of the American Express National Bank's Board of Directors; achieving this goal is a true testament to her career trajectory and what she can accomplish when she sets her mind to it.
Karla aspires to be a leader who sets an example for other businesswomen, believing that anything can be achieved if one sets their mind to it. She believes that life is a marathon and not a sprint and that success will come with time, lessons and an understanding of the industry. Karla leads and teaches her team members in hopes that they will one day be able to interview for her role and achieve the same level of success.
She has also dedicated her free time to interacting and sharing her insights through various associations like the National Association of Black Accountants and or March of Dimes, Institute of Internal Auditors or Zeta Phi Beta Sorority, Incorporated, and non-profit volunteer opportunities to enlighten the younger generation about options they may not have been aware of.
To summarize her impactful leadership, Karla Munden is a valuable asset to Lincoln Financial Group and a respected leader in internal audit management. Her experience and expertise make her an ideal candidate capable of providing insights into risk management, governance and compliance. Thus, her dedication to promoting diversity, equity and inclusion within the organization and in the industry makes her a role model to many globally.