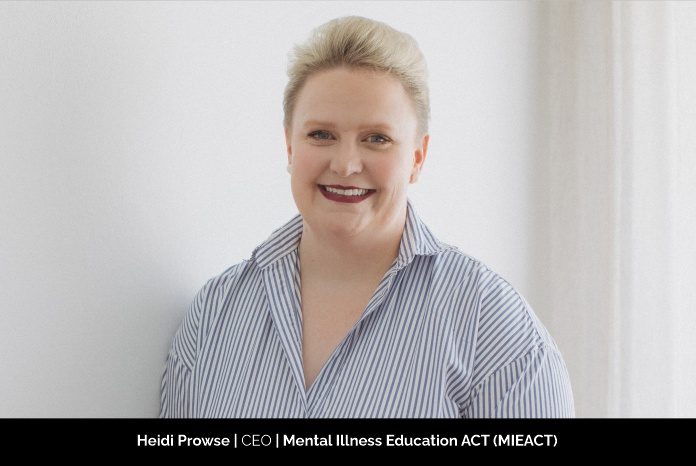 The primary objective of mental health education is to educate that people with mental health concerns also deserve care, compassion, and an opportunity to heal, recover, and fulfil their dreams. Above all, it aims to empower people living with such issues, with the skills and confidence to seek help early on and live their lives with their heads held high. Heidi Prowse, CEO, Mental Illness Education ACT (MIEACT), has long been working selflessly and tirelessly towards cultivating and nurturing an environment where people can come forward and seek the help they need. We bring you the inspirational journey of this amazing woman who has helped transform thousands of lives.
Overcoming Hurdles Early on in Life
Heidi Prowse started working at the age of 19 when she was still discovering her potential. Despite being an excellent performer, she continued to receive negative feedback about her workplace behaviour that was largely misunderstood. She did, however, accept the feedback and was willing to improve as she cared about her job and how people perceived her. She started attending training sessions on emotional intelligence.
According to her, "It helped me grow as a strong and authentic leader. It taught me how to understand others' perspectives, develop diverse relationships, build trust and achieve more. Above all, it helped me guide organisations through change with transparency and accountability. Without this learning, I would not have been in the position I am in today."
When Heidi met her husband, he told her he was living with cystic fibrosis and had a short life expectancy. Heidi wanted to draw people's attention towards the cause and soon became the local manager of the Cystic Fibrosis ACT association.
She leveraged a fundraising idea, the Santa Speedo Shuffle. She encouraged participants to don speedos and a Santa hat in the middle of the Canberra winter and run around Lake Burley Griffin. The first year, 9 of her friends and family raised $12,500.
Over the first 4 years, the fundraising campaign helped them raise more than $500,000. Their primary campaign was to raise funds for essential medical supplies (not covered under any schemes) for local families. According to Heidi, "The event ignited a flame within a fragmented and isolated community. Over 150 individuals representing local families in the area came forward to help in 2017. I soon realized that to achieve significant outcomes for the betterment of people, I needed to continue trusting my innovative ideas that challenged the status quo and leverage technology to work better."
Heidi Prowse was awarded the 2017 ACT Young Australian of the Year and was added to the ACT Women's Honours Roll for her efforts.
Her Inspiration to Join MIEACT
Being full of self-belief and confidence, taking the leap of faith was not very difficult for Heidi Prowse. Her willingness to step in and get her hands dirty, instead of following a traditional and often-tread education path, led her to explore experiential learning to get a hands-on approach across operational activities. It helped her develop and nurture her leadership and business skills through application and reflection. It also helped her leverage her network of people who constantly bounced and co-designed her ideas to achieve more significant and consistent results.
According to Heidi, "I believe my whole career has been about being at the right place at the right time. Now that I am in my current role working on mental health and well-being education, I know it's the place where I belong and am needed. I have the skills to build an organisation whose practices and services are industry-leading and delivered at a high quality."
About MIEACT
Since 1993, MIEACT has delivered programs and live experience stories that help increase mental health literacy, promote early intervention, reduce the fear of social stigma, and emphasise recovery.
What makes MIEACT unique is the ability to bring small audiences into direct contact with volunteer educators who share their experiences of living with a mental illness. Such face-to-face communications, guided by a safe and DoNOHarm Framework, is a proven and powerful way to reduce the fear of stigma. In addition to the overarching mental health workshops, programs cover topics including stress, body image, PTSD, bullying prevention, communicating, and hearing stories safely. MIEACT ensure participants leave with an increased knowledge of mental health and practical tools to manage support and practice positive help-seeking behaviours and are committed to equipping all people in our community with the fundamental skills to thrive through a happy, healthy, and productive life.
Every day, MIEACT conducts several workshops across secondary schools, workplaces, and the community across Canberra in the Australian Capital Territory, creating a safe space for mental health education. In the last 12 months, MIEACT's team of 35 staff and 40 volunteers have delivered over 850 education sessions, approximately 3.5 times what they managed the previous year.
Employees, Empathy, Empowerment, and Excellence – Heidi's Four Es to Success
According to Heidi, "At MIEACT, we value the safety and security of our people and community above everything else. We believe in learning through empathy, authenticity, and deep human connection. Our focus is on working together to change the lives of people for the better."
Heidi's connection with the company's core values allows her to lead by example. She believes in lifting others ahead of herself. Her keen eye for talent and the willingness to develop it ensures employees feel engaged and remain motivated.
She believes in delivering excellent services and does not settle for anything else. She understands fully that organisations operate under budget and resource constraints; however, she has never let these affect the quality of services.
She firmly believes that MIEACT has a long way to go in realizing its full potential. She has been bold enough to drive an open growth mindset, enabling her to empower communities, build a coalition, address complex issues, and achieve substantial results.
A Typical Day at Work and Future Plans
Heidi's day typically starts late with coffee in hand. She walks into the office around 10 am. For the next few hours, she is busy attending stakeholder meetings and interacting with people about work. During the afternoon, when the office starts to thinn, she engages with her strategic tasks, meeting outcomes and follow-ups. She also acts as a company spokeswoman and regularly interacts with media personnel or makes speaker presentations for various audience groups.
Speaking on future plans for MIEACT, Heidi says, "The next 12 months will focus on further improving the quality of our work following substantial growth throughout COVID-19. In addition, we are furthering our digital transformation both internally and externally by building on our Salesforce interface and online programs, in particular, for young people."
On Success
Heidi truly has a unique definition of success; she doesn't see success as something attainable. She works on small goals and milestones while constantly readjusting her focus to improve the lives of people around her. She adds, "I would say I am "successful" because I feel my life is full, and I am grateful for everything I have and proud of what I contribute to."
Heidi is a firm believer of what Henry Ford once said, "Whether you think you can or think you can't, either way, you're right". So, her advice to all women in charge out there is – "Don't be afraid of failing. Instead, be afraid of not learning."