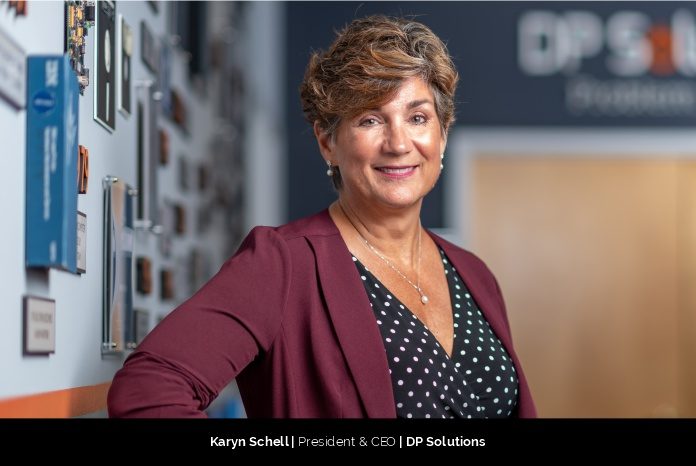 Striving for the best for clients is the principal foundation in which DP Solutions takes a lot of pride. With a similar aim in mind and spark to revitalize the company, Karyn Schell became the President of DP Solutions leading its way to become a world-class managed IT services provider and leader in the industry.
Poised to become the President at DP solutions
After graduating from Villa Julie College (now Stevenson University), Karyn landed a job in Computer Aid, which was an IBM Business partner. She held several roles at Computer Aid and kept digging hard and investing in her professional growth.
After this role, she received an amazing opportunity at Crown Cork & Seal (Crown Specialty Packaging). Karyn handled multiple roles at Crown, including project management, shop floor management, and account management. She became the account manager for the William Wrigley account, where she worked on the transition team that moved the manufacture of Altoids tins from the U.K. to Belcamp, Maryland.
In 2007, she joined forces with DP solutions as a Project Manager and Distribution Applications Specialist. Being responsible for selling and implementing IBM-hardware-based distribution systems across the Mid-Atlantic, she worked with full dedication.
In 2010, Karyn's dedication and passion paid off as she was promoted to the role of Vice President of Operations, where she honed her skills and gained all the experience to take the onus of future president of the company.
Taking challenges as steppingstones for success
Karyn gets inspiration from the quote, "Be brave enough to suck at something new." She believes that challenges make her stronger, and with a determined mindset and support from her family and friends, she can make the best out of any situation.
Being a woman in a male-oriented industry, she had to face several roadblocks and roll down many barriers. At one of her jobs, she was a shop floor manager at a manufacturing facility where she had to mark her presence. She adds, "Most of my direct reports were line mechanics and engineers who weren't used to reporting to female leadership. I quickly had to establish myself and earn their respect."
She further adds, "It shouldn't matter the sex, race, color or creed of your leader; people are people. If you are qualified, have the drive, and believe in yourself, you can succeed at anything. I always had people that believed in me, and now whenever I get pushed into something new or out of my comfort zone, I say, "Bring it on!"."
She takes pride in steering a clear way for DP Solutions to grow and thrive in a challenging year like 2020. She adds, "Even as the pandemic forced unforeseen changes and challenges, DP Solutions was able to hire new employees, acquire new clients and embark on new business initiatives."
Adapting to New Technologies Leads to Success
DP Solutions provides a wide range of expertise which includes managed IT services, managed cloud solutions, backup and disaster recovery, security and compliance consulting, project services, and a 24×7 Service Desk, which is locally managed by highly qualified technical support staff.
Karyn firmly believes that adapting to new technologies will play a vital role in keeping DP Solutions at the forefront of the IT industry. She steers the whole team to evaluate new products and incorporate new technologies to handcraft unique solutions for all their clients.
On top of that, she is a firm believer in teamwork and rising together as a unified company. "The process to present best-in-breed solutions to our clients is not performed in a silo by one single person, but rather is a collaborative effort. Our leadership team and other subject matter experts in the company work together to assess new solutions and determine the best course of action for the company and our clients," says Karyn.
Achieving equilibrium at the professional and personal front
Passion drives Karyn to give her best in her personal and professional life. Karyn has a multi-faceted role in understanding all business segments and looking for improvement areas that help their staff as well as the clients.
As President of DP Solutions, she is responsible for creating and implementing the company vision, culture, mission, overall direction, maintaining awareness of opportunities for expansion, markets, new industry developments, and forming long-lasting and deep trust relationships with clients.
She thoroughly understands all segments of the business and identifies areas for improvement to benefit the company and its clients.
Her passion and dedication paid off as she was featured on the cover of I95 Business magazine in October 2020.
A strong company culture and the well-being of staff are very important to Karyn. She encourages her employees to take care of themselves by moving throughout the day, focusing on wellness and healthy eating. "Every week, I make sure that our break room is stocked with healthy snacks such as fresh fruit, nuts, and healthy grains,' says Karyn. "I encourage my staff to take regular vacations or time off to decompress and refresh themselves."
To maintain her own well-being, Karyn follows a disciplined regime that involves morning workouts and quality time with her loving family. She aims to work on offloading more tasks to other company leaders, and to develop the right foundation and mechanisms for the company's leaders to be successful themselves.
Future plans as the president of DP solutions
Karyn wants to steer the company to be a customer-centric organization that provides superior technology experience and builds good, solid relationships with its clients and staff.
She encourages the entire team to take great pride in their relationships and engagements and to foster the growth and development of the company's future leaders.
She adds, "Don't ever feel that you can't do something, or you aren't qualified. If you want something, go after it! Be honest, be compassionate, direct, and don't be afraid to fail. Get out of your comfort zone and go after your dreams. If you don't ask or try, you will never know. Change is inevitable, so embrace and tackle it and determine how you can make it better."