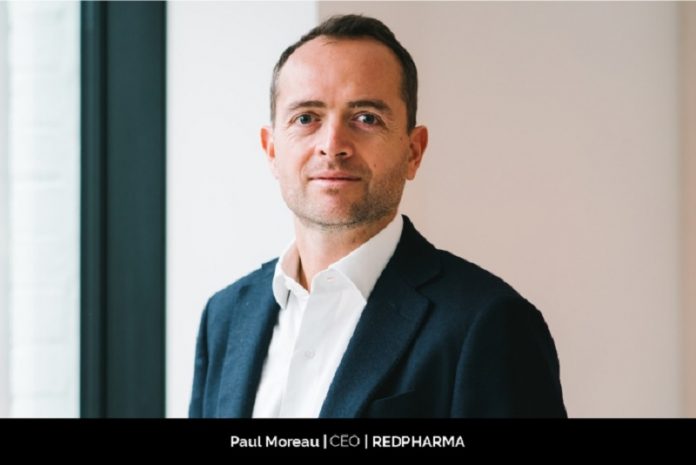 When healthcare communications are consistent and patient-focused, with a deep understanding of human behaviour, they can enhance compliance and quality of life.
The pharmaceutical industry has traditionally lagged in adopting the latest digital marketing trends, but Paul Moreau, CEO of REDPHARMA hopes to rectify that and help them catch up by adopting marketing industry best practices and cutting-edge marketing communications.
Formed in Brussels in 2010, REDPHARMA is an innovative company that provides marketing solutions, communications strategies, and consulting to help the pharmaceutical industry reach their full potential.
They offer groundbreaking digital marketing solutions that help healthcare firms bring their products to life and build strong relationships with customers to build brand loyalty and boost profits and real-time data to support their strategic decision
Helping the healthcare industry adapt to the pandemic
When the healthcare industry came under a great deal of pressure during the COVID-19 pandemic, it was time for many pharmaceutical companies to adapt their communication strategies to the changing environment.
Many companies struggled to keep up with demand or stand out from their competitors in an industry that has always been competitive.
In this scenario, REDPHARMA stepped up to provide the skills, experience, and resources as a solid and reliable marketing partner for many pharmaceutical companies who needed help with their promotions.
They are now the privileged partner for pharmacist and laboratories in and outside the pharmacy. Their understanding of the industry and experience provides clients with marketing tools that enable them to respond to their challenges, along with a seamless platform on which to manage requests, send samples and organise follow-ups when necessary.
"REDPHARMA specializes in communication in pharmacies and puts its expertise at the service of its partners. We offer effective marketing tools that allow them to face current challenges," says Moreau.
Their team of specialists helps ensure the most beneficial placement of products and promotional materials within every pharmacy, providing detailed reports to back up results.
Some of the fastest growing services provided by REDPHARMA include real-time data and expertise that allow labs to take the right decisions in terms of sales, marketing and communications.
REDPHARMA also provides pharmaceutical laboratories with marketing tools designed to facilitate communication and provide effective healthcare marketing communications.
Their pharmaceutical laboratories marketing tools include promotional couponing, product placement advice, as well as the entire range of advertising media, enabling independent pharmacists and pharmaceutical companies to get marketing and communication at the point of sale.
They offer a wide range of services from consultancy and training, to contests to increase brand visibility, and benefits packages that build loyalty, such as promo codes, vouchers, and incentive schemes delivered via SMS and other messaging applications, in adherence with GDPR rules.
Tackling the roller-coaster of COVID-19
Paul Moreau has been named twice in the 2021 Business Worldwide Magazine CEO Awards, and was the outright winner in two categories – 'Most Innovative CEO in Healthcare Marketing and Communications' & 'Growth Strategy CEO of the Year – Belgium'.
But for him, recognition by his team at REDPHARMA has always been the most valuable yardstick of success, as well as the recognition of their clients, and their long-term engagement, which is his reward for a job well done. He attributes his success to his willingness to create something new and to challenge himself.
"Despite the barriers, we believed we were able to bring innovation and make our place in that industry. We knew that is was going to be a real roller-coaster with a lot of challenges and we were ready to tackle it!" he says.
With an intrinsic understanding of how customers think, and a deep knowledge of the role of technology in the evolution of the pharmaceutical industry, REDPHARMA has gone from strength to strength under Moreau's exemplary leadership and entrepreneurial skills.
Their targeted and engaging marketing communications are based on a deep understanding of the health sector, while at the same time being respectful of the GDPR rules. They make patients feel that they matter resulting in a better quality of life.
When their daily operations were impacted during the pandemic, the company had to adapt new ways of working. "We had the chance to be in an industry which continued to stay dynamic during the pandemic. A lot of opportunities were created and we had to hire new people to support the growth," says Moreau.
"I stay amazed by how quick people can adapt to new situations and how fast things can evolve. The way of working from two years ago really looks old-fashioned now," he continues.
He believes that communication and trust are essential, especially since the pandemic has completely changed our ways of working, and we now have to trust our employees and allow them to work in the way they believe to be the most productive.
"But, of course, no Teams can replace a face-to-face meeting. Encouraging the team, and recognizing and rewarding their hard work are also essential in a company," says Moreau.
The importance of data in healthcare decisions
Today, data-based marketing is playing a crucial role in helping the healthcare industry create, communicate, and provide value to their target market. Moreau understands the importance of services and data in making business decisions and strongly believes in the confluence of the two.
"We created something that did not yet exist in the pharma industry. We quickly identified the potential of our project even though it's a very conservative world," he says. "But what makes REDPHARMA unique are these real-time data solutions which are mandatory, in the complex and changing environment, to help make the right on-time decisions."
In a constantly evolving and complex healthcare market, customer-centricity will stay a key driver of the developments at REDPHARMA, which plans to continue to invest in data in order to improve business decisions. "We plan to reinforce in health data and innovate in the communications between healthcare professionals, which we believe will be key in the coming years," says Moreau.
His knowledge of implementing targeted marketing campaigns, in combination with these secure data analysis tools, provide unprecedented insights into the needs of the customer, helping REDPHARMA create customer-centric solutions to help the industry improve their communications with all patient and healthcare professionals.
"The pharma industry is a small world where integrity is part of the DNA. The innovation is to create new opportunities by respecting our values and industry values," says Moreau. "We try to create the best balance between agility, quality and innovation. REDPHARMA is an open-based platform for innovation and new ideas. By allowing innovation, it gives us opportunities."
In a world where big pharma players are innovating and creating the future of the healthcare industry, REDPHARMA's focus is to contribute by supporting them in their strategy and finding ways to help them and make their journey easier.
"Our ambition is not to influence the change, but follow our road map of innovation by bringing added value at every step of the decision," says Moreau.
All steps make the journey
Paul describes himself as a "passionate hard-worker," and believes that there is not one way to succeed, and that no business is guaranteed to be endlessly successful or immune to going through difficult times.
As CEO, he likes to be in the operational field, but also gives LT instructions. He believes that is important to present a clear goal, not only as an individual, but also as company.
"All steps make the journey," he says. "Every day, every minute, I tried and still try to be the best version of myself and create a way to succeed and achieve the fixed goals. This way becomes the best way to do it because it was created by obstacles, failure, lessons learned, success, a lot of hard work, and a little luck."
Paul defines success it as finding the right balance between a lot of variables – not only happiness, family, and achievement. For him, family comes first and he feels extremely lucky to have an extraordinary family that understands the challenges he faces and the involvement that his job demands.
"When you have the unconditional support from your family to run your business it's always easier," he says. "I love being part of a team, and I also measure the success of others, as a team, as part of my own success. It's that great balance that keeps me motivated."
As a business leader, Paul hopes to be able to grow with the company and the people by responding to the challenges they are likely to face through the years.
"The challenges we face, how to tackle them and the success of REDPHARMA is very motivating and gives the strength to continue this adventure," he says. "Keep fighting, keep working, keep dreaming is my motto. And I always say if you can dream it, you can make it!"