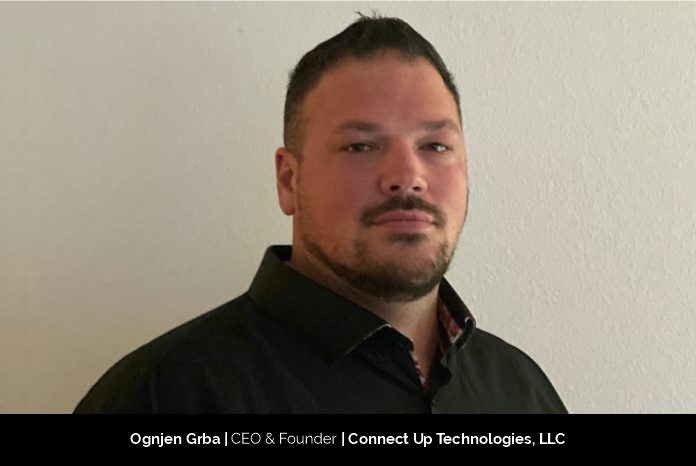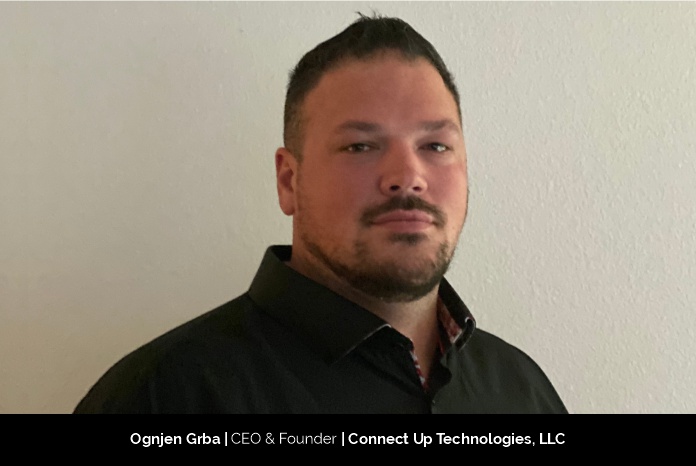 Many entrepreneurs believe that passion drives everything you do, and if you don't feel passionate about what you're doing, you can't make it a success. Hard work and luck work their magic after passion kicks in. It will help to put in an extraordinary amount of effort, which will eventually make the idea a success. These leaders believe in the idea of leading by example and inspire the team to work harder. One such amazing leader is Ognjen Grba, Founder & CEO of Connect Up Technologies. He believes in the power of putting in the best efforts and yielding magical results!
He highly regards his employees in the success of Connect Up and knows that without their valuable contribution, there would be no success.
Climbing the ladder of success
Having faith in his efforts, he knew that walking away from a traditional job would mean that he is on the path to create his own brand name. He further adds, "Creating a legacy for my children is an important part of why I chose to forge my own path. I want them to see how hard I work, how I lead a team, how I create something from nothing so they understand that dedication, passion, and hard work can achieve almost anything."
Growing up, he was always fascinated by technology and always dreamed of working in the field. In the 16 years of his career, he dedicatedly worked for technology-leading companies (Samsung, TELUS, TCL, etc.) and took the onus of positions related to Product Development and Product Marketing. He believes moving to TCL/Alcatel in 2011 really turned his career to a new path. He says, "I feel that I had the opportunity to really expand my skills and grow with the company. I had some wonderful mentors and a lot of successes that I'm incredibly proud of."
Even though he shifted to defining vision and strategy, his passion for product innovation kept him moving forward towards commencing the operations of Connect Up Technologies.
During his path to success, he is knocking down all the roadblocks that hinder their path to success. His biggest challenge has been learning how to work with different kinds of people and getting the best out of each team member. For that, he started by analyzing each person and paying attention to their communication style.
He shares, "My wife always says I have an "uncanny ability to be able to communicate effectively with almost anyone," but it's really just me paying attention and listening to people. So, my most valuable lesson is listening. My goal is to always learn something new; I achieve that by listening to people and observing situations."
Pioneering preventative safety in high-risk industries with Connect Up Technologies
Connect Up Technologies is an enterprise software company where the team strives hard to design preventative safety solutions. Their infrastructure-free connected workers' solution is designed to improve workforce safety cultures and reduce operational costs. Being a fully budget-friendly solution blended with customizable technology, it is perfect for a plethora of industries, be it construction, oil, and gas, manufacturing, warehousing or transportation. They also include workplace compliance and workforce efficiency features.
Their core values revolve around safety that detects threats using AI,  Health that consists of both physical and mental well-being, and Performance that involves time tracking, drive efficiency, worksite analytics, and job type. Sharing his vision, he states, "I see Connect Up Technologies as an innovation-driven company that employs technology in a mission to prevent injuries and death in a workplace."
Ognjen is running the company with a give and take culture where he leads by example – thereby giving his team an idea of the hard work needed. In return, they create outstanding products that actually make a difference in the world.
The best part is that they work to innovate and use the continuous feedback approach to bring utmost perfection to their work. They are the first ones to amalgamate both safety and efficiency in one solution.
Recognition knocked on his door in the most unexpected ways. He states, "Besides the awards and accolades earned throughout my career, my greatest recognition came at a wedding, of all places. One of my long-time employees got married in 2019, and during his speech, he had me stand and called me out for being a great mentor to him. I am typically a fairly introverted person and don't enjoy the spotlight like that, but to be recognized in such a personal way was incredibly rewarding."
Maintaining a perfect Work-life Balance
Handling the job as the CEO involves formulating the strategy, vision as well as values of the company. Not just this, he even has to align them to his team's success. Ever since the pandemic, the team operates remotely, and he has set up his garage so that he has an apt private workspace.
Beginning his day early at around 5:30 or 6 am, he starts by helping his wife with the three kids, and after sending them off to school, they grab a cup of coffee and chart out a to-do list for the day. Later, he takes calls with the developers and then talks with partners, replies to emails, or takes calls with the customers.
He further adds, "We're in the process of raising funds right now, so I am often tweaking our investor presentations and jumping onto calls with potential investors."
After he brings his kids home from school and gets their homework done, they all gather up for family dinner. Ognjen gets back to work after cleaning up and concentrates on product development and research as it is quite peaceful and calm at night.
Being a self-motivated person, he is passionate about his work and tends to spread the same passion in his small team. With his unique approach of leading by example, he tries to complement their skills well. He states, "We've worked together in the past, and we are constantly working together to improve our products and services. We aren't scared of any challenges that our customers put on us. We enjoy being able to "remove the no" from a customer."
For him, maintaining a balance between his personal and professional fronts has always been a hard nut to crack. He is happy with the work-from-home transition as he is able to spend more time with family, and now they talk, debate, and joke around more often. Even though their time mostly goes in ensuring that the kids feel valued and loved, he feels slowly they are working hard to get the right balance.
Company's Future Roadmap
Ognjen knows that they have endless possibilities and their product roadmaps are quite extensive and constantly evolve. He confidently shares, "We know that we have a great solution that will really help our customers and any future customers. By being flexible and so adaptable, there's no single path that we have to follow. We're keeping our options open and continue making an impact."