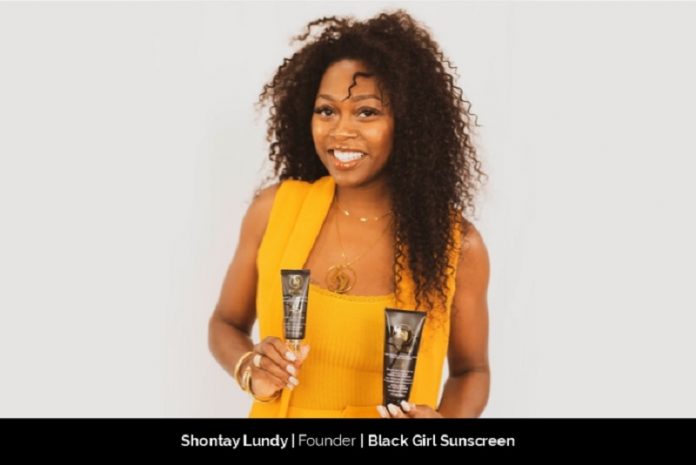 From carrying expensive umbrellas to the beach to avoiding the sunshine altogether, women of color have come up with different ways to protect their skin from damage. For years, sunscreen has been tailored to light skin individuals, leaving behind a visible white residue on our darker skin sisters. Blotchy makeup and white residue were enough to keep people from truly enjoying a beautiful sunny day. Being a woman of color herself, Shontay Lundy, Founder of Black Girl Sunscreen (BGS), decided to change the landscape with a pioneering product that catered to the needs of women of color specifically.
Rise of a trailblazer
Born in the small town of Newburgh, New York, Shontay grew up in a place with scarce job opportunities and a lot of drug use. No doubt, today the condition of the place is different. Rich-class from cities is moving to town as they get more value for the money, but at that time, if someone wanted to do something useful, they traveled to Manhattan to work in a 9-5 job which offered better pay.
Shontay grew up in an environment where she had to work for everything she wanted. She adds, "My life has always been about growing and excelling and planning about what's the next thing. I've been hungry and had a strong work ethic since I was a teenager. "
She was partly raised by her grandparents, as both her parents served in the military. Her parents got divorced after the service, which left Shontay as the eldest of all the six siblings and the only child between her parents. This further pushed her to lead her own way and groomed her character and perspective to evolve into a better leader.
At the age of 15, she landed her first job as a paper deliverer, in which she took pride and gave her best. Witnessing the lack of resources and realizing the importance of education to fly higher, she decided to expand her academic base.
She completed her Bachelor of Science in Business Economics from the State University of New York College at Cortland. In 2006, she completed her Master of Business Administration in Business Administration, Management and Operations from St. Thomas University. Backing up her skills, she started working in the corporate sector. She climbed up the ladder and handled several high-level positions, which honed her business running skills. Her knowledge base, skills, and vast experience in the corporate world helped her to solidify her entrepreneurial journey.
She realized that she needed a break from all the stress and wanted to work in a creative environment with less pressure.
While spending time on herself, she realized there was no sunscreen that didn't leave a white residue on her skin. When she further researched this topic, she was shocked by the lack of awareness on the topic and misconceptions about Black skin. The biggest myth that is running around is that Black people do not suffer from any sun damage. So, Shontay decided to bring a change for people of color with a product that actually protected them from sun damage and related problems.
Evolving into a seasoned leader
Shontay says, "When you fall, you get back up. When there is a wall, you go around it. One isn't given more than they handle. We don't learn without obstacles and hurdles."
While climbing the ladder of success on her professional journey, she learned several valuable lessons which groomed her into a mature leader.
When she first moved to Los Angeles after pivoting away from the corporate sector, she made several decisions in her life on her own, which had a significant impact on her future life. She learned to take calculated risks with confidence and bypass the fear to progress further to achieve excellence.
A person should never be afraid to chase one's dreams. If you are passionate about something, then you should put all the effort to climb every step and achieve the end goal. She adds, "All of our small wins equate to big wins, which leads to success. I feel this way because growth, consistency, and perseverance play into all the wins of success."
It is necessary to stay in touch with all the aspects of the business. While starting a business from scratch, the leader has to fill all the positions, but as the business grows, the team expands, and other experts fill different positions. However, staying in touch with everything allows the leader to plan future strategies and lead the company in the right direction.
With the team expanding, it is important to learn your strengths and know when others can bring wonders by leading the front. It is beneficial to say no to some things rather than creating a stressful environment to work.
Hard work and optimism have been two strong suits for Shontay to slay all the challenges and move ahead, taking her business to the next level. The most important lesson she keeps close to her mind and heart is to stay humble with everyone. She states, "So treat and speak to others how you would want to be treated and spoken to."
Bringing a change with Black Girl Sunscreen
As someone who enjoyed being in the sun and traveling, Shontay knew she needed to protect her skin from the sun but couldn't find an option that rubbed into her darker complexion without leaving a white residue. She states, "Once I mustered up the courage, I decided to do something about the problem I just discovered. In 2017, we officially launched our signature, revolutionary Black Girl Sunscreen SPF 30 broad-spectrum moisturizing lotion that has eliminated the white cast and harmful chemicals, while incorporating natural ingredients. Along with BGS SPF 30, our current assortment includes BGS Kids SPF 50 and Make it Matte SPF 45."
Black Girl Sunscreen is geared towards ethnic women, in particular Black women of various shades and complexions. The sunscreen lotion is a melanin booster, fragrance-free, ultra-sheer, lightweight moisturizer that leaves no white residue. The sunscreen can be worn by the pool, to the beach, during outdoor activities, and brought along for day-to-day errands. This product not only protects the skin from the sun but also enables Black women to feel free and confident while being outside. Women that wear Black Girl Sunscreen are women of the sun that exemplify a happy and healthy lifestyle.
BGS Kids SPF 50 is much like the company's signature formula with a higher SPF. They like to say that Black Girl Sunscreen had a baby. Formulated specifically for the little ones and adults seeking a higher SPF, this formula is hypoallergenic and infused with natural ingredients such as chamomile, shea butter, jojoba, avocado, and sunflower seed oil.
Make It Matte SPF 45 is their newest sunscreen formula and is silk in a bottle. It's lightweight with a gel consistency that leaves a matte finish. Shontay adds, "It literally looks like you have nothing on. The silky Make It Matte formula melts into your skin like butter because it's infused with ingredients such as coconut oil, shea butter, and squalene."
She believes it is vital to focus on one's business rather than deeming things that others are doing. Never lose focus by being affected by the minutia in the world. At BGS, the team aims to deliver the best products to people. The team constantly looks to grab new opportunities to further enhance the products.
Challenging the Beauty Industry's Status Quo
Shontay has bridged a major gap in the beauty industry where there was no sunscreen that catered to the needs of Black and brown skin. To further add to the misery, the entire community had started believing in the ill-conceived notion that Black or brown skin did not need any protection from the sun's harmful rays.
By creating a product that has revamped sun safety and ensured the protection of melanin beauties, BGS truly made a difference in the beauty industry. She states, "Sunspots, hyperpigmentation, wrinkles, premature aging, and skin cancer are all very real. Black may not crack, but that does not mean it won't burn. From the start, we knew this narrative needed to change so we made it our #1 mission."
Shontay has aligned her goals with her brand Black Girl Sunscreen's mission and vision. Explaining her goal, she says, "We aim to be a global brand, where all Black and brown people can find and utilize our products." She had always visualized this mission and over time, that Black Girl Sunscreen is dedicated towards creating skincare products for all skin types.
To make sure that everything happens according to the plan, it is essential to adhere to the core values that are surrounded by their prime goal in spreading awareness in their community on the importance of sun safety. Since every industry needs networking, she is happy to have her family members, friends, and business associates be their eyes and ears for all the things they may miss or couldn't see.
To show their constant support, she adds, "While research and being involved in the sun care industry helps us stay abreast of things, we have those in our corners who are constantly rooting for us. They send us emails, text messages, and even DMs on things they believe are relevant to us – and they often are. Although we cannot be everywhere, we have those who stand in the gap for us to make certain we stay informed. It is very encouraging and motivating too!"
Stepping into the CEO's shoes
As the CEO of Black Girl Sunscreen, her chief responsibility is to ensure that Black Girl Sunscreen is laser-focused on its mission. Even though she has multiple roles to play during her day, she keeps a calm and composed state of mind at all times. For that, lights candles throughout the office, turns Alexa on in the bathrooms, and make a hot cup of tea as soon as she gets settled into the office in the mornings. After that, she goes through her emails and most likely either jumps into a Zoom meeting or team meeting whenever necessary. Normally their weekly team meetings are scheduled for every Monday at 10 AM. Further, to fuel her missionary zeal and mindset positively, she keeps playing music throughout the day.
Moreover, to keep the team engaged and foster team-building spirit, there are a plethora of activities in which all the members participate, even the interns. She adds, "There is canvas art throughout the office made by everyone on the team. Everyone's birthdays and anniversaries are celebrated, and we have contests with various prizes. Yes, we work hard, but we also find time for the things that make us laugh and smile."
Being a resilient leader, she never gives up no matter how hard the situation becomes, and this has helped her overcome all challenges quickly. She finds it difficult to share her recognition as she firmly believes that staying humble speaks volumes. So, she lets her work speak for itself. Shontay and Black Girl Sunscreen have been acknowledged as changemakers in the sun care space by single-handedly shifting the mindset of a demographic.
When off work, she spends time with her three dogs, and sometimes just thinking. She is also fond of relaxing by the pool and traveling around the world for both business and pleasure. She always listens to her body whenever her body needs rest and relaxation. She shares, "When you are constantly on the go, your body will give you the signs when it's time to rest. So, I even take a day to myself whenever needed."
Promising future ahead
With the sole aim of taking Black Girl Sunscreen to emerge as a global brand name, she is committed to bring forth an assortment of products that can be incorporated into the daily lives of Black and Brown people.
Her pearls of wisdom for all upcoming businesswomen are to listen and follow your intuition, never be afraid to take risks, and if it feels right, then it will never steer you wrong!