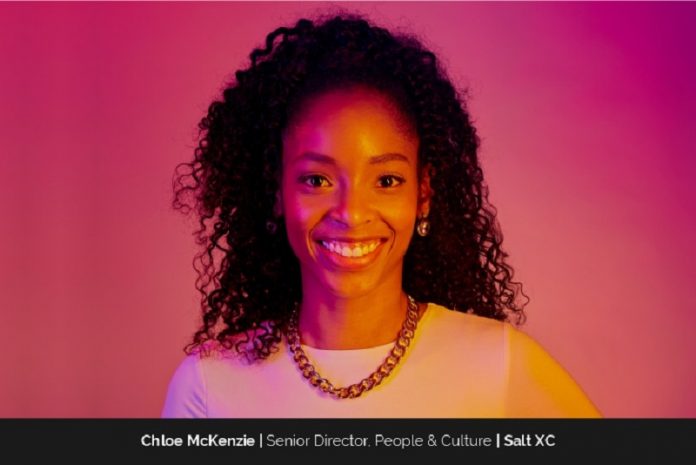 Chloe McKenzie, Senior Director, People & Culture at Salt XC, is a multi-talented HR professional who draws on a decade of experience managing teams on the agency side.
Before joining Salt XC, Chloe's expertise and background were in client services, delivering experiential marketing and B2B productions for some of the world's biggest tech brands, including Facebook, Google, Shopify, Rogers, Microsoft, and others.
She has over 10 years of experience as a B2B marketer, leading high-performing teams to create award-winning live experiences for big brands. Having spent the first decade of her career as an agency-side marketer, Chloe made a major career pivot and now leads People & Culture at Salt XC, one of the fastest-growing marketing agencies in North America.
Chloe is also a content creator, launching her first podcast, 'Start Right Now', which has topped the charts in over a dozen countries since its launch in 2021. Her role as a new HR leader inspired the recent pivot to content focused on people strategy corporated leaders need to attract top talent, develop high performers, and build a more diverse, equitable and inclusive organizational culture.
Pivoting her career path from Marketing to HR
As much as Chloe loved the creativity that came with her marketing career in XM and event production, the challenge of finding ways to develop people was the most fulfilling part of all her past roles.
Her first podcast, "Start Right Now" (now called The Leaderful Inc.), became her playground for exploring the leadership development topics she was so passionate about. Ultimately, it led her to an amazing opportunity to pivot her career as the Head of People and Culture at Salt XC.
"I had the trust and support of leaders who I had worked with before, I understood the agency environment and could use my own experience to create programming that had a real impact, and I could channel my marketing background into developing and positioning an incredible company culture," Chloe shares.
She recalls that her early months at Salt XC were as fun as they were challenging; trying to understand how to lead a function she had never been a part of. "As the first HR lead at this startup agency, I had to design the job, learn the job, and build the infrastructure to support this function — all at the same time," she says.
Chloe applied what she learned wherever she could, devoting time to finding new mentors and collaborating with her exceptional Executive Leadership Team to build their vision of an amazing agency.
She observes that, as leaders, it's so important that when you hold yourself to a very high standard, especially when setting out to achieve something you've never done before, you also give yourself permission to make mistakes as your experiment. Mistakes often lead to meaningful innovation.
Connecting each individual's purpose to the company's purpose
Chloe made investments in her personal and professional development early in her career. From leadership courses to workshops and attending conferences, she was constantly accessing tools to deepen emotional awareness, understand the power that comes with her own vulnerability, shift to a growth mindset and leverage coaching skills like asking powerful questions.
"This investment in myself has given me the confidence to step into the role I have today and expect to be successful," Chloe states. "You will face challenges as you step into the unknown. There's truly no substitute for experience. But every day that I learn something new, every mistake that I've had to correct, has truly strengthened my confidence to show up as the leader of a critical part of the agency."
Chloe notes that leading a team or organization does not mean having all the answers; it means having the confidence and trust that you have the tools to ask the right questions and build a sharp team that can get you to your desired outcome.
"We give our team members a lot of autonomy and opportunity to shape the company culture, as well as dream up new ways we can service our clients. This level of openness has allowed employees to feel connected to the vision for where the company is going," she observes.
Chloe finds it energizing to have such a broad role that includes overseeing everything from Human Resources, Learning & Development, Recruiting, Internal Communications, Talent Attraction Strategy, Diversity Equity & Inclusion, Total Rewards, and Culture Programming.
"Motivation comes from meaning. Connecting individuals' purpose to the company's purpose is an important step in building employee engagement. I'm focused on creating spaces and opportunities for people to engage with one another so that they feel more connected to Salt XC," she declares.
Earning the world's attention in the right way and for the right reasons
Salt XC is a fresh new agency driven by the philosophy of Experiential Commerce, that's always looking for new and differentiating ways to solve business problems, with a focus on creating valuable brand transactions through the intersection of data, media, and memorable moments.
As a privately owned and operated business that is entrepreneurial at its core, they are able to make quick decisions that will drive success for its business, clients, and employees.
Chloe points out that Salt XC hosts an industry-leading team of experts across a variety of specialized fields in advertising and marketing including experiential, creative strategy and design, content, media, PR and influencer marketing, shopper and package design, social and community management, and digital and data analytics.
The agency leaders have a combined 75+ years of deep experience in building new and innovative business solutions for various markets in Canada, and in less than three short years, they have attracted some of the best rising talent in Canada. Salt XC started as an agency of 15 employees, and today has over 175 employees across Canada and the US, making them one of the fastest-growing agencies in North America.
Chloe explains that Salt XC's mission as a company is to earn the world's attention. "It's a short statement, but with a dual meaning. It starts with EARN. This is our call to action, and it applies to every single member of our team. It's our way of holding everyone accountable for taking personal responsibility for living our agency's values and doing the right things to earn attention. We believe that if we want to make a difference, change this industry, or the world, we have to EARN it by doing it the right way and delivering results," she declares.
Chloe insists that for Salt to earn the attention of audiences, we'll need to do it with incredible work and initiatives that will make people notice. "We want the world to view us as an agency worth talking about. Between the outstanding team we've built, the real business results we can deliver for clients, and the way we live our values, we'll be earning attention in the right way for the right reasons" says Chloe.
She notes that there's a lot of fluff by competitors in the industry: beautiful creative, eye-catching websites, high production video content, and elaborate activations that may not actually drive meaningful brand transactions for clients.
"At Salt, we put rigor into being able to measure the results of the ideas we pitch," says Chloe. "We have such diversity of expertise across all the different disciplines that sit in-house (Creative, Design, Digital, XM, Content, Media, Strategy, and Connections Planning). That means we don't have a bias to sell our clients a specific type of execution (a live event, for example) if we feel that other channels and strategies would better solve the business problem presented by the brand."
Embodying 'Salt of the Earth' to create a great place to work
Chlose shares that when the founders created Salt XC, they were very intentional in choosing a name to reflect the type of people they are and the type of people they want to work with and surround themselves with. The saying 'Salt of the Earth', meaning people who are good, humble, kind  and passionate inspired the agency name 'Salt'. The name is a north star for attracting talent who work harder, are a pleasure to collaborate with, and bring unique perspectives, both professionally and culturally.
Chloe notes that the partners and founders of the agency are standout examples of this. Their reputation, and that of the growing team at Salt XC, quickly set them apart from their competitors. This is a core reason why they have attracted new clients at an outstanding rate, with no signs of slowing down.
Chloe maintains that, as a company that strongly values 'Salt of the Earth' people, Salt XC ensures that this value is not just reflected in the way they recruit new employees, but also in how they select their clients.
While most companies are revenue and profit-driven, Salt XC aims to genuinely be people-focused and demonstrate "Salt of the Earth" in all aspects of their business. "And if that means we need to turn away clients that are not a great fit and don't align with our values, then we will in order to stay true to ourselves and what's most important to us – our people," Chloe declares.
Salt XC's other values 'Earn Your Salt' and 'Do What Is Right' is another reason why they have been able to consistently deliver high-quality work and be a model of integrity. Team members believe in rolling up their sleeves and not taking shortcuts.
Chloe points out that the company values have attracted ambitious marketers and creatives to their agency, hiring over 150 new team members in the last 12 months. They embrace the opportunity to wear many hats and uniquely contribute to the work across sthe agency. They are also very intentional about making time to celebrate their successes. Weekly rituals like a Monday morning all-hands meeting called 'Stand Up' include focused time to highlight good news, big wins, and appreciate team members through 'love moments'. Big annual rituals include traveling the whole company to desinations like Las Vegas and Mexico.
'Make Things Better' means they bring innovation to everything they touch. They lead with curiosity about their clients, teams, and organization, so that all employees can consistently bring value to their team and to the company.
'Seek Different Perspectives' embodies their desire to be models of inclusion and collaboration. They want their employees to actively engage their peers and colleagues in the organization and act as catalysts for unearthing new ideas and approaches for completing their work.
"Our work is incredibly collaborative and cross-functional. When we lead with our values, we build our work and are teams from the same, steady foundation, and mutual understanding," Chloe observes.
In October 2022, Salt XC was certified as a 'Great Place to Work' in Canada. The agency scored significantly high in all the categories measured, including Trust, Credibility, Respect, Fairness, Pride, and Camaraderie.
"This designation is such a testament to the efforts of our leadership team and the People & Culture team. HOW we build the agency is as important as WHAT we build, so it's validating to know our focus on people is making an impact. I have such pride as a leader that our culture, attitude, and values are also what sets us apart compared to our competitors" Chloe declares.
Success is not perfection, but about the quality of the effort
As a wife and mother of two young kids, leading at work is as important as leading at home. In matters of work-life balance, Chloe explains that she has found more comfort in substituting the word 'balance' for 'integration'. "For me, 'balance' has sometimes felt like trading one thing for another, whereas 'integration' feels more additive," she states.
Chloe schedules her days to allow for the flexibility to be active in their education and enroll them in opportunities that enrich their childhood. "Many of my colleagues know my kids' names – and the kids can recognize them as well! Hybrid work has really allowed for this type of work-life fluidity to be possible," she notes. As a mother to two daughters, it's important for her to model for her children that they can do both: raise a family and have a successful career.
She proclaims that she also has the most amazing partner, her husband, who is a true partner in every sense of the word. As he also has a high-profile job, they manage the household and kids as a team. "The 4PM – 9PM window is prime time for parents. As a team, we can tag each other out, and give each other the space to stretch professionally on those days where we are in the groove on our work."
Chloe notes that she used to believe that success was an endpoint, a finish line, a place a person arrives at once they hit the milestones set out in their plan. As she became more experienced in her career and more dimensions to her like mother, wife, and entrepreneur, her definition of success changed a great deal.
"Embracing the roadblocks along the way is critical. If you quit at the first sign of a challenge, you're missing out on a rich opportunity to learn and grow, both personally and professionally. Each of us has to embody resilience and grit if we want to to close the gap between where we are and where – and who – we want to be," she elaborates.
Chloe shares that paying attention to the growth moments between the major milestones has paid off.
"I've learned that success doesn't look like perfection. Some days it looks like managing how you respond to your triggers, navigating a difficult conversation with a colleague, or maintaining a growth mindset when you've made a mistake or fallen short somewhere along your journey. Success is determined by the quality of your effort and how you met your intention to be a better leader, serve others, or do and be whatever else you want to do and be," Chloe insists.
Influencing the next generation to lead with heart, curiosity, and appreciation for diversity
Chloe believes that to manage the complexity of the world today, the leaders of today and tomorrow will need to add additional skills to their toolboxes. She notes that leaders in every industry are managing employees who feel more burnt-out, overstimulated, and disconnected in the workplace. At the same time, individuals are becoming increasingly complex, layered, and diverse.
"There is an excellent opportunity to re-engage the workforce through genuine connection with one another. I hope to influence the next generation to lead with heart, curiosity, and as much appreciation for the ways in which we are different, as the ways in which we are alike," she maintains.
Chloe's first message to aspiring people of color in business and leadership is: Your unique perspective is valuable, a superpower that can be used to your advantage. Find opportunities to share that perspective. Use your voice. Ask questions. Be bold and curious. Reframe your own perspective and understand the tremendous value that you bring to any room you step into.
The second is to look for patterns along your journey to understand how you got to where you are today. Analyze the highs and lows, the jobs that made you feel most fulfilled, the projects that boosted your confidence – there are commonalities that can point you toward your purpose.
Look for clues in the career moments you've loved and the ones that you didn't love, or that took too much energy out of you. Seek opportunities for those things that interest you. Find where they intersect. If you can't find one, create your own. Start a passion project that helps you practice skills for the role you're aiming for and/or immerse yourself in opportunities to be exposed to that topic, skill, or discipline.