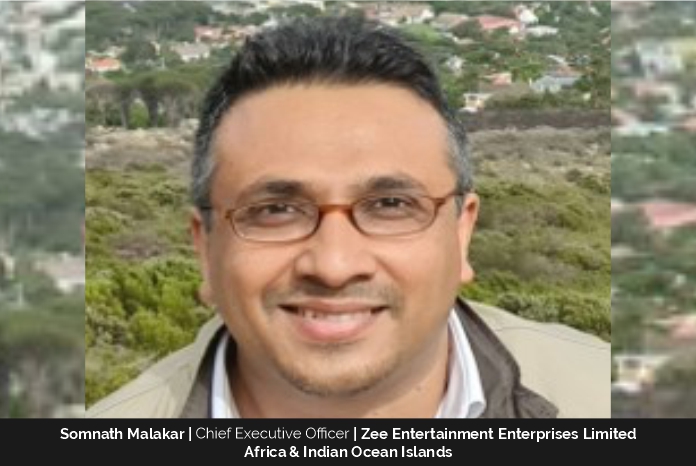 Somnath Malakar, the Chief Executive Officer at Zee Entertainment Enterprises Limited – Africa & Indian Ocean Islands, boasts 23 years of extensive experience, primarily in FMCG Sales & Marketing with notable stints at Cadbury, Coca-Cola, and ITC. He has excelled in leadership roles for over 12 years, overseeing both Domestic and Foreign Markets, spanning the Indian Sub-Continent, Southeast Asia, and Africa. Furthermore, he possesses relevant cross-industry exposure in Telecom and OTC/Consumer Pharma, and he currently operates within the Entertainment & Media sector.
After dedicating twenty years of his career to FMCG businesses like Cadbury, Coca-Cola, ITC, and Shalina Healthcare, Somnath transitioned to the media industry with Zee Africa. This marked a change in his role, from creating narratives to sell products to now finding products to market his stories, recognizing the critical importance of product and brand advertising for content companies. His journey has taken a full circle, and he eagerly looks forward to what lies ahead.
In his capacity as CEO, Somnath's role is straightforward. Zee Africa benefits from an exceptionally talented team, characterized by a harmonious blend of youthful energy and seasoned expertise. His primary responsibility is to ensure that they perform at their peak, fostering a culture of motivation and optimal performance. Notably, in the face of the challenges that affected organizations worldwide, the team under his leadership managed to double the distribution footprint and scale of Zee Africa.
To sum up his outlook in one word, Somnath describes himself as a "Believer" – someone who passionately pursues dreams and believes in achieving them.
Leadership as a Journey of Belief and Values
Somnath views leadership as a two-layered approach, much like a sandwich. The first layer is the unwavering belief that there is always something greater on the horizon. The second layer involves the conviction that one plays an active and crucial role in bringing that vision to life. In today's dynamic world, merely having a vision is insufficient; the determination to persistently work towards its realization is equally vital. Traditional factors like hierarchy and seniority no longer automatically command respect. Instead, empathy and sincerity have taken precedence. People respect and look up to leaders who make a meaningful difference in their lives through the values they embody as colleagues, managers, or leaders.
For Somnath, success isn't merely the achievement of a specific goal; it's the ongoing journey toward that goal. He believes in celebrating success daily rather than deferring it until the end. Success, in his eyes, is a culmination of numerous victories and achievements. It involves the collaborative effort of a dedicated team that prioritizes its responsibilities not out of obligation but out of a shared commitment. True success is when the entire ecosystem, including competitors, respects you not solely based on the scale of your operation but because of the integrity and values with which you drive it.
A Path to Success
In his perspective, Somnath underscores the significance of challenges in one's life. He maintains that a life without challenges would not only be uneventful but also render an individual irrelevant. In an ideal world, businesses would efficiently operate online from remote locations across industries, eliminating the need for human involvement. Fortunately, this utopian scenario is not the reality. What truly piques Somnath's interest is the fact that every region and country present its unique set of challenges and idiosyncrasies. Personally, he has always held an appreciation for challenging times. Achieving success when everyone else is uncertain about the outcomes and no one expects you to thrive provides him with a distinct sense of satisfaction.
The recent pandemic-related lockdowns have been an educational experience for all. People have had to make a choice between accepting the challenges that came with it or identifying the new opportunities it presented. Somnath believes that those who are willing to take calculated risks when the odds are against them have a better chance of succeeding. Given the unpredictable nature of the environment in which businesses operate, he firmly believes that in-market efficiency is only as good as their backup plans, including Plan B and, in some cases, even Plan C.
A Diverse and Inclusive Force in African Entertainment
Indian entertainment holds significant appeal for a global audience, and Zee Entertainment is a prominent player in this industry with a presence in 167 countries worldwide. Africa is no exception, where the brand has garnered a large following among millions of viewers on the continent.
Zee offers an impressive array of entertainment options tailored to the African audience. The company operates eleven channels in six languages, including four local African languages – English, French, Amharic, and isiZulu. These channels are accessible through various Pay and Free-To-Air platforms across the continent, making Zee's content available in over 35 million households. Zee is committed to providing diverse and engaging content suitable for family viewing, not only in Anglophone and Francophone countries but also in region-specific languages like Ethiopia's Oromo and South Africa's isiZulu. In addition to its language-focused approach, Zee has taken steps to localize its content further by initiating local productions in the region. This commitment is encapsulated in their motto – "There is a little bit of Zee in everyone's life."
Forging a Path of Innovation and Dedication
Zee enjoys widespread global affection and holds a prominent position in the media landscape. The company consistently upholds its leadership values by pioneering innovative viewer solutions and actively embracing a disruptive approach within the media industry. It fosters an entrepreneurial spirit and extends support to initiatives that challenge the status quo. Zee has steadfastly maintained its commitment to investment, even in the face of economic challenges, and has consistently delivered on its content promises to its viewers. In essence, the company shares a remarkable synergy with Somnath as a professional. Over the course of three years, his association with the brand has grown into a strong and affectionate bond.
Embracing Diversity, Uniting Africa
According to Somnath, Zee stands out as a workplace that embodies diversity in Africa. In terms of gender, nationality, race, caste, culture, and ethnicity, the team represents a truly global workforce. It is this diversity that has enabled the company to effectively navigate the fragmented nature of the African continent and drive business success. Each team member brings a unique perspective and skill set to the table, making the organization exceptionally versatile and agile. "Our vision is to make Zee – The Best Commercially Creative Content Company of Africa," says Somnath.
Building a Legacy of Leadership and Longevity
Somnath emphasizes the importance of having a strong foundation for success as a leader in any industry. While it's crucial to navigate and succeed in the present, it's equally vital to prepare for an uncertain future. This forward-thinking approach is what can enable an organization not only to thrive but also to endure even in the absence of its current leaders. The ultimate recognition, in his view, is when former organizations continue to flourish and grow.
Somnath states that every leader should deliberate on the legacy they wish to leave behind. This legacy can take various forms, such as breakthrough innovation, the creation of an empowering workplace, sustainable profitability, a commitment to social responsibility, or any other meaningful contribution. However, it becomes truly meaningful when these legacies make a positive difference for both internal and external stakeholders of the organization. Somnath believes that this is the most influential impact a leader can leave behind as their legacy.
Balancing Life's Gifts and Purposeful Endeavors
Somnath expresses his gratitude to his family and friends, noting that he has been fortunate to effortlessly maintain a balance between his personal and professional life. He doesn't rigidly separate the two but rather finds that they blend and intersect seamlessly without causing any disruptions. This harmonious coexistence is something he cherishes and takes pleasure in. His personal goal is to make a positive difference, whether in his professional endeavors or other aspects of life. His intention is to pursue a meaningful and purposeful path that can enhance and impact people's lives, even if it's in a modest yet significant manner.