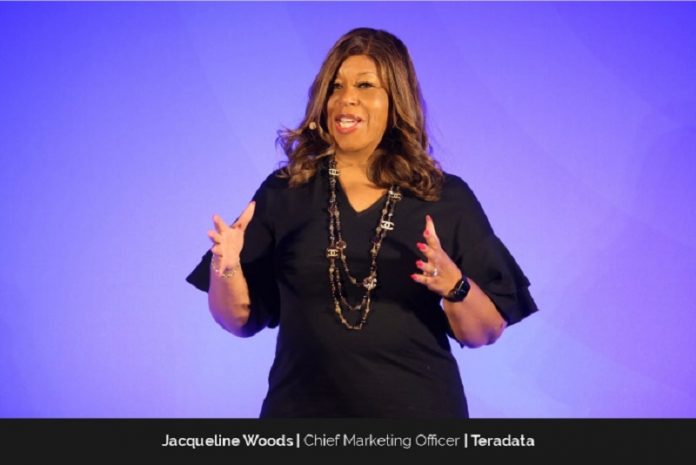 With 30 years of experience driving business changes, inspiring marketing departments to use data and insights, and setting standards for digital marketing, Jacqueline Woods, Chief Marketing Officer at Teradata, has proven to be a results-driven marketing leader.
Her career has spanned Fortune 100 firms like IBM, GE, Oracle, and Verizon, working on go-to-market strategies for both business-to-business and business-to-consumer markets, and she has been credited with introducing contemporary marketing strategies that successfully contribute to and grow the bottom line.
Prior to joining Teradata, Jacqueline spent nearly 10 years with IBM, serving as CMO of its $13 billion Partner Ecosystem, while concentrating on developing cloud, Data, AI, and SaaS strategies for an ecosystem of more than 120,000 businesses.
After that, she served as the global chief marketing and communications officer at NielsenIQ, where she focused on the company's transition into an independent business, taking the helm in reviving its reputation, image, and perception, to reflect its new identity as a modern, data-driven organisation, rather than a legacy data collection and measurement company.
Blending a quantitative background with the creativity of marketing
Jacqueline did not start out in marketing. In fact, she is an economist by background, with a Bachelor of Science in economics. "Originally considering a computer science major, I joined the Black Engineering Association as a freshman and could often be found in the computer room all the time. I always liked numbers, took the math courses for engineers, I'm a very math-oriented person," she says.
However, when Jacqueline learned her cousin had just finished business school, had gotten her MBA, and literally doubled her salary, she took note and felt could double her salary too.  "I admired my cousin because she was so smart and was two years ahead of me in school. In some ways, she was always my North Star," she recalls.
At that time, Jacqueline didn't really know what marketing was, as a discipline, but she recognized she did love storytelling, convincing others about big ideas, and was good at it. She could be persuasive and had been told on occasion that she should consider law school. She always knew that, even with numbers, you had to have a narrative around them, and she just felt that it suited her really well. That's how she ended up going to business school.
Jacqueline points out that the thing about finance and accounting is that it's reporting the news, not necessarily making or driving the news. It reports what happened, not pushing the how or why. And it left her wondering how she could create an environment that centered on being a catalyst for things to happen.
"I knew that I could make things happen and wanted to focus on how to help a business meet its goals, ambitions, and opportunities. I've always been able to take these bigger challenges and dissect them into smaller problems that I can easily solve. People ask me how I was able to do that. I honestly don't know, because even when I was younger, it's just how I thought," Jacqueline reveals.
The reason why she loves being in marketing, with such a strong quantitative background, is because it's great to tell a story, but you have to make the story meet the objectives of the business, know how that story is going to help move the business forward, and help other people see your vision as well.
Demonstrating the value of marketing & reputation
Jacqueline observes that marketing is not a static discipline. She remarked, "When I was in business school, it was about the 4 P's.  It seemed relatively straight forward. However, over my career both the discipline and I have evolved. Now, our company is using about 40 unique approaches from ABM to digital to programmatic to performance and more to strategically get to the right people at the right time."
One thing is certain is that, as a marketer, she has had to keep changing reinventing herself and always transforming to elevate, to prove that what she's doing is making a difference.
She remarks that, she finds it fascinating those unlike sales, marketing is the one functional domain where people wonder why they're spending money to promote a product or service and how that effort drives their business results. So, as a marketer first and foremost, you always have to measure, align spend to actions and ensure a return on your investments, which is not easy.
The second thing people ask for is firm metrics, a key performance indicator that you can directly attribute to the work you're doing. "That's not always easy to do," she states. "I think reputation is one of the biggest components you can have in marketing, and it's not always measurable from the perspective of understanding how much it is worth."
Jacqueline notes that you can measure brand and goodwill on a balance sheet. However, the reputation you have in the marketplace and what that advance for you, is hard to measure from a dollar perspective, particularly in B2B, but it is one of the most important metrics to consider.
"As a marketer, you have to work really, really hard, across all of your peer groups, to help them understand why you're doing what you're doing, why it's important, and what the value is to the company. And those are the kind of skills I picked up and learned along the way," she affirms.
Helping Teradata regain its rightful place as technology leader
Jacqueline recalls that Teradata was looking for a transformational leader, reflecting the kind of skills she had demonstrated during her career, whether at Oracle, GE, or IBM, all very large, well-known companies.
"They were looking not just for that kind of experience, but a demonstration of having helped transform an organization and a company. And I've done that multiple times in my career," she states. "What I was looking for, at this point in my career, was a hidden jewel that needed to be rediscovered and one that could be so much more than where it was perceived to be. Teradata was the inventor and creator of data and analytics at scale. I want everyone to 'get' that."
Jacqueline believes that Teradata should reclaim its rightful place, not just in Cloud technology, but in advanced analytics, AI, and machine learning. "It's been validated and published by Gartner and other analysts firms that Teradata has the #1 technology capabilities in this space. It's an important opportunity for us to make sure the marketplace knows this as well, and I believe that's what Steve McMillan, our CEO, and the Teradata leadership team want to," she observes.
Since Jacqueline joined Teradata, the company has grown their Cloud technology business by triple digits. They've also done a phenomenal job of developing or extending partnerships with AWS, Microsoft, and others. "We're the official analytics partner for the New York Giants. We're doing a lot of things that reinforce why companies chose us, not just in the past, but why they're choosing us on their path forward, and I think that's tremendous," she declares.
Mentioning that she ran a billion-dollar P&L early in her career, when she was at Ameritech (now AT&T), Jacqueline notes that you have to understand your company's business, how it works, how it makes money, in order to effectively help someone else run a business. "I ran segmentation and go-to-market strategy for GE, at corporate for all business units, and at that time, GE was about 55% Banking, and 45% all their other businesses, both B2B and B2C," she states.
For Jacqueline, this was important, because it meant that she also acquired industry experience, as GE operates in nearly every industry that there is. "When I was at IBM, I was running both industry marketing and solutions development. Meaning, I had technical people that worked for me, distinguished engineers and technical managers, and we developed industry solutions to complement both hardware and software offerings. That's what I bring to Teradata," she declares.
From her already strong base, not just of knowledge, but an understanding of what the go-to-market motion is, Jacqueline believes that this a critical foundation, if you're going to be a great marketer.
"When I was with Oracle, I reported to the office of the CEO, and sat on the Product Development Management Committee (PDMC) for Oracle. So, for 10 years, it was about what are we developing, how are we going to market, and how do we get our products to market? All of that is what I bring to Teradata, which means I am used to seeing around corners to make sure that we're accelerating our business quickly," she explains.
Helping businesses meet their goals and ambitions
Jacqueline insists that the most important thing for any marketer to do at any time, whether it's B2B or B2C, is to think about how you can help meet the goals and ambitions of whomever you're selling to. "So, it's not only about analytics. It's about how we use our technology to help another company meet its ambitions," she maintains.
Explaining the importance of the services that Teradata provides to its clients, Jacqueline notes that the most crucial advantage they have is in-database analytics, just in terms of the scale that they work with, as it relates to solving the types of problems that other companies just can't solve.
"It's almost like having the best athlete on a team, the one that everyone else wants, and you know it's going to make such a big difference in your ability to win, to advance to the next level. That secret sauce is 100% something we have. No one else has it or can do that," she declares.
As an example, Jacqueline explains how American Airlines uses Teradata to manage 28+ business operations, ranging from their American Advantage loyalty program to airport ground and flight operations.
For airline, weather is one of the biggest factors not within their direct control.  If the airline experiences a major weather event on the East Coast, there are three major airports in the tri-state area: LaGuardia, JFK, and Newark that will likely be affected and 100's of flight cancelations at each airport on the day of the event.
American Airlines uses Teradata's technology to alert customers of the impending weather, and generally has most passengers rebooked within 24 hours, and getting them to their destinations as quickly as possible.
Jacqueline points out that if you've ever been in a place where there has been a major weather situation and your flight got canceled, you may have experienced that other carriers may may be delayed in getting you rebooked and on your way to your destination.
"The ability to use our data models and analytics to do those kinds of important operations is American Airlines' ambition. In this example, their goal is to get their customers where they want to be as soon as possible – regardless of the challenges that bad weather has brought about. Our goal is to make sure that American Airlines is able to do that, using the breadth and scope of our platform, data and analytics technology," she elaborates.
Jacqueline reiterates that the job of the marketer is to answer how the company will help meet the ambitions of the business as they define it.  "I think that's critical, because most people don't understand how to think about marketing that way, especially when you're referring to B2B. It's not about you, us, or Teradata, or any other company that sells to an enterprise. It's about how I can help a company, like American Airlines or any other company to do that," she maintains.
Teradata's provides businesses with the best insights with speed and scale, helping them make those decisions, change their business processes and operations, and innovate in a way that they may not otherwise have been able to, enables companies to be more competitive.
Learning from trusted relationships nurtured over the years
The moments that Jacqueline recalls having made her feel proudest during her career, have nothing to do with awards and recognitions. Rather they are based in the relationships she has nurtured through the years.
"When I was at Oracle with Judson Althoff, who is now chief commercial officer at Microsoft, we did this deal on the Dell servers, and that was one of my first aha moments of how you bring together different relationships with different companies, and Judson and I decided to partner together," she reminisces.
Jacqueline notes that Oracle had an environment that let you spread your wings. If you had a great idea and wanted to get something done, Larry and Safra encouraged you to go try to do it. And so, the deal with she and Judson brokered ended up bringing in about an incremental $300 million dollars in revenue annually.
"Just doing something that we hadn't done before taught me to think more strategically, and I knew not only just how to work inside my own company, but outside the company to get things done, and that I could build these partnerships across the organization," she observes.
Jacqueline maintains that 20 years later, Judson is still a good friend of hers, and notes that such relationships are not built overnight. "For me, it's really those moments where I built these trusted relationships that have stood the test of time. It was those seeds that we germinated, that time that we "watered" together, that gave us the opportunity to be where we are. So that, to me, is one of my proudest moments," she proclaims.
While she was at GE, Jacqueline also recalls having worked with Larry Light, who retired as Chief Marketing Officer of McDonald's. "What I learned from him was how you can change the trajectory from what a company had been, to what a company could and should be, and I have taken that with me on every job I've gone to," she remarks.
Jacqueline believes that these lessons are especially relevant at Teradata, because what the company was, is so important foundationally to where it's going, where it can go, and what they're doing to transform the company, building on that heritage and taking it forward.
"In that era, Larry Light didn't suggest McDonald's get rid of the hamburger. They just took it and built on other opportunities and segments that they knew were really important for their constituents – like salads for moms" she observes. "That's a position I've taken even here at Teradata. I know what we have – great technology and expertise that we've built on. I know what we've done. I know what are now, the best cloud data and analytics platform, and more importantly, I know what companies that we sell into are looking for, and it to help them meet their business ambitions utilizing our solutions."
Jacqueline insists that it's not just about trying to get to a top-line revenue number. Most companies boast a purpose that goes right along with their EBITDA objective, and they talk about their purpose as being a core business driver, and at the end of the day, helping them meet their purpose is really the most important thing she can do.
Getting everyone rowing in the same direction
Jacqueline believes that the most important step of leadership is to paint a vision that people can easily understand, embrace, and want to follow. What keeps others going is whether they can see what you see, and if they see it, they can believe it, and then they want to join in on it. When people to buy into the ideal that you have shared with them and they believe, then most teams are virtually unstoppable.
You need to have people with the same ambitions you have, those that want to be successful, and want what you want. When that happens, everyone is rows in the same direction. You will also have some challenges; nothing is that simple or straight forward. The really difficult decisions happen when you start recognizing there may be people who are not really on board and are disrupting your forward progress – not everyone should be in the boat as you mission ahead.
"I always say we have a simple plan on a page that consists of three parts.  The first part of our plan is focused on brand and reputation, continuing to elevate our brand, building on the great reputation that we have. Demand generation is next, and here we highlight what we're doing to enable our sellers in the field, helping them identify the opportunities that we have," Jacqueline explains.
And last, but not least, is organizational readiness. It is not Marketing alone on this journey. It's the entire company of Teradata, over 7,000 employees, and it our job to make sure they understand the company's ambitions, vision, the story, and how they can help propagate it. "The most important cheerleaders you have are people in your family. We have 7,000 people in our family that help propagate our story every day," states Jacqueline.
Today, Teradata operates in about 46 countries, and is continuing to grow its footprint. They have hosted bespoke events this year for customers in Asia, Singapore, Sydney, Australia, London, and France. They're going back to the Middle East for an event and have just finished a series in the U.S. as well.
Success is about helping others thrive
Jacqueline notes that people often define success as their continued elevation in their careers, winning a big deal, or meeting their revenue targets. She recalls that her definition of success, early in her career, was the desire to be recognized for her contributions and get promoted.
"Success for me, even when I was younger was really what sense of accomplishment did, I have? And was that sense of accomplishment being recognized? If so, I felt that I was being valued," she admits.
However, the further she goes in her career, the more she realizes that what's most important is whether you're enjoying what you're doing. "Do you really feel good about what you're doing? Do you feel like you're part of something that ultimately is bigger than yourself? Are you working with and/or are you on a great team" she asks. At some point, most people have experienced some form of office "hunger games."
At this point in her career, Jacqueline feels that she has so much more responsibility to other people than she does to herself, and that success really isn't defined by what happens for her, but rather by what happens for the company and for others, especially those she mentors.
"What kind of opportunities can I create for people on my team? How do I help people that are early career professionals expand what they're doing? How do I open different spaces for people?" she asks.
Jacqueline also wonders how she can create an environment for people to thrive in, given the challenges of today's workplace, that's very different from the one she grew up in.
"When I started, everyone was going into the office every day all day, and they were able to form relationships simply because there was always watercooler conversations and hallway talk, going on somewhere. I really feel for people that are early in their careers right now, because they don't have that kind of synergy that I feel I had," she observes.
Be on your A-game & build a strong support network
Jacqueline admits that, while there are more opportunities today for women and minorities, she still feels that as a woman and a person of color, you have to consistently be on your A-game.
"It's not enough to just be the best. You just have to be better every day, and you don't ever think you have the latitude to fail. That's pressure. At times, it can be daunting and exhausting. Generally speaking. I just don't feel like I have room to make a lot of mistakes. I really work hard to course-correct quickly when I think things are going wrong," she reveals.
Jacqueline notes that she sees the positives in adversity and uses it to drive herself. She declares that she has never let these obstacles stop her or let being a Black woman become an inhibitor to how people view her, or what she knows she can do. Instead, it just gives her more confidence to do it all.
She also doesn't buy into people's claims of having a work-life balance. "I just think that's not true. I think you have to have a really strong support network," she maintains. "My husband has always been extraordinary. He encouraged me not once, but twice, to take a job that would move our familyacross country. He is incredibly understanding with my crazy travel schedules and is essentially my life coach and best friend, in the "boxing" ring with me telling me when to "bob and when to weave" she laughs."
Jacqueline recalls that when she and her husband both had to travel early in her career, her mother used to fly out and watch their kids. She also notes that the hardest thing for women is that when they perform Herculean acts to care for their family, it is expected. However, men are celebrated for the same heroics, getting off a transatlantic flight and making it to an important game or school event in the middle of the afternoon. "I think everyone should be celebrated for doing that, regardless of who you are. That's how I think about striking a balance, you lean into your personal network to make things work – and your network should be celebrated and all who are in it that support you" she affirms.
Have integrity and the courage to do the right thing
Describing herself as a fair and empathetic leader, Jacqueline admits that while she's achieved many things that she wanted to achieve, there's always more to be done. As a woman and leader, influencing a change in the next generation is something that she really thinks about and pays attention to.
"I want people to be excited about what their opportunities are. I want them not to feel limited. I don't want women, in particular, to feel that they have to stop at a certain place and allow someone else to go in front of them, because it's not their time or their turn yet. It's your time, and I want to encourage everyone to know that, believe it, and know that it's their time," she declares.
Jacqueline's parting advice for aspiring marketing leaders is to not just be your authentic self, but make sure that you encourage your brand and the people that you work with, to always have an authentic voice for your brand.
"I think young people need to have the courage to do the right thing," she says. Early in my career, I had a friend who stopped working at an ad agency because they were targeting tobacco products to low-income minority neighborhoods and she said – I just can't do that anymore.  "You must have a healthy respect for the power you have as a marketer, because you're initiating trends and encouraging certain behaviorial outcomes, whether positive or negative. You need to have integrity and ensure that you represent this profession in a wholesome, positive and forthright way, be truthful in what you're doing. If you are, good things will always come your way."