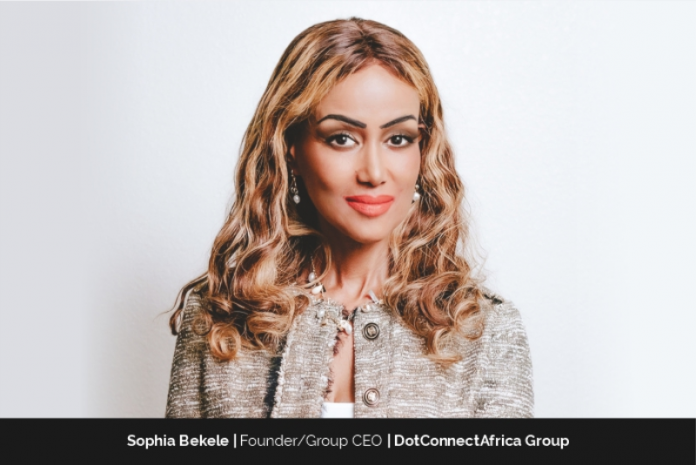 "It is defining to be called a woman of influence. For me, influence is value-based leadership," says Sophia Bekele, Founder & CEO at DotConnectAfrica Group.
A well-respected public and private sector executive, business leader, and global entrepreneur, in addition to being an investor and philanthropist, Sophia is widely regarded as a leading expert in the fields of international policy, corporate governance, technology, and development challenges.  She is well known for her controversial views challenging the status quo and irregularities wherever she finds them, along with her advocacy for work-life balance and passion for living the good life.  She says a famous former Attorney General of Kenya often introduced her in his circles, saying be careful of her; she sues people for sports!
A Policy-Driven Experience and Leadership
Sophia's work has had a significant impact on the implementation of important public policies on technology and global internet governance, including International Domain Names (IDNs) while serving on numerous national and international senior-level policy advisory & leadership boards, including multiple United Nations bodies, as UNECA, UNITU, UNGAID, and the global internet regulator ICANN.
As a pioneer in the field of internet governance, she helped form the San Francisco Internet Society (ISOC) chapter and served on its board of directors. She has also participated in high-level public engagements, at the United States Congress and advocated for policy changes in Internet Governance. As former alumni, she has served multiple terms on the Board of Directors of Golden Gate University in San Francisco and in 2018, appointed founding member of influential Portugal based EurAfrican Forum, an organization that promotes high level Presidential and Ministerial dialogue on economic policy between Europe and Africa.
Sophia was credited for pioneering the Internet Governance (IG) public policy debate in Africa as well as for championing the same for a global internet audience. She has utilized her leadership positions at the international policy platforms to which she was appointed to address the policy gaps she witnessed between the global communities, including Africa.
"The global South has the best opportunity to leapfrog into the digital economy instead of reinventing the wheel."
– Sophia Bekele, EurAfrican Forum, 2018, Cascals, Portugal
The Path to Strong and Innovative Leadership
Sophia's journey into the tech industry began when she graduated as a software engineer in applied business analytics from an American university. Her corporate career in the USA landed her a position in the unique space of tech auditing and governance in the rapidly evolving, tech-influenced financial industry.
There, Sophia saw firsthand how technology is used to empower business processes through innovation, and that is where it all started for her. "Tech start-ups in particular, have a high speed of failure due to rapid market changes and rate of industry consolidation. My inspiration was larger than taking a product to market. It was the bigger picture of bridging the tech divide between the West and emerging economies," she states.
Initially, Sophia's corporate career was characterized by working for Fortune 500 companies in the financial sector in the USA. It was an excellent ground for her professional training as these organizations had the resources, and their business practices followed a high standard and methodology for execution and service delivery.
Sophia adopted those practices as she transitioned into entrepreneurship.  Her training in corporate governance in IT Audit, which includes business ethics, policy, and risk management, are all part of a management discipline, and they were invaluable to her entrepreneurial journey and her pursuit of objective thinking and thought leadership.
"I have learned since those people who are not trained in this area and principles believe differently from those who are. Combining those highly-disciplined principles of good governance and innovation is perhaps why I have been credited for 'strong and innovative leadership'," she observes.
Sophia notes that such principled leadership also requires open-mindedness and adaptability as well. Still, there is a line, one has to decide to cross or double cross from "business as usual," which is not an easy decision or a comfortable position to be in. Evenso this is what separates the strong from the weak and determines how well you sleep at night.
A Pioneering & Innovative Entrepreneurial Journey
During her pioneering and innovative entrepreneurial journey, Sophia founded and ran various successful international tech startups dedicated to technology transfer. She also launched businesses into new markets in the US and Africa.
"Intel Corp., the Federal Reserve Bank, Genentech, and other Silicon Valley startups were among my US clients. I also implemented successful large-scale nation-building projects with state-of-the-art fiber-based technologies with institutions like the African Union and the Ethiopian Parliament. In the process, I partnered and introduced large and reputed global companies like Dimension Data/Plessey of South Africa and KPMG of Kenya and delivered services in my country," she recalls.
Sophia introduced the first DNS business in Ethiopia, helping private sectors and the government with their online presence, building a website, registering their domains, and hosting services. She also offered innovative business models, such as revenue share to governments and private companies in Africa. Currently, she has introduced the first of-its-kind AI-based e-commerce Marketplace to help African MSMEs have access to the international market with a focus on financing Women's businesses.  This initiative is currently nominated for the BOLD Awards hosted in Venice Italy, in March, an award that recognizes top companies in digital industries in the c-economy powering breakthroughs around the world.
Among her many responsibilities, Sophia provides company-wide inspired leadership and oversees a team of content creators, branding experts, software engineers, and external consultants and partners. She makes policy and strategy decisions, ensures strategic plan and operational policies are documented, and monitors fiscal function and performance and keeps BOD in the loop.
"I act as the primary spokesperson for the company, as well as being responsible for hiring key staff. I enjoy working with ambitious and creative individuals and companies who are open to working together to produce exceptional output," she states.
Influencing Change Via Shifting Mindsets, Hearts, and Behavior
Sophia's philanthropic ventures arose from her work in an economy that's much more disadvantaged than the one she lived in during her time in the USA, the reason all her startups had a CSR component, and it gave her pure pleasure to assist with that aspect.
"We embrace a purpose-driven approach to meeting our overall objectives of sustaining our business," she states.
DotConnectAfrica (DCA) group came out of a pan-African non-profit tech start-up, DCA Trust, based in Port Lous Mauritius, Africa in 2006. The Trust was created to advance education in the digital economy in African society and benefit the general African public with internet resources, including assisting its stakeholders with digital transformation and branding Africa on the Internet.
Initially, DCA Trust pioneered and achieved numerous key impactful programs for Africa. It pioneered and championed the '. Africa' domain brand for the African continent to global recognition in a highly acclaimed six-year "yes2dotAfrica" campaign. Sophia notes that it was the first global, "multilingual," social media digital marketing infrastructure engaging online communities.
Then, followed the Miss. Africa Digital program, currently rebranded as Fempower. DCA pioneered the first "Women-In Tech" (WIT) space in Africa in 2008, with a vision to upskill women through training on digital skills, including financial inclusion for women and girls through a Seed-fund program, which has now been executed in fifteen African countries.
The Trust also runs a DCA Corporate Boot camp to upskill youth talent in Tech, Corporate, and Entrepreneurial know-how by allowing them to participate in live projects and prepare them for a robust job market. We also regularly hold a virtual web forum, a product of the pandemic that has become a key online platform for bringing in executives and experts from diverse professional backgrounds from across the globe to discuss and inform key issues facing global development and its context in Africa.
All these successful programs under the Trust is run and sponsored by the DCA Digital Academy, which won the "Best Digital Academy in Africa" in 2022, by CEO Today Africa.  In January 2021, the companies and various services based in Nairobi, Kenya, were restructured under the DotConnecAfrica Group, which placed DCA Trust under its Corporate Social Responsibility (CSR) initiative.
"My vision for DCA is to continue to see my company's KPI for impact through developing and investing in people-centric products and services while creating jobs and opportunities for others and retaining our CSR (Corporate Social Responsibilities) portfolio, sponsored by DCA Digital Academy," states Sophia. "I get a lot of satisfaction from watching interns come to us and leave learning something. As a business leader, I would like to continue to influence change via shifting mindsets, hearts, and behavior through process improvements."
"We need to address the gender digital divide to fully bridge the economic divide. The global statistics of women engagement still reflect massively low numbers."
– Sophia Bekele, Crans Montana Forum, Barcelona, Spain
Fearlessly Challenging the Status Quo and Speaking Her Mind
Despite the controversy it creates, especially doing business in a young democracy like Africa, Sophia has always been outspoken with her thoughts, never hesitating to express her views via her active penmanship and media publishing. She reflects that, in hindsight, this was not common practice for a young women entrepreneur, particularly in a continent where it is not popular for women to express their thoughts.
Writing allowed Sophia to articulate her thoughts. Sharing them publicly gave her the thought leadership needed to influence minds and hearts. "I was never afraid of publicity or media. I used it to my benefit. I had always had a rejoinder in my armpit, even when it was uncomfortable. This exercise has helped my thought leadership from long ago, and also gave me the strength to accept my critics," she maintains.
As a serial techpreneur, Sophia has quite a few start-ups under her belt in multiple countries and continents and notes that there are always ups and downs when building a business. "I have had to overcome my fear of challenging gender discrimination and the injustice that I faced in the business world, being one of the very few women doing business in this sector," she observes.
In this regard, Sophia has often found herself singularly challenging unjust policies in governments, the private sector, and corporations. "I have won with significant margins and have also lost. Yet, I am proud to say my losses were never in vain, as they directly translated into precedence-setting cases where large groups of societies have benefited," she remarks.
Throughout these challenges, Sophia had to learn not to allow herself to be defined by the last setback she had and to turn obstacles into opportunities. She believes that roadblocks are just speedbumps to salvage and are not permanent.
Quoting her father, she summarizes this belief: "Experience is what you get when you don't get what you want. What does not kill you makes you stronger." Therefore, I have come to also understand that it is just as ok to invest money in experiences and not always the outcomes. I have also learned that if you have a cause, don't let the so-called experts champion it; you must get involved.
"It isn't about how hard you get hit. It's about how hard you get hit and keep moving forward."
– Sophia Bekele
Redefining The Journey to Success
Sophia's achievements have received widespread recognition from credible and influential sources around the world, and she has been included in lists of the "Women of Influence," "Examples of Excellence," "Women to Watch," "Fearless, Competitive, and Visionary Women of Our Time," "African Trailblazer," "Future Made in Africa," "Pioneer Women-In-Tech," "Champion of Development," and "Women working hard to close the gender gap and shape the continent's social, political, and economic landscape."
Sophia considers all her recognitions equally amazing and lists the most recent ones as the 10 Most Powerful women to follow in 2023 by Success Pitchers; 2022 Influential Women in Africa by Avance Media Africa; 2021 Women of Influence Honoree by Silicon Valley Business Journal; 2022/2021 CEO Today Africa Awards; Internet Governance Pioneer and Industry Trailblazer by CIO Africa; Top ICT Women in Africa by Bloomberg TV; Top 50 African Trailblazers by UK's New African Magazine; Solidarity Award of Champion of Development by AfricaLink, Switzerland, among others.
Sophia was also honored with the coveted "Rotary Paul Harris Fellow" award and has served as International Ambassador to numerous international Rotary Clubs. As a goal-oriented, organized, and performance-focused leader, redefining success has become an ongoing process for her, given the trajectory of global innovation and the challenges she faces.
"For me, success is defined simply as reaching the goal you set out to achieve, whatever that was meant to be for the person. It is personal and not societal. Success is also best left as a journey that will define a person's experience and ability to attain the skills and resources to survive, and is not a destination," says Sophia.
Sophia instills a culture of integrity and transparency in her companies by adopting open and written communication channels between herself and her team members and insists that asking for help is better than recovering from a mistake.
"I insist on daily KPIs and budget hours to track project progress. While delegation is key to not being overwhelmed by competing priorities, close oversight over those projects is crucial in ensuring goals are met," Sophia maintains. "I also mandate ongoing education to staff, so our company allows self-development time and research for innovation, where takeaways are shared with team members."
A Passion for Living the Good Life as a Lifestyle Techpreneur
Sophia's daily routine, as a leader and entrepreneur, starts with getting up at 5.00 a.m. After her morning routine, she sits at her desk by 6.00 a.m. and starts connecting with her global remote teams for a few hours. This includes calls, attending scheduled meetings, as well as feedback on project progress, and assigning new projects, if any.
"I then drive to my Health Club to catch the coffee social hours before 11am, mingle with members in the lounge area, spend a couple of hours in a workout room, classes, etc., come back to prepare lunch, and then if I don't have social or networking activities to attend to, call it a day with my afternoon teatime with Netflix or Prime hour. In one word, I define myself as an Adventurer!" she remarks.
For decades Sophia also sets aside a "me-time and a me-day" to indulge in her hobbies and physical well-being, way before it became fashionable post-Covid.  "I stick to them religiously because it helps me set deadlines for my work hours.  I also prioritize and delegate, so I don't get overwhelmed. Thanks to advanced tech tools, I also avoid physical meetings as much as possible, which leaves more room for me-time," she explains.
In her ongoing social media commentary on her "SLANT" channel, Sophia discusses "conversations that matter" and shares her business and lifestyle hacks, ranging from business and wellness to personal growth and development. US based Business Magazine, Success Pitcher recently covered her work-life balance story appropriately as a "Lifestyle Techpreneur."
A travel and scuba enthusiast, Sophia has visited over 150 nations, including six historic exploratory circumnavigations, while exploring the best underwater worlds.
Fighting An Uphill Battle in The Tech Space for Women in Africa
Sophia's philosophy of women empowerment emerged from supporting her mother in the male-dominated culture she grew up in and counseling her sisters and cousins on their career paths towards a digital future. "My vision to formally upskill women through training on digital skills came when I started work in Africa and saw the marginalization of women and economic disparity due to a lack of education in tech. The reason I started the first women-in-tech program in Africa, as well as a seed-fund program, is to assist in these inclusions she explains.
Sophia notes that it has been an uphill battle in the tech space for women, especially when she started over a decade ago. She often found herself the only woman in the room in corporate or business. "Men think they can crush women over anything they do and get away with it. I have learned to speak up, and as a result, I developed the ability to have more staying power than even my male counterparts," she remarks.
Sophia believes that female leaders have followed the male leadership style for success, and her advice to women is that, as they don't have a playbook for female leadership, they need to reconstruct it.
"Female leadership is similar to how the SHE successfully leads home life. Women are great at multitasking and problem-solving, have strong communication skills, value work-life balance, are inclusive, encourage free thinking, and manage crises, money, and teamwork. Imagine if we establish the same leadership style at work and in the boardroom and show our worth – our value can be appreciated as equal or even preferred partners in the workforce," she declares.
"Women don't have a playbook for female leadership, so we need to reconstruct it."    – Sophia Bekele, WOI Award, Silicon Valley, 2021