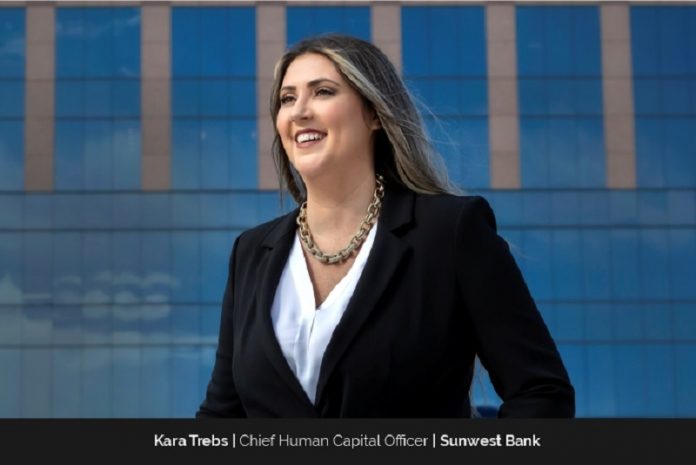 Kara Trebs is the Chief Human Capital Officer of Sunwest Bank, an entrepreneurial business bank with a long tradition of providing excellent service to entrepreneurs, privately held corporations, family offices, small and medium-sized businesses, and real estate developers.
The bank was founded in 1969 and has grown to be a pre-eminent business bank over the last 50 years, focused on helping entrepreneurs achieve their American dream and giving back to the communities it serves.
In this interview, Kara discusses how Sunwest Bank has taken a very unique approach with HR, integrating it into its day-to-day business practices.
What was your life like before you joined Sunwest Bank?
I have always told people I was raised in two households, my own and Nordstrom's. I have amazing parents that raised me to work hard, to have an opinion and to always think like a business owner.
I also had a handful of tremendous leaders to learn from in the almost eight years I worked for Nordstrom. They taught me to be a professional, to be a leader, and to maintain humility.
I am who I am today because of my time at Nordstrom, between the opportunities I had to learn from Blake Nordstrom himself and being mentored by Kathy Fisher.
Plus, I do not think I would have found a career in Human Resources if not for the recommendation from a Store Manager when I was 19. I was managing for the first time, and I was understaffed and struggling to find talent.
A corporate recruiter came to visit our store and educated us on the hiring process changes and the rollout of a new ATS, Taleo. After the meeting I went up to him and said "Where should I go? Where can you send me? I need to find more talent."
He looked up at me and said, "You want to put in the work and find them yourself?" That later led me to multiple speaking engagements at Orange Coast College in their Careers in Fashion class.
After turning my staffing around and improving retention, a store manager told me to consider getting off the sales floor and into the HR office.
Leading a company or organization to success is not an easy road to take. What inspired you to take the leap of faith into the Human Resource industry?
Truthfully, you're right; it's not an easy road. There are days where I feel like I carry the weight of all 249 employees on my shoulders. I often take my job home with me. I connect with my employees as they navigate through exciting times as well as times that are very difficult.
Sometimes it feels like I'm a part of their family going through things with them, and that is a responsibility I don't take lightly. I am fortunate to be in the position where I can help a company grow, expand in new markets, help people increase their earning potential, and create jobs.
My time working at Nordstrom's ultimately helped me find my way into Human Resources, but if I had to pick one moment or one person that inspired me, it would be my dad.
He once said I was the kid, he worried about most, and I guess I have been fighting every day to prove him wrong; to prove I had a plan the entire time and I was always fighting for greatness.
What marked the beginning of your career as an influential leader in the Human Resource industry?
I would have to say my first day at Sunwest Bank. It was the day I realized that if I put in the effort and the work, I could do anything I put my mind to, and help others achieve the same.
Sunwest Bank gave me a seat at the table on my first day and they never looked back. I am included in discussions early and expected to have an opinion well outside of the "HR umbrella".
What were the roadblocks that taught you valuable lessons in your professional journey?
Reflecting on the last seven years at Sunwest Bank as an executive leader, I find the most challenging things I faced in the past are now some of my favorite memories. The moment you stop learning, you stop growing.
I often say I'm not the person Sunwest Bank hired seven years ago, and it is because I have been tested and challenged in ways I never through possible. I have new limits and a better understanding of what I am capable of, because of the adversity I have faced.
How has your expertise facilitated the growth and success of Sunwest Bank?
Our CEO often says we are in the people business, people first, banking second. I am an expert in people. What I bring to the table is an intense focus on treating your employees the way you want them to treat your clients and customers.
I can't take all the credit, but I am very proud of the leadership team I have built with our President, Carson Lappetito. If I left tomorrow, I would feel confident I left the bank better than I found it.
Over the years, we have built a culture that's a lot of things, but most importantly it is fun. You'll never work harder, but you'll never have more fun, because of the way we've built this organization and the culture we strive for every day.
We stay true to who we are and focus on our core values, and sometimes it takes a little bit longer to hire. We're okay with that because it's more important for us to get the right person than fill an empty seat.
Tell us about your views on the changing landscape of the HR industry and what is the significance of technology and innovative ideas in this field?
Over the last 10 years, it has been excellent to see the HR department shift from the "personnel department" to an active part of the growth and success of a business.
In large part, technology does play a role, as it has given us more access to data and trends, but more importantly, I think executive leadership finally recognizes we are in the people business, more so that Human Resources needs to be included in strategic decisions and objectives, not sitting on the side lines.
My team has rolled out an array of tools and systems that have continued to elevate what we bring to the table, but what has really changed is our focus on being experts in the services we provide and what our people do.
For example, I send my direct staff on a tour of duty; they shadow branch tellers, they sit with lockbox, and they join sales meetings. We are only as valuable as our ability to serve as a strategic business partner, and do to that, we need to know what we do.
My team looks at things differently, because they spend so much time focusing on what all our divisions do. They look at the way they do their own job differently, in terms of what's possible.
What do you regard as your greatest achievement as a leader?
I can't pinpoint one moment I am most proud of. I look back and reflect most on the cultural shift Sunwest Bank has had, and I have spent a lot of energy in creating a place to work that inspires people to share ideas and collaborate, work hard but play harder.
The most rewarding part of my job is helping employees grow, but I also realized that my experience could help the business on different levels. I guess who we are today is what I am most proud of.
It has been a long road, but I am so immensely humbled to be considered a peer to some very exceptional leaders.
What are your thoughts about success and why do you feel that way?
Failure it not an option. What I mean by that is failure happens, but it is how you respond, how you pivot, and how you proceed to execution. All of this reflects that failure is not an option; it is just an opportunity to learn and grow from.
I am sure you won't be surprised to hear that I also believe success is an ever-moving target. Not to say I don't mean success is not achievable, but more so that we constantly need to challenge ourselves.
Comfortable is boring. I believe that if we're continuing to learn, we're continuing our success. In my mind, success really is ever moving, and as you evolve, it needs to evolve with you.
How do you maintain a work-life balance, keep yourself and your team motivated, and ensure they share your vision?
I don't focus on finding balance. I gave up on forcing a work life balance many years ago but found a blend that works for my lifestyle and for the business.
Yoga is part of my daily life. I'm obsessed with my Peloton and managed to incorporate all the things that are important to me, while still being accessible and available at some very strange hours, in order to move the business forward.
HR is not an 8 to 5 job anymore, but that doesn't mean you can't enforce boundaries. Communicating when you are and are not available makes a significant difference.
Any one of my peers would tell you I'm motivated by the team's collective success. I rarely focus on my own wins, because the companies' wins are what really matter.
That being said, it is my staff that motivates me. They are all just getting started in their career, and I am honored to be a part of their journey and be a steppingstone for them to learn from.
I do not believe there is a secret sauce to making sure your team shares your vision, but what has worked for me is autonomy and empowerment. I give them breathing room to make mistakes and also to have big wins independently, all while making sure we celebrate collectively.
What are your responsibilities as the Chief Human Capital Officer of Sunwest Bank? How would you define yourself in one word?
I am often referred to as a utility player, my day-to-day responsibilities include overseeing the HR department (benefit administration, employee relations, talent acquisition, learning and development) but I also have a hand in facilities, office renovations, and bank wide strategic projects.
If I had to define myself in one word, it would be: Resolute. What I enjoy most about my job is serving as a guidepost and leader to my executive management team. I am grateful for the opportunity to serve them and help them reach their goals.
What are your plans for the future of Sunwest Bank? What is your message to aspiring leaders in the human resource industry?
It is such an exciting time at Sunwest Bank. We are focused on continuing our growth in new markets, as well as our recent launch of Banking as a Service.
The advice I would give to up and comers in HR is to raise your voice, and do not follow suit or conform to the trends. A lot of HR professionals make the assumption that, because they're in an administrative role, they can only voice their opinion on administrative items.
Have an opinion, say something, even if it's not the decision the company goes with, or it doesn't lead to the perfect outcome. Dare to think differently, push the envelope, and always follow your moral compass.
Trends may come and go, but if you're always focusing on doing right by your staff and organization, you'll pick up on the right ones that continue to move the business forward.