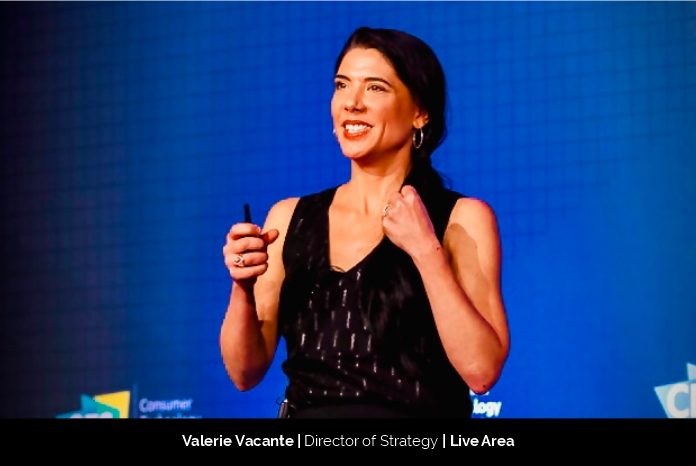 There is no one definition for success. Success means different things to different people. For Valerie Vacante, Director of Strategy, Product Innovation at Merkle and Founder of Collabsco, success is defined as doing work that you love, with people that you enjoy being around, learning from to create work that you are proud of. As outlined in the dictionary, "it is the accomplishment of an aim or purpose." She states that every person has their own aim or purpose, and whatever that goal is that you set forth and achieve is your own personal success.
Ever since Valerie was a kid, she was fascinated with creativity, arcades, amusement parks, museums, film, culture, art, and toy stores. She had a big imagination and loved creating things. She took art, journalism, video production, graphic design, marketing, interior design, and fashion design. "I knew I was weird, a bit awkward, as I got older I started to understand and appreciate that I see the world differently, making things is a gift and weird is a good thing," she explains. In high school, Valerie took her first marketing class that gave her the inspiration and confidence to work her way through school, study advertising, design and communications to ultimately start her career in the space.
Redefining an Industry
Valerie says that in terms of redefining the industry, over the years she has been fortunate to work with outstanding global teams to identify, incubate and evolve future-focused experiences.
She worked on behavior based innovations in 2003, launched a mobile marketing practice for one of the top US digital agencies in 2006, well before the iPhone launched. She led award winning multicultural programs in the mid-late 00's, before most companies made serious investments in diversity and inclusion. In 2018 she launched the first-ever connected play landscape blending emerging tech, play and social gaming, uncovering growth opportunities and foreseeing the glorified gaming growth that brands are investing in today. Over the past 15+ years she has launched, and continues to launch countless award-winning connected products and experiences across IoT, AR, VR, AI, voice, robotics and more, featured globally in the likes of VentureBeat, Fast Company, The Drum, among others.
In fact, Nolan Bushnell, inventor of Pong and founder of Atari, father of electronic gaming and author of the book Finding the Next Steve Jobs is renowned for hiring many industry leading innovators over the past 40 years. Nolan is one of the few people who hired Steve Jobs, the founder of Apple, he also hired Valerie in a role focused on voice technologies, business innovations, product strategy, partnerships and marketing with award-winning work featured at Comic-Con, CES and SXSW among a plethora of industry leading publications.
Her portfolio spans across 50+ brands including: Hasbro, Mattel, Disney, BANDAI NAMCO Entertainment, AT&T, Honeywell, Sleep Number, Nestlé, Vodafone, Mercedes-Benz, MINI, The Economist, Shell, Dell, AMD, Seagate, Virsix Games, MERGE, WowWee, Draw & Code, Immplay, HeadOffice.Space Reach Robotics and more. Valerie has recently been named one of the Top 25 Women in Tech by PCR magazine, 40 Over Forty and Top 10 Pioneering CEOs to Follow in 2021 by CIO Look.
She serves on the Fast Company Executive Board, SXSW Innovation Advisory Board, a Global Expert to MassChallenge, an international speaker and writer. She lives one step ahead in the future and it shows across her breadth of work and accolades.
The Path To Start Her Career
Valerie started her career in London, England back in the early 00's. She was being considered for two roles, one was a traditional above the line advertising role, making tv commercials and print ads. The other role was in the digital innovation group charged with developing custom digital experiences and supporting product tool sets for global brands. "I was offered the role in the digital innovation team. I was thankful, because I knew that was the future and I wanted to be part of creating it," she says.
After moving back to the US, Valerie worked with a number of digital marketing and advertising agencies serving as a catalyst for growth, uncovering new technologies, business partnerships, and market opportunities. In 2014, she segwayed into product innovation, leading a portfolio of award-winning digital products, emerging technologies and experiences, IoT, wearables, connected communities and connected play.
In 2016 she launched Collabsco, an award-winning strategy and innovation collective that partners with the world's most forward-looking global brands and startups to create solutions for growth. "I did not see the need to invest in a physical office, most of the people I worked with were located around the world. I believed it was possible to work with brilliant people on interesting products and experiences serving as an independent collaborator to explore, educate, inspire and ignite product innovations, collaborations and experiences remotely, from anywhere," explains Valerie.
Collabsco has allowed her to experiment with new technologies, collaborations and ways of working, setting her own boundaries and constraints.
​​In 2020, she joined Merkle, a dentsu company, Merkle is a leading data-driven customer experience management (CXM) company that specializes in the delivery of unique, personalized customer experiences across platforms and devices.
Valerie's role at Merkle focuses on uncovering cultural trends, designing next generation products, services and innovations impacting the way people connect and experience in the physical and digital world. She says that she is fortunate enough to work with people who have complementary strengths that allow them to solve challenges, uncover new thinking and ideas.
Valerie is the visionary behind ShopNXT™— Merkle's collection of retail innovation products focused on helping brands create more personalized shopping experiences, increasing loyalty, sales and customer joy.
She co-created three patent-pending app-free products; Scan & Know™, UnboxIt™ and a VIP checkout free contactless payment technology, all showcased at CES — named "top tools shaping the future of retail" by Adweek, "Top Product Picks from CES 2022," by PCR Magazine and featured in CNET, MediaPost, PCR, The Drum, Click Z, DigiDay, PSFK among others.
Valerie was also the Lead architect and creator of NXT Intelligence™, a Merkle platform of 12 productized services designed to rapidly explore future opportunities in the ever-changing world of technology, innovation, and brand experience. As a result, Merkle is working with a number of Fortune 500 and Fortune 1000 clients across the NXT Intelligence™ suite of products including, NXT Innovation Scouting, NXT Brand Experience and NXT Future View initiatives to uncover new markets, partners, emerging technologies and opportunities.
Future of Work
"The future of work is changing, innovative leaders and companies know this, they are the ones thriving and snapping up the best talent from around the world, creating spaces where creativity and learning thrive," states Valerie. She thinks that they are going to continue to see a few key changes in the future of work. Those changes include:
Mean does not reign supreme, kindness wins – Command, control, excessive hierarchy and processes are outdated. High-performing companies lead with kindness, curiosity, collaboration and empathy to understand what's important to their teams. They provide flexible and/or remote work, encourage self-care, support personal projects that contribute to team learning, social causes, time off and more.
Remote work rises – companies who want the most innovative, diverse and exceptional talent know this, they know how to collaborate and work remotely with everyday technology, collaborative and accessible web based tools, virtual gatherings, flexible hours, consistent communications (live and recorded) as well as ongoing anonymous feedback loops to improve the remote team experience.
Hybrid heightens – Companies will offer up places and spaces for collaboration in cities where multiple team members reside. Having a home base outside of the home gives all team members the flexibility to connect and collaborate in the best way for their needs. Spaces like Third Place, provide people with the ability to book inspiring hospitality spaces such as hotels, pubs, creative spaces to work remotely and collaborate without high overhead costs.
Gamified experiences and the metaverse – Over 60% of the Fortnite community is ages 18-24, those currently in the workforce or getting started. With 65% of Gen Z in the workforce looking to start their own business in the next 10 years and also avid gamers, platforms like HeadOffice.Space, empower entrepreneurs and global innovation teams to embrace remote work in a way that builds a sense of belonging, fosters a culture of connection, community, creativity, and productivity while saving money on physical offices and level up their team's work experiences.
"Managers" will no longer exist – The term manager is outdated, it implies that a person "manages" or does just enough to keep a specific project, program or product to tick along. "Managers" will be replaced with "Futurist", "Innovator", "Leader", "Curator," "Analyst", "Director," "Intrepreneur,"  "Catalyst" etc, a term that initiates ownership, open thinking, leadership and forward thought.
Diversity & Inclusion – looking beyond hiring alumni or "look-a-like" hires from direct competitors, innovative companies will continue to broaden their aperture on recruiting and retaining high-performing talent at every level in their organizations. That means recruiting people with diverse experiences; different people, perspectives, education, and backgrounds to drive innovation and growth.
Balance Between Personal & Professional Life
Valerie thinks that balance is about integrating your work, play, family, creativity into and throughout your life. "We do not live in a 9 to 5 world anymore, personally, I don't think I ever lived in a 9 to 5 world. The important thing is to acknowledge that something is temporary and hold yourself accountable to it being temporary. Because we do not live in a 9 to 5 world and we work across multiple time zones, that means that we can schedule those important moments of school pick up / drop off, family meals, connecting with friends virtually or in person, and exercise," she says. For Valerie, running is her "my time" to free her mind, get inspired, think through challenges and get inspired to look at the world in a different way.
Big Success Does Not Come Without Big Challenges
Valerie believes in the fact that challenges do make you stronger and calls it "character building" as her colleague, Prakash Patel, CEO of ForKeeps called it the same in the early days of her career. Throughout her career, Valerie has always served as an intrepreneur; however, when starting Collabsco, she had to learn how to be an entrepreneur. Building a small business from the ground up is very different, as one has to learn a lot of new things in a short span of time.
Some of the challenges coming up in the industry were always not being seen or heard; ideas, plans and prototypes were ignored, taken (without credit or acknowledgement) or dismissed, however in healthy growth focused organizations her voice, opinions and perspectives were valued, heard, credited, supported, realized and rewarded. It wasn't about hierarchy, or departmental agendas, it was about being an advocate for herself and the team and pushing the greater business forward.
Be Your Own Hero – Value You For You
Valerie grew up in a town called Humble and growing up it was always very difficult for her to highlight or talk about her achievements. She did not want to be too boastful. She says that in the career world she realized that she was missing opportunities time and time again because she did not speak up and articulate her values and contributions, or when she did they were not always heard. "If you do not communicate your value you may not receive the fair and equitable pay or opportunities that you deserve – you are in charge of you and your journey, so get out there and highlight your value," she further explains. However, sometimes you can build a powerful portfolio of work, be the highest performer, advocate for yourself and still get knocked down, passed over for promotions or not paid fairly and equitably for your contributions – if that happens get back up and explore other opportunities with a company who will value you for you. High performing companies seek out talent and proactively ensure high performers are recognized, rewarded, promoted, and compensated fairly (well above and beyond their industry's standard). Value you for you – join a company and culture that does the same and your success will soar.
Her message to aspiring business women is – Live one step into the future, explore with insatiable curiosity, join forces with people who complement your superpowers and shoot for the moon.