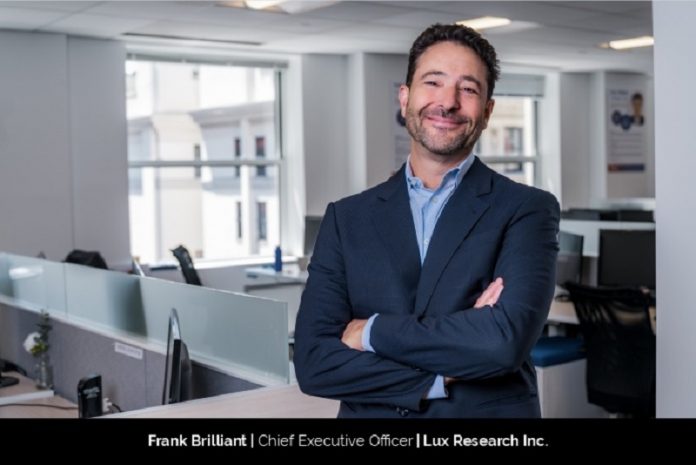 As the CEO of Lux Research, Frank Brilliant is responsible for driving the policy and operations to accelerate the organization's strategic growth.
Lux is a research and advisory company that specializes in commercially viable, sustainable innovation. As businesses work to satisfy corporate sustainability goals, governmental laws, and customer expectations, an ever-increasing focus on sustainability is a primary driver of change across all industries.
Lux is in a unique position to respond to clients' inquiries concerning sustainability and commerce, such as: Which new technologies are poised to take off? Which startups are profitable to invest in? What adjustments to our product roadmap are necessary for a successful launch?
The diversified team of analysts at Lux collaborates and uses proprietary research approaches to unlock special insights that are exclusively available from Lux. They operate cross-functionally across sectors and technologies.
Frank formerly held the position of Chief Revenue Officer at Evaluate Ltd, a reliable supplier of commercial intelligence and predictive analytics to the pharmaceutical sector, where he spearheaded exponential development and executed a successful private equity exit.
Prior to that, he worked in executive leadership positions in sales, marketing, and product development at UpToDate/Wolters Kluwer, Arch Wireless, and Forrester Research.
Gaining exposure to the ways of the corporate world
Frank grew up in a middle-class suburb of Boston, in a highly educated, privileged environment, where everybody in his family went on to get their undergraduate degree. Not convinced that a college education was right for him he chose not to follow in that path.
"For the first few years of my career, it was more basic work until I made a decision that I wanted more for myself. That led me to determine that getting into sales would be the best way for a non-degreed person to break into the corporate world," he recalls.
Frank built some sales capability, which helped him step into his first real corporate job at Forrester Research, surrounded by Yale and Harvard types who were advising the upper echelons of technology CIOs in the Global 2000.
"When I started at Forrester, I got a great education. I'm a self-learner and have a strong appetite for bettering myself. I learn and put things to work quickly, and I was able to take that experience and turn that into a highly leverage-able set of commercial capabilities," says Frank.
Having got his start at a company that rode the tech wave through the 1980s and 1990s, Frank worked with prominent tech industry leaders and Global 2000 senior executives (CIOs) who gave him exposure to the ways of the corporate world. He learned from them and parlayed that experience into progressively more experience in leadership and management.
Despite having barely made it out of high school, Frank has been an executive in the startup stage of several companies and a corporate officer in multibillion-dollar companies. He spent the majority of his career in market insights and advisory service-based businesses that serve multinational clients.
"I was fortunate enough, early on in my career, to get into an organization that was loaded with intellectual horsepower. I found it incredibly inspiring to be around people like that, as it drove my own personal growth," he notes.
Frank was the fourth employee of a very young company. During the 12 years that he was there, it went through an IPO, and he had the opportunity to play a lot of different roles during the growth of that business.
"When I left, we were a 200-million-dollar company with thousands of employees. So that certainly was a starting point for me, in terms of defining myself as a professional. I was fortunate to be recruited into a similar type of business because of my experiences," he observes.
Building a business in the emerging market of sustainability
Frank has been recognized on multiple occasions as a top performer and a fast-tracking executive in multibillion-dollar organizations. He considers his most positive recognition as a leader to be when team members were inspired to work with him time and time again, at multiple companies in various industries.
Frank's biggest takeaway is that he's been fortunate to work with incredible people, many of whom are lifelong friends and have gone on to accomplish great success, some with him, and some on their own.
Having all these experiences positioned him well to help transform Lux into the market leader in research and advisory services for the world's largest companies focused on sustainable innovation.
He achieved this by leveraging his understanding of what it takes to hire and lead a highly motivated, intelligent, and passionate multinational team of people, building and operationalizing scalable functionality and process, and establishing credibility for the business in the emerging market of sustainability.
Frank took on the opportunity to lead Lux for three main reasons: people, mission, and business opportunity. He enjoys the stimulation of the intellectual challenge and gets his energy from working with Lux's dynamic team.
Frank found Lux an attractive opportunity because it met the four criteria for any company that he would want to be a part of: mission-driven, recurring revenue business model, international business, and great culture supported by amazing people.
He also feels inspired by the passion his colleagues bring to the mission and the effort they're willing to make to achieve the organizational aspirations.
Frank cherishes being part of an all-inspiring mission with the ability to impact humanity for the better by influencing the world's largest companies to make material changes in the way they develop their products to better serve the environment, their businesses, and ultimately, humanity.
Although Lux's mission itself was not well defined when Frank joined the company it was clear to him what it could be. It led him to drive the organization through a pivot by leveraging its core capabilities of commercially viable materials science and by layering the lens of sustainability and circularity on it.
As seen in the latest IPCC report, drastic action is required to prevent irreversible damage to our world. Lux recognized the challenges their clients were facing, and their mission is to help their clients navigate the changing sustainability landscape and difficult decision-making processes while achieving their growth goals.
Lux understands that trying to juggle these competing priorities often leaves C-suite clients feeling as though the only solution forward is to compromise.
"We recognized early on that this is a challenge our clients are facing, and our mission is to help them through difficult decision-making processes. These not only include the evolution to a more sustainable outcome but also navigating the continuous compromises they have to make to ensure their businesses continue to grow and remain profitable," states Frank.
Helping manufacturers build a more sustainable, circular economy
Frank's mission at Lux is to change the world by helping the largest manufacturers and sellers of products innovate and become more sustainable. With climate change being the next target in Lux's crosshairs, large corporations have the biggest opportunity to make an impact because of how they create their products.
However, it's not just the products, but the ecosystem that they operate within as well. With the goal of building a circular economy, Lux advises companies on the technology and the science that will help them evolve their products.
Frank works closely with C-suite peers to navigate the ever-changing requirements of meeting a net-zero emissions target. He is a leader among leaders with Lux's global clients and a peer to those making big decisions that will shape the course of how the world will operate in the years to come.
With Lux in a high-growth mode, Frank's focus is on driving thought-leading perspectives into the minds and hearts of the leadership of the world's largest product companies by guiding their sustainable innovation initiatives.
"We're out on the forefront of the revolution that's impacting the global economy, and to be a part of that gives me energy every day. We improve decision-making for our clients who are facing the ultimate challenge, with the end-game of driving them to outcomes that treat the environment better, and improving the experience we, as humans, have on Earth, while ensuring the future of their organizations," he affirms.
Learning lessons from both successes and challenges
During his career, Frank has experienced both, the satisfaction of successfully driving through an IPO and private equity exits that returned excellent multiples for the investors, as well as the anguish of failure with companies that couldn't achieve the market momentum they aspired to, in addition to a $2 billion restructuring of a company in a highly disruptive marketplace.
But for him, success is about creating an environment where family, friends, and colleagues feel like they're put in a position to be effective and contribute in a meaningful way to the greater good of whatever they may aspire to.
He notes that challenges only make you stronger if you're willing and open to learn from them, modify your course of action according to the situation, and then iterate again.
Frank's recommendation for dealing with both successes and challenges is to understand that, in the heat of a challenge, both good and less desirable outcomes are likely. He notes that this is no reason to either feel discouraged or overconfident and that the wisest course of action is to be measured, thoughtful, and patient.
As an example, he recalls one client company and making a gross assumption that their traditional commercial teams would be able to successfully bring a new innovative offering to their traditional markets, for a $2 billion company in a $100 billion market.
After extensive training, they went to the market and quickly learned that their salespeople did not have the experience necessary to bring this new capability to market successfully. After a quarter of poor results, the company pivoted to a third-party channel strategy with partners that were deeply entrenched in the new market, and this ultimately led to great success.
"The lesson learned here was to measure results, so you know what you're getting from your effort, and don't get to married to any one idea, except the idea of finding the best pathway to success," observes Frank.
An empowering, inspiring, people's leader
Describing his nature as one of resolve, Frank admits that leading a mid-size business requires one to be a strategist, a tactical engineer, a confidant, a tough love parent, and someone who inspires the team to focus on the mission with passion and confidence.
As a leader, Frank believes that it's important to be crystal clear on what the end game is and ensure that narrative has a deep purpose.
"The world is changing dramatically every day with impacts from COVID and geopolitical tension. The increasingly imminent impact that climate change is having puts us in a great position to help our clients on projects like recycled ocean plastic, paths to decarbonization, and thinking more broadly about circularity. At Lux, we have an opportunity to change the world. We know it and act on it every day. From there, it's important to keep the team aligned and focused on a few simple ideas," he says.
As a leader, Frank is constantly in the field with salespeople, customers, and prospects, and in touch with private equity sponsors. He also spends time internally strategizing on big rock decisions and empowering his team with support and guidance on tactical decisions.
"I'm a big believer in empowerment. Which means I hire highly competent, smart people, give them the freedom to think creatively, foster a collaborative environment where team members actively contribute to solutions, and instill confidence in them to do their job," he notes.
For Frank, empowerment is a state of mind that frees one up to think and collaborate creatively in a way that everyone's voice can be heard. This gives people the confidence to make sound decisions in the face of adversity and opportunity.
"I love coaching and mentoring people," he declares. "I thrive on helping people by bringing my experiences to help them grow. For example, in every organization I have been fortunate to lead, a priority is to develop excellent training and professional development capabilities. It's a competitive advantage, and it demonstrates, with no uncertainty, that we care about them and their personal and professional development."
Frank defines an empowering leader as one who can assess their ability to apply their experiences with good pragmatic judgment in a given situation, with full support, despite a diversity of opinion.
"The big picture for Lux is that we're helping solve an existential threat to humanity, which is a powerful mission to be a part of. This global challenge is our North Star; it is part of our DNA, and everything we do is anchored around this. We have a singular mission, and everyone at Lux believes in this mission," says Frank.
Creating a workplace where people feel valued & cared for
Lux is a Boston-based company but has a global footprint, with offices in New York, Amsterdam, Singapore, and Tokyo, and remote workers in South Korea, and the UK.
Frank believes in creating a workplace environment where people feel fully valued and cared for; where they can be challenged and develop themselves; and are respected and feel a sense of empathy, understanding, and trust from leadership and coworkers alike.
He believes that people, and their commitment and passion for the business, are central to the success of any organization. So, it's important to ensure that you have the right people in the right positions, so they can take advantage of their strengths in an environment of empathy and trust, where they feel valued, but challenged and productive.
Frank points out that this brings a level of trust and empathy to the relationship, which makes people stay with the business because they feel valued for more than just their corporate contributions, and that creates loyalty.
"I've always felt that people are central to the success of any business, and the way you support people to operate in the most productive and passionate way is to ensure empathy, genuine intent, and honesty. They are the key components to building and maintaining strong working relationships, and a healthy business culture," states Frank.
He notes that when people are committed to the cause, and to you as a leader, they're inspired and willing to contribute above and beyond. Ultimately, it creates a foundation of trust in the business, which is essential to the success of any organization.
Frank educated himself on the best ways to connect with people and build high-quality, high-performing teams that are passionate and willing to make more effort and contribution for the greater good of the business. This is because they know that they're supported, not only at a professional level but at a personal level as well.
"I drive what I call 'Radical Candor' (based on a TED Talk by Kim Scott) into the business. So we're very truthful and honest about where we stand with each other, which means we're willing to have difficult conversations to ensure that we're doing everything we can to support the greater mission of the business. Couple that with hard work and resolve, and the growth will fall into place," Frank observes.
The challenges of keeping remote teams engaged during the pandemic
Frank has always prided himself on building good teams that are very well aligned, enjoy being with each other, like challenging each other, and he has seen great success from that synergy and cohesiveness. But when he joined Lux in the fall of 2020, in the middle of the pandemic, he didn't meet anybody physically face-to-face for the first six months.
"We talked every day and were making difficult decisions, but it was significantly different when we finally got together for the first time and met in person and saw each other physically. It was almost like meeting someone for the first time, and we realized how much was actually lost without being connected to people on a day-to-day basis," says Frank.
He points out that, from a leadership perspective, the pandemic has created the biggest challenge he has ever experienced, in terms of building teams, cohesiveness, and trust among team members and across the organization.
"You have to work at it every single day, and when all is said and done, you never really know whether it's connecting, whether it's creating some stickiness to the business," he notes.
Frank points out that engagement is now a much more significant challenge for any leader trying to drive a company forward, especially one that's in rapid growth. To get that commitment, that extra mile out of people, team members need to feel fulfilled and connected, positive, and able to openly collaborate, communicate, and engage with their teams and colleagues.
"You can only play Jeopardy so many times, and then people just stop playing; we can have that afternoon social so many times, and people stop coming. So what is it that we can do to keep that fresh and to keep people interested, engaged, and connected? That's a new element of employee management. All that camaraderie that used to happen in the office doesn't happen easily anymore, and that connection is essential to any business. This is something we think about every single day," he explains.
Frank's primary concern is to figure out how to bring the teams closer together, feel more loyal to each other, create more employee stickiness, minimize the impact of the great resignation, and increase people's willingness to go the extra mile and feel committed to the business.
"I don't think we're ever going back to the old ways. There may be a hybrid, a nice mix, depending on your business, and the way your business needs to operate. That demands new ways of creating connections with people, which is ultimately the feeder for building a good, strong, healthy culture. We needed to find ways to ensure our culture was not lost, so we launched an employee survey to ensure people could share and be heard. We also launched a Global Culture Group of employees from different teams and regions who are constantly looking at ways to unite all colleagues," notes Frank.
Frank points out that, by and large, Lux's business has been resistant to any of COVID's macro challenges. In some markets, they have even seen acceleration, because they were able to take advantage of some changes that evolved due to the impact of COVID on how people are working and interacting, such as opening up recruitment in new regions to help bring on board the best talent.
Creating a quality experience with loved ones
For an early riser like Frank, exercise is the most mentally beneficial activity of the day because it energizes him, gets his engine cranking, helps release anxiety, and is a great time to think and get motivated. Some other interests that help him find balance are sharing time with friends and family, gardening, fishing, golf, and cycling.
Frank points out that balance is always a challenge, especially when leading a growing company. During the week, it's difficult to find balance for him and his family of three fabulous, healthy, and balanced kids, but he tries to separate himself from work for most of the weekend. Sunday evenings are a period of re-entry when his focus starts to turn back to the business.
"For me personally, my life is more holistic than just my work. So, having a quality experience with those surrounding my life is important," says Frank. "I don't need more material things. I want more experience. I feel very lucky. I've been able to do some pretty amazing things in my career. I've had an opportunity to be exposed to some incredible people."
Frank's parting advice to aspiring business leaders is: Be thoughtful and patient, set clear expectations, inspect your results, listen, be empathetic, and bring well-intended candor to everything you do.