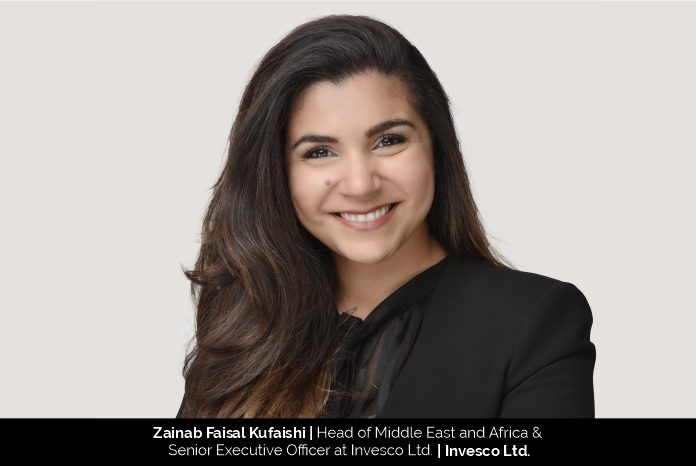 The key to good leadership is the right influence, not authority. Zainab Faisal Kufaishi, Head of the Middle East / Africa & Senior Executive Officer for Invesco Ltd. states that to be a successful leader one must have a clear vision of where the business will be headed and be able to articulate the path to get there. She believes that the qualities of a strong leader are gender neutral. In other words, gender should not play a role in the success of a good leader. "Successful leaders lead by example with integrity, high ethical standards, and great communication skills. Successful leaders are long-term strategic thinkers, able to make hard decisions," says Zainab. She also believes that it is important to empower others on the team, to motivate and inspire them so that everyone is working towards reaching the same goal.
A Leap of Faith Towards Growth
Zainab chose to join a traditionally competitive and male-dominated industry, investment management, because she has always had a deep passion for it. She says that throughout her career she has been fortunate enough to encounter several fantastic mentors that encouraged her to challenge herself, build confidence and embrace the need for self-improvement. The finance industry is known to be difficult to navigate, especially for women. Having the ambition to succeed is the first step to being a successful leader. As an aspiring leader in finance, she has built on her ambition by cultivating and maintaining a professional network that exposed her to other highly skilled leaders in the field.
"Resiliency and grit are much-needed skills in any business but especially in a male-dominated and highly competitive one like financial services," states Zainab. During her career in sales and business development, she is often faced with "no", from potential clients, colleagues, peers, and other industry participants, and that can be soul-destroying if one lets it. "Whether it is the challenge from prospects around declined business or from internal stakeholders around opening up new markets, the key is believing in yourself and your ideas to execute," she further explains. Zainab has always sought out mentors to bounce off ideas and talk through challenges, especially during days where she finds herself to be less motivated than usual.
Services Provided by Invesco Ltd.
Invesco is a global investment management firm dedicated to delivering an investment experience that helps people get more out of life. Its single objective is to help clients achieve their investment objectives. The company is headquartered in Atlanta, Georgia, the USA with an on-the-ground presence in 25 countries around the world including the UAE. As of October 31, the company says that it is privileged to manage $1.593.7 billion in assets on behalf of clients worldwide.
"Our investment capabilities are broad, across all major equity, fixed income, and alternative asset classes, delivered through a diverse set of innovative investment vehicles, and we are one of the top 3 ETF providers globally by revenue," explains Zainab. She also states that Invesco is proud of its global commitment to ESG investing and takes its responsibility as active owners very seriously, encouraging continual improvement with investment companies to have a positive impact on society and the environment.
The Future Depends on What Is Planned and Done Today
"I am passionate about community and the planet and strongly believe in the role corporate responsibility plays in this," says Zainab. Her vision is for the industry is to make greater strides in effecting responsible investments that align with the long-term interests of investors. Integrating ESG investing within the investment processes and operations is critical to achieving this, which they have been recognized as successfully doing at Invesco.
Invesco's commitment to its people, its clients, and the planet remains the company's top priority today and for the future. Zainab says that personally for her, she looks to continue delivering for the clients and supporting them to achieve their objectives. "My mind will be open to new conversations and new ways of doing things, and my willingness to learn and better myself will only help me continue to push my career forward despite challenges I may face," she adds.
She further states that she will continue to mentor and coach young women in the industry, both inside and outside Invesco. Her advice to aspiring businesswomen is to have confidence in themselves and their abilities, challenge themselves, and work outside of their comfort zone. "Though we still have an upward journey to eliminate gender bias in the workplace, progress is being made and as such, we should keep focused on realizing our ambitions," she asserts.
As far as influencing change for the next generation, Zainab believes it is important to foster a work culture where diverse people and ideas thrive. This means that the industry will need to work hard to level the playing field and eliminate bias, whether gender or culture.
Labels Aside, We Are All Unique and Valid
Zainab strongly believes that gender diversity within the workplace has been proven to be beneficial for the long-term success of a company, outperforming on both profitability and value creation. Diversity in thinking, different experiences, and perspectives, contribute to creating an innovative and successful business environment. As a woman leader, she strongly focuses on ensuring that she gives equal opportunity to the team members – male and female – paving the way for their career growth to become leaders in their own right.
She explains that in the UAE, they have seen significant strides at empowering women and promoting gender balance in the workplace as the result of initiatives launched by the nation's leadership. Women are encouraged to actively contribute to the country's socio-economic development, which has come to fruition. The UAE now has women appointed as ambassadors and ministers, and several strong women leaders who have risen to the position of corporate CEO and other C-level roles at numerous institutions. This truly is an encouraging sign towards achieving gender parity.
"I am honored and proud to be named one of Forbes Middle East Power Businesswomen of 2021 and was also recently recognized by Forbes as a leading executive heading up a regional office of an international company in the 2021 Global Meets Local list," says Zainab.
Responsibilities As the Head (MEA) Of Invesco Ltd
Zainab, who describes herself as being 'tenacious', explains that she is responsible for leading Invesco's Middle East and Africa business, with the goals of growing revenues and diversifying the business by winning new clients. "The beauty of my role is that there is no regular day! My responsibilities include growing the business through client engagements, managing a team of highly motivated salespeople, ensuring we meet our regulatory obligations on the ground, in addition to being on the EMEA management committee for business development where I contribute to firm strategy," Zainab says. The week can include a mix of business travel for clients as well as internal meetings, catch-ups with her team, internal calls on a variety of matters relating to the business, or extracurricular work around mentoring or diversity and inclusion.
Work-Life Balance
As a working mother with two young children and a myriad of other caring responsibilities, finding a work-life balance is definitely a challenge. But Zainab believes that as long as you have the right support network around you, including a supportive partner, success can be achieved. "I aspire to be a role model for my daughters and hope to give them a real-life example of what hard work, ambition, humility, and curiosity can achieve so that one day they can also reach their full potential," she states. In the workplace, her focus is on employee well-being and coaching staff to navigate an increasingly unpredictable business environment while achieving professional and personal success.
She says that the Covid-driven pandemic over the past 18 months has tested their ability to pull together as a team for the benefit of business goals. It has been a period of perseverance and resilience which has paid off. It has also allowed them to have a clear perspective of work-life balance, which is something that Zainab aims to instill in her team.