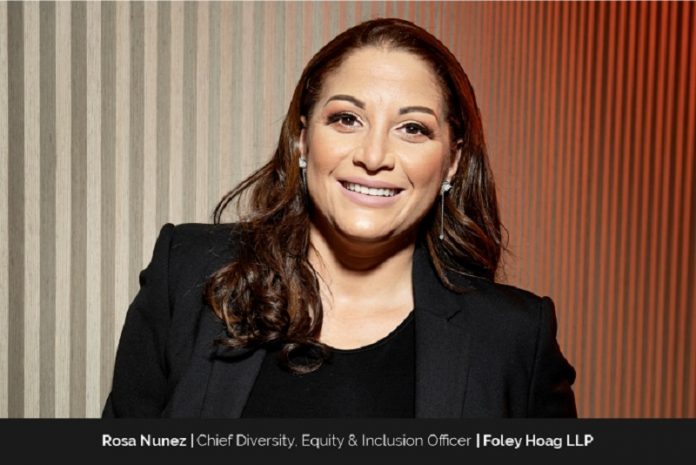 The business case for diversity, equity, and inclusion, or DEI, has taken root in the U.S. Business leaders across industries intending to embed it into their company's culture. However, the outcome of their DEI efforts sometimes falls short of expectations. The absence of an experienced guiding force is one of the reasons for that. By appointing Rosa Nunez as Head of Diversity, Equity, and Inclusion in 2019 to start their DEI department from scratch, Foley Hoag LLP made sure to eliminate that reason. She is known for her broad expertise in DEI across multiple industries.
Rosa has more than 15 years of experience in workplace diversity, equity, inclusion, employee engagement, workplace culture, and community outreach programs. At Foley Hoag, she has developed their DEI department by creating their strategic vision, launching initiatives, and building a strong team. Her work as the first-ever Director of Diversity, Equity & Inclusion at the multi-disciplinary law firm is now being recognized by others in the industry. Rosa intends to embed DEI into the DNA of Foley Hoag.
"Unapologetically Me" is how Rosa describes herself in two words. As an immigrant from the Dominican Republic, Rosa experienced firsthand the struggles that outsiders face when adjusting to a new place and culture. For many years, Rosa struggled with her identity and her desire to "fit in" to a new society with the hopes of feeling welcomed and like she belonged.  Once she found her voice, Rosa made sure to hold on to that. "I would never want to give that up," she says. She is now unapologetically herself and brings her whole self to work. Leaders cannot motivate others to be themselves, says Rosa, if they are themselves holding something back.
Rosa and her team are very passionate about DEI and care "deeply" about the work they do. They want to see a shift in the legal industry that is far behind when it comes to embracing diversity, equity and inclusion as a business priority.
A Passion for DEI Stems from Experience as an Immigrant
Rosa is passionate about her DEI work because it is central to who she is. Born and raised in the Dominican Republic, she is a first-generation immigrant in the U.S. She was 18 and in senior high school when she came to the country with her parents. Back at home on the Caribbean Island, everyone is for the most part racially diverse – a melting pot of skin colors and physical traits- based in the country's history of colonization. Rosa points out that although colorism does exist, most separation has historically been associated with socioeconomic status. So, when she came to the U.S., having to now check the Latina/Hispanic box to identify herself and being grouped into such a large and diverse category of cultures and people, was a very different experience altogether.
Adjusting to the new environment was "extremely challenging" for her. The new culture and the inability to fully understand the way things were made Rosa's initial days in the U.S. very difficult. She had to quickly learn to navigate it all in order to pursue her education and career goals.
On the first or second day of her senior year in a high school in upstate New York, Rosa recalls, she was standing in the school cafeteria with her food tray, not knowing where to sit. She was one of the only Latinas in the school.
"When I moved to the U.S., I was suddenly in the minority and categorized by my race/ethnicity. That is the box you have to check." Rosa remembers.
"Only when I started to really understand the complexities of our society and educating myself on the topics of race, racism, bias and more is when I began to understand why I was feeling the way I was feeling then and unfortunately, that I was not alone," Rosa says. She got into affinity groups in school and immersed herself in issues impacting racial minorities and women of color. She also began to practice self-advocacy and ask questions. "That is when I started to really own my story and find my voice," Rosa says.
"And, from then on, the DEI work found me. I always had passion for it because of my journey, but as a career, it found me," she adds.
From a Junior Member in Global DEI Team to Heading DEI Department
After she graduated college, Rosa found an opportunity an entry-level opportunity in DEI. It was not something she had originally planned to do as she graduated undergraduate school hoping to work in visual arts. She joined Accenture as the most junior person in their then newly formed Global Inclusion and Diversity team and this is where she fell in love with the work. After working with the Management Consulting services giant for 10-plus years, Rosa moved to the media, marketing, and advertising industry. She joined Omnicom Media Group, and after that, she worked at Burson Cohn & Wolfe (BCW), a multinational public relations and communications firm.
About three years ago, in an unexpected turn of events, when an opportunity to develop the DEI department at Foley Hoag presented itself, she left her role in the PR industry and jumped in with both feet.  She fell in love with the firm, the history and most importantly, the people. "Firm leadership really wanted to focus on DEI because they authentically cared and not as a reaction to a crisis," Rosa points out. "It was a progressive and proactive way of saying, 'Can we do better, and we need someone who can help us get to where we want to be."
"From day one, I saw an opportunity to work at an organization that truly values diversity, equity and inclusion and cares about its people," Rosa says.
At Foley Hoag, she currently leads a team of four people and reports to the managing partners and COO. She champions DEI across the entire organization, meeting, speaking, and collaborating with her colleagues in legal recruiting, marketing, human resources, professional development, and all the department chairs to help create positive change.
A Law Firm that Truly Believes in Diversity and Inclusion
Foley Hoag, headquartered in Boston, services clients all around the country and the world. It has multiple practice areas and aims to provide the best legal service to its clients. Currently, the law firm has offices in five locations, Boston, New York, Washington, D.C., Denver and Paris. About 650 people, including attorneys and paralegals, work for Foley Hoag.
The firm, according to Rosa, has always been focused on advancing diversity, equity, and inclusion. It was founded more than 79 years ago, and at the time, the law profession was segregated by religion. "They would not integrate back then," Rosa points out. "Our founders broke the mold and founded the firm based on talent and expertise, not by religion."
"So, the foundation of the firm has a very DEI mindset," she adds. The firm has done a lot of progressive work and pro bono efforts to advance DEI and social justice across our country for many years, for example, the busing crisis in Boston. Foley Hoag represented the plaintiffs of the busing crisis in Boston and won. With the fees awarded to it, the firm established the Foley Hoag Foundation. Today, the Foundation provides micro-grants to organizations advancing social justice across the nation.
"Foley Hoag is an organization that has always been forward-thinking," Rosa says. "We promoted the first ever African American male Partner in Boston back in the 1980s." About three years ago, the firm decided to bring someone in to help them design a DEI strategy that would not only advance the goal of the organization but also help drive change across the industry.
In late 2019, Rosa moved from New York City to Boston. She left the PR, advertising, and media industry, which she really loved. "But I fell in love with this firm [Foley Hoag] because of its history, and because I knew that anybody who will come and join the firm in this capacity will have so much support," Rosa says. "And they will be able to define success based on progress."
Three months after Rosa joined the firm in Boston, they moved to a virtual workplace model because of the COVID-19 pandemic. "Most of my tenure at the firm had been during COVID," Rosa says. The pandemic, however, didn't stop her team from adopting a "very aggressive" DEI strategy. Instead of throwing a spanner in their work, the pandemic energized efforts to drive DEI at the firm. According to Rosa, they have made "tremendous progress" under all the crisis circumstances of the past three years.
"We have three pillars that we focus on simultaneously," Rosa says. These include diversifying the workforce by attracting and hiring the best possible talents across the industry, as well as creating a culture of equity and retention.
"Everyone has an equal and equitable playing field here, to be able to define success the way they want to and take their career where they want to take it," says Rosa.
Success Means Progress and Moving Forward
Rosa does not believe in a one, standard definition of success. She says that it can be defined differently by different people. For her, success means moving forward in the right direction, making progress, and being in a different place than they were a year ago. Her definition has evolved over the years.
When Rosa started in the DEI industry, she wanted to see action right away. She also wanted to see change overnight. "If I had a goal matrix of 30%, for example, for representation of women, and I didn't achieve that, I would be devastated and very hard on myself," Rosa recalls. Now, because of the work she has done in DEI, she has realized that one has to go slow to go fast in this space. "Making slow, sustainable progress is going to guarantee us as an organization that will get where we need to be sooner," Rosa adds.
Biggest Challenge is Resistance to Change at the Top
In the DEI space, stepping into the leadership role is akin to being a change agent, according to Rosa. She feels blessed to have been in spaces where they welcome her ideas, leadership, and vision. They offer their support – especially where she is working right now – and put their money where their mouth is. "They know that I am here to help drive change and some people are going to get a bit uncomfortable," Rosa points out. "They understand that is part of the process."
Leaders like her encounter challenges when they join organizations whose actions do not match their words. They tell DEI leaders, "Yes, we want the change and welcome the change. We want to make sure that we are advancing diversity, equity, and inclusion." But, when changemakers get into the organization, they find that the story is different. Their ideas are snubbed. They often get to hear, "Well, not that fast and not that type of change. We want the other change, but not this one. What do you mean we have to provide this and what do you mean we have to spend money on that?"
Rosa points out that resistance to change at the top of the organization is the biggest challenge that someone in her position can face. "Everything else is manageable if you have a leadership that is 100% on board," she adds. "The worst that can happen is when you join an organization and realize that they just want a figurehead. When the work gets real, the conversations get uncomfortable, then, some leaders stop caring."
The Future Plan: Embedding DEI into the Firm's DNA
Rosa and her team's initiatives are putting Foley Hoag on the map. The firm is now receiving recognition for the work they have been doing for the past two and a half years. "So, for the next three or five years, we are going to make sure that DEI is fully embedded into every single practice, policy, and initiative of the firm," Rosa says. "Anything we do as a business will have – and does have – a DEI component to it."
They plan to think, operate, pitch their business and services, recruit, promote, and interact with a DEI mindset. "We accomplish more when DEI is embedded into the DNA of our organization, because it is no longer a program or an initiative, an afterthought, it is simply the way we operate," Rosa points out. "That is what we strive for."
She accepts that such a change is not going to happen overnight. It is a sustainable change and progress, and according to her, it is going to allow her to achieve their DEI goals. She is very confident about that because their work is being recognized externally – meaning they are doing something right. "You are only celebrated outside when people inside your organization really feel it and believe it," Rosa explains.
"We are getting recognized externally because the work we are doing matters, and it is getting to the people that it needs to get to," she adds. "We are moving in the right direction, and hopefully, we sustain our actions and progress every day – going slow to go fast, it will allow us to make DEI the DNA of our firm."
Message to Aspiring Leaders
Rosa has built a strong belief in herself. And she no longer allows insecurities to hold her back. She quietens the negative talk as soon as it tries to show up. In her message to aspiring leaders, Rosa encourages them also to believe in themselves, be "unapologetically you," and bring their whole selves always.
She also suggests that they surround themselves with people who want them to succeed, celebrate their wins, and push them to next levels. "Your circle ideally would not always tell you what you want to hear but instead give you the advice, feedback, and the information you need to be better," Rosa says.
"And do what is right, even when the right action is not the most popular one," she adds.
Just Getting Started in the DEI Space
Rosa has been able to bring a lot of people up with her. She has given opportunities to many –those who worked or started with her – especially in the DEI space. Those who never had any DEI experience before are thriving in part because of her mentorship. Rosa, however, feels like she is just getting started in the DEI space. "There is still a lot more to come," she says.
A life learner, Rosa wants to continue to learn as she admits there is a lot she does not know. She is also excited about the future, as she believes, "it'll only get better." She wants her contribution to "leave a stamp for the future, make it better for people who look like her," along with enabling the organization to become better.