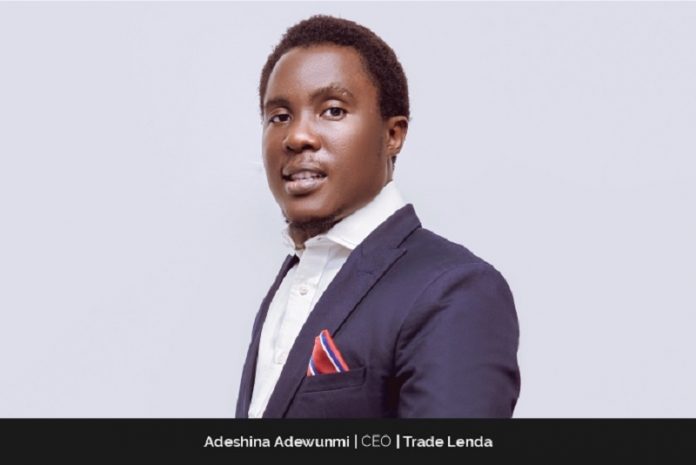 In May of 2021, Adeshina Adewumi founded Trade Lenda, a financial service company that assists micro, small, and informal retailers with access to financing for business needs. In a short time, the company has earned a stellar reputation in the Nigerian market. As the CEO, Adeshina is now striving to expand Trade Lenda's footprints globally.
"Excellence" is one of the core values of Adeshina. For him, it is "either excellence or nothing less." He has infused this core value into his business core values and culture as well, which drives him and his team to succeed and offer extraordinary value to all their stakeholders.
As a "Choleric with a touch of a Mel," Adeshina follows the adage, "never quit till it's done." He is a result-driven person by nature, but for him, a successful result does not mean monetary gains.
Adeshina believes success is about influence and impact within one's community and people. So, according to him, success can be measured by how someone's decisions and indecisions add value to people and their community.
"For me, I would like my success to be measured by how many lives I can support directly and indirectly through the solutions I proffer to my world," says Adeshina.
Founding the Third Start-up
Adeshina is not new to the world of startups. Trade Lenda is his third startup. Previously, he launched and tasted success with One Kiosk and Proville. And the idea to start Trade Lenda sprung up when Adeshina was steering One Kiosk.
"The whole idea to start Trade Lenda was inspired from my previously founded Startup, One Kiosk, where we supported micro, small and medium enterprises (MSMEs) to achieve online market store to 3x their sales in 6 months," he says.
In the post-COVID-19 market, the gaps in financial services provided to MSMEs became glaringly visible. It was quite evident especially where Banks did not grant credit to them. Adeshina launched his third startup to bridge this gap. "Trade Lenda was birthed from clues and customers' needs propelled by the pandemic," he says.
"With our experience and passion, we decided to build structures to give timely access to credit as well as other financial services, to drive financial inclusion for MSMEs across emerging markets," Adeshina adds.
The pandemic has affected all aspects of life across the world. But Trade Lenda's solution was and is not affected in any way. Instead, it has revealed several gaps that need to be bridged as Adeshina and his team promote Sustainability and the United Nations Global Goals 2030.
Trade Lenda and its Services
A digital financial service solution, Trade Lenda supports MSMEs with services such as credit, insurance, and savings. The company has built a technology that helps de-risk the entire lending process to MSMEs while also offering them various inclusive financial services.
"There is a saying in Africa that it takes a village to train a child," Adeshina says. "As a key player within the finance industry, our goal is to democratize access to finance and other financial services for MSMEs across emerging markets using technology." Today, he and his team are proud of the footprints they are creating already in Nigeria, which they soon plan to expand across other regions.
Phases of High and Low Points
Adeshina points out that the beauty of growing a fast-paced startup is the need to quickly make changes as the markets open up new opportunities. As a founder, he has experienced phases of high as well as low points, but that has not deterred him from taking risks. And he feels that different phases have helped them get better.
When they started providing credits to MSMEs, Adeshina and his team did not envisage the demands would be overwhelming. So, it resulted in issues around poor data sets, which they were able to quickly fix. Following that, they ensured that they had an adequate supply of funds to meet requests.
And, according to the rules of banks, Trade Lenda was required to provide collateral before they could become eligible for funds, so it took a while to show that the company's system works. In the beginning, they had to use funds from friends and family to validate the model.
"Today, we have various credit pipelines with banks and non-financial institutions to support more MSMEs, and we see this growing by the day," Adeshina says.
Life before Trade Lenda
Adeshina's career has been no less remarkable even before establishing Trader Lenda. A seasoned professional, he wore multiple hats prior to helming the current company, including running two high-growth startups: One Kiosk and Proville.
For Adeshina, entrepreneurship was never an unknown territory as his parents were entrepreneurs. He says that he firsthand gained experience and understood the importance and impact of MSMEs' cash flow in supporting their families. In addition, he was also opportune to engage in various trading activities during college, which prepared him for the future.
And before fully taking the plunge into entrepreneurship, Adeshina had the opportunity to work with Stanbic IBTC, a member of Standard Bank Group, at the Investment Management and Bank levels. Adeshina points out that this gave him a wide and diverse experience and skills. The job role allowed him to cut across operations, business development, and technology investment management at various times. His work experience prepared him, following his resignation in 2016, to focus on his first startup.
Responsibilities as CEO
As the CEO of Trade Lenda, Adeshina has two assignments. First, it is his responsibility to attract the right people, such as the team, investors, and customers, to the company. Secondly, he has to ensure they are always happy. "This makes my job a very interesting one especially when you look at the fact that this has to do with effectively managing people," says Adeshina.
He typically starts his day early and finishes his day a night before it starts by planning for the next day. "This helps me prepare for the desired outcome, so by the start of the day, I am ready for results," he says.
How does he maintain a work-life balance? Adeshina says that it can be very demanding to maintain a balance between personal and professional life as an entrepreneur. However, with the pandemic a lot of people like him have learned to "pay attention to the yet steamily little things," Adeshina points out.
Today, he intentionally does not fix meetings for early mornings and just after mid-noon. He points out that this structure across his calendar, unless there is something very urgent or sensitive due to time zone differences, allows him the opportunity to bond with his children in the morning and pick them up right after school on days when he is in town.
"Overall, this has recorded about 75 percent success for me to be part of my children's life," Adeshina adds.
Lessons During Pandemic
The pandemic, according to Adeshina, taught everyone the need for structures, patience, and the need for continuous innovation. "This has also helped us better position ourselves for disruptions while focusing on results rather than activities," he points out.
"The pandemic also helped to ensure we focus on things that matter while consciously gearing for a healthy body to achieve the Big Goal and Vision," he adds. "Health, they say is Wealth!"
Plans for the Future 
The digital financial service space in Nigeria is fast pace, given the uniqueness of the market. However, due to the size, it still remains quite an under-tapped market, Adeshina notes. This is why it is very attractive for potential investors to invest now for greater and maximum returns.
At Trade Lenda, Adeshina and his team have created structures and systems that enable them to constantly be in touch with their customers as well as key stakeholders like regulators, thus giving them an edge to provide viable innovations while reducing their regulatory risk exposures. "The market today is not a winner takes it all, due to the huge gaps that still exist," Adeshina says.
Trade Lenda has been built as a global brand with its Holding structure in the United States, although operations are in Nigeria at the moment. Adeshina points out that its goal is to drive market share across emerging markets. They also want to scale their offerings into Europe and North America within the next 5 years.
"Our KPI for impact is to actively contribute towards supporting MSMEs create the next 10 million jobs across emerging markets contributing towards the attainment of the Sustainable Development Goals 1, 8 and 9," he adds. These goals are no poverty; decent work and economic growth; and industry, innovation, and infrastructure.