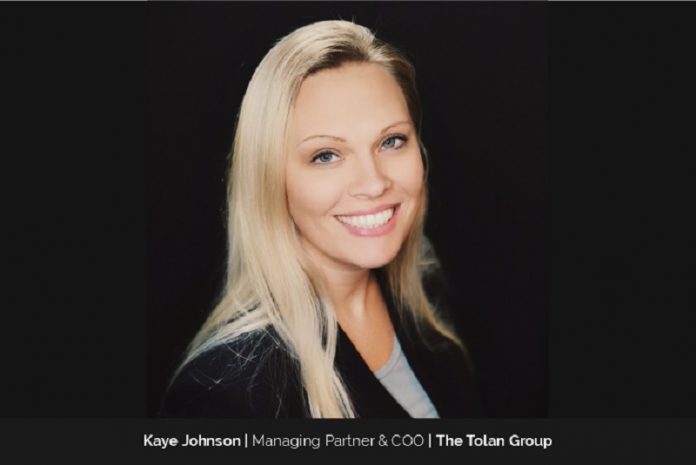 As Managing Partner and COO of The Tolan Group, Kaye Johnson has been in charge of all aspects of TTG since January 2015. She leads the day-to-day operations, major projects, finance, and until recently was responsible for all client delivery for the firm.
The Tolan Group is a Hunt Scanlon Top 50 Executive Search Firm serving the healthcare market since 2005, in healthcare tech, healthcare services, and behavioral health. Their clients are privately held and private equity backed firms that engage with the firm to find and place executives that run their portfolio companies.
The Tolan Group has three key areas of expertise: healthcare software and services, mental health and healthcare services. It places C-suite Leaders, Senior Executive Management and Directors, and is geographically agnostic.
Since joining the company, Kaye has successfully placed C-suite, EVPs, SVPs, VPs, and numerous more individual contributors in sales, marketing, product management, technical, and clinical expertise.
Her customer-centric leadership, effectiveness, and desire for win-win results give direction to client relationships, business operations, and placements.
Learning the value of a strong work ethic early in life
Originally from Wisconsin, Kaye started her trip to the Southeast with a stop in Virginia for college and moved to Florida right after college graduation. She notes that she was not one of those lucky individuals who knew what they wanted to be when they grew up.
"I tried a few different industries, most recently in the gift industry for two different companies as a Trade Show Manager. I traveled quite a bit and loved seeing the country, but finally found my true work home with The Tolan Group," she says.
As the youngest of six kids, Kaye realized that she had to be quicker and work smarter to get what she wanted. "As a family we were never late for anything – if we weren't 15 minutes early, we were late," she says.
Kaye recalls being instilled with a strong work ethic early on, in that her family worked, and worked hard, and it wasn't a good thing or a bad thing; it was just accepted as what needed to get done.
In any company she worked with, Kaye slowly or quickly took on more responsibility – mostly because it was there to be done, and she was there to do it.
"I took that mentality into the business world. I like to work my way backward from a problem or goal. I've had a lot of excellent mentors, bosses, and colleagues along the way. I am not a fan of recreating the wheel. I am also not a fan of laziness, and I appreciate punctuality," Kaye notes.
She explains that, with so many brilliant people in the world, and with the world of technology and so many ideas at our fingertips, it is usually easier to get to where you need to be if you utilize all of the knowledge around you, instead of working against it.
Where do you want to be? Is there a pinnacle of success to the challenge in front of you? Kaye points out that whatever it may be, a new marketing campaign, a correct way to answer a question, a business plan, a craft project, a recipe for dinner – someone has done it and shared it.
Becoming the 2nd largest shareholder of The Tolan Group
Although she was not looking to get into the staffing and recruiting business, Kaye stumbled into the staffing and recruiting industry when she was in the market for a new position, and started with The Tolan Group as a part-time Project Manager, almost eight years ago.
They were a successful team of three and when she interviewed, she called her sister and said, "I really want that job." Kaye remembers loving their enthusiasm about what they did and their genuine camaraderie. So she joined and started her journey with Tim and the team.
"I was given the chance to manage a small recruiting team seven years ago for a very large project, and I worked very hard to eventually be promoted as Director, and then eventually became COO after 5 years," she recalls.
Today, Kaye is the 2nd largest shareholder of The Tolan Group, a position that she worked very hard to be in. "I love this business. I have a seat at the table, and that matters to me, and my Co-CEO listens to my opinion and allows me to make critical decisions on my own," she points out.
Kaye's CEO continued to give her additional responsibilities, which she took on despite her already heavy workload. Her CEO continued to mentor her, and earlier this year, she was promoted to Co-CEO, as she runs the day-to-day operations and finances for The Tolan Group.
Kaye was also nominated to serve on the Board of PS27's Foundation, which focuses on helping the entrepreneurs of early-stage businesses, and she finds it is a tremendous responsibility that she enjoys.
Envisioning TTG as a top 10 pure-play healthcare search and staffing firm
Early on, Kaye wanted to define a process that could scale and allow the firm to grow exponentially without constantly having to hire people based on how busy they were. So, she created their Client Delivery Team, which is separate from the Business Development Team, and they work on assignments based on the level of the roles they take on.
The Tolan Group assigns multiple recruiters or associates to the same role, where they have the chance to cross-pollinate and grow their knowledge base and skills for each search. Eventually, their recruiters are promoted and can run an entire process on their own, because they have worked on so many assignments that allow them to gain the knowledge to lead an engagement.
The Client Delivery Team can scale up and down depending on its workload, and handle 4 to 6 engagements per team member on the low end, and as many as 8 to 15 engagements simultaneously, when they are busy.
The Core values of The Tolan Group are Collaboration, Innovation, Positivity, Ambition, and Strong Work Ethic. They have a great team with great tenure and get enquiries daily for job opportunities.
"We keep that tenure because we treat each other like family, with mutual respect and appreciation for what everyone contributes. The work is fun and challenging at the same time, but it wouldn't be as rewarding without the team we share it with," says Kaye.
Her vision is for The Tolan Group to be the go-to partner for all things healthcare for the private equity market, and she sees the firm growing at 25% to 35% annually in the executive search sector. They also have a very robust clinical and health tech staffing company that is growing quickly, called ClinTech Health.
The Tolan Group has been on many top lists for industry expertise, and Kaye remarks that she would like them to stay on those lists and be on more. "I can see us very soon as one of the elite pure-play healthcare search and staffing companies in America," she remarks.
Kaye points out that if they want to become a TOP 10 pure-play healthcare search and staffing firm, they need to scale the business to 4X of where they are today to make that happen. In June her Co-CEO, Tim Tolan, moved into an executive chairman role to focus on strategy, which means she will occupy the CEO seat and the responsibilities that go with that on her own.
Learning to trust and delegate as a leader
Kaye describes her approach as Unapologetic, not in a negative way, but in that a lot of decisions need to be made quickly, and well. She usually has lunch at her desk, so she can juggle her schedule and make sure she is constantly adding value to the company.
"I don't stop, as my plate is always full. I run finance, operations, and lead senior-level C-Suite engagements with my team. Daily, I might have 5 to 6 video interviews and 4 to 5 phone screens in between 4 to 5 internal meetings with my team and the other partners in the firm. I am responsible for making sure we meet our bookings and revenue goal each month," she states.
In addition, Kaye also deals with all things personnel-related, oversees finance, including individual plans and objectives, commission accounting, and payroll. As they have grown geographically, she decided to outsource payroll and HR functions to a PEO, which turned out to be a tremendous help to her, and a great benefit to their employees.
Kaye admits that life is full of challenges that change and morph into different types of challenges as you get older. She recalls that one thing she had to overcome as a leader, instead of an individual contributor, was to trust and delegate.
"I didn't do that well and just kept taking on more. I learned that if I wanted to go fast, I could go alone, but to go far required a team effort," she reflects.
With an extraordinary team at The Tolan Group, Kaye quickly learned a valuable leadership lesson, that if she wanted something done, she needed to trust the team and delegate it. "It gets done better and more efficiently than if I try to add something else to my plate," she observes.
Another industry-specific challenge that Kaye learned a few months after starting with TTG, was when her CEO asked her to take on a significant project with IBM, where she had a lot of learning to do.
There were quite a few roadblocks and project skills she needed to learn along the way. Eventually, she figured things out, and they delivered on a 40+ person hiring project. "He knew I could do it, but forced me to find my own path – which I did," she recalls.
Kaye observes that her idea of being successful has changed personally for her over the years – and can change day to day, as she believes it does as a society. She realized that there's more to life than the flashy outward perception of success, especially from an emotional perspective.
"Being successful to me is not just accomplishing a goal. It starts with achieving those goals, but being able to look back a year, five years, 10+ years later, and see the results of your work and what you have done, and be proud of the accomplishment," she declares.
The importance of hard work and recognition
One of the things that TTG promotes is work-life balance, and Kaye notes that she still lives by her high school yearbook quote over 20 years later, "There are 24 usable hours in every day". While she is out the door at work at 5:30 pm, with two little boys at home, her day never actually ends.
She hopes that TTG's clients always feel like they are important as one of their partners' starts taking calls very early, sometimes 5 am or 5:30 am, because that is what works for her.
Kaye observes that she is on the other side of that spectrum, spending morning time with her family to get them off to school, etc., and often taking calls into the evening, but she has an off switch that is important to maintain balance.
"The team here is family – we share what is going on in our personal lives and take time for them; you have to, if you are going to continue to enjoy and love your job for years to come," she maintains.
One of the things they do at the Tolan Group is Quarterly business meetings where they always recognize accomplishments. Kaye points out that they are not always tactical, or sales related, but very often recognize those who have gone beyond the normal call of duty.
Her advice to aspiring women leaders is to find a role in a space or segment that gets you excited every day. Then you must decide and have a vision of how you can take on the role of the person you report to.
You do this by asking lots of questions, and working a lot harder than your co-workers. Sign up for things nobody else wants to do, over deliver on your commitments, always deliver on time, and finally do a little bit more than they expect.