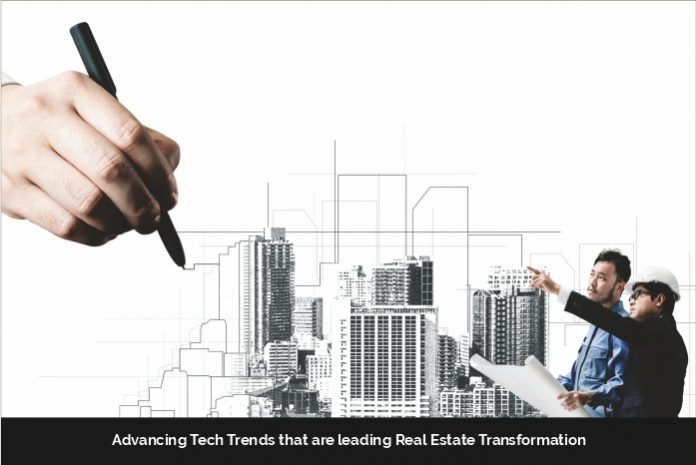 As a way to find the ideal property, real estate mobile apps and agent websites are growing in popularity. Those who work in this industry professionally and want to grow their business should first understand the market and keep an eye out for the newest real estate mobile app tech developments. Such knowledge will enable you to make wise judgments as you set out on the path to long-term business development.
The real estate market is changing in a number of areas thanks to technology, including design, construction, marketing, buying, and selling. Blockchain, 3D visualization and rendering, Big Data, artificial intelligence, IoT, and virtual reality are a few property technologies to be aware of. All of these technologies have several advantages for real estate agents, sellers, and purchasers. They boost property marketing, increase efficiency, and save operational costs.
3D Visualization
A unique architectural idea that aids architects and builders in creating clients' ideal homes is 3D visualization. Visualizations to note that real-time 3D visualization offers graphical representations of the attributes of 3D models created with 3D rendering software. Homebuyers can then view various angles of design components like furniture, décor, and lighting in 3D buildings.
Among the many advantages of 3D architecture rendering are effectiveness, a thorough grasp of building designs, and cost savings. Additionally, investors and designers can immediately spot design faults with the aid of 3D rendering. In order to have dynamic and contemporary renders of your projects, investing in 3D rendering services should be a top priority whether you are new to real estate investing or already have a successful firm. You can produce 3D representations that suit your vision, requirements, and target audience with the aid of experts. You'll have a powerful marketing presence as a result, which will help you stand out from rivals.
It has been determined that using cryptocurrency in real estate is advantageous. Consequently, it became possible to purchase residences using bitcoins and other bitcoin-like currencies in late 2017. The first piece of real estate to be sold utilizing blockchain technology was an apartment in Kyiv, Ukraine. Since then, a number of blockchain real estate firms have appeared, following real estate market trends. This didn't happen by accident because real estate deals can run into some troubling issues:
There are a lot of mediators. In the past, notaries, banks, real estate brokers, and other intermediaries have all been used to close real estate agreements. One can avoid paying extra for at least certain services with the blockchain. Thus, transactions that are repeated often can be done without using middlemen.
Strict entry requirements for real estate investing to begin investing in real estate, a significant sum of money is typically needed. But today, anyone can purchase Bitcoin fractional ownership, which can come in different sizes. The property may be divided among a number of shareholders who have pooled their financial resources.
As long as real estate property agreements are in written form, there is a risk of fraud since people can falsify them. With blockchain, this danger is reduced. The blockchain and so-called smart contracts can be used to connect ownership of digital property. Cryptography maintains such papers safe and unforgeable because once they are encrypted, they are impossible to change.
Red tape is a major obstacle for everyone. Both buyers and tenants, as well as property owners and agents, are distracted by tedious paperwork. Therefore, cutting out the paperwork and making the procedure into a very simple transaction are two of the best things the blockchain can accomplish for you. Smart contracts are verified and time-stamped using the blockchain, not by third parties.
It is challenging to locate current and pertinent property information. In fact, obtaining it requires payment. The blockchain has the potential to keep all pertinent data regarding the parties and the property. The records are not only safely maintained, but they can also be modified at any time without the intermediary' consent. Since secured documents are inserted initially and are available immediately, trust is built into the technology.
Big Data
To make wise judgments, the real estate and property management industries rely on data. They are therefore better equipped to make use of big data's advantages. With the help of past and current data, this technology can forecast prices and provide real estate insights, trends, and patterns. Big data should ideally assist real estate agents and investors in pricing properties based on present value and anticipated future price fluctuations.
Property investors can easily market and sell properties because big data offers unambiguous market insights. Buyers may now select the ideal properties based on price, preferences, and location thanks to big data analysis. Real estate market participants can increase their productivity by utilizing big data because they can obtain real-time information on profitable.
Business Intelligence and an Increase in Data Volumes
Without business information, it is difficult to envision the development of mobile applications for the real estate industry. Furthermore, data growth at an exponential rate should not be separated from effective app development. With these considerations in mind, more effective business procedures are becoming a possibility.
One of the major developments in property management already involves business intelligence produced by big data. It may strengthen a real estate app, influencing how customers, agents, and property owners engage there. BI offers a variety of techniques for improving decision-making. In order to obtain insightful forecasts characterizing the relationships between app users, business analysis algorithms are utilized. After then, it is simpler to respond to the issue of what will going to happen. BI is enhancing your data-driven real estate firm by reviewing internal data and examining business procedures. By utilizing and processing all incoming data, you may optimize company operations with the help of business intelligence software solutions.
What future holds?
The aforementioned mobile app trends in the real estate sector will shape the direction of real estate technology in the future. Property owners, purchasers, tenants, and most crucially real estate agents in 2020 may consider these seven points obvious. However, it is important to note that having clear instructions to follow makes it much simpler to plan out one's strategic future. Yes, we haven't covered everything, but the points made above are a fantastic place to start. Ensure that real estate management software has as many of these features and advantages as you can while keeping them in mind.