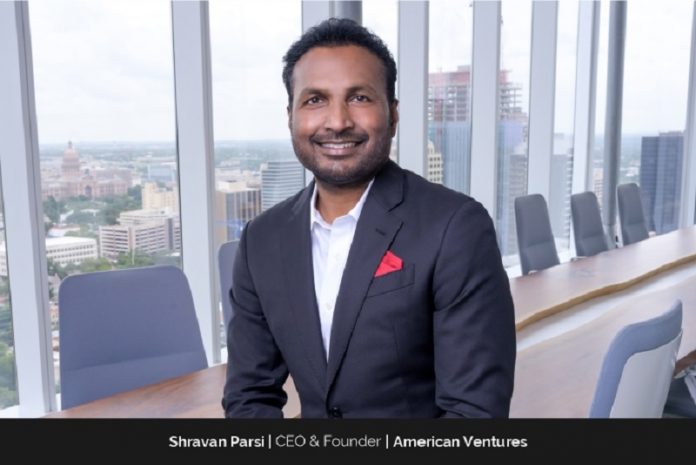 One of the traits that helped Shravan Parsi, entrepreneur, innovator, CEO, and Founder of American Ventures®, achieve stupendous success in the real estate industry was his firm belief in applying the scientific process to everything he touches.
With experience in a variety of industries, including real estate investing and pharmaceutical research, Shravan's methodical approach to investing in multifamily and commercial real estate was based on his skills as a pharmaceutical chemist. He brought an analytical perspective to real estate, a sector that was very much in need of such an approach.
Since he began his involvement in Texas real estate in 2003, Shravan has co-invested with private equity firms, family offices, high-net-worth individuals, and accredited investors, to acquire 22 apartment complexes totaling 4,300 units, as well as a number of commercial buildings.
In 2022, Shravan won the title of "Top Multifamily Investor of the Year" at the Real Estate Development Awards (RED), popularly known as The Academy Awards of Real Estate, which are presented annually to noteworthy work carried out across the USA.
Shedding light on the science of the deal
Shravan's debut book, The Science of the Deal: The DNA of Multifamily and Commercial Real Estate Investing, was released in November 2019 by Forbes Books, a market leader in business print and digital media. In his book, he explains his distinct approach to data-driven real estate investing for the current era, by using science, analytics, and insight into multifamily property investing.
Shravan's book reveals how his history of investments has helped him achieve enormous success by utilizing deep knowledge for each deal structuring. It also shares his principles and values, and his belief that the key factor in success is your willingness to work hard and hustle to achieve your goals.
Learning the potential of real estate investing
Shravan grew up in a small town in India and lived in Hyderabad, India's 6th largest city, during his teenage years. "My dad is one of my biggest role models," he says. "As a young child, he had a mild case of polio. Yet he fought all the odds and became the first medical doctor in his small town, and eventually became the civil surgeon and resident medical officer of one of Hyderabad's largest hospitals."
Shravan's dad worked hard, and his medical practice enabled him to build a good income. With that income, he bought plots of land in and around Hyderabad. When he retired, his real estate portfolio was much larger than his savings, and some of the property values were larger by multiples than what he earned from his medical practice. These facts left a deep impression on young Shravan, staying in the back of his mind for many years, forming the bedrock of his real estate investing practice.
Shravan notes that it is the tradition, in middle-class Indian culture, to choose a professional career, and even more traditional to follow in your father's footsteps. As fate would have it, though, he missed the cutoff criterion on the medical school entrance exam by one tenth of a point, so he decided to become a pharmaceutical scientist instead, and got a Bachelor's degree in pharmacy.
"But I leaned more to the business side of work, so I set my goal as owning a pharmaceutical company; massive pharmaceutical companies like Pfizer and GlaxoSmithKline inspired me," Shravan recalls.
The intriguing journey to becoming a real estate mogul
Shravan went on to get a Master's degree from St. John's University in New York and worked as a contract pharmaceutical scientist with Schering-Plough, one of the top ten pharmaceutical companies in the United States back then. He was drawn to San Antonio, Texas, by a position with more responsibility, bigger projects, and better pay.
"It was a better schedule as well, eight to five, with the evenings free. In San Antonio, at that time, my commute was short, no subways, just a quick drive to my home. And I enjoyed the freedom of not having to share my place with roommates. All that freedom reminded me that I wanted to do more in my life," Shravan recollects.
When memories of his father's success in real estate investing came rushing back, he started looking more into it and began connecting the dots. Shravan first bought, renovated, and sold single-family homes. Once his real estate income was twice the value of his salary as a pharmaceutical scientist, he switched to real estate full-time.
"I devised a way to help first-time home buyers buy my renovated homes and scaled up the business very quickly. I then saw a similar opportunity in value-add multifamily housing, and quickly scaled from buying the first 200 units apartment complex to 4,500 units in 6 years," he states.
Quality housing for the great working American
The mission of American Ventures® is quality housing for the great working American. It is a multifamily and commercial real estate investment company focused on new development and value-added real estate investments in Texas.
Through American Ventures®, private equity firms, family offices, and qualified accredited investors have access to institutional quality investments, such as top-notch multifamily and commercial real estate investment opportunities. The company is positioned for ambitious growth with a strong pipeline of planned acquisitions for 2022 to 2023, estimated to be worth $350 million.
These include a Class A apartment complex in Dallas-Fort Worth, which is under construction having secured a low-interest rate HUD loan; a midrise boutique hotel & a condo development in Austin's iconic South Congress district which is in the entitlement phase; and a 100-acre urban apartment community in San Marcos, TX, within Austin MSA with mixed-use / apartment communities, along with single-family homes build-for-rent communities, which just passed the zoning phase.
Having exited a 4000+ unit multifamily portfolio over the last couple of years with tremendous success, Shravan's plans for American Ventures® are to continue growing and scaling. His short-term goal is to hit a billion dollars' worth of quality assets under their ownership, both existing assets in the value-add phase, or new assets in the development phase, by the end of 2024.
"We are well underway to reach that goal," Shravan states. "We also have a live deal that investors can participate in now, a cutting-edge 100-acre urban community in Austin MSA. This will be a very diversified investment opportunity in the single-family, build-for-rent residential real estate space."
American Ventures® strongly believes that, for the foreseeable future, and in any downturn, multifamily real estate will be one of the best-performing asset classes. For additional details, please email invest@americanvenrtures.com.
"American Ventures® works to create institutional-quality investment opportunities that bring high-quality housing to life for working American families."
Being diligent and systematic leads to success
Shravan shares one consistent lesson he has learned, which is that being diligent and systematic about what you do leads to success, most of the time.
"I learned this approach from my training and work in pharmaceutical science. In science, you get the clearest results from diligent research and systematic experimentation. In commercial real estate, you make the best deals from diligent research and a systematic underwriting process. It is the same in life. A diligent and systematic approach to what you do yields results," he maintains.
Shravan explains that a systematic approach balances risk and opportunity, cash and leverage. Creating these balances requires careful research. So, success in CRE boils down to a few key principles:
Know your industry by doing the research.
Be systematic in using this information.
Pay close attention to timing.
Understand the downsides before they are likely to happen.
"You pull together a successful commercial real estate deal by effectively working with these key principles," Shravan remarks.
He notes that American Ventures® is always scanning the real estate environment in central Texas. For example: What deals are closing, what is coming on the market, and what stage of development are properties in?
"Taking time to do this systematic research – I call it prep time – is what enables you to take advantage of timing and strike a balance between cash and loan in your capital stack," he explains.
Shravan also lists three factors in successfully executing a real estate deal: finding the right property, finding the property at the right time, and setting the deal in motion at the right time.
"Doing the right thing at the right time is essential for the deal, and prep time is critical to achieving this timing. The ability to see two to three years in advance is a critical element of success," he declares.
"A diligent and systematic approach to what you do yields results."
Investing in the highest return segments of the real estate market
American Ventures' expertise is in real estate investments, finding and making good investments, and managing them for a good return.
"If that good return comes from value-add multifamily deals, then multifamily is where we invest. But if value-add deals no longer provide a good return, we will turn to the development end of the market, which is a natural extension. Our job is funneling available investment funds into the highest return segments of the real estate market," Shravan elaborates.
He shares that, in the 2010s, they bought existing buildings, managed them right — that is, stabilized the property — held them until they reached the desired financial position, and then sold the asset. Shravan observes that today, however, existing buildings are trading at extremely high prices, and this trend has led them in two directions.
"First, after stabilizing an asset, we have the intent to hold it long-term for cash flows. Our investors benefit from payouts of that cash flow during a longer hold time. And we expect the value of the asset to appreciate. When we eventually sell it, we will make a much greater profit. Second, to access superior quality investments, we expanded our development platform and are building some great properties," he explains.
The four fundamental principles of real estate investing
Shravan remarks that, as per the core values of American Ventures®, they stick to four fundamental principles: buy right, build right, finance right, and manage right. Explaining the principle of finance right, he observes how the financial landscape constantly evolves.
"In times of market uncertainty like today, or in what we think of as good times, we need to define what investment strategy will work. For example, what was a good deal at the beginning of 2022 is no longer a good deal today, because the cost of borrowing capital has gone up substantially. For example, a 4% loan in January or March 2022 is now coming in at 7% to 8%. 70% of the capital in a project comes from lenders," Shravan states.
He recalls when they were putting together a particular deal in December 2021. As soon as the lender, HUD, gave them the option to rate lock, they locked the loan at a 2.96% interest rate fixed for 40 years. By the time the lender funded the deal in May 2022, interest rates had nearly doubled.
"Under other market conditions like those prevailing during the 2010s, we might not have taken advantage of a rate lock, because interest rates were trending lower," Shravan remarks.
"The financial landscape constantly evolves. We define what investment strategy will work in times of market uncertainty like today, or in what we think of as good times."
An open environment that naturally fosters innovation
Shravan points out that American Ventures® works at the juncture between institutional-quality investment opportunities and bringing high-quality housing to life for working American families. To accomplish this, everyone on their team works in a leadership role.
"They are all highly talented individuals who know their roles well and perform them excellently. Together, we have over 100+ years of real estate experience. Our strengths and weaknesses complement each other," Shravan observes.
He notes that, because they are a small team of leaders, everyone's goal is the same and open communication ensues naturally. Unless someone is taking an important call or needs to have a deeper conversation, everyone's door is open. And because they are all working at the top of their field, there's no office politics.
"We don't compete with each other," states Shravan. "No office politics, and open communication, establish an environment of mutual respect. This environment enables each of us to freely express our thoughts. When you are able to contribute your expertise without fear of judgment, you are able to work with integrity. That open environment naturally fosters innovation."
Shravan remarks that, at the root of each deal, they are talking about where hardworking people live. "It's great to participate in getting people into homes they love. We end up making a lot of money for our investors and seeing people's quality of life improve because they are living in these fantastic places. To me, and the American Ventures® team, it is the ideal work," he declares.
Determination, grit, curiosity & flexibility help overcome obstacles
Shravan admits that challenges exist in every part of life, and in every deal, and that these challenges teach you certain qualities, like, for example, grit. He notes that people with grit will overcome whatever challenges come up, and that dedication and determination are other qualities that help you overcome challenges.
"I get a lot of inspiration from what other people have to say about life, and this reminds me of what baseball's Tommy Lasorda said: The difference between the impossible and the possible lies in a person's determination," Shravan notes.
He observes that challenges are bound to come up again. So, the best thing that can come out of a challenge is that you pick up these qualities — determination, grit, curiosity, flexibility — that make you better prepared to overcome the next challenge that comes around.
"When I encounter a challenge, a lot of times my first reaction is to just stop. I'll pause and find my determination — I'm stubborn. I'll remind myself of my vision or goal, and ask some questions about the situation. I'll be curious about what is going on — again, that comes from scientific training. I'll be flexible as well. Circumstances change, and flexibility enables you to reevaluate and pivot as necessary. If there's an obstacle that you cannot remove, flexibility enables you to move around it," Shravan says.
"The best thing that can come out of a challenge is that you pick up these qualities — determination, grit, curiosity, flexibility — that make you better prepared to overcome the next challenge that comes around."
Balancing the responsibilities of business with being a new parent
Shravan notes that his regular day at work involves overseeing the acquisitions, asset management, and investor relations aspects of American Ventures®. This involves a lot of team meetings, as well as external meetings, all with a very clear agenda and purpose, and reviewing a lot of spreadsheets and business plans on various current and potential future investments.
American Ventures® has a core team that includes a director of acquisitions, a director of asset management, a director of development, and a director of investor relations. Each of the individuals in these positions is a C-suite executive in his own right. Shravan's responsibilities lie in overseeing the work of each of these executives.
He reveals that, on any day, he might have conversations with the director of acquisitions about the status of raising capital on a project. They might discuss whether they have signed paperwork in the investor portal from their investors, or problem-solve the status of the market and the impact that it is having on getting loans. And then, they might reach out to three or four lenders for another project.
They might also discover that they need additional capital on another deal moving from entitlement to construction phase, so they have calls with potential investors. Sometimes it's reaching out to our strategic partners, they include property management companies or general contractors to name a couple. "We just broke ground on a project in Dallas, so we will have calls with the contractors to review what is going right and whether problems are emerging," Shravan shares.
He remarks that his role constantly switches throughout the day between acquisitions and capital raises, to overseeing asset management, to development, to investor relations. "I'll spend time reviewing spreadsheets and status reports in face-to-face meetings and on the phone or over video calls. But, on another day I can be on-site, say in Austin or in Dallas, wearing a hardhat and walking through a property, making sure all is going well," he states.
Shravan admits that he maintains balance in life by following Warren Buffett's advice and saying "no" to most things. "My wife and I just had a baby boy. Before the baby arrived, I allowed a certain amount of overlap between my private and professional life, because I devote a good amount of time to building and nurturing my network. Now, I have a more defined structure and systematic approach in my professional life, so I can participate with my wife in raising our baby without relying a lot on outside help. It's important to me to maintain excellence in American Ventures® and enjoy the experience of being a parent," he observes.
Build an authoritative network & distinguish yourself from others
Shravan's parting advice for aspiring leaders is two-fold. His first message is to always think about what you can do to distinguish yourself from others in your field. "Early in my real estate career, I innovated and had some success. But I always wondered how I could achieve more," he reveals.
The second message is that who you hang out with influences how your life goes. Having an inner circle — a close network — that focuses on your objectives and values, will help you manifest those values in life.
"Associating with people who are authoritative in their professional fields, and authoritative in their personal endeavors, is crucial to accomplishing amazing things in your life. Whether it's hanging out with Richard Branson in his private island plying pickle ball or spending time with Elon Musk at a wedding in Austin or having friends over to your home, your network will help you rise to the challenges you meet," he declares.