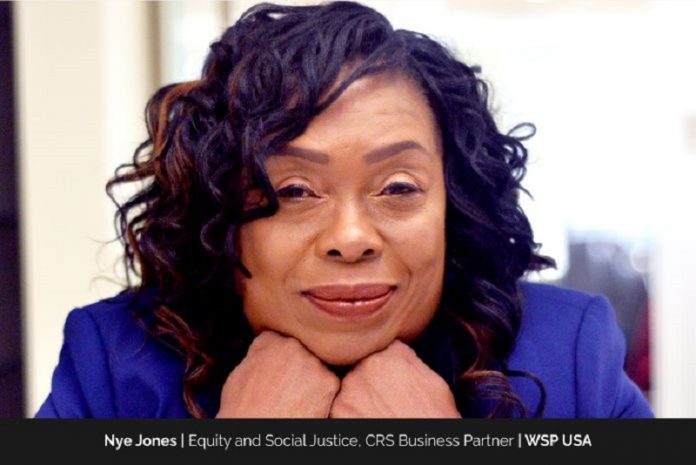 When you measure success as helping others overcome and reach their full potential, it results in better outcomes for all involved.
For Nye Jones, Equity and Social Justice business partner for the Climate, Resilience & Sustainability (CRS) business line at WSP USA, success has nothing to do with hierarchy level and more to do with who you helped along your life's journey.
As a member of WSP's National Inclusion and Diversity Council, and President of the Tri-State (NJ, NY and CT) Diversity Council's Advisory Board, her strongest desire is to support DE&I in the workplace, centering lived experience through more dialogue, inclusion and empowerment.
Nye has won many awards, including the Louis Berger (LB) Global Values Award, Grand Award for Integrity in 2018, the Black Interest Team Enterprise Business Leadership Award in Jersey City, NJ, in 2019, and the Excellence Award as a New Jersey Advisory Board Chair.
Finding a seat at the table
Born in the small town of Oak Ridge, known as the 'Secret Atomic City', Nye developed an interest in science and mathematics and wanted to study computers. She found a summer job and internship with Department of Energy's Student Program.
While still in her last year of high school, Nye joined Tusculum College, where she met her future husband – with whom she now has a family of three educated and beautiful daughters and two granddaughters.
Her early years helped shape her definition of success. Eager to find a seat at the table with successful people, Nye's hard work and perseverance paid off when she was eventually invited to participate in those meetings.
"The question I asked myself is, do I feel successful? Taking a deeper dive into my unique definition of success, I would tie it back to my history, my past, and my lived experience," she says. "I feel that acknowledging our histories in family and communities is the first step to feeling successful."
Success is lending a helping hand
Nye ties her success to the history her mom and dad shared with her. "My dad, Henry J. Chisholm and mom, Lavada Bright Chisholm, shared so many stories," she recalls.
Nye's father walked bare-footed from school every day, waiting until his father made enough money from his farm to buy shoes. Her mother supported the family by washing clothes by hand for Black American Military men.
"My mother, a retired schoolteacher, taught me my first lesson on equity. When she accepted her first teaching opportunity in Knoxville, she shared how she was going to ensure that every child received the same opportunity," says Nye. "Quickly, after her first day, she realized she had to meet each child where they are. She had to provide different resources for each child."
As a child, Nye listened deeply and felt her parent's experiences. "We all have experiences to share and learn from. My family's stories helped increase my emotional intelligence," she says. "On the upside, their hard work and perseverance to help others produced better outcomes for all involved."
Despite all the challenges, Nye heard many good stories of them sharing a helping hand for families and communities. "I recall having several people living in our home at any given moment," she says. "This is part of my family's inheritance; being successful to me is helping people reach their goals. Helping others overcome and reach their full potential makes me a happier person and gives me success vibes."
Engineering is about people
As an IT professional, Nye was a competitive person, an approach that fit well with the team and allowed her to stay employed.
"For most of my career, I showed up every day as the only woman and the only Black American on the team," she says. "I always focused on the quality of my work first, quantity second. I met some amazing people and experienced some challenges that made me stronger and made me want to help, because I am my brother's keeper."
When a recruiter contacted Nye about a job at LB, which was acquired by WSP in 2019, she was struck by a statement she saw on LB's website that said, 'Engineering is about people.' "That statement spoke to my soul," she recalls. "When a company like LB or WSP puts their people and their clients as the most valuable assets, it really makes a difference."
She decided to take the interview with LB, and instantly felt a sense of belonging. "I felt that if I joined, I would feel valued, supported, and my uniqueness would be integrated. It was important to me to feel there was an opportunity to succeed," she says.
Finding supportive mentors who championed DE&I
Once she joined LB, and then WSP, Nye had the opportunity to amplify, elevate, support, value, and embrace diverse cultures, spaces, people and communities. She realized that being in a place with the liberty to express oneself, while valuing, supporting and integrating individual uniqueness into the organization is important for achieving one's goals.
Nye joined Women @ LB, led by Jennifer Brunton, who ended up mentoring her. She realized that LB had plenty of diversity as an international organization, but the missing piece was intentional conversations about inclusion.
At the time, Tom Lewis was the President of LB, and Nye describes him as a "passionate, open, adaptable, self-aware, very positive, and hard-working leader" with whom she shared her inclusion concept in a slide deck of Inclusion @ LB.
Quoting Verna Myers, she says, "Diversity is being invited to the party; inclusion is being asked to dance. When Tom said yes to Inclusion @ LB, I felt good, supported, valued, and included. I felt like I was part of something, which gave me opportunities to expand and explore the leadership in me."
In Tom's leadership, Nye found a tremendous ally for the work she did, and he invited her to participate in the CRS business line to acknowledge the assemblies that sustain, preserve, and produce inequities in our society and communities.
"At WSP, we are working hard to change the narrative toward a more safe and equitable society," she says. "The opportunity Tom provided gave me the support to focus on quality over quantity, and to build authentic relationships, which are critical in supporting our work in CRS."
Nye recalls how, during their first in-person leadership meeting, Tom mentioned how important it was to acknowledge the land they were doing their very work on. The CRS team acknowledges the histories, injustice, innovations, and victories of spaces and places as they plan, design, and build.
"I discovered how important it is to create a long-term net positive social benefit for our employees, clients, and the communities we serve," says Nye. She believes that we must reckon with the past to heal, create psychological safety, trust, and a deep understanding of our past, self, and others.
Building on her inclusion and diversity skills
Nye launched Inclusion @ LB with a silent skit demonstrating exclusion, inclusion, engagement, and innovation, with support from Jennifer Brunton, Sofia Berger, and Heather Unger.
"Our theme was 'Strength Through Differences'," says Nye. This opportunity gave her a chance to connect her passion to her work and inspired her to go back to school and study inclusion and diversity at Cornell University.
Nye also pursued the Certified Diversity Practitioner program through the National Diversity Council and received her CDP.  Since then, she has used her IT skills and DE&I skills to forge straight ahead in supporting WSP's Inclusion and Diversity goals.
Defining herself as a 'Changemaker', Nye believes it is her duty to amplify, elevate, and support diversity through an equity lens. She built a WSP Inclusion & Diversity Toolbox internal SharePoint site with business tools and learning resources on DE&I.
She also runs workshops on Overcoming Bias in Dialogue, holds conversations about race, gender and ethnicity, and supports their Equity Center of Excellence team, led by Denise Roth, executive leader for WSPs Advisory business line.
Nye finds it productive to think about her work more in the here and now, in terms of everyday interactions, and not so much through the lens of sexism and racism. Her work helps create partnerships within communities, connecting, cultivating meaningful collaboration, and being a convener to move WSP along on positive outcomes.
Helping clients & communities become Future Ready
WSP USA is the U.S. operating company of WSP, a leading global professional services firm employing over 50,000 people, including engineers, advisors, technicians, scientists, architects, planners, surveyors, and environmental and sustainability specialists, as well as other design, program and construction management professionals.
The firm traces its origins back to 1885 and has delivered iconic projects such as the design of the original New York City subway system, Cape Cod Canal, and the World Trade Center. It provides technical expertise and strategic advice to clients in the transportation, water, energy, property and buildings, industry, and commercial sectors.
Today, the company helps clients and communities become Future Ready, developing innovative solutions to the increasingly complex and interconnected challenges of the built and natural environments, and working to build resilience into organizations and systems to prepare for challenges ahead.
Nye works with a team of leaders in WSP USA's Future Ready Program, an approach to thinking beyond the conventional to design and deliver infrastructure that is ready for the changes and challenges our world will face in the future.
Having a Future Ready mindset allows WSP to stay future-focused, understand how the world evolves, what it might look like in the next few decades, and take action to prepare for this future.
"Our communities thrive on it, and our clients count on it," says Nye. "My plans for the future of WSP USA are to support our leaders in Environment, Social and Governance (ESG) and elevating the 'S' through our WSP I&D National Council's DE&I goals as they evolve."
WSP USA has a 3-year strategic plan, and Nye's goal is to help execute those initiatives, throughout the organization and externally, with an equity bifocal. "My short-term goal at WSP is to always uplift my peers and clients. My long-term continuous goal is to promote excellence for present and future generations," she says.
"I was raised to believe that excellence is the best deterrent to racism or sexism.  And that's how I operate my life." ~ Oprah Winfrey
Overcoming unconscious biases
Nye defines her strength — and weakness — as her love for people and the desire to help people achieve their goals. For her, this means supporting people through physical and mental challenges, ensuring the working conditions and composition of their supplier diversity programs are up to par, and supporting DE&I for communities in which they work.
"Challenges do make you stronger," she says. "One of the first lessons I learned was to be a humble learner, practice profound listening, and approach my work with boldness towards learning." This approach helped Nye realize that everyone's life experience is expertise.
Listening without making assumptions or predetermined solutions also taught her valuable lessons. "In my early career, I often made assumptions without really getting to know someone," she recalls. "However, once I began studying more about DE&I, I had an opportunity to create more dialogue on these subjects, learned to move at the speed of trust, and create authentic relationships."
Having noted the human tendency for unconscious biases, Nye knew that it was imperative for her to overcome her own biases and that not doing so could inadvertently harm relationships and alienate others with thoughtless autopilot responses. She feels blessed to have received that legacy from her father.
"I literally sat on my father's shoulders as he supported the vision of MLK – to overcome tremendous obstacles, keep his family safe, and provide education for his children through some of the most challenging and hard times of being black in America," she recalls.
"History has shown us that courage can be contagious and hope can take on a life of its own." ~ Michelle Obama
Supporting women empowerment at WSP
Nye has seen a shift in the way women leaders are going forward today. "One interesting statistic is that we are more overworked than last year, based on the McKinsey study, Women in the Workplace 2021," she observes.
Nye also sees WSP as a workplace where women can succeed and thrive, thanks to leaders like Lou Cornell, CEO of WSP USA, and Tom Lewis, CRS, who are major DE&I proponents.
"Having allies really empowers women for a holistic approach," she notes. "When I think of women empowerment at WSP, I think of leaders, such as Sofia Berger, Transportation National Business Line Executive, and Denise Roth, Advisory National Business Line Executive, who broke the glass ceiling. Seeing leaders that look like you give employees hope that one day their leadership skills will be recognized on merit."
Leading with empathy
Leading with empathy is one of Nye's strengths. When things are not going as planned, she focuses on the positive. She believes that one of the most important responsibilities of a leader is to shape the organizational environment in a way that improves team member engagement, experiences, performance and well-being.
"My aim is to not get upset about the roadblocks, but instead be part of the solution – to work to make the spaces where people live better for us all," she says. "The more I strive for a better outcome the roadblocks appear as tiny pebbles on the road."
WSP takes pride in disclosing their ESG investments. After the 2020 ESG report, Nye was excited to see the Community Youth Advisory (CYA) group out of Baltimore, MD, listed in the report.
CYA provides comprehensive educational and character-based programming for students in Grades K-12, and is advancing academic, social, and career opportunities by providing kids and their families with academic enrichment, mentorship, college prep assistance, and access to career training.   Nye initiated a team of planners and engineers to set up a 4-day 'Be A Future Engineer' workshop with a variety of WSP's technical disciplines.
"Most of my work is focused on the elevating the 'S' in ESG, engaging in meaningful ways on our firm's collective conscientiousness for social factors," Nye observes. "This involves educating myself and others on DE&I."
Focusing on the key drivers of employee engagement
Since COVID-19, Nye has explored employee engagement and what WSP can do to support staff that shifted work styles in response to the pandemic. She learned that satisfaction and commitment are not what drive sustained organization performance, rather its employee engagement that makes the difference.
"Employee engagement is the sub-committee I lead under the WSP I&D Council," she says. "At the start of the pandemic, I launched an I&D Yammer community to celebrate and highlight employees, hosting gatherings on I&D topics and educating with resources on culture competence. My goal was to create a space so employees can help co-create our inclusive culture."
Nye focuses on the key drivers of engagement: psychological trust, safety and meaningfulness, knowing that it is critical to create an environment in which equitable interactions are what people come to expect and value within them.
"Our work, clients, and the communities we serve, promote trust, safety, and meaning in our work," she says. In conclusion, her personal goal as a leader as well as her message to aspiring women leaders, is to "Lead with passion and enjoy your work."