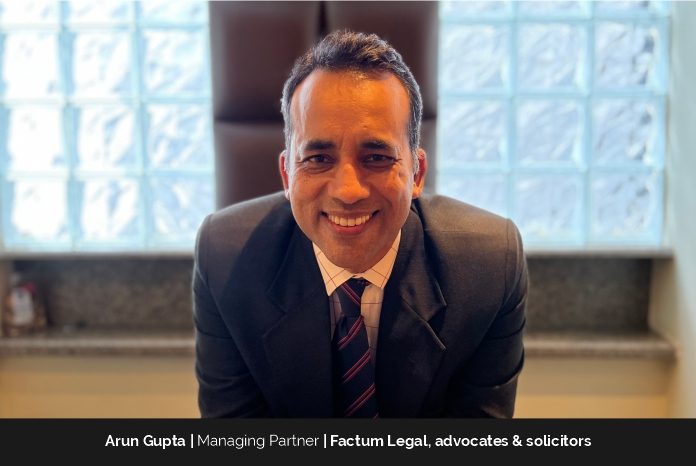 Arun Gupta is the founder and managing partner of Factum Legal as well as a corporate attorney, insolvency specialist, data privacy attorney and an author. He has a law degree, is a fellow ICSI member, a professional in insolvency, and is a DSCI Certified Privacy Professional. He is also listed as an advocate with Delhi's prestigious Bar Council.
Mr. Gupta has worn a variety of hats throughout his career. He has provided seamless solutions to many corporate legal departments, in-house professionals and general counsels in various positions as a mentor, guide, coach, strategic counsellor, solution provider and trusted advisor.
Mr. Gupta has almost two decades of experience as a practising professional. He is a specialist who, as a result of his keen insight and broad expertise in corporate and commercial law concerns, has carved out a niche for himself in the sector. He is a capable manager and leader who has demonstrated an ability to create service standards for business excellence as well as manage and lead people to operate successful operations.
Mr. Gupta specialises in corporate and commercial advisory services, including dispute resolution, foreign investment and corporate compliance, due diligence, corporate restructuring and insolvency matters, and others. Despite having cross-practice skills in several different fields, his thirst for knowledge has inspired him to broaden his horizons in the legal profession.
View on Success as a Leader
According to Mr. Gupta, it is essential for a leader of a company to concentrate on the team's continuous improvement and overall growth. Success for him at Factum Legal is being able to impart his knowledge and expertise to the group in order to successfully accomplish shared objectives. He wants to develop and grow everyone at Factum Legal by using the best practises and a wide range of legal expertise. What keeps me motivated is offering clients the best solutions while assuring my team's continuous improvement.
In 2013, Mr. Gupta had an idea for a company that would offer its clients services with top-tier expertise and a seamless cross-practice experience. He shares, "This business would bring together a unique combination of experts, including lawyers, chartered accountants, and company secretaries." So far, he has been successful in expanding Factum into a company that offers a wide range of clients through its integrated regulatory and litigation practice, including well-known Indian and international corporations.
On Facing Professional Challenges
Since Mr. Gupta started his practice at the beginning of his professional career and because no one in his family was an attorney, chartered accountant, or company secretary, the first few years of his practice were extremely challenging. Thus, starting a solo practice was a very difficult endeavour. When he made the decision to launch his own business once more in 2013, he didn't worry about his financial success but rather whether he would be able to provide solutions to clients based upon the experience he possess.
Mr. Gupta holds the opinion that having patience is necessary in order to practice law. As a lawyer, or rather as a human being, you are constantly confronted with new challenges, and Mr. Gupta enjoys confronting them and solving problems. He always endeavours to provide solutions to clients instead of answering their queries.
Stepping in Legal Sector
Mr. Gupta began practicing independently in 2001 as an ICSI member in the areas of corporate laws. The lack of prior personal connections in the industry complicated the process.He recalls, "I remained motivated because I wanted to keep learning."
In 2005, he finally joined a consulting company. This organisation offers cutting-edge and unique corporate business solutions employing a particular style of combined legal and financial consulting services. He worked with them up until 2013 and earned valuable knowledge. He started Factum to follow his interest after that.
According to Mr. Gupta, the title of "Promising Legal Consultant of India 2015" given to Factum by Business Magazine Silicon India is the one of the most notable honour he has received as a leader. Every step of this journey has been made possible by the commitment of the Factum Legal team and the support of its clients.
Leading Factum
A full spectrum of legal services and solutions are offered by Factum Legal, Advocates and Solicitors, a boutique law firm serving both domestic and foreign customers. Its practises cover a wide range of Corporate and commercial solutions. Its scope of practice includes conflict resolution, advisory consulting, and representation services.
The team was established to offer top-notch business setup services to entrepreneurs throughout the world. Since then, they have acquired strong capabilities in offering clients the best options for starting businesses in India. The company takes pleasure in providing the greatest customer service by utilising technological expertise, a pragmatic approach, and highly appreciated prior experience.
He provides smooth solutions to several corporate houses, startups, MSME sectors, and corporate legal departments in India and internationally as a seasoned legal practitioner with over two decades of expertise.
Prior to founding Factum legal, Mr. Gupta worked as a partner at the prestigious consulting company Corporate Professionals Advocates & Solicitors.
The terms "trustworthy and credible person" accurately sum up Mr. Gupta.
Highlights on Work Proficiency
Mr. Gupta helped foreign clients establish their companies in India and planned their needs for inbound and outbound investment. He offered advice on M&A, corporate restructuring, insolvency, and other topics. He served as a mediator, strategist, and advisor for a variety of problems, particularly those involving shareholders and management. Additionally, he served as a legal counsel for many IPOs, rights issues, FCCBs, fund raising activities and foreign currency deals. He helped businesses create effective corporate compliance procedures for their organisations and served as a liquidator (insolvency practitioner) for a number of businesses in accordance with the Insolvency & Bankruptcy Code 2016.
Mr. Gupta has authored, co-authored, and contributed to many professional books, such as:
Companies Act 2013- Impact on foreign companies in India (Covering relevant provisions of FEMA 1999), published by renowned publisher CCH, a Wolters Kluwer business, in 2014.
Procedure and Compliances, Companies Act. 2013, published by Bloomsbury India in 2017.
Desk Referencer for Professionals, published by Bloomsbury India in 2016-2019 editions.
ICAI, ICSI, IICA, Chamber of Commerce, and other professional groups across India regularly host programmes and seminars on corporate law where Mr. Gupta serves as a faculty member and guest speaker.
His high morals and ethical values are outstanding and permeate the work of the firm. The firm has grown significantly under his direction since its founding in 2013 and was named one of the "Promising legal Consultants" in 2015 by the business publication "SiliconIndia." He received a "Certificate of Appreciation" from the World Bank for his consistent contributions to the organization's yearly report on "Doing Business in India."
Mr. Gupta's passion for law and desire for study have greatly aided him in his endeavours. He shares, "Regular practise and wise judgments have helped me build a solid foundation for myself that I am content with." However, he remains inspired and motivated for the next chapters of his life since he loves to learn and advance his legal knowledge.
To the aspiring lawyers, Mr. Gupta advises, "Have a fervour to study, work hard, and uncover your interest area as early as possible," and the rest will take care of itself.
Maintaining a Balanced Personal and Professional Life
Mr. Gupta upholds a non-hierarchical leadership style at Factum that enables everyone to freely participate in the process of coming up with ideas. He establishes goals under workstreams to give the work direction and significance. A positive environment is maintained, and accomplishments are honoured and appreciated. He shares, "I do my best to function as a coach for success for my team through constructive feedback in addition to offering supportive leadership."
By exercising good discipline and time management, Mr. Gupta successfully balances his personal and professional lives. He always uses a to-do list, and he never starts the day without updating it. This truly helps him manage and prioritise his tasks, as well as keep a good balance between his personal and professional lives.
Planning for the future of Factum
Mr. Gupta's firm has joined another international legal networks because he firmly believes in cooperation and giving and receiving support. This will surely help the firm learn more and carry out cross-border transactions with local and cultural expertise. Additionally, the team is beginning a new business vertical; hiring is now in progress. The practise of the firm will be strengthened on a global scale by this new vertical. He feels that he still has more ambitious objectives that he aspires to pursue and accomplish with the help of his Factum team.