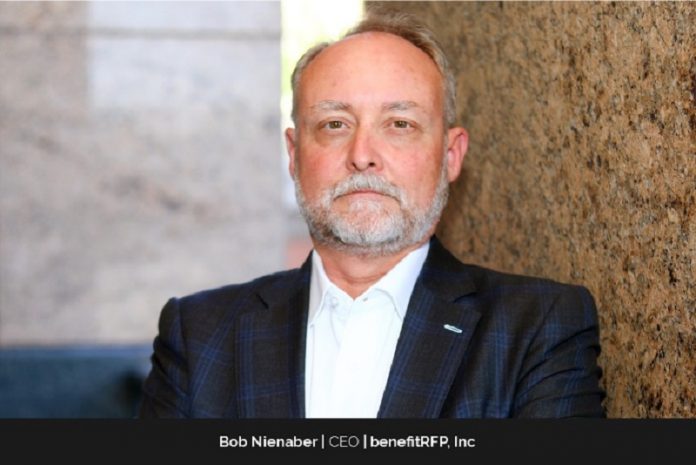 Bob Nienaber is incredibly humble, very focused, and an exemplary leader. As CEO, he leads one of the most highly decorated, award-winning companies in the financial services area – benefitRFP, Inc. His leadership style is open, honest, and collaborative, and because of that, every member of his team gets the opportunity to shine and become successful in what they do. And he revels in the success of his team and others.
A numbers guy, Bob spends more time looking into the future than dwelling on the past. So, he is always looking at ways to open up new avenues for companies and their participants so they can get as much financial success as possible. He believes in doing the best thing for his company, clients, participants, and everyone involved. Under Bob's leadership, benefitRFP has no "good" plans to offer. It only offers the "best" executive benefit plans.
Both he and his team are very motivated people. They always come up with ideas to make things better and do things differently in order to improve things, and they do beta testing of their products before introducing them in the market. "If one of us comes up with a new idea, we beat the heck out of it. We just don't want to bring something to the table that is going to mess up things," says Bob.
"The thing that keeps all of us going is that everybody who is on our team is service-oriented," he adds. "We want to make sure that every client walks away very happy. We want to make sure they are serviced very well."
Elimination of Confusion 
Bob entered the financial industry thirty years ago. When he was looking at different things to get into a financial role, he became fascinated by the fact that there were no templates and rules. It was like "Wild, Wild West," Bob says. What he noticed made him realize that the marketplace and the world could be changed for all companies that use benefit plans and all their participants who run these plans.
"That is how I kind of ended up working on for three decades – dropping in ideas and strategies and working with Congress to make sure that what we come up with can actually happen in the marketplace and get translated over to the IRS so that there is a fair marketplace for everybody working, and it's done very well as a result," says Bob.
Benefits have been kind of like Christmas or Birthday for Bob. He feels that they should be a fun and exciting event. "When you are talking about money or when you are talking about having money for kids' education or for that red sports car, or whatever it is you are after, it should be a fun conversation," he points out.
However, over the years, he has noticed that instead of being fun, such conversations are very confusing and it is hard for lots of people to understand because of too many regulations and rules around money-related stuff.
"So, we set out to make technology years ago that eliminated the confusion and allowed people to see into their financial future in a very clear and easy manner," says Bob.
During a downturn, a lot of Bob's clients will not lose a dime because of how they structure the programs and plans in the products that they use inside of those plans. By doing that, they eliminate risks while still taking in all the rewards of that market. Bob says that it is something that they work very hard on and make sure as a leader and wealth and risk management.
"We take it very seriously, as we know at the end of the day, 1, 2 or 3 percent swing on millions of dollars of earned income, over the years, is an incredible amount of money," he adds. "It is millions of dollars if managed right; and if it is managed wrong, it can cost the participants those dollars. So, we try to eliminate risk when we are talking about wealth management."
For Bob, numbers are very simple, especially understanding multiple numbers from a single dollar. Regularly, he tries to teach people that if someone gets more returns for a dollar, then that dollar is more valuable. So, if someone has a dollar that has been eroded by taxes or other unnecessary costs, then it is Bob's job to explain to them how to get around that stuff in a legal way so that they can enjoy the full value of what they have earned.
Also, when companies give a bonus or benefit offering to their employees, they want to make sure that they get the most money possible for those employees. "So, I have always worked on what that means on a long haul," says Bob.
benefitRFP and Services
benefitRFP (bRFP), often referred to as the "Uber of the financial world," is a direct, high-end national provider of Executive Benefit Plan solutions. It comprises an "unparalleled team" of knowledgeable advisors. It often gets awards – almost every week – for wealth and risk management, both nationally and internationally. It also wins awards for its technology. And, as bRFP is a high technology company in the financial sector, its profits are very significant.
benefitMATRIX is one of the popular technologies of the financial world that the company has created. It does a "great job" of discovering and analyzing what plans should be considered best for a company based on its demographics. It also helps analyze what plans are best suited for participants. Bob says that participants can see the information on a technology, which is a part of the MATRIX, called the Concierge.
Once bRFP begins building the right plan for a company based on its demographics, it does a specific plan design so that the company and its participants can get the most out of that. And Bob says that ultimately, they shop for products to use – which they call the HEATMAP. This technology compares all insurance products that are the primary funding vehicles for benefit plans of companies because of tax effects. It also increases the value that then goes into the pockets of participants.
Companies do not have benefit plans because they want to keep people happy. They have them for their top people because they have to, Bob says, adding that if they want to maintain a culture, they need benefit plans that align with demographics that they are dealing with – from within the company and participants – to make sure that they are always delivering the ultimate financial tools for the people.
bRFP is always looking to innovate. And its proprietary technology does not have competition. Bob says that there is nothing that exists in the market that is even close to what they offer. The company does not lose clients as well. "We don't lose to competition because we truly care about what we do and our clients," he adds. "We work extremely hard to make sure of that. Whatever they need is taken care of."
All the company's AI-based technologies are managed by in-house staff. "The big change that is coming up in the next few months is we are going to take the same technology and make it available to every single company in America and then overseas," Bob says. "So that they can do their own planning designs and their own information, and what we will do is look at the information to finalize and make sure that they have not missed any step. But that we will be able to do in-house, much like a lot of companies that have switched to technologies to manage taxes and other financial services internally. So, we will be able to manage benefit plans internally as well."
In addition to taking the information back to the providers and manufacturers of products, Bob and his team also want them to bring the cost down for their clients they do not have to pay middlemen. "It is cheaper to deliver to the marketplace by using technology as a background rather than insurance policies that are the predominant funding vehicles or investment programs," Bob says, adding that they want to reduce the cost as it is being managed in a very different way.
bRFP is making its technologies very simple, very fun and very cost-effective for everybody to utilize to get the most out of them. It is because it wants all companies – both small and large – to have access to the marketplace in the most financially advantageous way. And bRFP wants access to all the information that big boys put out. "That is how we are changing the marketplace that we serve," says Bob.
Challenges in the Executive Benefits Market
Initially, for Bob and his team, the biggest challenge was – the absence of rules or structure. There was a lot of confusion because of that. Bob recalls that there were a lot of handshake deals, but they were devoid of real plans or there was no money support to back them. At the time, companies were not doing it correctly because they were more focused on cash flow rather than understanding that under the IRS codes and department labor rules and regulations, companies could actually profit if they did those plans right. And they could have eliminated a lot of costs along the way as well as cash flow negative hits along the way by simply understanding how things come together. That is one of the things that the Matrix technology does: eliminates that confusion so that anyone, whether someone is an owner, shareholder, or senior executive, they can understand exactly what they are getting into and how to best maximize the long-term results of those dollars.
And, when people understand that they can actually make a profit from these plans, versus the old-fashioned way of throwing cash by paying bonuses, and can actually leave more money in participants' pockets, it results in a tremendous conversation to go through, Bob says, adding, "When the lights go off for people, it changes the world forever."
Definition of Success
Bob is very, very successful, but he does not define success in terms of profits and personal gains. He is a leader who likes to celebrate the success of others. So, for him, success means the success of those whom he has mentored.
"I think the definition for success as a leader is pretty easy if you embody some of the programs and capabilities to allow others who are coming up behind you to get proper mentorship and become leaders themselves, then you are being successful," Bob says. "If they are successful, you are successful. If they are not, then you are probably not."
His definition of success has not evolved over the years. That is how he has looked at it always. If everybody around him feels good, does not feel held back, and feels like they can achieve whatever they set out to achieve, and when he helps make that possible then he feels like he is successful. Bob says that some of them may not be successful because they may lack personal drive or something like that. As a leader, one has to make sure to have the right people on the team. "But outside of that, it is really, as a leader, you have to make sure that everybody can go forward and be as successful as they possibly can," he adds.
Change of Ownership
bRFP is expected to see a change in ownership at some point in time.  "I have been doing this for a long time, and I probably got another 7 or 8 years left before I hang up the cleats and walk away," Bob says. He intends to sell it to a large organization. Several organizations have already shown interest in buying bRFP out.
"We will make a transition that will, first and foremost, not disturb anything that we do right now or the clients," Bob says, adding that he also wants to see that the team around him gets rewarded during the process.
"We will come up with something that will help everybody out."
Message to Aspiring Business Leaders
Bob's advice to aspiring business leaders is to come up with a plan and really think through the plan. He also wants them to build their cultural desires in business. "If you desire to be around successful people, make sure that you don't settle for anything less," he says. "If you desire to be around people with conviction, make sure you hire people with conviction."
Bob also points out that aspiring leaders should do all the right things, and they should put everything down on a piece of paper and develop their personal statement, and follow that personal statement. "If you have to make adjustments along the way, it is absolutely normal and it is absolutely fine," he adds. "But the biggest thing is to come up with that desire."
Often, people come up to Bob and tell him that they want to do what he does.  To such people, he says that they see him now, they did not see him 30 years ago when he was tripping over himself, trying to come up with the right models. "It's very easy to look at successful people and say, 'Gosh, I want to do what you are doing.' Well, you have to earn these stripes a little and there are a lot of battle scars along the way that you have to get," Bob says in his message. "So, what you have to do is just think through the long haul, come up with a plan, and work in a place that you are passionate about."
One of the reasons why Bob is successful at what he does is because he truly loves what he does. Even after doing it for three decades, he really enjoys getting up every morning and coming to work. To him, it is not a job but a playdate. "And I want to tell you that even if you come in for a wrong reason such as to make a lot of money, you won't be successful if you are not passionate, so there is no point in even pretending."
"You have to find something that you are passionate about. Go after it with focus and never turn back. There are a lot of people who will tell that you are going to fail because of this and that and other reasons," Bob adds. "People who tell you that are afraid that you are going to be successful. So, you have to go beyond that and have a thick skin."