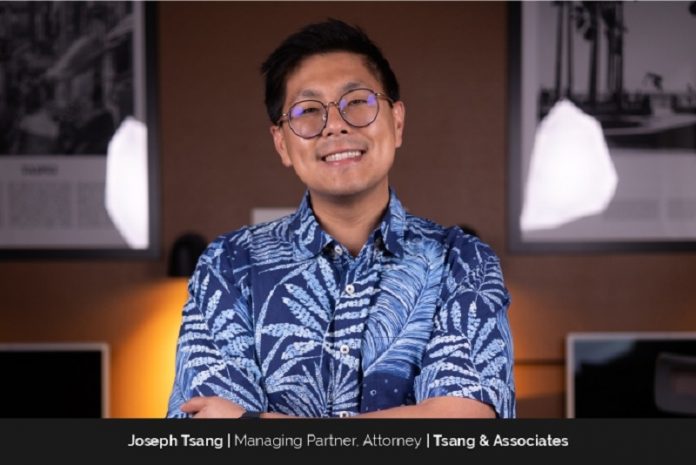 The COVID-19 pandemic didn't respect borders, but not everyone was treated equally, especially immigrants. In the U.S., during the height of lockdowns, more immigrants became unemployed compared to other groups. They not only suffered economic hardship but also faced discrimination, disenfranchisement, and violence. To add to the woes of immigrants, courts were shut, consulates were closed, and the immigration system was practically furloughed. Instead of waiting for things to get better, Joseph Tsang, Attorney and Managing Partner of Tsang & Associates, decided to find a way to engage with people from their office.
During the pandemic, people could no longer come to offices and seek legal help. The absence of clients at law firms didn't mean that immigration-related or other legal problems were no longer there. "In fact, it [the pandemic] only exacerbated many people's legal troubles," notes Joseph.
Joseph is a creator, and he and his team are known for creatively solving complex immigration cases. So, when the pandemic disrupted their practice, Joseph began looking for an alternative way to reach their clients. He discovered that the best way to engage with them was by turning out their daily life at the office into an approachable show on YouTube.
Videos uploaded to YouTube showed how Joseph and his team live their lives at the firm, and they also featured their success stories. Clients from all walks of life and all over the world could see it and then engage with the firm directly. By tapping into YouTube, Tsang & Associates could reach more clients and have a better engagement with them, which enabled it to transform its entire practice.
The firm currently posts about 4-6 content per week. Half of its content on YouTube is related to its success stories – its accomplishments – and the other half is entertaining videos that show the life at the firm. Joseph points out that success stories are like commercials for people who are searching for the services offered by the firm, while entertaining videos help attract the attention of the audience and gain subscribers, so people can follow their growth.
Specializes in Complex Immigration Cases
Tsang & Associates specializes in complex immigration cases where good public policy breaks down in the face of politics. It leads to people getting entangled in bureaucratic nightmares, which has devastating consequences for their lives. Companies and individuals often find it tough to maneuver such a system. Tsang & Associates enables them to successfully navigate it. They help them plead for mercy and receive grace when and where appropriate, according to Joseph.
Helping "others" succeed is what drives and motivates Joseph and his team. Here, the "others" do not mean clients. They are the other law firms, who may be the competitors of Tsang & Associates. Joseph's law firm is among the very few firms that embraced the "unenviable task" of processing difficult cases that are unprofitable. "We did it to help others," says Joseph.
"In doing so, we were able to gain experience 10x faster and built the trust in relationships that span across the world," he adds. "The decision to do that and to not stop doing that is what made all the difference."
Accepting Cases that Others Find Challenging
Before establishing Tsang & Associates, Joseph headed a small agency called Immigration Express. From a small office, he and his team served other law firms located in big cities with big buildings, which lead to their learning about how to do complex cases. Once they were able to become the expert in the field and more clients were able to directly find them through their success stories, they were able to transform into the full-service firm that they are today.
Under Joseph's creative and inspirational leadership, Tsang & Associates has gained a solid reputation as the law firm that readily takes up cases that others have refused or washed their hands off them. It is because both he and his team never avoid challenges.
They not only take on challenges with determination but also constantly challenge themselves to do the impossible. So, for them, it is natural to accept cases that other law firms find challenging. Joseph points out that before unforeseen solutions, they are able to test out hopeless cases by not giving up on hope themselves.
In order to overcome challenges and win cases, Tsang & Associates leverages technology. Joseph and his team "live and die" on technology and technological developments. Thanks to the adoption of advanced technology and cloud storage, the firm has been able to reduce overhead and process cases faster. It is also able to reach more clients.
"It [technology] also enables us to capture the truth of who we are and allow us to win cases because of the new facts we can gather," says Joseph.
"WE CHANGE PREDICTIONS AND NOT JUST PREDICT"
Primary Job Is Creating
Joseph considers creating to be his primary job. He is proactively involved in the creation of new services, solutions, teams, content, and plans to support partners and customers. According to Joseph, he spends half of his work daydreaming of worlds and the other half making them into reality.
Creating a "rhythm" is what Joseph strives for, and he considers it a success if the "rhythm" is achieved. Joseph explains that rhythm means a perfect balance of doing what one is good at and with people's values. In the words of a great thinker, "the place where your deep gladness and the world's deep hunger meet," he adds.
Joseph does not get disappointed when a job does not reach a crescendo or fails to gain all the attention. He believes in "going to sleep exhausted and alone" and then "trying again the next day."
Running a successful law firm is not for the faint hearted. Growth and profit numbers are what most competitors primarily focus on, but not Joseph. His focus is on achieving the "rhythmic dance," where there is a perfect balance between growth and stability. "That is a success, that is sustainable, that is enjoyable, and that is delightful," Joseph says. "To be in harmony with your surrounding and yet to excel in your core strengths."
Future and Personal Goals
When it comes to future plans, Joseph has not set unrealistic goals for Tsang & Associates. He wants them to remain "true" to who they are.  As they are already successful beyond their wildest imaginations, the easiest thing, according to Joseph, would be to get lost in this and lose their way chasing fantoms.
Competing with other law firms is something Joseph has no intention of doing in the future as well. He will continue to encourage his team to keep adapting and thinking about what the clients need and want. Like today, in the future also, the focus of Tsang & Associates will be on how to serve clients better in the ever-evolving world.
As for his personal goals, Joseph intends to continue developing everyone around him. He believes in teamwork and that one needs each other to change the industry as a whole. There is so much that is broken in the current legal system, they need all the talents and resources if they want to be a force for good, notes Joseph.
Living the Dream
Joseph has achieved everything he dreamed of and much more. When he began his professional journey, he only dreamed of financial security and a good work-life balance while doing what he loves. "But now, I also get to work with amazingly talented colleagues tackling challenges that we find meaningful and significant," Joseph says. "When work feels like play, retirement feels like it has already arrived. It really feels like we are living the dream."
Message to Aspiring Lawyers 
"Find your why" is Joseph's three-word message to aspiring lawyers.