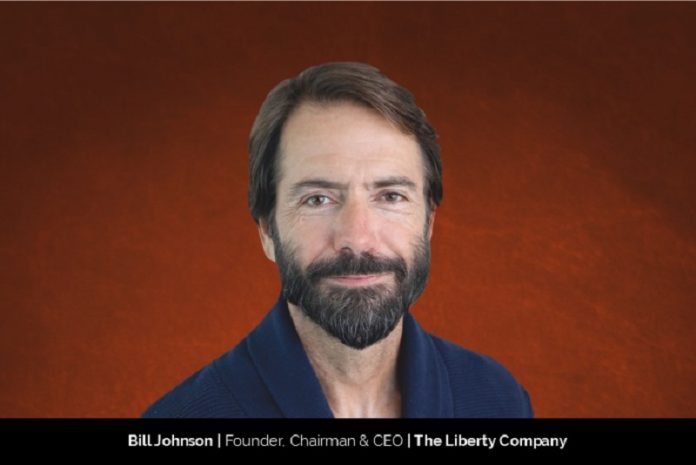 In today's competitive business world, leadership is one of the most important aspects of a company's success. Leaders who primarily focus on control and end goals or targets rather than the team are less likely to succeed in these highly competitive conditions. The key is servant leadership, where the leader is focused on setting the direction on customer experience, safety, operating excellence, and organic growth and then creating an environment where can thrive on all levels and approach their work with passion. Bill Johnson, the Founder, Chairman and CEO of The Liberty Company, has adopted the philosophy of servant leadership which has, in turn, resulted in incredible success for his team and his company.
Start of the Journey
Bill is a graduate of California State University Northridge in 1986, and soon after the graduation, he embarked on his entrepreneurial journey with The Liberty Company, formerly known as the William J. Johnson Insurance Brokers Inc. Back then Bill's tiny office consisted of a desk and a phone which was used to call the prospective clients. He built the business brick by brick turning it into a success with 12 years of consistent growth.
After successfully establishing the company, Bill wanted to have an opportunity to explore the creative side of his brain and hence handed the reins of Liberty to his long-time friend Jerry Pickett. From here, Bill went into the film business and after gathering expertise he produced his first major theatrical film in 2004 – Just Friends, starring Ryan Reynolds. Over the next 13 years, his journey in the film industry was astonishing. He worked on over 30 films starring big celebrities like Brad Pitt, Tom Hanks, Dwayne Johnson aka The Rock, Keanu Reeves, Jason Statham, Nicole Kidman, Margot Robbie, and many others.
In 2017, he took a break from the film industry and traveled the world with his wife and children for a year. The trip was a beautiful experience filled with adventures and reflections on our way of living. After returning to Los Angeles, Bill realized the importance of inner peace and happiness that lies in helping others and deepening relationships and connections with others. He saw a great opportunity at Liberty and soon re-joined the team as the servant leader with the aim to inspire a special culture at the company.
"Since that time, we have done just that, created a truly special culture that is focused on the wellbeing of our staff and as a result, we have experienced tremendous growth and prosperity over the past few years. The experience has been deeply gratifying," said Bill.
Among the Best in Business
The Liberty Company is one of the fastest-growing companies in the U.S. and has managed to win people with its unique servant leadership approach. The same approach is followed with the clients. As brokers, their responsibility is to lead the clients' risk management efforts by understanding their current operations and arguably more importantly their goals for the future. The team excels at offering great guidance and the company offers nationwide coverage in all aspects of insurance including commercial, personal, employee benefits, and even specialty bonding.
In order to deliver the best in business client experience, the company has assembled a "Client Concierge" team that offers education and training to all client-facing resources that include Zywave, ThinkHR, AMS Client Portal, Modgic, Nurse On Call, and GotSafety risk management training to name a few. By keeping the mission statement in mind— "Promoting Peace of Mind, With Great Care"—the goal of the team is to offer matchless services and a to stand out amongst the crowd with excellent care of its clients. As of one Liberty's partners recently commented – Liberty is a Culture that happens to run a business. It's an amazing company to work for and I am so grateful to have found this special place and to be here.
Appreciating the Efforts
A major part of the success of The Liberty Company is due to the culture it nurtures. Bill's goal was to inspire a culture that not only focuses on employees' professional growth but also helps them lead healthier, happier lives and find a true passion for their work in an entrepreneurial environment. Over the years, the culture has proven to be one of the biggest assets of the company and the same has been recognized throughout the throughout through various awards. Since its establishment, The Liberty Company has been ranked as one of the best workplaces and employees have regularly praised the work environment at the company.
At Liberty, the team members are often recognized with internal awards at the end of each year to celebrate their accomplishments. These awards equally contribute to the fun atmosphere that Liberty promotes and are also unique such as The Mr./Ms. Wonderful Award, The Captain Liberty Award, The Passion Award, and The Good Vibes Award to name a few. Moreover, Liberty also conducts regular internal meetings on a daily basis to appreciate the efforts of the team members. Bill adds, "This habit is infectious and cultivates good feelings throughout the Company and reminds us all to have gratitude for one another."
Vital Practices behind a Successful Career
As a leader, your job is not confined within the cabin but measured on the scale of your company and employees' growth. This job comes along with its own set of pressures and stress which cannot be sustained by many. However, Bill not only sustained the pressure but his leadership has helped The Liberty Company soar to new heights of success. He has not just built a successful career in the insurance industry but has also had a flourishing career in the film industry, making him an astute leader. The secret behind these decades of success is that Bill views his roles and responsibilities as spiritual practice and acts of service.
This spiritual practice has come naturally to Bill due to his 25+ years of Yoga and Meditation practice. Through the practice, he has been able to maintain the good energy in the organization and focus on creating an environment and structure at Liberty where people can thrive. He is inspiring people to pursue their dreams and keep moving forward. "This work has brought me to a place in my life where I have developed more of the qualities that truly matter in a leader—empathy, equanimous mind, and a deep knowing that life is always working for me and unfolding to my highest good," adds Bill.
Bill has also faced his fair share of failures and the key takeaway has been to learn and grow. Being a veteran, he advises aspiring entrepreneurs to not give up when they encounter failures but rather to learn and grow from those experiences. One can always find opportunities in challenging circumstances, and it is important to keep the head high and to keep looking for those new opportunities which are inevitably presenting themselves. Another important piece of advice is to continually practice Yoga and meditation if one plans to lead a peaceful and healthy life.
The New-Age of Insurtech
Digitalization is at par with all industries and the same effect can be seen in the insurance brokerage industry. Bill stated that the two biggest factors driving the industry are the rise of Insurtech ventures and a large amount of Private Equity money. In the coming years, the industry is anticipated to be disrupted with advanced tech while new players lead the companies with peerless strategies. The insurance industry is connected to every aspect of life and business and relationships & people. If one is looking forward to building a successful career in this space, it is important to have passion directed towards this field.
A Great Recipe for Happy Life
Bill emphasizes the importance of passion to flourish in any industry. Identifying the passion and then directing all your efforts towards fulfilling that goal is the key. "If you're not sure what your passion is, look at the topics you are reading about in your free time. What are you excited to learn about? What are excited to do in your spare time? What are the areas and subjects in which you want to learn and grow? What do you have a burning desire to learn about, grow and do? That's your passion," he shares. "Go and learn about that industry, meet the people in that industry and become a recognized expert in insuring that industry. That's a great way to combine your work with what you love. That's a great recipe for a happy life."
Key Takeaway: "I've learned that in the most difficult moments, the practice is to stay positive and look for the opportunities."