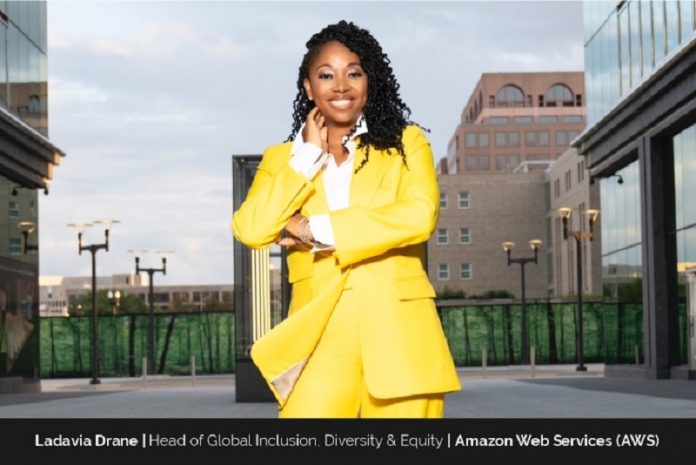 LaDavia Drane, a trailblazing expert in diversity, inclusion, and equity, is recognized for her unique perspective on policy-making. She has become a beacon of leadership for the industry through strategic alignment and the ability to forge national and international relationships.
Despite the low representation of women and minorities in STEM (science, technology, engineering, and math), Drane has shown that progress can be made through dedicated efforts and leadership. As a Black woman in a prominent position in the tech industry, her perspective on leadership and career navigation has been shaped by her experiences of overcoming obstacles. Drane understands the importance of creating a level playing field for women and minorities and works tirelessly toward this goal as Head of Global Inclusion, Diversity, and Equity at Amazon Web Services (AWS).
At A.W.S., LaDavia Drane is part of an organization that promotes workplace diversity and inclusion. For example, AWS has taken innovative steps to track data and measure progress toward greater inclusion, equity, and diversity. By fostering transparency and accountability, AWS is paving the way for a more diverse and equitable workforce.
Drane's passion for promoting diversity and inclusion in the tech industry has also led her to support educational programs encouraging more girls and women to consider careers in STEM. For example, through AWS Educate and A.W.S. GetIT, Drane has created opportunities for students and educators to accelerate their learning in cloud-related technologies and build apps for inter-school competitions.
Drane is significantly impacting the next generation of technology innovators and leaders through her work and leadership while promoting a more diverse and inclusive workforce that benefits everyone.
Definition of Success: It's All About Winning as a Team
Drane emphasizes the importance of team efforts and long-term impact in defining success. Success, according to her, is when the team achieves its goals and positively impacts the work. As a leader, she believes one should think beyond short-term results and aim for long-term value. At Amazon, the company she works for, leaders are encouraged to own responsibilities and focus on making a lasting impact.
In her view, such an approach leads to genuine and sustainable success. In addition, Drane's definition of success highlights the need for teamwork, a long-term vision, and a focus on creating value, all essential in the corporate world.
Why Drane chose Amazon to make a lasting impact on diversity and inclusion?
Drane has dedicated her personal and professional life to advancing diversity and inclusion. As a Black woman in the US, she understands firsthand the need for a more equitable and inclusive environment where everyone feels a sense of belonging.
Drane was drawn to the field of D&I at Amazon because of the company's unparalleled ability to innovate, create, and take on complex challenges. By leading D&I at Amazon, Drane knew she could have a far-reaching impact and help drive change on a global scale.
Overcoming Roadblocks: The Perspective of a Resilient Leader
Drane has shared a unique perspective on challenges and the valuable lessons they bring. She lives by the advice of Dr. Martin Luther King Jr. She is a proponent of similar beliefs that challenges are opportunities to become stronger and that they are an inevitable part of every professional journey. According to this philosophy, not where you stand in moments of convenience and comfort that define you but where you stand at times of challenge and controversy.
Drane's perspective on challenges emphasizes the importance of growth and resilience in adversity. By embracing challenges and learning from them, she has become a more decisive leader and has been able to help others achieve their goals as well.
Staying Ahead of the Competition: Amazon Web Services' Unique Approach
Regarding Amazon Web Services (AWS) plans to stay ahead of its competition, Drane highlights the company's focus on customer-centric innovation rather than competition. AWS is a diverse and inclusive organization with builders from various backgrounds and communities, including those with disabilities.
The company's range of services is equally diverse, encompassing over 200 fully-featured services in machine learning, databases, and serverless computing. To maintain its position as a leader in the industry, AWS works tirelessly to meet the evolving needs of its millions of active customers and over 100,000 partners in more than 150 countries worldwide.
Through this commitment to innovation, diversity, and customer satisfaction, AWS remains at the forefront of the industry, driving progress and setting new standards for excellence.
The Power of One: Drane's Key to Fostering Integrity in the Workplace
Drane shares her insights on fostering a culture of integrity within the company. At AWS, she explains that everyone is crucial in creating a culture aligned with the company's values. As the leader, she sets an example for her team by embodying the values she wants to be reflected in the company culture.
Additionally, AWS provides regular training and resources to employees to ensure they have the knowledge and tools necessary to make ethical decisions in the workplace. By empowering employees with the information, they need to make informed decisions, the company can foster a culture of integrity that is sustainable and supportive of individual growth and development. Through her leadership and commitment to ethical behavior, Drane has created a workplace culture at AWS that continues to drive the industry's future.
A Passion for Impactful Work: Drane's Path to AWS
Upon graduating from law school, Drane started her career at a large law firm in the Midwest. However, she discovered that her job wouldn't fulfill her ambition. Instead, she craved a position to be more active, provide access, and make a difference in people's lives. Thus, she moved to Washington, DC, where she pursued a career on Capitol Hill.
Drane worked with influential leaders and contributed to the decision-making process, helping to make a significant impact on the world. Her experience on Capitol Hill inspired her to continue making a difference, leading her to join Amazon. At A.W.S., Drane has carried forward the same spirit and zeal to do impactful work that benefits others.
The Value of Recognition in Leadership
Drane believes that the most meaningful recognition she receives as a leader is when her team members acknowledge her contributions. She values feedback from her team members and feels their opinions matter most, as they are closest to her and her work. So, whether it's a small or significant contribution, hearing from her team and knowing that her actions have made a difference is the best recognition she could receive. Her focus on valuing her team's feedback aligns with her commitment to building AWS's solid and supportive culture. By encouraging open communication and acknowledging the value of each team member's perspective, she helps create an environment where everyone feels valued and empowered to make a difference.
A day in the Life of AWS's Head of Global Inclusion, Diversity & Equity
As the Head of Global Inclusion, Diversity & Equity at Amazon Web Services, Drane's primary responsibility is to ensure that the company's builders who are underrepresented are being recognized and valued. Her regular day at work involves conscious efforts in developing programs, mechanisms, and strategies to improve equity in AWS's systems. In addition, she reads and writes documents, responds to inquiries, and deals with escalations, all in the pursuit of building a more inclusive workplace.
Drane defines herself in one word as 'conscious' because she is always aware of how she can make a positive impact for the benefit of AWS's builders from diverse backgrounds. Through her work, Drane aims to foster an environment of equity and inclusivity where everyone is empowered to contribute and thrive.
Achieving Work-life Harmony: A Lesson from Family Life
Drane believes maintaining a balance between her personal and professional life is crucial for her well-being and productivity. Drane emphasizes the importance of disconnecting from work with three young children, including an infant.
By prioritizing her family and work, she can give her best to each without compromising. Drane suggests that to maintain a similar work-life balance, it is essential to take breaks and disconnect from work, especially during critical personal events. This approach helps to ensure that individuals can be fully present in their personal and professional lives.
The Power of Leading by Example to Boost Employee Motivation
Drane understands that maintaining a work-life balance is essential for her and her team. To ensure that her team is motivated and able to deliver the best services, Drane sets clear boundaries for work and rest. For example, she avoids scheduling meetings on Fridays during the US summer months and the last two weeks of the year.
This time is intended for employees to recharge and engage in activities that promote their well-being, such as spending time with family, pursuing hobbies, or simply taking a break from work. In addition, Drane believes that employees are more likely to be motivated to deliver their best work when they feel valued and supported.
Drane on The Plans of Amazon Web Services
Regarding plans for Amazon Web Services, Drane is, unfortunately, unable to disclose such information publicly. That being said, it is clear that the company has something up its sleeves. As one of the world's top cloud computing service providers, AWS is known for its innovation and commitment to delivering cutting-edge technology solutions to its clients.
The company has a history of expanding its offerings and enhancing its existing services to serve its customers better. Therefore, it's likely that AWS has some exciting plans in store for the future, and only time will tell what those plans may be.
Drane's Message to Aspiring Leaders: Embrace Challenges and Push Forward
Drane's leadership style centers on making hard choices and accomplishing demanding tasks. Her message to aspiring leaders is to have a similar mindset and to tackle challenging goals head-on. For Drane, being a successful leader means constantly pushing oneself to achieve more, staying focused on one's goals, and being resilient in the face of adversity.
In Conclusion, LaDavia Drane's impressive career trajectory, from working as a congressional staffer to leading diversity and inclusion efforts at tech giants such as Amazon, has made her an inspiration for many aspiring leaders in the industry. In addition, her focus on creating an inclusive and supportive work environment has helped her teams thrive and set an example for the tech industry.
As Head of Global Inclusion, Diversity & Equity at Amazon Web Services, Drane prioritizes employee well-being and work-life balance, leading by example and encouraging her team to do the same. Her dedication to creating a diversity, equity, and inclusion culture has resulted in a productive and empowering workplace.
Her advice to aspiring leaders to "do hard things" is a testament to her commitment to growth and overcoming challenges. With her leadership, vision, and determination, Drane has become a trailblazer for women of color in the tech industry and a shining example of what can be achieved through hard work, perseverance, and dedication.