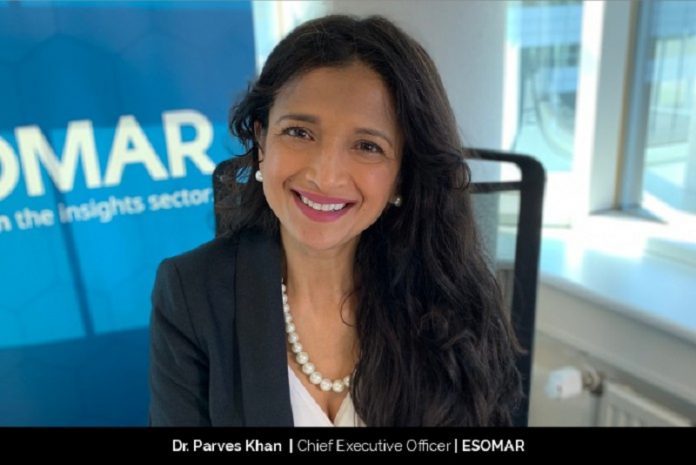 "Being data-driven isn't the goal — it's being insights-driven. Insight isn't something you find – it has to be crafted – by a human!" This principle has remained the foundational tenet of Dr. Parves Khan, the esteemed Chief Executive Officer at ESOMAR, who has garnered recognition as one of "The 10 Most Innovative CEOs to Watch in 2023." Her entrepreneurial spirit and creative initiatives to foster cultural exchange and cohesion have positioned her as a trailblazer in the field.
Dr. Khan's unequivocal self-identification as a person of "Resilience!" echoes her deep understanding and acumen in the business world. She describes how the trait of tenacity was instilled in her at a young age and has stayed with her ever since. In her words, "When you're a poor kid who doesn't benefit from the privilege of a middle-class upbringing (heck, my parent dropped out of school by the time they were 12/13 years of age, and my mum was only 16 when she had me), you have to look inside yourself for strength, courage, and willpower. I've also had a lot of hard knocks and setbacks in my life – but each time, I learned from those experiences to make me stronger and more resilient."
Dr. Khan believes resilience is a pivotal leadership trait in today's dynamic and constantly evolving global business landscape. Influential leaders must be equipped to handle countless challenges that arise amidst ambiguity and change. They need to be quick thinkers and decision-makers who can swiftly adapt to changing circumstances with ease. Resilient leaders have the skills to deal effectively with risks and uncertainty because they are adaptable, flexible, and unfazed by ambiguity.
When asked about her definition of success, Dr. Khan expressed, "Success to me means doing what I love to do every day while making a positive impact on others.' She considers herself fortunate to lead an organization dedicated to creating a thriving and robust research and analytics industry.
The CEO of ESOMAR acknowledges that achieving company goals and pushing forward a future vision is something a leader entails help to accomplish. She emphasizes the need for successful leaders to build teams and inspire brand ambassadors, as one can only attain the desired outcomes through collective efforts. Dr. Khan's belief in the importance of collaborative efforts underscores her commitment to building efficacious squads that can help drive the industry forward.
In the present cover story, Dr. Parves Khan provides invaluable insights and pearls of wisdom to the next generation of business leaders. She highlights the importance of cultivating an inclusive workplace culture where members feel valued and empowered to bring their authentic selves to the table.
Early Aspirations and Life Before ESOMAR
Growing up in a poor immigrant community in the UK in the 1970s, Dr. Parves Khan's career expectations were low. In those days, career advisors at school would help students get local jobs and when she met hers at the age of 14 the meeting was about an opportunity to become a store assistant at Littlewoods, a local department store, upon completing her schooling.
In contrast, her teenage self-had different plans. Parves told the counsellor that she aspired to study law and attend college and university. She persisted in her goals even after being cautioned that she was being naïve.
After university, the young Khan realized that her curiosity about how the world worked turned to curiosity about people. By age 20, her research and analytic skills were already coming out loud and clear. She loved researching, analysing all the data, figuring things out, and coming up with answers. However, her career aspirations changed as she moved away from studying law and pursued her interest in people and research.
Dr. Parves Khan on ESOMAR's Operations and Services
ESOMAR is the world's leading professional and industry association for market, social, and polling research, insights, and data analytics, with operations spanning the globe. As the CEO, Dr. Parves Khan oversees various strategic and operational responsibilities, including marketing, membership, business development, professional standards/compliance, finance, and R&D.
ESOMAR offers comprehensive services, including training, events, and professional networking opportunities that enable members to grow and advance in their careers and companies. The organization also guides professional standards and produces codes of conduct while advocating for members' interests on important issues affecting the industry.
Under Dr. Khan's leadership, ESOMAR strives to stay ahead of the curve and ensure the organization's wheels are moving at pace. ESOMAR is poised to continue leading the industry forward by prioritizing innovation, excellence, and member engagement.
Revolutionizing the Insights Industry: Dr. Parves Khan's Approach at ESOMAR
Dr. Parves Khan, the CEO of ESOMAR, has brought her 30 years of expertise in the insights industry to lead the association toward success. She uses technology to build a more efficient and agile ESOMAR by expanding its membership footprint to engage with new technology-led disciplines and companies. Dr. Khan is also creating new partnerships with MarTech and ResTech companies specializing in curating consumer data. However, she believes the industry is excellently reinventing itself, and ESOMAR supports its evolution. At ESOMAR, they are passionate about professional development and believe that the industry is all about the people who use their skills and experience to help leaders make sound decisions.
Dr. Khan conveys, "I want ESOMAR to be the first port of call for practitioners looking to upskill and learn."
Lessons Learned on Leadership & Teamwork
Dr. Khan reveals while facing roadblocks, 'patience' was one of the key attributes that taught her valuable lessons in her professional journey. Being driven, she used to set her mind on something and went for it. However, she realized that a leader could only operate in collaboration, and it takes a team effort to succeed. All people in the team need to have the same level of motivation, drive, and it's essential to work with them to develop mutual goals, get their buy-in, and ensure they have the tools and resources to succeed. To succeed as a leader, you must win over your team members' respect and confidence. The approach is time-consuming and labour-intensive, but Dr. Parves Khan is confident it is essential for accomplishing collective objectives.
Dr. Parves Khan's Reflections on the Beginning of Her Career and Best Recognition as a Leader
ESOMAR's CEO states that in the latter part of her career was marked by younger women seeking mentorship from her. She mentions mentoring women who approached her directly and through career development networks such as Women in Research and the 30% Club. She realized that she had become a role model to many young women, particularly South Asian women like herself.
Dr. Khan reflects that being a mentor has been transformative for her, as she has provided support, encouragement, wisdom, and inspiration to younger women. She has observed the profound impact these efforts can have on the lives of her mentees, who have transformed from individuals with low confidence and self-doubt to those who are emboldened and have a strong presence. Dr. Khan shares that mentoring brings her great joy.
Views on the Impact of Modern Technology on Data, Research, and Insight into the Industry
According to Dr. Khan, there has been a radical transformation over the past two decades in how we gather, store and analyse data to help us better understand consumer experiences, behaviour, and actions. She notes that data processing and data, text, and web mining technologies have been key drivers in this transformation. Advancements in artificial intelligence-based engines and cloud computing are giving companies the power to lead an applied data analytics offense that drives and improves revenue, consumer engagement, consumer retention, and, ultimately, business growth.
However, Dr. Khan also warns that the value one can leverage from these technologies can be limited if one focuses on applying the technology and remembering the enormous effort needed to work on the data itself. She has observed that companies have become better at mining data and producing a ton of metrics but have yet to improve at deeply analysing what all that data really means.
According to her, simply gathering facts is not enough. They need to be analysed, interpreted, and presented in a way that is clear and meaningful. "You speak for the facts. Then you have to put on your business head, apply business acumen and wrap that understanding into commercially framed options or recommendations that help your company grow," she states. "Getting from metrics to 'insights' is the real challenge."
Dr. Khan reiterates her previous assertion that people are the most valuable resource. She underlines that the objective is not to be data-driven but rather insight-driven. A realization is not discovered but instead made by a human.
ESOMAR's Focus on a Culture of Integrity and Innovation
At ESOMAR, integrity is a core value that underpins all aspects of their work. They aim for uncompromising truth, fairness, and transparency. Dr. Parves Khan considers that leading by example is a critical aspect of instilling this culture of integrity and innovation, which means having a high level of self-awareness and being comfortable in one's own skin. The CEO is also working to foster a growth mindset in the team, leveraging new opportunities and partnerships to increase their global relevance and deliver more substantial member value.
Regarding innovation, she emphasizes that it should not be pursued for its own sake but should have a clear purpose. She has participated in several innovation jams and hackathons but found them to be more like PR exercises rather than fostering an enterprising culture. Therefore, Dr. Khan believes innovations should focus on solving specific business challenges.
She disseminates that the other thing she has learned about innovation is: "ideas don't often come from random eureka moments made by a single person. Successful innovation happens when people from different parts of the business collaborate, where organizations deliberately create space for it and actively encourage creativity and risk-taking." So, this seasoned entrepreneur is building that mindset and culture at ESOMAR.
What's in Store for ESOMAR
ESOMAR's CEO states that extending its global influence is a key organizational priority. They currently have members in over 100 countries, but the membership volume is not evenly distributed. She is working on initiatives to grow membership in the Asia Pacific, Africa, and Latin America regions to address this. These initiatives involve partnering with local and global organizations on mutually beneficial programs.
Moreover, Dr. Parves Khan is passionate about showcasing how data and analytics can help address humanitarian issues such as poverty, health, human rights, education, and climate change. For example, data can be crucial in identifying skill gaps in the labor market and supporting new educational and training policies. She is working on a concept called 'Data for Good,' where ESOMAR partners with businesses to fund local initiatives that train people in data literacy skills.
Personal Goals
A key goal this year is to complete her book on women in leadership. Dr. Khan has been thinking about what holds women back in leadership for a long time and knows from her own experiences how entrenched gender biases work to shut women out from promotions and leadership positions. One of her most painful experiences is experiencing such biases from other women who internalise the misogynism they are conditioned into. Her book will be published by Pearson Business books later this year.
Maintaining Work-life Balance and Motivation as a Leader
Balancing work and personal life can be difficult for women in business, especially since they often have more obligations and duties at work and home. Although no single solution works for everyone, they all have a unique approach to boosting their productivity and performance both on the job and in their personal life.
Being a CEO is all-consuming and not for the faint-hearted, admits Dr. Parves Khan. However, her children and hubby are highly supportive and proud of her accomplishments.
"As I love what I do, motivation is not an issue," the competent female leader says on maintaining self and employee morale. Her team is just as dedicated to its purpose of making the world a better place through its research, insights, and data analytics as she is.
Advice for Aspiring Innovative Leaders
The ESOMAR CEO Dr. Parves Khan shares her advice for aspiring innovative leaders, citing Brene Brown's book Dare to Lead as a must-read. The key takeaway from the book is that leaders should embrace imperfection by accepting vulnerability, which empowers people in their organization to reciprocate. It creates a culture of experimentation, where new ideas are born, and people are encouraged to learn from their failures and try new strategies. The CEO advises that leaders should role-model the behaviour they want to inspire in their team and make it safe for their team to be authentically and imperfectly human.