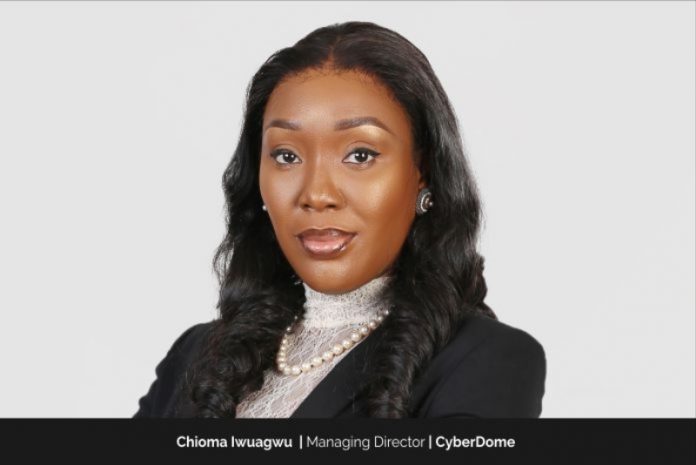 Chioma Iwuagwu, the Managing Director of CyberDome, personalizes the term 'VISIONARY.' It's her visionary leadership style that fosters brainstorming sessions, encourages experimentation, and harmonizes charisma with a strong foundation in practical attributes. Recognized as one of "The 10 Most Inspiring Black Corporate Executives of the Year 2023," she possesses the exceptional capacity to identify opportunities and hidden potential during times of change, often imperceptible to others.
In her role as the CEO of CyberDome, Chioma juggles many responsibilities. She crafts the company's overarching strategy, establishes objectives, and ensures everything aligns with its vision. She leads the executive team, makes critical decisions, and guides various departments. Building and nurturing a skilled workforce, driving innovation, and nurturing strong relationships with clients and partners all fall under her purview.
A typical day in Chioma's life combines internal and external meetings. These sessions involve discussing strategic initiatives, analyzing financial reports, and addressing operational concerns. Additionally, she dedicates time to staying abreast of industry trends and emerging cybersecurity threats.
In this cover story, we'll learn how Chioma's perspective not only foresees a brighter future for women but also paves the way for more teamwork and leadership resilience in a dynamic, unpredictable world.
Perspective on Success
This adept executive considers that success is a matter of personal perception. It arises from the satisfaction of accomplishing one's objectives and making a positive difference in the lives of others. According to her, "it's a highly individualized concept because people have diverse aspirations and dreams, and what constitutes success for one person may differ greatly from another."
Path to Personal Growth Through Challenges
Chioma believes "challenges undeniably have the power to strengthen an individual." Looking back at her career, she faced many obstacles that gave her valuable insights.
She started her career as a young banker. In top Nigerian and international banks, she worked in banking operations, customer service, private wealth management, retail, commercial, and public sector banking. She also became an entrepreneur and founded FUCILDATATECH Limited, which is now a thriving digital distribution and online payment platform in Nigeria.
She currently serves as the Chief Executive Officer at CyberDome Nigeria, a leading Managed Security Service Provider (MSSP) specializing in catering customized security services for different industry sectors in Nigeria, Africa, and beyond, both in the public and private domains.
Through these experiences, Chioma has learned that she needs determination and courage to overcome tough impediments to succeed. She also realized the importance of continuous self-improvement through studying and taking responsibility for her progress in her career.
Inspiration Behind Joining CyberDome
"The decision to join CyberDome was primarily fueled by the exceptional people, their unwavering professionalism, the vibrant corporate culture, and the inspiring leadership within the organization," acknowledges Chioma.
While it might not have been an obvious choice at first, her innate curiosity and adventurous spirit led her to explore the exciting possibilities in the cybersecurity field.
What intrigued her even more was the striking resemblance between real-world threats and their cyber counterparts. She found it fascinating to observe how phenomena like kidnapping and ransomware attacks, physical terrorism and cyber terrorism, as well as activism and hacktivism, mirrored each other in both the physical and digital realms. This convergence of challenges made the cybersecurity field dynamic and incredibly relevant in today's interconnected world. The alignment between her values and CyberDome's mission made it a natural fit for her career journey.
CyberDome: Empowering Cybersecurity with Comprehensive Services
CyberDome, a leading MSSP, stands as a beacon of excellence in cybersecurity. With a remarkable track record spanning over half a decade, CyberDome has successfully executed numerous projects across various industries. The company's core mission revolves around enhancing security postures and bolstering resilience in the face of an ever-evolving cyber threat landscape.
At CyberDome Nigeria, they have revolutionized cybersecurity, transforming organizations, businesses, and governments from passive observers into proactive defenders against complex cyberattacks. Their dedication extends beyond just securing digital landscapes; they are committed to advancing technology, promoting digital literacy, raising cybersecurity awareness, safeguarding national critical infrastructure, and fostering a secure cyberspace.
The range of services offered is extensive. Firstly, it deals with Managed Security Services, which includes capabilities such as security monitoring, incident response, penetration testing, threat intelligence and network security device management.
Among a bouquet of security of their security technologies include these basic security tools and fundamentals.
Next is the Security Information and Event Management (SIEM) solution. It covers log management, monitoring, vulnerability assessment, threat hunting, integrated threat intelligence, automated action response, monitoring cloud and on-premises, asset discovery, intrusion detection
And behavioral monitoring. It also encompasses Endpoint Detection and Response (EDR), which is more of a next-generation antivirus, intrusion prevention systems, threat hunting, malware investigation, malware removal and web security. Email Security has the capabilities to
prevent known malware, and phishing links, detect unknown and evasive threats
respond automatically and in real-time, and predict attacks based on verdicts of the decentralized analyst community. Likewise, Data Loss Prevention (DLP) can detect data loss, prevent data loss, investigate data loss and Bridge Compliance Gaps (PCI DSS, ISO 27001). Whereas Breach and Attack Simulation can simulate attacks across the full kill chain, evaluate controls to identify gaps and remediate with actionable guidelines. Meanwhile, Security Orchestration, Automation, and Response (SOAR) can deal with threat-centric case management and extend customizable playbooks, context-driven investigation, crisis management, machine learning recommendations, collaboration and teamwork and real-time SOC metrics and KPIs.
The Web and Mobile Application Security by CyberDome has capabilities such as
web application firewall, bot mitigation, API Protection, DDoS protection, anti-scraping and protection against OWASP top 10 threats and other vulnerabilities. The Cyber Defense Academy
has the competencies for introducing cyber forensics, applying cyber protection implementation, cryptography, cyber forensics training and penetration testing.
As cyberattacks surge in frequency, notoriety, and impact, they have become a defining feature of modern governance. CyberDome offers comprehensive solutions to address a broad spectrum of cyber threats that organizations may encounter. Chioma explains each point elaborately. She informs that the key solutions include Cyber Security Services to augment one's security department, bridging skill and resource gaps. Its Network, Server, and Endpoint Security leverages advanced technologies to enhance visibility within one's organization's environment, effectively monitoring, detecting, and responding to sophisticated cyberattacks targeting IT assets. They employ the SIEM platform for network activity monitoring and EDR solutions to identify and address security incidents on critical servers and workstations. Recognizing that a significant proportion of cyberattacks originate from email communications, CyberDome's Email Security Solution guards against business email compromise, email impersonation, and credential theft. This proactive approach helps safeguard clients from financial loss and reputational damage.
CyberDome's DLP solution meticulously tracks user and file activities through screen video recording. This technology monitors and prevents malicious actions taken by users with dreadful intent, ensuring the utmost confidentiality of sensitive documents and processes.
The company's Cyber Threat Intelligence solution empowers clients to anticipate cyberattacks and respond swiftly and decisively. This capability extends to brand protection by monitoring social media mentions and promptly addressing any negative publicity that could harm a company's reputation. Its Web and Mobile Application Security provides a comprehensive solution encompassing API security, DDoS protection, and a robust web application firewall (WAF) to safeguard against various intrusion attempts.
Its Cyber Defense Academy offers professional instruction for cybersecurity experts to develop their skills further. Instructors at CyberDome are not only trainers but also active professionals engaged in incident response and digital forensic cases. Courses are offered at multiple levels and can be customized to meet an organization's specific needs.
CyberDome's project approach revolves around a tailored implementation methodology. It begins with a Proof of Value (POV) for your organization. During this POV phase, CyberDome deploys its cybersecurity technologies from a central server, referred to as SOC in a Box or the exfiltration, within your organization's network environment. This 30-day assessment period yields a comprehensive report outlining the cybersecurity needs and recommendations.
Chioma Iwuagwu's Expertise: Fueling CyberDome's Success and Growth
Chioma as the CEO of CyberDome Nigeria, has been instrumental in the company's remarkable success. Her leadership embodies a tactical vision that has guided the brand's growth in the dynamic field of cybersecurity. Chioma's effective management has fostered a culture of innovation, collaboration, and excellence within the organization, assembling a highly skilled team of cybersecurity professionals who share a passion for the company's mission. With a background in banking and entrepreneurship, her profound industry insight has allowed the company to understand the critical role of cybersecurity in the digital era. Her client-centric approach prioritizes each client's unique needs and challenges, ensuring that CyberDome's services are customized to effectively address their specific security requirements. Her commitment to adaptability, continuous learning, proactive risk management, and innovation has positioned CyberDome as a leader in the cybersecurity landscape, dedicated to safeguarding clients and staying ahead of emerging threats.
Strategies for Cultivating a Culture of Integrity Among Her Team
Recognizing the importance of fostering a culture built on integrity within her team, Chioma takes deliberate steps to instill these values. She leads by example, personally embodying the principles of honesty and transparency, thereby establishing the benchmark for ethical behavior that she expects from each team member.
"I actively engage with my team in idea-sharing sessions to promote innovation, emphasizing the importance of creative thinking and problem-solving," she shares. "I encourage team members to voice their suggestions and concepts, valuing their input as a source of innovative ideas."
Furthermore, she guarantees the team's access to resources and ongoing learning opportunities, ensuring they stay abreast of the most recent industry trends and insights. Chioma also acknowledges and rewards state-of-the-art contributions, strengthening the importance of innovation as a dynamic factor within her team.
Thriving as a Woman Leader of Color and Perspective on Shaping the Next Generation of Leaders
As a dynamic woman of color, Chioma recognizes the unique challenges of succeeding as a leader in the technology/cybersecurity sector. She discusses instances in which bigotry and prejudice stood in her way. Despite this, she thinks that diversity benefits their field.
Chioma is devoted to influencing the next generation of leaders by encouraging and guiding them, especially those from marginalized communities. Her strategy entails participating in mentorship programs, giving talks, and networking at events where she may candidly discuss her experiences. This capable leader hopes to increase diversity and inclusion in the IT industry through these collaborative activities. She states: "My aim is to empower the next generation of leaders, ensuring that they thrive in a more diverse and equitable environment."
The Highest Form of Leadership Acknowledgment
This seasoned leader considers her 'most invaluable recognition' in her leadership journey to be the appreciation she receives from her team members. They credit their career advancement and achievements to her inspirational and transformative guidance. Moreover, during her tenure at the bank, Chioma Iwuagwa gained acclaim for orchestrating a remarkable turnaround in a branch that had consistently incurred losses, ultimately making it the most sustainably profitable branch in the entire region. She emphasizes that these acknowledgments hold special significance for her, as they highlight the positive influence of her leadership on individuals and organizations alike.
What is in store for the future of CyberDome
The CEO envisions a future where CyberDome stands as a global frontrunner in the field of cybersecurity. This vision entails a tireless commitment to innovation aimed at safeguarding businesses and people against ever-evolving cyber threats. Her strategy involves the expansion of research and development initiatives, cultivating a culture centered on excellence, and establishing strategic partnerships that deliver state-of-the-art solutions for the protection of digital environments. Chioma is steadfast in her dedication to nurturing talent, ensuring the highest standards of cybersecurity, and contributing to a safer digital world.
Chioma Iwuagwu's Key to Work-Life Harmony
This corporate doyen regards that her well-being and continued success depend on her ability to strike a balance between her personal and professional commitments. She has learned to manage her time effectively, set firm limits, and stick to a rigid routine to achieve her goals. Chioma relaxes by caring for her physical health, reading, playing chess, dancing, and getting plenty of restful sleep. She finds it extremely restorative to lose herself in the rhythms of music.
Chioma uses a variety of strategies to keep herself and her hardworking staff inspired so that they can reliably exceed customer expectations. She is fueled by the goals she sets for herself, both short-term and long-term. She values feedback highly and uses it for continuous development and improvement.
Chioma fosters a productive and harmonious workplace for her staff by organizing regular team-building exercises. Examples include inspiring retreats, interactive birthday parties, and informative birthday celebrations. These actions do more than just bring the team closer together; they also motivate everyone to maintain a high standard of quality in their customer service at all times. Chioma's dedication to her happiness and the inspiration of her coworkers nurtures an environment where everyone can thrive.
Personal Goals and Message to Aspiring Black Executive Leaders
Chioma firmly believes, "A life without purpose is like a body without a soul." Her personal goals are diverse, focusing on self-growth and societal impact. She is dedicated to giving back to society by investing her time, resources, and energy in 'meaningful causes and initiatives.' Her central passion is championing the girl child's voice, striving for equity, inclusivity, and diversity. Chioma is resolute in creating equal opportunities, breaking barriers, and empowering girls to flourish.
To fellow aspiring black executive leaders, Chioma conveys: "Embrace your unique identity, persist tenaciously in the face of adversity, and recognize the profound influence of your leadership. Leverage your position to advocate for transformative change, advance diversity, and forge pathways for those who have been marginalized. In doing so, you can attain personal success and play a pivotal role in shaping a future characterized by inclusivity and equity for all."