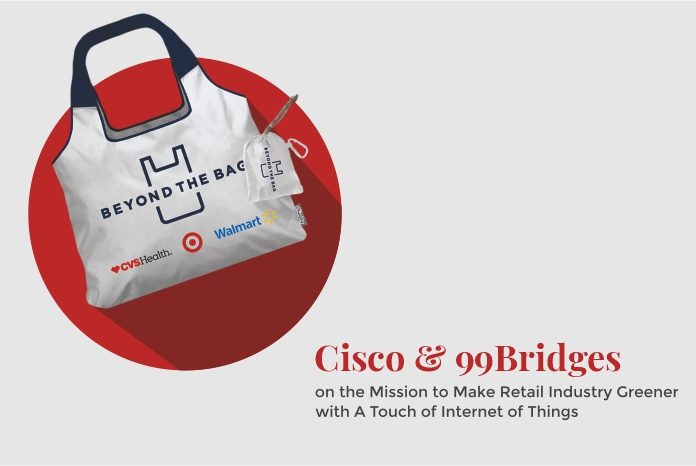 Today, plastic bags have found their way in the deepest waters of the ocean and have grave implications on soil, agriculture, and wildlife.  The retail industry is one of the largest contributors to plastic pollution. That's why, Derek Mak, the Founder & CEO of 99Bridges turned his attention toward creating a sustainable ecosystem among retailers through Beyond the Bag (www.99bridges.com/btb) and technological partnership from Cisco.
However, encouraging reuse in the retail industry was a particularly painstaking job, especially when it is so accustomed to single-use plastic. The objective of 99Bridges to combat plastic pollution had the strong support of Cisco's IoT-powered technology solution. Derek spent over 21 years at Cisco and was head of global IoT and Smart Cities business developments. Having enriched experience in the field, he trusted Cisco products to develop Mosaic, a scalable, reliable, and secure technology platform for 99Bridges. Achieving this design goal requires a way to manage a vast network of IoT devices remotely and securely. The Cisco IoT Operations Dashboard's Secure Equipment Access (SEA) feature enables 99Bridges to achieve this design goal effortlessly.
Abuse of plastic has shown severe repercussions not only in the U.S. but across the globe. If Americans completely reject single-use plastic bags, it will prevent the use of enough plastic to circle the earth approximately 141 times. This would reduce 550 million tons of carbon in the earth's atmosphere. This means rejection of single-use plastic in the U.S. is equivalent to not driving a car for 1.4 billion miles.
However, building a sustainable future is not just about implementing a ban on single-use plastic; it demands a wholesale change in the way people live their lives. Adoption of a common platform such as Mosaic is a first step toward developing a sustainable ecosystem that can bring a powerful social impact through deep data analytics.
Mosaic platform is an IoT-based platform developed by 99Bridges connecting the ecosystem of businesses from the supplier of reusable products to providers of incentive rewards. The platform creates a scalable business model for reusables in the retail industry. The Mosaic app brings a plug-and-play engine to incentivize customers to reuse bags and enables a circular system with end-to-end Radio Frequency Identification.
Mosaic operates as a circular ecosystem for consumers, retailers, and reusable providers. For consumers, it is a novel tool that helps, reminds, and rewards them when they reuse recirculate all reusables. For retailers, it is an IoT-based technology that helps them track and manage the full circular cycle of reusables. For usable products providers such as ChicoBag, Mosaic provides strong technological support by offering trackability, incentive structure, and constant connectivity via an engaging mobile app for the tech-savvy digital generation.
Cisco's support for Beyond the Bag Initiative
The Consortium to Reinvent the Retail Bag, managed by Closed Loop Partners, consists of the largest retailers such as Target, Walmart, and CVS Health in the U.S. uniting to reduce single-use plastic bag waste. In 2020, the Consortium launched its Beyond the Bag Initiative and in 2021 99Bridges was selected as a winner of their Beyond the Bag Challenge; over the summer 99Bridges participated in select pilots with the Consortium. To support this purpose, 99Bridges created Mosaic, a consumer mobile app platform that combines environmental science, computer science, and behavioral science to change the way people shop.
This vision of 99bridges has strong technical support from Cisco. Mosaic is intended to support millions of users. This entails continuously tracking reusables across potentially tens of thousands of retail locations. Cisco is the most trusted brand and solution partner when it comes to scalability, security, and reliability.
The Cisco IR1101 architecture acts as a central hub for security, data transmission, and processing captured data from all participating retail stores and customers. When a customer reuses a bag at a retail store, Mosaic records the reuse occurrences and updates the customer's account database in real-time. Each retail store is powered by a Cisco Catalyst IR1101 Rugged Router, which is a ruggedized router-server combo. All the devices at each store are monitored and managed through Cisco IoT Operations Dashboard, an application that enables 99Bridges to update and monitor the complete infrastructure in the store. See architecture diagram.
On the other hand, customers can interact with the system through the Mosaic mobile application that reflects user account data in real-time. Every time customers reuse bags at any participating retail shop, they earn reward points and Mosaic helps them track the environmental impact of their actions. Partnering with ChicoBag, the Mosaic system powers up a new Borrow-a-Bag Service. If customers forget to bring their reusable bags to the retail store, they can borrow another bag and get a refund or store credit when they bring it back. This makes the shopping experience hassle-free and rewarding.
At the same time, Mosaic complies with the strict privacy policies of 99Bridges and protects customers' personal identifiable information (PII). Only the data regarding reusable bags and anonymized data is shared with the participating retailers. This offers them insights into the environmental impacts of reusable products and customer behavior over time.
Cisco's IoT solution for greener future
Developing the Mosaic was not an easy feat. No technology solution is worth a dime without reliability and security. 99Bridges needed a ruggedized technology solution that could withstand sub-optimal environmental conditions without hampering the performance of the solution. This is where Cisco's industrial IoT architecture came into the picture.
IoT has already shown the world a future where everything is connected and is driven by decoupled and distributed data. With this colossal amount of data comes valuable knowledge to power intelligent business decisions that could impact millions of lives. This is precisely what 99Bridges aims to achieve with the Mosaic platform.
For 99Bridges' pilots with the Beyond the Bag Initiative, reusable bags were embedded with an RFID chip that makes the bag detectable every time it is reused or passes through the check-out lane at the retail store, equipped with the RFID sensors. Furthermore, it helps the system to collect, share, analyze, and protect the data that transcends organizational and geographical boundaries. With the use of Mosaic, users can monitor their impact on the environment and earn benefits simultaneously. This way, the Cisco-powered solution leverages IoT technology to the fullest for a sustainable future.
Mosaic: a calling for global retailers
Mosaic is developed with the intention of changing how we all live; It will help consumers take firm actions to make the world a better place. With Beyond the Bag initiative, both retailers and people have a golden opportunity to reuse and recirculate reusable shopping bags and prevent harmful materials from going to landfills without taking drastic measures to change their current way of life.
99Bridges focuses on the transition to a circular economy and the company develops technological solutions such as Mosaic that help businesses build more sustainable future. Currently, 99Bridges aims to work with U.S. retailers to launch the solution across North America. And then expand the solution across the globe through partnerships with major retailers. However, there are some roadblocks to overcome for global deployment such as changes in public policies regarding the use of single-use plastic. For instance, there are currently 10 states in the U.S. with legislation that bans single-use plastic bags in retail. If governments across the world implement such public policies, fewer bags will be needed globally in no time. As many countries and consumers across the globe hope for a plastic-free future but lack the right tool to make this a reality, Mosaic platform is the game changer, the enabler of a sustainable circular economy, and the first step toward a greener future.