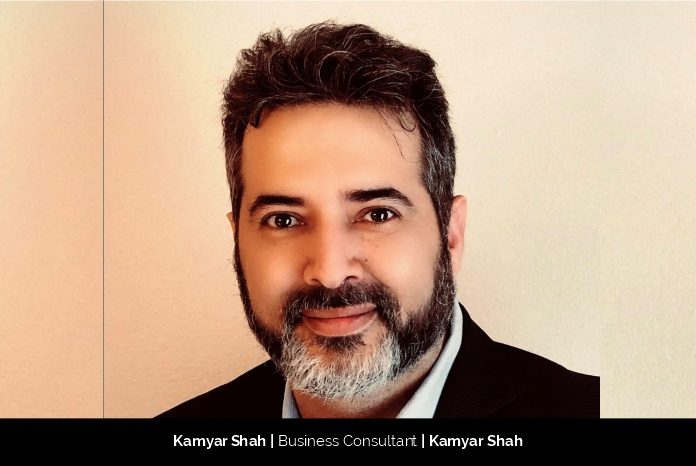 Managing a developing company is both thrilling and rewarding. It is not, however, without its difficulties. Choosing when to establish new roles is one of the most prevalent. For example, your company may require the knowledge and expertise of a chief operating officer but may not yet require a full-time CEO. A fractional chief operating officer might be the solution you're seeking.
Kamyar Shah is a strategic leader with over 25 years of expertise in remote and on-site operations management and marketing. He is skilled at addressing problems at all levels while cutting costs through knowledge management and quality assurance to create organizational coherence and profitability.
Over his decades in business and expertise as a Fractional Chief Operating Officer (Fractional COO) and Fractional Chief Marketing Officer (Fractional CMO), he has been involved in 100's of projects at 168+ different firms in 18 different sectors over his decades in business and expertise. In all facets of his initiatives, his hallmark of success has been a combination of adherence to current technological ideas paired with effective leadership and efficiency. Kamyar has a proven track record of helping his clients and projects succeed. His expertise in offering COO and CMO services in a virtual or remote setting, in particular, has opened numerous doors for his customers, proving to be exceedingly beneficial, successful, and profitable.
An Expert with an Exceptional Success Rate
A COO is a top-level executive who is responsible for the company's operations. The appropriate chief operating officer may boost your production and efficiency. During their early phases, many businesses overlook this responsibility. This creates a void in which the firm need a COO but not in sufficient numbers to warrant a full-time role.
Kamyar is a talented company management consultant and operations and marketing executive with extensive management expertise in big and small firms, fast-growing sectors, and troubled/turnaround businesses. His responsibilities as a business consultant include determining the value of a task, a customer, a niche, and specific initiatives. "As a fraction, I have a lot of duties and basically operate as the CEO's sidekick," he claims. He goes on to say that the fractional component is merely a splintered form of it, which is more or less transient.
Kamyar is a business and management consultant that assists SME (small-to-medium-sized firms) owners in increasing profitability. To create outcomes and sustainability, assist management in establishing company direction and processes, achievable growth and profit targets with execution plans, performance measurements with accountability, and an effective, engaged, and empowered organization. He offers in-house business coaching to CEOs, executives, and their teams in all essential business areas, such as organization, management, leadership, finance, operations, and marketing/sales.
Kamyar's background includes general management of worldwide sites, global sourcing, and production VP/Director. Product creation, production, procurement, quality control, and testing, compliance, planning, inventory control, logistics, and distribution are all areas where we excel. He has worked on over 640 projects across a wide range of businesses and sectors, including eCommerce, medical, technology, and the startup world (B2B and B2C).
"I'm not sure I can point to a significant accomplishment." I know that witnessing development in both organizations and individual team members gives me a tremendous amount of satisfaction and pride. It makes me happy to be able to look back and see where they've come from and how they got there. And it's their growth that actually inspires me," Kamyar says.
Establishing Balance
Kamyar describes his past before entering the consulting sector as a long path from government job to private industry to further schooling, with a decade of experience later, discovering his passion for delivering consultancy. Maintaining a work-life balance is all about setting boundaries for him. He ensures that his team members are aware of the boundaries that divide work and personal life.
He believes that setting defined limits makes it easier to maintain a balance. "It takes a different sort of drive to get folks to the point where they understand that 'it's your time, regardless of what occurred at work," he says. He emphasizes that you are supposed to provide 110 percent at work. He discovers that balancing work and personal priorities assists people in reaching a point when a balance is achieved between professional and personal life, or just a question of time.
A Constant Progression for Goals
With time, Kamyar is beginning to see success as a sliding scale rather than a fixed point. Success, in his opinion, is movement toward a goal at whatever pace is achievable. He recalls not always being enthusiastic about business consulting.
Kamyar's motivation arose from his experience operating firms and witnessing the numerous faults and flaws that hampered a company's progress. "Challenges make us stronger," he says. It's vital to remember that it shouldn't be viewed as a problem; rather, it should be viewed as instructional opportunities that show us how not to do things rather than how to do things; in this case, operating in business consulting." Apart from the core principles of day-to-day tasks, the model Kamyar employs contains a wide range of characteristics that characterize operation. Human capital, financial health, and tactical and strategic decision-making are all included. He also highlights the necessity of human capital management, whether it's the growth beat, coaching, or the journey that's being worked on with team members to help them become better, more effective, and efficient.
Building a Team of People Centric Leaders
According to Kamyar, consulting hasn't altered in its most fundamental forms. What he's seeing is that more specialized consulting is emerging, whether it's for a certain business or a specific niche. He observes that as the sector evolves, new subcategories emerge.
His long-term ambitions include assisting in the development of more servant leaders. He thinks that no matter how little his contributions to the industry are, they will mold and generate more servant leaders who will have an exponential influence on establishing a more efficient work environment while maintaining a balance between personal and professional life.
Kamyar's advice to prospective business executives is to always be a servant leader who cares about the people on their team. He believes it is critical to take the time to coach and walk in his team's shoes in order to help them improve both personally and professionally. When it comes to corporate success and longevity, he says human capital management is the most important aspect of the equation.