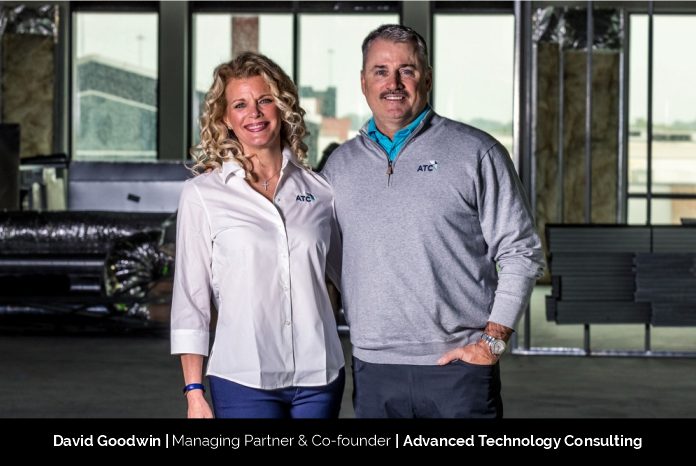 Success. Such a small word with big consequences. There is no unique or singular definition of success, and David Goodwin, Managing Partner and Co-founder of Advanced Technology Consulting (ATC) certainly believes that. Success for him, particularly as the business grows, has been watching the team develop and better themselves, taking on new responsibilities, bursting through milestones, and doing things that generate pride. He certainly enjoys seeing them earn promotions and stretch their abilities, both personally and professionally.
ATC has had eight consecutive record years and are on the verge of another this year. Those things are great for sure. But according to Goodwin, records and goals are two separate things. "Seeing us reach our goals is a definition of success, but not the only thing that matters," he explains.
A Leap of Faith
The beginning of Goodwin's career was marked by sales leadership. The latter part of his career has been driven by team leadership, growing others, and developing a culture of excellence. ATC and he have won numerous awards, but the best recognition they have received was landing on the Inc. 5000 list in 2016 because they were stacked up against the best across the country.
"I've always had a growth mindset," states Goodwin. "At one time, I was working to put food on the table. Then, the company became a great 'lifestyle' business," he adds. Although he could've been content, he felt like the pillars were in place to strive to be the best. He started by adding employees and investing in infrastructure and processes. Goodwin has stayed the course and pushed forward even though it has not always been easy or stress free.  When things get tough, he has always reverted to "the growth mindset" and the importance of making the most out of his God-given abilities.
Every Problem Is a Gift
Goodwin believes that there are many challenges to being an entrepreneur. It comes with the territory. He learned to become more monetarily resourceful and disciplined as the company ebbed and flowed. He also learned to minimize financial risk while steadying the path by avoiding the ups and downs. He says that for him, the roadblocks he faced became valuable lessons to better control his destiny by choosing better partners, pursuing ongoing professional development, and developing a highly sustainable revenue model.
ATC – An Independent IT Consulting Firm
ATC specializes in digital transformation in four core technical areas: voice, network, cloud, and cybersecurity. Goodwin says that he embraces the changing landscape of technology. "As IT consultants, we'll be just fine if we stay out front and learn on the bleeding edge and implement on the leading edge," he explains. "I think we are influencing a generational change in IT by putting a spotlight on technology and helping IT transform. IT must embrace, implement, and utilize technology to better businesses internally and externally," he adds. "IT should no longer be considered a cost center, but rather a strategic differentiator."
The technology services segment—in general—is notorious for low customer-
satisfaction levels. David says that he is particularly proud of ATC's high-touch implementation service and Super Support™ model. They're redefining the IT industry by providing a level of expertise, service, and support that most technology buyers don't typically experience. Goodwin's future plans for ATC are to take the firm as far as it can go in the next ten years. And, right now, he is having too much fun to go beyond that.
The Choice Between What's Convenient & What's Right
When it comes to integrity, Goodwin thinks the most significant thing is to set the bar high; there are no exceptions. "We're not going to cut corners or do anything unethical. We are going to be totally transparent with our clients," he affirms. There is a reason ATC has won awards for marketplace ethics. Goodwin says that ethics have been woven into his character throughout his upbringing and schooling, and professionally through supervisors and mentors. He still looks to his mentors for guidance in this area. Simply put, it's imperative to do the right thing and honor commitments and Goodwin certainly stands by that.
Innovation isn't always about doing something wholly or entirely different. Sometimes it's about refining, not redefining, that makes it look innovative. "Technology is changing at an ever-increasing pace. Therefore, it's vitally important to keep innovating ourselves by constantly 'sharpening the saw'— preserving and enhancing the greatest asset we have—ourselves," Goodwin explains. "We certainly need to be continually re-imagining and re-inventing ourselves in order to stay out in front." While Goodwin has received leadership awards, and the company has garnered ethics and growth awards, the accolades Goodwin cherishes the most come from clients through their praise of the company's work.
Life Before & After Becoming The Managing Partner & Co-Founder of ATC
Goodwin was born and raised in Indianapolis, IN, and came up through Jesuit schooling, which led him to Xavier University, where he played baseball. He was drafted after his junior year by MLB's Chicago Cubs and played a couple of years in their minor league system. After finishing his schooling, he ventured into telecom with Cable and Wireless (C&W), becoming one of their top representatives, while winning many performance awards. David got promoted into a manager role but soon learned, at 25 years old, he was not suited for that role at the time. "I was very driven and goal-oriented, but leveling those same expectations on others, as their manager, did not go over very well," he says. He ended up back in sales and became an Executive Account Manager taking care of the largest customer base in C&W's nationwide General Business Division. Ultimately, the company was acquired, and the leadership and the compensation plan also changed, which led him to co-found ATC.
As Managing Partner & Co-Founder, Goodwin understands that its his fiduciary responsibility to make sure ATC's on solid ground, to make sure revenues and pipeline are healthy, payroll is in good standing, and to steer clear of landmines. In addition to this, much of his time is focused on vision and strategy. He also spends time networking with other business leaders to understand and learn about trends, best practices, and what's s coming down the pike. He still enjoys consulting and stays engaged with ATC's client base and prospect pipeline. He also spends a fair amount of time building up the ATC team and each individual, which gives ATC's partners, providers, and clients the confidence to go to other experts on staff for specific things, rather than always go to him.
If Goodwin had to define himself in one word, it would be "perseverance," or "intense". "My wife, Lauri, would surely go with "intense," says Goodwin. "No matter what it is, business, golf, baseball, fathering, leading, or speaking, my intensity drives my focus."
Work-Life Balance
David doesn't feel there is ever a true balance between work and personal life. In his opinion, it's not so much about balance as it is about priorities. "If I have something going on at work, I don't need balance. I need to focus on work. Contrarily, if I have a family issue, my focus and priority is my family," he explains. He conveniently breaks his life into four buckets: work, family, community, and himself. All four will take priority at specific snapshots in time. Being able to do that is how he achieves balance. His wife, Lauri, has played a big part in helping him solidify this mindset, and has been very supportive at the different stages in their lives together.
Goodwin's personal goal is simple—trying to be the best version of himself day in and day out. "That is my guiding light," says Goodwin. His advice to aspiring leaders is: "Frequently get outside your comfort zone. Try new things—things you wouldn't ordinarily do. If you remain comfortable and always surround yourself with like-minded people, you're never really going to be as good as you can be. He admits that he could have grown more, and faster, if he had embraced this earlier in his career."