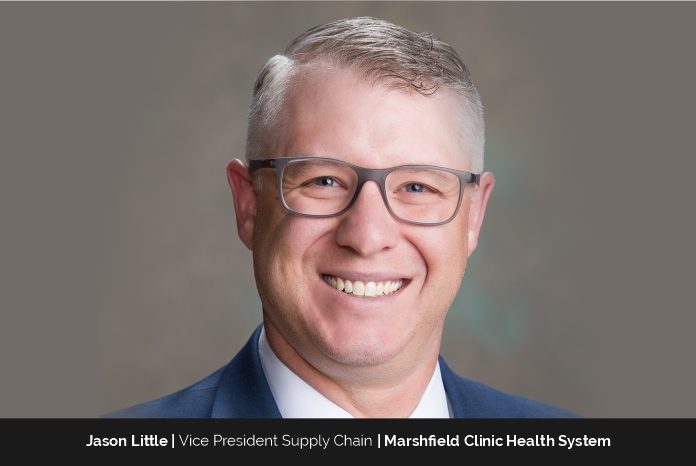 As supply chain management undergoes significant transformation due to COVID-19 disruptions, changing consumer expectations, and evolving global conditions, supply chain leaders must prioritize agility. To achieve this, they need to adopt updated best practices and focus on transformational leadership. While the discipline is evolving, industry leaders have already developed guideposts for creating successful strategies that remain relevant now and in the future. These lessons are crucial for developing the next generation of supply chain leaders. One such leader who has demonstrated proficiency in supply chain management is Jason Little, the vice president of supply chain at Marshfield Clinic Health System. With years of experience in the field and a track record of success in various organizations, Jason is a skilled and effective leader in the supply chain space.
As per Jason, Healthcare Supply Chain brings roadblocks into play each day. Whether it be backorders, discontinued products, recalls, a natural disaster, or a pandemic. Each of these is not the actual roadblock but how you handle the situation. He states, "As a leader in Healthcare Supply Chain, you must be able to think and act quickly because everything we do is about the patients we are caring for in our hospitals. When a roadblock comes up, as a team we open up communication channels right away to make sure anyone and everyone affected knows exactly what is going on and how we are working to resolve the issue."
Marshfield
Marshfield Clinic was founded in 1916 by six physicians in Marshfield, Wisconsin, as a private medical practice. Over the years, it expanded its facilities and services to become a large, independent, non-profit medical group practice with more than 50 locations in Wisconsin, as well as several locations in Minnesota.
Marshfield Clinic Health System (MCHS) is an integrated health system serving Wisconsin and Michigan's Upper Peninsula with more than 12,000 employees including more than 1,600 providers comprising over 170 specialties, a health plan, and research and education programs. It is one of only a few large independent non-profit medical clinics in the United States.
Today, Marshfield Clinic provides healthcare services in over 80 specialties and subspecialties, including primary care, specialty care, surgical services, and research. The organization also has a strong focus on community health and education and operates several community outreach programs.
Before Joining Marshfield
With over 20 years of experience in healthcare supply chain, Jason's career began in healthcare supply distribution and soon moved into working within various hospital systems throughout the Chicagoland area. Along the way, he had the opportunity to work in almost every job that the healthcare supply chain offers, from receiving dock to buyer and eventually to his current position. Jason also acknowledges that he has been fortunate to have had incredible mentors throughout his journey, who have helped him land in his current role at Marshfield Clinic Health System.
Getting Strong with Every Challenge
Jason firmly believes that facing challenges can strengthen individuals, and getting back up after being knocked down is key to personal growth. He understands that strong individuals can contribute to a stronger team, which in turn leads to a stronger organization. It's this mindset that has made the Supply Chain team at Marshfield Clinic Health System exceptional. Rather than letting challenges affect them negatively, they use them as opportunities to grow and become even stronger.
Building Sustainability in Uncertainty
As Vice President of Supply Chain at Marshfield Clinic Health System, Jason is responsible for overseeing the day-to-day activities of the entire supply chain department, including purchasing, contracting, logistics, operations, ERP, and value analysis. What he finds most exciting about his job is the unpredictable nature of working in healthcare. Although he may have a general idea of what his day will look like, things can change in an instant, making every day unique and challenging. In an ideal world, Jason's day would involve interacting with his team, addressing any issues that arise, and ensuring that everyone has the necessary tools to perform their job to the best of their abilities.
Jason asserts, "I try, as much as I can, to not bring work home with me. In my personal life, I am present in that setting, not allowing outside forces to distract me and I stay very busy with my children's activities. While at work I do the same, stay present in work situations and be there for my staff and co-workers."
Post Pandemic Effect
Jason sees that the COVID-19 pandemic exacerbated existing challenges in healthcare supply chain and highlighted the urgent need to prioritize visibility, resilience, and digitization. As Marshfield moves forward and recovers from the pandemic, it is critical that its vendor partners make supply information more visible and accessible to it as customers. This will enable Marshfield to better anticipate and address potential supply chain disruptions. Additionally, there needs to be a built-in resilience to prevent reaching a point where critical supplies become unavailable. This means adopting new strategies and technologies that enhance supply chain resilience and flexibility. By doing so, Marshfield can better prepare for and mitigate future supply chain challenges.
Encouraging Employees
Jason's approach to motivating his employees is to prioritize having fun in the workplace. He believes that working in healthcare can be stressful, and it's important to enjoy what you're doing. To keep the team motivated, they have an internal recognition championship belt that they pass around to each other, which fosters a sense of camaraderie and encourages employees to do their best every day.
In addition to having fun, Jason emphasizes the importance of showing employees that you care about them as individuals and how much they mean to the organization. By building a strong, trusting team, he believes that you can motivate and inspire everyone to do their best work. Ultimately, this approach helps to ensure success in any setting.
Industry Overview and Message for Aspiring Leaders
Jason believes that many healthcare organizations will shift from a just-in- Time (JIT) model to warehousing supplies as they prioritize resilience and reliability in their supply chain operations. He also thinks that healthcare organizations will hold their vendor partners more accountable by being transparent about the origin of their products and ensuring that supplies are available regardless of the situation.
As an experienced leader, Jason's message to new leaders is to stay humble and not let leadership go to their heads. He believes that effective leaders should be open to advice and input from others, regardless of their position within the organization. By leading with an open mind and heart, and prioritizing the accomplishment of shared goals, new leaders can build strong, motivated teams and achieve success in their roles.
Leading the Company towards Achieving New Success
Jason is passionate about making the Marshfield Clinic Healthcare System Supply Chain team a recognized leader in the industry, and he believes that innovation and technology are key to achieving this goal. By staying at the forefront of industry trends and adopting new technologies, Jason is confident that his team can continue to deliver exceptional service and drive positive outcomes for the organization.
As a business leader, Jason has a personal goal of never stopping his own growth and learning. He recognizes that the world is constantly evolving, and in order to remain successful, he must remain adaptable and open to new ideas and approaches. By continuing to educate himself, seek out new experiences, and surround himself with talented and motivated individuals, Jason believes that he can continue to grow both personally and professionally, while also driving positive outcomes for his organization and team.