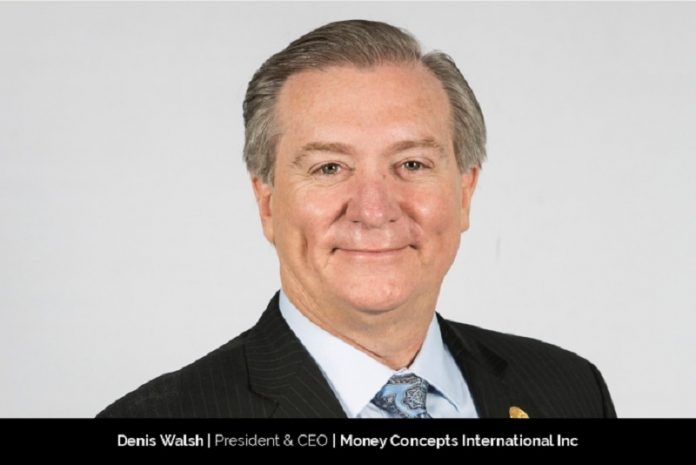 When wealth management is based on a committed benevolent interest in others, it benefits more than the stakeholders, but the community at large.
In the crowded and competitive world of financial planning and wealth management where most firms try to gain market share by any means necessary, it is refreshing to come across a firm that bases their entire business on a mindset that challenges outdated traditions.
That the philosophy of Money Concepts is based on a committed benevolent interest in others is a testament to Denis Walsh, President & CEO of Money Concepts International, Inc. and his father, John P. Walsh, who founded the company.
A long legacy of holistic financial planning
Money Concepts was established in 1979, by Founder John P. Walsh, who recognized major weaknesses in the distribution systems of the financial services industry and dedicated his new company to solving these problems.
Mr. Walsh created Money Concepts Financial Planning Center that created a structured and unbiased way to help community based financial institutions, tax professionals and independent financial planners, offer their clients and customers holistic financial planning and wealth management solutions.
Today, Money Concepts is a privately held company completely independent of the influence of product providers with over 700 Money Concepts Planning Centers nationwide.
In addition to serving independent advisors, Money Concepts provides turn-key wealth management services for community banks, credit unions and tax professionals. Their advisors offer a full array of non-proprietary products and services including advisory and alternatives investment services.
An unconventional approach to wealth management
Money Concepts is built on a rich history based on a foundation of unique values that have played a vital role in their growth.
While providing the traditional resources of a broker-dealer, they have always taken a rather unconventional approach to wealth management, seeing themselves not as a typical financial institution or services firm, but a community, a full-service hub committed to providing their clients with the tools they need to succeed, the freedom to chase their goals, and the support to back them up.
Their Founder, John P. Walsh, sought to create an environment that promoted active investment, enthusiasm, and honesty. It's those values that led to the establishment of their Code of Ethics and resulted in an impressive record in the retention of the independent financial professionals they serve.
Learning the business from the ground up
The young Denis Walsh always had had an interest in business, having seen how hard his father worked to provide for their family. He took notice of the way the senior Walsh saw gaps in the financial services industry and acted on his bold vision to make a difference, by creating a new approach to financial planning through Money Concepts.
Denis Walsh joined Money Concepts in 1981, after graduating from Florida State University with a degree in Risk Management. As a Certified Financial Planner™, Certified Fund Specialist, Registered Financial Consultant, and a Certified Estate Planner, he also holds nine (9) FINRA Securities licenses.
"My original plan out of college was to be an analyst," he says. "However, the more I experienced the vision of Money Concepts, I quickly knew the greater impact was in people, not numbers. So, I invested in learning the business from the ground up, where it truly matters."
That experience impacted the way the younger Walsh saw the purpose at Money Concepts, how they respected the people they served, with a committed benevolent interest in others, which is not the common road in their industry.
Successful leaders do not lead to be a hero
Walsh was elected to President in 1997, and in 2006, he become CEO. His responsibilities include the long-term development of the Money Concepts companies and its day-to-day operations.
Describing himself as a Visionary in his role as President & CEO, he serves to navigate the company's journey by staying in tune with their clients, the marketplace, and opportunities.
"As a leader, you are continuously faced with decisions," says Walsh. Successful leaders begin with considering the impact those decisions have on others. The big 'public' decisions are often the easiest. They are exciting, challenging, and if it works, they make you a hero."
"Successful leaders do not lead to be a hero," he continues. "They lead to impact others, to provide insight, confidence, and purpose to those under their watch. And frankly, to impact those they don't even know. I consider this as servant leadership".
A benevolent interest in others as the foundation to success
Walsh's regular day involves continuous interactions beyond his structured approach to set management meetings with agendas. He believes that it is important to connect with employees to allow them to understand the company's mission.
Their advisors enjoy the culture of sharing and the lack of proprietary constraints and corporate or board pressures. Instead, advisors can focus on their clients as a business partner committed to be the Straightest Path to THEIR Success.
"Our financial professionals are remarkable in what they do," says Walsh. The care, the trust and respect they have with their clients is inspiring. We believe that our industry sometimes loses sight of the enormous responsibility of the individual professional."
"Our vision is to prove that a committed benevolent interest in others is the foundation to true success. As such, we will always start with that commitment in everything we do," he continues.
Preparing for future growth in the years ahead
Today, most wealth management firms need a minimum investment in technology to remain in business. At Money Concepts, their IT solutions have been field tested and feedback is heard. "We serve a diverse field force. This means we must align strategic resources that meet their needs. We achieve this by beta testing new services, getting feedback, and adapting. The final rollout results in a service that has the fingerprints of our advisors on it."
Walsh believes that Money Concepts is positioned to make great strides in the future and his goal is to stay on the leading edge of the marketplace to equip and support the growing need for financial professionals.
"Making investments in resources and people ahead of the curve is a challenge but one that I truly embrace," he says.
The approach begins by understanding the business first, then applying solutions and adapting with their professional's feedback. They take a much-customized approach to many standardized processes, and the entire experience is fueled by powerful and customized AI abilities.
"Just like my learning the business from the ground, 'in the trenches', our E-Environment delivers a single sign-on experience to deliver a comprehensive dashboard of tools and resources at their fingertips," says Walsh. "We dare to push forward with solutions for today but are ready for the future growth for the years ahead."
Navigating and leading is not a solo journey
In addition to their belief in having a committed benevolent interest in others, the team at Money Concepts believes in a Culture of Sharing.
"Navigating and leading is not a solo journey," says Walsh. It takes attracting talented leaders who are ready to develop and explore new opportunities without compromising our core values. We believe that wisdom is collective therefore we firmly protect our culture of sharing."
"In fact, we openly state that if someone is not comfortable on sharing ideas, we just might not be the right fit," he continues. "We view ourselves as a community of like-minded professionals more than a 'company'. In an industry that is challenging and ever changing, we believe the combination of culture and committed benevolent interest in our financial professionals has proven to be at the center of our success."
In a community, people bond over shared values, they feel valued, and they have a voice in decisions that affect them. Money Concepts demonstrates that by always creating with their professionals in mind and adapting with their feedback.
"Our independence is different because we feel that it should not compromise the support, synergy, and resources financial professionals need today," says Walsh.
Never lose sight of who you are, who you serve, and why
In an industry filled with distractions that can lead an organisation astray from their foundations, Walsh chooses to respect the rich tradition and foundation that Money Concepts has built.
"There is no doubt that this business is challenging," he says. "To me, being true to who you are, and who you serve, provides the solid foundation to face roadblocks. Not by being content, but by using our strong roots to reach higher," he continues."
He believes that roadblocks in the path of doing the right thing are always workable, and that ignoring them to take a shortcut or turn away from one's values never ends well.
"Through strategic growth initiatives, we are always seeking new paths but stay grounded on who we are. All part of our Committed Benevolent Interest," he says. "My message to future leaders would be that your foundation is not your anchor. It is your springboard to grow. Never lose sight of 'who you are, who you serve, and why'."
The more you help others, the more it helps you
While the wealth management industry is crowded and competition is fierce, with most firms trying to gain market share and do whatever it takes to play in the dominant space, Money Concepts serves a very diverse network of professionals.
"However, that does not mean we try to be all things to all people," says Walsh. "We certainly have objectives to grow. However, we seek to grow strategically. This means investing in resources to help our professionals succeed first. Our motto, 'the more you help others, the more it helps you', serves us well in our focus to be the best in the niche market."
While others race for quarterly earnings for stakeholders, Money Concepts' stakeholders are the professionals they serve, because they are the ones making a difference in their respective communities and clients who have placed their trust in them.
For Walsh, the most rewarding recognition begins with their financial professionals in the field, many of whom have placed their trust in Money Concepts for over 20 years. They also have many second to third generation offices.
In 2015, they established Money Concepts Charities. Many of their professionals play a vital role in local charities and the firm supports them in their commitments.
Each spring, they set aside two months of profits to local charities that are allocated in conjunction with a Money Concepts representative in the communities they serve.
"It is truly rewarding to work with advisors who care deeply about helping others beyond their professional service," says Walsh.
A strong commitment to personal growth
As an avid reader, Walsh is deeply committed to personal growth and invests in the personal growth process of his staff by encouraging book report discussions among them.
"For example, I will provide books for the entire firm to read and host sessions to discuss," he says. "These are not books on 'how to run a business.' Instead, they include communication, character traits, and self-improvement."
The firm initiates challenges that are fun for everyone to keep the synergy levels high and, when a challenge is connected to their goals, everyone understands that no matter their role, they have contributed to the big picture.
"I also work with a fitness coach," says Walsh. "It is more than an objective to stay in shape. The time in the gym pushes me to stretch beyond what I think I can do. That sense of accomplishment carries over to how I lead others."