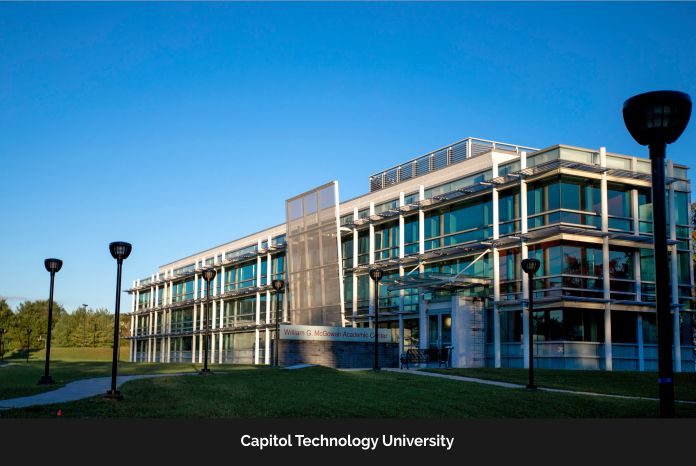 The 2008 Great Recession forced students to look harder at what they were gaining from their investment in a university education. Now, the Covid-19 pandemic has once again underscored the importance of jobs for students' post-graduation. That is why Dr. Bradford L. Sims is focusing on careers. The President of Capitol Technology University is known for helping organizations achieve greater success through vision, insight, and strategy. He is also an educator, administrator and construction project manager, and has extensive experience in academia as well as industry.
Started by a former US Navy Radioman in 1927, Capitol Technology University has a long history of teaching students how to build radios. It has been offering only STEM or STEM Management degrees since then, helping students obtain degrees that are in demand. In May of 2017, Dr. Sims started a limited number of on-campus bachelor's degrees, several online master's degrees in a synchronous format, and two doctoral degrees. Since then, "we have added numerous degree programs at all levels that are based on industry needs," he says "Our online programs are now available in an asynchronous format, and our large number of online doctoral degrees have students from around the world. We have a new, on ground, apartment-style student living facility, and the existing facilities have been upgraded, as well."
Before Joining Capitol Technology University
Prior to his appointment as Capitol's president, Dr. Sims was interim chancellor and chief academic officer at Embry-Riddle Aeronautical University's worldwide campus, based in Daytona Beach, FL. As chancellor, Dr. Sims had the responsibility of administrative and fiscal oversight of a complex, global academic institution that serves 22,000 students annually in 130 locations across the world.
As chief academic officer, Dr. Sims had the primary responsibility of ensuring the academic performance of the worldwide campus. He led and managed academic affairs at the campus, spearheaded scholarly and research activities, and led the expansion of over 20 new degree programs.
Before moving to Embry-Riddle, Dr. Sims was a dean and professor at Indiana State University. As the dean of the College of Technology, he was responsible for oversight of degree programs, human and fiscal resources, strategic planning, external funding and faculty programs. He helped boost enrollment at the College of Technology by 75% and increased the number of international students. He also raised alumni participation and built a social media presence for the college, establishing its first Facebook and LinkedIn pages.
From 2002 to 2009, Dr. Sims was professor and department head at Western Carolina University, where he founded the construction management program. Under his direction, the undergraduate degree program grew from zero to 400 majors over a five year span, and an online master's program in the field was successfully established in collaboration with the College of Business.
Dr. Sims began his academic career as an assistant professor at the University of Florida, serving also as a consultant in the lean construction industry. Prior to his transition to academia, Dr. Sims built a successful career in the industrial construction industry. He was a project controls supervisor for Cherne Contracting in California, and a cost engineer for Badger Engineers, a subsidiary of Raytheon Engineering, in Massachusetts. He started his career as a project control engineer with the Westinghouse Savannah River Corporation in South Carolina.
Dr. Sims earned a Ph.D. in curriculum and instruction in 1999 from Purdue University, which is also his undergraduate alma mater; he received his B.S. in building construction management from there in 1990. He also holds a master's of science degree in building construction from the University of Florida. He is a member of the Sigma Lambda Chi International Construction Honor Society, the Military Cyber Professionals Association, InfraGard, Royal Aeronautical Society, the Maryland Center for Construction Education and Innovation, Inc., and received Purdue University's Distinguished Technology Alumni Award for Building Construction Management – 2019.
Finding a way through every new Challenge
Dr. Sims left his full-time position in the construction industry because he felt that obtaining a master's degree would help him move from project management to a VP of operations position where he could support projects across the entire company from a high-level point of view. By deciding to continue and complete his doctorate, he delayed returning to an industry position. Upon graduation, Dr. Sims found it difficult to make recruiters, who were coming to campus, understand that he wanted to find a position in operations. He says, "Since many universities liked that I had both industry experience and a doctorate, there were plentiful offers to start a new career as an assistant professor. I decided that I would try being an assistant professor full-time and accepted a position at the University of Florida." For Dr. Sims, it was a great start, and he learned a lot about the requirements of the position. But he still desired a more operational point of view, and therefore he moved onto Western Carolina University,
where he was offered a position to build a new bachelor's degree in construction management. He asserts, "This was a great opportunity where I was in charge of every aspect of building and marketing this program which quickly grew to the university's third largest program in five years and became its own department. Along the way, I built one of the first completely online master's degrees in construction management before online degrees were as numerous as they are today. With this success, I decided to try and replicate a VP of operations position by accepting a position as Dean of the College of Technology at Indiana State University, then the Chief Academic Officer for Embry-Riddle Aeronautical University's worldwide campus, and finally the President of Capitol Technology University." 
Leading during the pandemic
The pandemic has pushed many in higher education outside of their comfort zone, forcing them to use technology they may have never used in the past. Capitol Technology University has been using online synchronous and asynchronous technology for several years now, so when in March 2020, campus had to shut down face-to-face operations, it was easy to pivot and continue on with online instruction. When in the fall of 2020 undergraduate students were allowed back on the campus, Dr. Sims says that they offered both hybrid and online courses. Since their Masters and Doctoral students have always been online, there was not much impact on their mode of instruction. Most of the Masters and Doctoral students are parttime or fully employed individuals, and they were simultaneously adapting, in many cases, to working remotely for their employers; so continuing their education in a similar format was not a difficult change.
Dr. Sims adds, "While we already had the capitol commitment where if an undergraduate did not have a job in their area of study within 90 days of graduation, they could complete a certificate for free. During the pandemic, we added more guarantees for our on-campus undergraduate students in 2021 with a minimum 50K salary upon graduation or their student loan payments would be repaid every quarter."
Keeping Responsibilities at University and at Home
One word that defines Dr. Sims is "inspired". Being in the position of President of Capitol Technology University, Dr. Sims is responsible for the overall strategic success of the university. His day is usually filled with meetings — marketing and partnership meetings, and strategy efforts — that provide communications across functional areas so that the whole staff can work to support the university efforts as one big team.
"My spouse and I have two daughters in high school and several pets. While I am accessible seven days a week as needed for work, I spend time every day with my family and frequently travel to see my parents or meet friends and enjoy some downtime," says Dr. Sims.
Dr. Sims emphasizes that he leads a university that provides great careers for students and their families. It is his passion to provide support for these students so that they can become successful industry leaders. He enjoys the job as it fits with what he believes is important to society.
The Future of Capitol Technology University
According to Dr. Sims, the university will continue to expand its on-campus undergraduate degree programs and online bachelors, masters, and doctoral degree programs to support the needs of the industry. The university wants to keep producing and advancing what is needed from employers of the future. The university is very industry friendly, and employers are welcome to contact the university if there is need for a degree offering specialization in a particular area, and the university will work with them to build something if there is a gap. Dr. Sims states, "We can move quickly being a private nonprofit, and we use industry experienced instructors to keep the course content as current as possible."
"My personal goals for the university are to keep expanding the awareness that Capitol Tech provides affordable, great, industry in-demand degrees so more and more employers look to partner with the university and to continue to expand our global reach with our online doctoral programs that do not require any physical visit on campus. We do hope all students from any online program come to campus for graduation. It's always the best time of the year," says Dr. Sims.
What is Success?
Dr. Sims sees success as a selfinternalized assessment. He opines that it has a different definition for each person. He states, "I didn't know where my career would go starting off as a graduate with a bachelor's degree in construction management and working around the United States in industrial construction." He learned a lot not only from a great career, but also from living in different cities across the United States and also in the Netherlands. Although he was pursuing a bachelor's degree at Purdue University to obtain a job at the insistence of his parents, he never looked back as it was a great start to his career. He also recommends to all new graduates the experience of living in multiple locations as he believes it is another valuable life experience. He recalls, "Not knowing what the future would hold, I then, accidentally, ended up in higher education and have been here for 25 years, starting many successful industry in-demand degrees along the way. I feel my success has been providing students great wellpaying careers where they can take care of themselves and their families for life."