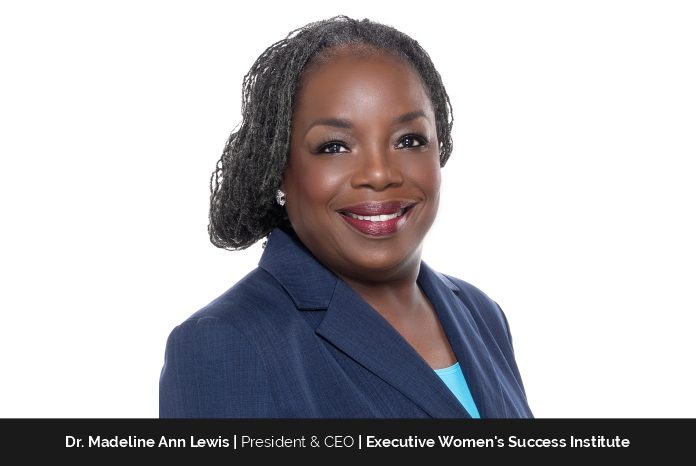 Defining success is defining a goal and that goal looks different for everyone. Dr. Madeline Ann Lewis, President & CEO of Executive Women's Success Institute (EXWSI), also says that the definition of success is different for everybody. "Whatever success means to you, getting in the right mindset and having the right attitude will help you to get there," she asserts. Personally, for her being successful is the ability to be articulate. She expects her message to be compelling and she must be able to share it with the people she serves or speaks to. After all, that is what Executive Women's Success Institute is all about. Offering topics such as career development, executive coaching, and business development is what the institution was founded for.
Leading a business is not always easy, but it's always worth it.
Dr. Madeline worked in city government, civilian federal government, and corporate. She served 22 years in the military, retiring after reaching the rank of Sergeant Major. She also taught graduate and undergraduate courses at several universities.
The defining moment behind her starting her business was seeing how hard it was for women to advance in their careers. Dr. Madeline believes that being a business owner is one of the greatest feelings one can have and knowing she can help another woman see her own greatness and move in it gives her a sense of joy. She says, "I began to realize that women were coming to me for advice on many things, such as reviewing their resumes, advice on what they should do next to move their careers along, helping them get through an interview – and for mentoring. I also noticed that there weren't many women helpings each other to move up the career ladder." This inspired her to start her own business to provide guidance, coaching, personal and professional development to those women who needed and wanted to advance in their careers or start their own business. Starting her own business gave her the opportunity to help more women and to be able to reach out on a larger scale. Her mission is – To Help Women Accelerate the Path to Success.
Smooth seas do not make skillful sailors.
One must be ready for challenges to come along in business. Always take the bad with the good and if we happen to fall, we should get up. "Don't stop and stay down. Move!" says Dr. Madeline. Speaking about her own problems, she says, "My biggest challenge was learning to communicate, especially with my clients. Another lesson learned was to diversify and not have tunnel vision about why I was in business." She had to put her fears on hold and look for new opportunities and step out if something came along that could potentially be successful.
When Women Support Each Other, Incredible Things Happen
The EXWSI was founded in 2012 as on organization with the goal to provide women with personal and professional development with hands-on results-oriented training in different topics. The programs are geared primarily toward women (25-60) lacking the needed competencies to further enhance their personal and professional development. Over the years, EXWSI has trained both government and private sector individuals to reach their full potential. It is a formal environment where women can share their thoughts, their joys, their weaknesses, and in some cases, their successes.
"I continue to implement ways to reach more women especially during this past year and half when they were at home. I wanted to provide creative ways to keep them moving forward and not become stagnant or stuck in a rut," explains Dr. Madeline. As the President & CEO, Dr. Madeline seeks to empower and enlighten women, in their career, business and personal lives by providing them with a fast track, yet comprehensive toolkit of life skills and abilities. She conducts workshops and seminars that have been presented throughout the United States and abroad. Her coaching programs gives women a predictable roadmap for success – proven over the years by other women. She does so by taking women step-by-step through a program she personally created from research and experience called "8 Habits of Highly Successful Women." She truly makes us believe that – one woman can make a difference but together we can rock the world.
Personal & Professional Vision
On August 13, 2020, Dr Madeline launched and now host the Success 4 Women TV Show, a component and addition to the Success 4 Women Radio Show (which launched in August 2018). She brings on guests who share their stories about how they achieved their level of success or how what they do can impact women in business, women in the workplace, and women in relationships.
"My first vision is to see the show reach and have a positive impact on a million women. My second vision is to help as many women as possible get into management or executive level positions through my coaching and programs," she further explains. Her plans are to have a "Success 4 Women Retreat" by 2023. She would like to gather a group of women at a nice resort where they can be free from distractions. Free to let go fully and immerse themselves in renewing their spirit. To have their own personal breakthroughs. Her personal goals as a businesswoman are to reach, help, and have an impact on a million women by 2023.
A Triumphant & Puissant CEO
For Dr. Madeline, the greatest professional accomplishment is being recognized as a businesswoman. She received a "Businesswoman of the Year" Award from the Chamber of Commerce in her county, the "Women Entrepreneur of the Year Award", an Enterprising Women Award and was recognized as one of the "50 Women of Power in Business" Award. There have been many more but receiving these brought her great joy and she felt a huge sense of accomplishment to be recognized by her peers.
Dr Madeline always tries to keep in mind that a business is only as good as the people inside of it. What some may view as the most insignificant positions can end up being the most important. For example, the receptionist is the first-person customer will talk to or see when calling or visiting her place of business. Hence, she makes sure the receptionist knows she is valued and appreciated. She always motivates her employees by recognizing and praising them for their hard work and makes them all feel as though they are an integral part of her business.  She trusts and relies on them to do their jobs. She also ensures they know that she has an open-door policy.
Either you run the day, or the day runs you.
Striking the right work-life balance involves a mixture of time management & commitment to the prioritization of professional work as well as personal care, and Dr. Madeline knows exactly how to do so. "I always make time for self-care, to have fun and relax by taking trips to places that will feed my spirit. And of course, I love going to luxury spas for massages, facials, and spending time with girlfriends as we "sip and talk" to catch up with each other," she says. Of course, some things have been put on hold during this time of mask wearing and stay at home restrictions due to COVID-19.
Her day usually starts off with an 8:00am workout with her group trainer. Then at 10:00 am, She meets (now virtually) with the staff to discuss any problems, issues, or concerns. She then goes into meetings with clients. From there it all depends on what her Executive Assistant has scheduled in her calendar. Every Thursday at 2:00 pm (EST), she hosts the Success 4 Women Radio/TV Show.
If she had to describe herself with one word, that word would be "Courageous." She further explains that with a quote that she keeps in the forefront of her business…
"You have powers you never dreamed of. You can do things you never thought you could do. There are no limitations in what you can do except the limitations of your own mind…" –Darwin P. Kingsley
The message she wants to leave to aspiring businesswomen is her own personal quote which is,
"Being proud of your background and unique attributes will ensure continued growth. Recognition provides the opportunity to speak about and showcase our experiences as women exhibiting strength in the business world."