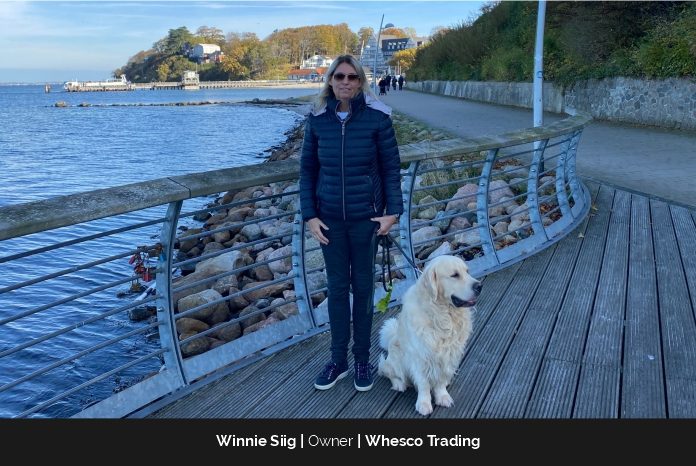 Goals Give Us Focus & Dreams Give Us Power
Successful people set high goals, plan the steps, and do not stop till they get there. Winnie Siig, Owner of Whesco Trading has always dreamt about being in the sales business since she was about 15-16 years old. Her father has been very successful in the sales business and many times since she became a little older and got her first sales job, she talked to him about sales, how to become a good saleswoman, and how to be trusted as a serious person. "He has taught me a lot – and it is the best job when it goes well and the worst job when it goes bad – for me I have most of the time have success," she says.
When Winnie was 25 years old she had a sales job in the pet industry and worked there for around 6 years. She then moved to Sweden to be an agent for another company, and that was the beginning of having her own company. Winnie moved back to DK and in 2009 she started Whesco with her husband. "I know about the business and have always thought it was the best place to work with this articles. The customers were always easy to talk to and they always want to get new products," she says. The first year she and her husband traveled around the world to find the best products for the best prices, and since 2009 they have grown. They have had tremendous growth in the last 5 years while growing their customer base. As of now, they make a lot in private label, because the name "Whesco" is a brand today.
Success Depends On You
Winnie says that the most important thing to be successful one needs to be trustworthy. What is said yesterday should be the same thing you will say and stand by tomorrow and after that as well.
She states that the driving force throughout her professional journey has been listening to her customer and paying attention to demand. One must be willing to be independent so you are never free from work; "This becomes a lifestyle," she exclaims. Winnie and her husband, Henrik Siig work a lot, and she says this needs to be done in order to be successful as nothing comes easily.
Setbacks are a vital part of growth
Winnie states that the hardest part of their growth is probably when they got employees. "You have some expectations from your employees and it can sometimes be difficult, as you do not necessarily have to be friends with them, however, there must be respect both ways," she further adds.  At the beginning of their start-up they did not have many employees so they were very dependent on them and it caused an issue if they get ill, today it is better. She says that you have to accept what is not achieved today. She also says that to be a good boss one has to make difficult decisions regarding hiring and firing people as required.
Whesco Trading And Its Services.
Whesco is a distributor/wholesaler in the pet industry. They have won several awards for being the best distributor/wholesaler in Denmark and Europe. They deliver pet articles in Denmark, Norway, Sweden, Island. Winnie says that in this competitive industry you can survive and stand out if you have great service, exceptional products, and prices, however, being trustworthy is the first step.
Initially, Whesco decided not to sell directly to the end consumer. Over the years they sold their products in stores and when it has become well-known, they sold it themselves. They believe it is useless to market products based on their looks. Whesco has made it easier for the customers to decide what they want in the shops. "We always try to get what the demand is – of course, you can get nearly everything, but it always depends on the prices as well," explains Winnie. In the last 5 years, they produced several different products because of their customer's demand. Especially the frozen food. It has been a success and their own private label dog food. Their frozen food & natural snacks for dogs has the largest selection.
Winnie's proud moment as a leader was when they won their first award in 2015 at an Award show in the UK – Pet Quip. "That was huge for both of us," she exclaims. All the work and all the hours they spent at Whesco made them well-known in the UK. "Our "little Danish" company has won an award for the international wholesaler/distributor of the year, that was big for us. Winning shows them that they are doing something good in their business.
Her vision for the company is to export to more countries and have a sales team in Germany and UK as well someday.
Work & Personal Activities As The Owner
Winnie says she starts her day by checking and clearing her emails. Then she and her husband place orders for items which are then reviewed and have discussions regarding sales – campaigns by meeting with the sales team. Before Corona, they used to travel about 4-6 times a year to various fairs and visit manufacturers all over the world.
She says that in order to have a work-life balance you should never count your hours. Winnie and her husband try to talk and discuss other things than Whesco regularly. However, this company has become a lifestyle for them and they enjoy it daily even when there are bad situations. They try their best to do right by the company and themselves in every way possible.
Winnie's message to her younger self is – Remember to enjoy life as you only have one. And her message to aspiring leaders is – You have to make decisions each day some are
fun some are not, but if you have to do your best.