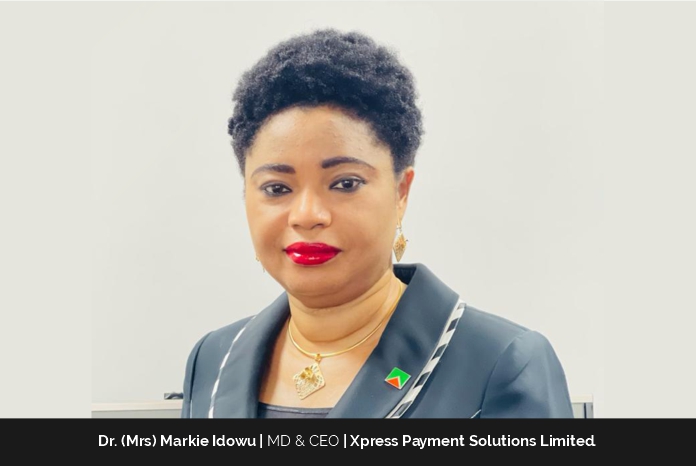 Dr. Markie Idowu is a proponent of women's empowerment and gender equality, particularly in the Fintech business. She is also a member of the Women in Technology in Nigeria advisory board (WITIN). The team at WITIN is dedicated to ensuring the empowerment of girls in the fields of science and technology. She believes that women's empowerment is critical, particularly in the region of Africa, where women are often marginalized.
Dr Idowu is the Managing Director and Chief Executive Officer of Xpress Payment Solutions Ltd. She has also carried out several women's empowerment programs as the MD of Xpress Payments through the Agency Banking network, where the firm has on boarded women on its platform while providing them with free POS machines, collateral, and training. This allows them to do agency banking operations and make a decent living. This project, according to management, is only the first of many more that the company will undertake.
Beginning of Journey
Dr. Idowu began her professional career in 1989 with Continental Merchant Bank (previously Chase Manhattan). She went on to work for Guaranty Trust Bank, Fidelity Bank, and Skye Bank, among others (now Polaris). She worked with Skye Bank for almost 11 years, holding several roles such as Executive Director, Retail, and Lagos Commercial Banking. She was formerly the Executive Director, Technology and Service Delivery Channels, where she was responsible for IT, E-Channels, Business Process Re-engineering, Business Optimization, International Operations, and Branch Operations throughout the bank's 400 locations.
Dr. Idowu has received recognition in her field during the course of her career, the most prominent of which was when she was charged with Polaris Bank's IT transformation. Dell Computer Company recognized the IT transformation, and her team was invited to the Dell IT Conference in Austin, Texas, in the United States. She asserts, "We were further invited to a private dinner at the residence of Michael S. Dell, the only West African to be so invited."
Xpress Payment Solutions Limited
Xpress Payment Solutions Limited is a Nigerian company with 100% ownership that was established in 2016 as a Private Company Limited by Shares. The firm has a N5 billion authorised share capital base that is completely paid up. The firm specializes in the design, development, and distribution of electronic payment, collections, bill payment, and fund disbursement systems. They provide payment services centered on transaction switching and processing as a shared infrastructure.
They are licensed by the Central Bank of Nigeria (CBN) as a:
Payment Solution Service Provider (PSSP)
Payment Terminal Service Provider (PTSP)
Transaction Payment Switching
Third Party Processor
Super-Agent
Xpress Payment Solutions Limited works with 19 Nigerian banks and the Nigeria Inter-Bank Settlement System Plc (NIBSS) to provide services to public and private sector clients, including state and federal government MDAs. It operates in Ghana and has a presence in all of Nigeria's states.
Devoted to Achieving Objectives
According to Dr. Idowu, her inspiration has always come from her confidence that she can do everything she sets her mind to. She opines, "Joining Xpress Payments wasn't a difficult choice. This is due to my strong belief in what the company stands for making life easier through seamless payments." She recalls that, coming from a banking background, the transition to Fintech wasn't too much of a problem. She adds, "It is also important to remember I have 2 degrees in IT, so I am comfortable with the tech industry."
Dr. Idowu defines success as two things: exceeding her allocated targets and seeing the people she leads succeed at what they do; and succeeding in the sense of accomplishing their professional and personal goals and desires.
Overcoming Challenges Together
"I've had several challenges within my career, which spans more than 30 years, and I learnt a lot of valuable lessons," says Dr Idowu. However, the greatest lesson for Dr Idowu is her undeniable belief in teamwork. She says, "I've learnt over the years to lean on other people, leveraging on their experience and expertise, to ensure that our common objective is achieved." She goes on to say that in her capacity as MD/CEO of Xpress Payments, this has been highlighted even more. Despite the fact that Dr. Idowu is the senior management staff, she has discovered that she cannot do anything without the assistance and support of her management team and other employees, even those as "lowly" as the drivers and cleaners. She says, "I have seen us surmount challenges beyond what we believed we could achieve. The COVID-19 pandemic, just like everyone globally, affected us as individuals and as a company. I lost people close to me, as well as some of my staff members. "
She also adds, "However, as a team, we resolved that we wouldn't allow the pandemic to affect our fortunes. It was in that year that our company declared a sizeable profit for the first time. This wasn't shared luck; this was us working as a team, surmounting our common challenge, and being rewarded for it at the end. "
Following an open-door policy
Dr. Idowu maintains an open-door policy at Xpress Payments, allowing all staff members immediate access to her. Her phone numbers are in her email, so her employees can contact or talk with her about any topic, official or personal, at any time. She has also pushed all of her top personnel to follow suit. She clarifies, "This has fostered a good working relationship between leaders and subordinates where ideas are encouraged and worked upon." The management also has innovation challenges amongst staff, where the best ideas are chosen and worked upon, and such staff is handsomely rewarded. She adds, "As regards integrity, "I walk my talk" and I have zero tolerance, so my staff clearly knows my stance. This has helped to inculcate integrity in most of the staff."
Ensuring Success
As MD/CEO, Dr. Idowu is responsible for all corporate operations, personnel, and endeavours. She is in charge of the company's overall performance, and her main goal is to guide Xpress Payments in the most lucrative way possible while simultaneously carrying out her vision, purpose, and long-term objectives. She's also in charge of analyzing the work of the company's other senior staff members while keeping up with the competitive market landscape, expansion potential, and industry advances.
Dr. Idowu's usual day comprises of physically or virtually interacting with clients to organize or finish commercial transactions and prospects. She also interacts with employees and other internal stakeholders to provide direction and leadership. She finds time to have lunch in between, and she attempts to stay in shape by doing gentle aerobics in her office area. She says, "If I was to describe myself in one word, I would say dynamic."
Encouraging the Team for Work Life Balance
"I am a sticker for work life balance," Dr Idowu. She strives to complete all duties within the timeframes set, and she encourages her employees to do the same so that they may spend time with their families. She also makes sure that she and her coworkers take vacations on a regular basis, since this helps them detach from the workplace and their professional duties and focus on other things. She believes that by doing so, employees would remain motivated and be able to give their all.
Dr. Idowu is focused on creating the finest work environment for her employees, believing that this would result in the company's success. She claims that one way she has attempted to do this at Xpress Payments is by introducing a crèche targeted at enhancing employees' work-life balance. She says, "As a fintech company, we have a lot of young mothers and fathers who have a challenge with where to keep their kids during working hours, and with the introduction of the crèche, we offer them that peace of mind, and this in turn only helps keep them motivated at their tasks at hand."
Every year, the staff at Xpress Payments celebrates the company's anniversary milestone and host an annual sports tournament between themselves and the group's sibling firms. This tournament is known as the AWA Cup, and it takes place every October. It also serves as a method of encouraging more collaboration between employees of the firm and its sister company.
Objectives to Achieve for the Greater Good
Dr. Idowu's aim for one of the country's leading financial solutions organizations is to see it acknowledged as a significant driver of financial literacy across all demographics and locations of the country. She asserts, "I think we are well on our way to achieving this through the introduction of our Agency Banking Platform, Xpress Agent." She further adds, "Through this service, we are allowed to provide basic financial services to people in the most remote parts of the country, and this gives us the continued avenue to contribute to the Nigerian eco-system."
Dr. Idowu also intends to expand Xpress Payments beyond Nigeria's borders, to other countries in Africa, where the company's broad suite of services and solutions can continue to make payments and remittances easier. She thinks that Xpress Payments can affect change by doing things differently, maintaining integrity in all of its relationships with clients and stakeholders, and becoming the preferred partner of third parties.