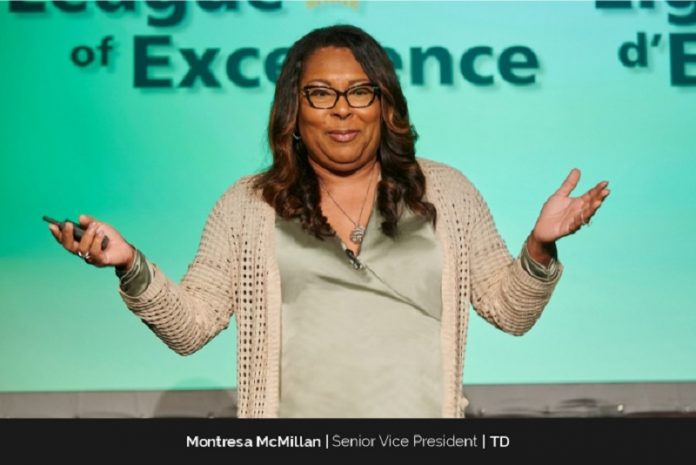 Montresa McMillan realized early on in her career that she had an entrepreneurial spirit and loved working with people who challenged her to be better every day. Fast forward to today, Montresa now helps transform organizations through high return on investment (ROI) product and service innovation, top performing teams immersed in strong cultures, and comprehensive strategic planning.
As Senior Vice President, and Head of Strategy, Change and Operational Excellence (SCOE) within Transformation, Enablement, and Customer Experience (TECE) at TD Bank Group (TD), Montresa leads the development of the TECE strategy, manages TECE Governance and Control teams, and heads Performance Management and Productivity.
Additionally, she oversees a number of Bank-wide centers of expertise, including the Enterprise Change Office, Enterprise Process Engineering, Enterprise Business Architecture, and Enterprise Digitization and Automation.
Paired with Montresa's approach to inclusive and collaborative leadership, these centralized functions help to promote Operational Excellence across TD.
An award-winning, well-known leader in financial services
Montresa is a well-known leader in the financial services sector, and her unwavering optimism helps encourage others to bring their best selves to work each and every day.
In 2011, Montresa was inducted into the YWCA Academy of Women Leaders and was a member of the TD team that won the American Banker "Top Team in Banking" award in 2018 and the 2021 Celent Model Bank Award for "Supporting Customers in the Pandemic."
In 2020, Montresa also received the first TD Granted Patent of the Year award. Then in 2021, Montresa was recognized by The Network Journal as one of the "25 Influential Black Women in Business." Finally, in 2022, she was recognized by Savoy Magazine as one of the "Most Influential Black Executives in Corporate America."
Helping to make the working world a better, more inclusive space
Montresa started her career in banking as a part-time teller while studying Mathematics at North Carolina State University. She hasn't left the industry since.
"I wasn't looking for a job in banking specifically, but the roles I've had just happened to be in financial services, and they have allowed me to develop, grow, and innovate. It has been such a rewarding career," she reminisces.
With so many different opportunities in financial services, Montresa believes the industry can help current and future talent gain skills in a variety of professions. When reflecting on her own journey, Montresa says that up until 10 years ago, she had a different job every two years, where she acquired unique but transferrable skills with every opportunity.
"I joined TD 10 years ago, and it was truly the culture that kept me at the Bank. Bringing my entire self to work and feeling included are key requirements I have for myself, and TD delivered on that promise," she remarks.
For Montresa, TD has been a special place to work. She says that the Bank is not only committed to growing and developing talent, but also committed to diversity and inclusion. "I've had the privilege of working with colleagues who come to the table with unique thoughts and experiences." she states.
Leading at TD has been a phenomenal experience, Montresa adds. "For me, being a leader means more than just showing up. It means becoming a beacon for future generations, specifically for Black, Indigenous, and people of color who don't always have a seat at the table."
Montresa mentions many proud moments in her journey at TD so far, noting that if it wasn't enough that the Bank was selected by Mediacorp Canada Inc., as one of "Canada's Top 100 Employers" (2022) and "Greater Toronto's Top Employers" (2022), the icing on the cake is that TD Bank, America's Most Convenient Bank, was recognized by Diversity Inc as a "Top Company for Diversity" in 2022, marking the 10th consecutive year TD Bank has received this recognition.
"Something I am quite proud of at TD is that diversity and inclusion are ingrained in our culture – the celebration of what makes each of us unique and the understanding that diversity and inclusion are critical to our success as an organization, like unique mosaic pieces coming together to create a masterpiece," she states.
The simplification experts enabling the "Bank of the Future"
With a diverse set of skills, Montresa's team at TD is focused on enabling the "Bank of the Future," which includes unlocking better outcomes for customers and colleagues and helping to transform the organization with speed and effectiveness.
"We passionately refer to ourselves as the simplification experts," she says, noting her team helps colleagues in other lines of business find new and simpler ways to solve problems. What excites her the most is that her team is in a unique position, supporting an enterprise approach to delivering better business outcomes and maximizing the benefits for customers and colleagues.
Montresa also says that technology and innovation play a key role in the Bank's strategy to meet evolving customer needs and enhancing operational efficiencies.
"When I consider our holistic approach to Operational Excellence, we apply many levers, including, but not limited to process simplification, workforce management, business architecture, and change management," she elaborates.
Montresa observes that her team wouldn't be able to deliver this holistic strategy without the right technology, which can look like adding workflow capability, automating a control, digitizing processes, or leveraging new innovative technologies and tools.
"With this approach, we believe we are in a great position to meet our mandate of future-proofing the Bank. Our focus is always on improving the customer and colleague experience. How we get there is what will help differentiate us," she maintains.
Helping to champion the voices of Black colleagues
No stranger to problem-solving, Montresa says she believes that challenges make a person stronger and may help spark out-of-the-box thinking. She says, trust and lean on those around you, and sometimes take a leap of faith by taking the paths less traveled.
"As my father often told me, failure is not an option, so I always figure out a way to get through a roadblock," Montresa says. "Reflecting on my career, one of the roadblocks I faced was not seeing people who looked like me in positions of leadership."
Montresa says finding her voice then became critically important. "I had to learn to trust myself and believe that my opinion mattered. I would always hear my father's voice in my ear saying, 'You are good enough, say it,'" she recalls. "If I could not find my own voice, then I could not be the voice for others."
As the current Executive Sponsor for the Black Experience Pillar within TECE, an employee resource group at the Bank, Montresa says she believes creating a safe space for diverse communities and elevating unique perspectives will continue to help drive success.
"Championing the voices of Black colleagues and allies inspires me to share my own experiences as a Black woman, and hopefully inspires others to join the conversation, too," she says.
"I feel so fortunate to work with a team of passionate colleagues who believe in fostering an inclusive and diverse environment," she says.
While Montresa says she is grateful to have a seat at the table now and help others to secure theirs, she also says the seat didn't come easily. "It cannot be said enough – representation matters. If you can see it, you will naturally believe you can achieve it."
It's important for leaders to be role models
Montresa learned early in her career that accomplishments are meant to be shared. "Truthfully, there's nothing more rewarding than seeing someone achieve their potential. It's the best part of my job," she declares. "Success happens when I am growing and developing people; and likewise, when they are growing and developing me. People motivate me and we inspire each other to be better and do better."
"Strong leaders understand that all colleagues play a key part in a company's future," Montresa says, adding that when colleagues understand the company's vision, they also want to be a part of executing that vision.
"Building on that, I think it's important to live transparently. If I say I'm going to do something, I must deliver on that," she maintains.
Montresa believes that being respectful of others' opinions, being honest about where they are in the journey, and not shying away from conflict, are equally important characteristics that she brings to work every day. She also strives to help make people feel included and comfortable.
"I feel so fortunate to work with a team of passionate colleagues who believe in fostering an inclusive and diverse environment" – M O N T R E S A
Navigating work/life balance and creating safe spaces
Transparency is in her nature, and Montresa is honest that she doesn't always get her work/life balance right. "Sometimes I succeed and sometimes I don't; the trick is that I pick myself up and ready myself for the next opportunity!"
Montresa's approach to work/life balance includes priotizing her mental and physical health and focusing on the three aspects listed below:
Prioritizing exercise: "Our work schedules can be hectic sometimes, but it is vital to prioritize exercise because it's good for you!"
Spending time with family and friends: "Sometimes you need good company, food, and a great laugh to feel re-energized. I always look forward to the time I get to spend with my family and hanging out with my girlfriends."
More Laughing: "Laughter is good for the soul! One of my favorite activities is watching stand-up comedy. I always feel free from all my cares after watching an engaging comedian, and nothing beats the feeling of a good chuckle."
Montresa says she keeps her team motivated by demonstrating support and encouragement and creating a safe space that recognizes mistakes and shortfalls as part of the process.
On Fridays, Montresa sends a note out to her team to recap milestone moments – inclusive of big wins and small successes. This note often also includes messages of inspiration and hope.
As she thinks about helping teams feel supported and empowering fellow leaders at the Bank, Montresa says, "I aspire for us to be BOLD – bold in our strategies and bold in our actions, but I also want all voices to be heard and valued."
"Every day, I stand on the shoulders of giants before me, and I am so grateful to continue to broaden my shoulders for others who will come after me to stand on," she adds.