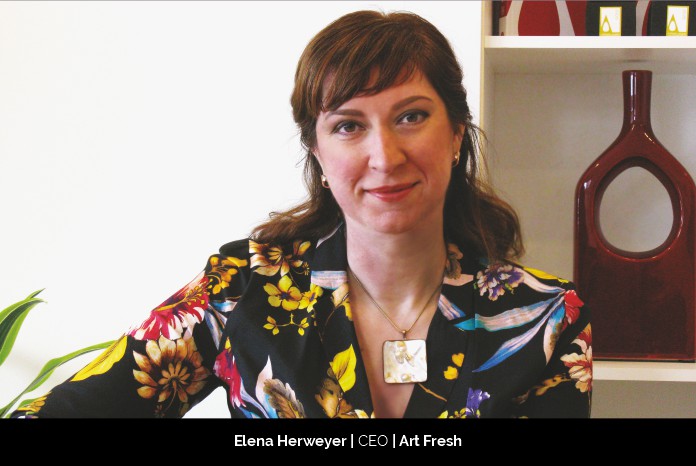 A leader is someone who never stops learning throughout their professional journey. Elena Herweyer is one such inspiring leader who exemplifies this by taking every challenge as a learning opportunity and making the best out of it. With extensive industry experience and great knowledge Elena founded Art Fresh Inc., a leading end to end marketing agency in Canada. In this article, Elena shares with us her journey and inspiring thoughts about success and passion.
Every leader has a unique definition of success. Tell us about your thoughts about success and why do you feel that?
Success has many definitions. You can have success as a woman or man, professional, scientist or influencer. If we talk here about professional success, you feel success when you achieve the goals you set for a certain period. Success is a synonym of "happiness" as it gives you inspiration, much energy and motivation to innovate and improve further your skills. This is the time when you feel that the impossible is possible as you clearly see where you have been before and where you are now.
For me success is an indicator, feedback for what you have done as appreciation of your efforts and hard work. People award you with success by recognizing your best efforts in all aspects of your work which benefited them in many ways. Success acts as a compass that indicates that you are on the right track, but success is not a goal itself as you are already happy doing what you love. My business — helping entrepreneurs achieve their goals — is my passion and this brings me a lot of energy and inspiration every new day.
Starting an entrepreneurial journey is not an easy road to take. What inspired you to take the step of faith? What laid the foundation of ArtFresh?
I have always had an entrepreneurial spirit. I love constantly developing my abilities and professional skills. Challenges encourage me and give me much energy as they help me sharpen my business intellect and creative capabilities to become stronger in business management. It is so exciting when you create a new idea with your team and after that see how it works for your client and brings desired results.
To take more responsibilities and constantly learn new approaches to grow business — that is my favourite thing. Being a professional fine artist and graphic designer helped me understand that my passion is to be creative and this does not limit me with art, painting or design. Developing business requires generating a lot of creative ideas and innovations every day. Also, I understood that I'm a team player as I love work with like-minded folks who are passionate about their profession and set high standards in their work.
All this led me to become an entrepreneur and to start my own business soon after I came to Canada from Ukraine in 2009. I strongly believed that I had a lot to give to my new home country having over 12 years of professional experience working in the leading advertising agencies in Kyiv. I founded Art Fresh Creative Studio based on my passion, professional knowledge and skills without business partners or investors, only with a strong support of my husband who believed in me and in my idea and has encouraged me. Now, 10 years later I can say — this was the right decision as I am privileged to have the freedom to do what I love every day.
Challenges make you stronger. What is your take on this? What were the roadblocks that taught you valuable lessons in your professional journey?
I strongly believe that everything you encounter in your life journey is the best that could happen to you as it teaches you, develops your intellect, makes you stronger and helps you in business development. When you solve a tough task, you feel stronger and gain confidence that you are not limited by anything to achieve much bigger goals. You can't learn important things without solving more complicated tasks in an entrepreneurial manner that business brings to you. I can say that for me every new challenge is a great motivation to find the best solution. I know lessons learned will help me grow as a leader and become more efficient in my business.
Tell us in brief about the products and services of ArtFresh.
Art Fresh is a multi-award winning full-service marketing agency that was recognized among the best service providers in the advertising and marketing industry in Canada. We build brands and manage them, we are focusing on marketing strategy, brand identity design, marketing communication and web design of any complexity. Our mission is to help businesses deliver to the consumer the core idea, benefits and passion which are implemented in the product or service by the creator using the power of creativity and a fresh approach. This is not an easy task, but in each project that we work with, we dare to innovate. Using our knowledge combined with creative ideas we strive to develop an effective solution that will work effectively for the business objectives with respect to return on investment. We provide businesses with comprehensive solutions for business growth that will help them generate revenue and help more people improve their lives by using the offered products or services.
How do you ensure a culture of integrity and innovation in the company?
My team and I never stop learning. Having high standards in work, we all are passionate about our professions. We love what we do and are motivated to grow our own skills to achieve new professional heights. When given a new project from a client we always try to look at a new angle on the creative task to offer a new approach that will help achieve the business objectives faster and in a cost-effective manner.
What has been the best recognition that you received as a businesswoman?
I personally don't see myself as a businesswoman. I know very well that I love my business and I'm passionate about helping other entrepreneurs turn their dreams into reality using my expertise. Saying this, I feel that happy feedback from our clients and professional recognition of our team's work by independent international experts inspires us to raise higher the bar of our capabilities and set new big goals.
Tell us about your life before the foundation of ArtFresh.
I'm a professional artist with a Master's Degree in Fine Arts and Graphic Design. My paintings are held in private art collections in Ukraine, Canada, Poland, and Germany. Since 1999, I have been a member of the National Artists' Union of Ukraine. Before coming to Canada, I worked in the leading advertising agencies in Kyiv, providing top-quality branding and graphic design to international companies such as Kimberly-Clark Worldwide Inc.©, L'Oreal, Vichy, Samsung, Microsoft, Procter & Gamble, Mercedes-Benz, TNK-bp, Caparol, Novo Nordisk and Cheese Club Corporation, as well as small and medium-sized businesses, for more than 12 years. My graphic design and advertising works have earned several awards at the Annual International Festival of Advertising in Europe and the USA. One of the more recent awards was Gold at the 2019 Summit Creative Awards for 'Art Fresh Self-Promotion Campaign', Boston, USA.
The versatile experience that I gained during my work with international and local clients, along with a long-time focus on brand development services, led me to found Art Fresh Creative Studio in 2011 which has now become a full-service marketing agency.
What are your responsibilities as the CEO of ArtFresh? Walk us through your regular day at work. Also, define yourself in one word.
I'm a manager and creative force in our team. I not only manage the business process, communicate with clients and work on developing creative concepts, but I also have the important responsibility of guaranteeing high-quality results that we deliver to our clients.
The Art Fresh team is a group of bright individuals, talented people, real professionals who are passionate about what they do. Every member of the Art Fresh team is self-motivated and is very responsible about work duties and project timelines. This has switched my role from a manager more to a business partnership with experts. Such a business model helps us use the maximum of our potentials to provide top-level creative and marketing services within agreed deadlines. And this is proven by our 17 international awards that the Art Fresh team received during the past 10 years.
My main role is to inspire my team to get better results and grow together. I am fortunate and happy to work with like-minded people who do not feel limited in their work and enjoy being creative every day. I strongly believe that such an approach in running a business helps deliver the best results to clients and has a high potential for growing professionally much faster. Great ideas are born and innovation flourishes only where passionate people who want to be the best in what they do have personal freedom.
How do you maintain a balance in your personal and professional life?
It is a tough task to balance a personal and professional life when your business is your passion and a hobby When you love something you completely dedicate yourself to it and lose track of time. Fortunately, I have a wonderful family and a lot of other interests that I love, so this helps me manage my time more effectively.
What are your plans for the future of ArtFresh? Also tell us about your personal goals as a businesswoman. What is your message to aspiring businesswomen?
In the 21st century times change at high speeds and marketing, media, and design quickly assimilate new trends and technologies to transform businesses. In this unpredictable market environment, the Art Fresh team's goal is to further develop our professional skills to the level where we can address new and more complicated business challenges that our clients bring to us and help them successfully grow their businesses. For Art Fresh, our clients' success is our success.
I want to encourage women who are brave enough to follow their passion and value personal growth, who dare to make the world better by contributing their love, knowledge, efforts and time — to believe in themselves and not be afraid to fail as there are no fails, there are only valuable lessons that we are learning.
Now in the Internet era, there are vast opportunities to learn from the best experts the knowledge needed to grow a business effectively. There are so many examples of amazing women who are open to share their own experience, who are happy and successfully realizing their personal potential in developing a business. If you feel you can't stop doing what you are passionate about, don't doubt, follow your passion and be open to learn anew every day. The reward of living the life of your dreams will be yours!