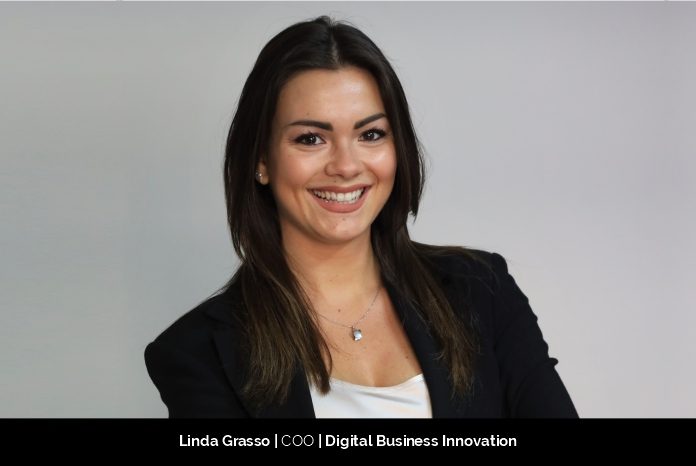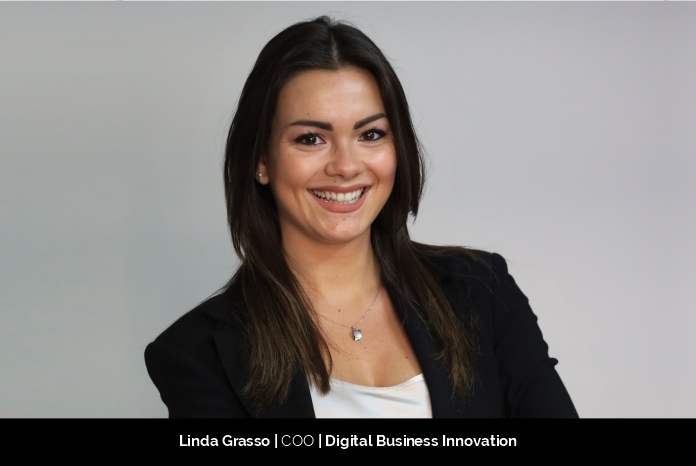 The recipe to be successful in any domain is the combination of ambition, hardworking, persistence, sacrifice, and a pinch of luck. Having the same mantra in her mind and heart, Linda Grasso took the first step in the corporate market and started transforming the digital world.
Strong ambition to become COO at Digital Business Innovation
Since she was a child, she has always enjoyed doing activities that required ingenuity, challenging herself, and discovering new things. When it came to choose a professional career, she opted for engineering without any doubt. After getting a master's degree with honors, she started pursuing a business career where she wanted to of something exciting, something she was passionate about.
She states, "Here, I am working at Digital Business Innovation, which is an innovative consulting company born to help other companies walking through the path of digital transformation."
Valuable lessons along the journey
Linda adds, "My motto is "Never Stop Learning" indeed, having an open mind is crucial to surviving in an ever-evolving world forged by the paradigm shift of digital transformation."
She enjoys finding out the disruptive applications of emerging technologies in several industry verticals and the benefits they can bring in business processes. However, the digital shift is a great challenge, and it is not only about leveraging technologies. If businesses want to thrive, they also must adopt the right strategy and the right culture for change.
She believes that it is the key point for all businesses to grow with the changing times.
Redefining digital information at Digital Business Innovation
Linda finds that there are three prime pillars to focus on in the phase of digital transformation. The first pillar is strategy. For any project to be successful, a smart strategy is imperative. Linda leads her team to understand all the requirements of their customers and handcraft the best strategies that revolve around them.
The next pillar is technology. After planning and plotting everything, her team uses all the latest technologies and tools to develop the product. The whole team aids their customers to unleash the power of technology and put colors to their dreams.
The last pillar is influence. The whole team develops unique marketing campaigns for their customers to boast their brand awareness and elevate the conversion rate to boost up sales.
She believes that there must be a synergy between digital transformation and sustainability. She states, "During the disruptive path, we do not have to focus only on technology as a tool to get more profit from the market, but we should also care about how to build a sustainable future."
In her company, the whole team aims for sustainable development goals. On the social front, she believes that diversity and inclusion are the keys to bring change.  She adds, "We cannot leave anyone behind and we must guarantee everyone an equal access to knowledge and resources."
On the environmental front, she adds, "We are living in a world where global warming is getting more and more looming, and it is our duty to reduce emissions of carbon dioxide in the atmosphere by adopting green energies to save the planet."
Life as the COO of Digital Business Innovation
Working as an executive certainly involves lots of responsibilities. She adds, "You need to manage different aspects and do your best to reach high performances, optimize time and cost, and coordinate the pieces of the puzzle so that they can fit together. Sometimes, 24 hours per day are not enough, but I really like my inspiring job! I am an optimistic person."
She is quite fascinated with technology both in the professional and personal life. She feels that the secret to her success is enthusiasm and mutual respect. She adds, "I am surrounded by amazing people, and together, we try to always do better. And whenever desired results are achieved, we feel highly satisfied."
She further adds, "The more you practice, the more you improve yourself – That is a life motivation." She feels she is the same person from the start but has gained a lot of experience and knowledge along her journey to become COO of Digital Business Innovation.
She aims to make every business day valuable. She feels her secret is seizing every opportunity offered and knowing how to make the most of it. She adds, "When you get positive feedback from people, that is the moment you understand you are doing right and can achieve great heights."
Linda takes her mission as project management in different areas from Artificial Intelligence applied in Healthcare to the Internet of Things applied in Automotive, passing through Insurtech with Cloud SaaS and Building Engineering with Machine Learning.
She states, "What I see is, technology has plenty of potentials to unleash. Thus, my vision is an increasing trend for businesses to embark on this amazing journey, and we are here to accompany them." Besides managing technological projects, she likes to engage with social media platforms and share insightful content on Twitter and LinkedIn.
She adds, "When I find something juicy about my key topics, I try to deepen and enrich my knowledge. However, in today's interconnected world, we have powerful tools not only to acquire knowledge but also to spread it with other people, and that is what I do with my audience."
She believes that followers notice the quality of your content, and with useful notions, anyone can reach their interest. She states, "I am glad when people appreciate my commitment, and I enjoy being recognized as an influencer in my business field. Influence is the new paradigm in the enterprise communication strategy, and leveraging thought leadership is particularly important."
Future plans for Digital Business Innovation
She really cares about empowering women in business. Despite the progress made over the years, gender equality is sadly far away in the workplace, and they must advocate for change. She adds, "My message to the aspiring businesswomen is following what really fascinates them, and never stop in front of bias. We need more inspiring women leaders, and I am committed to do my best to encourage them." Women are at the heart of development, and it is a matter of fact they would bring greater advantages within companies if given more representation.