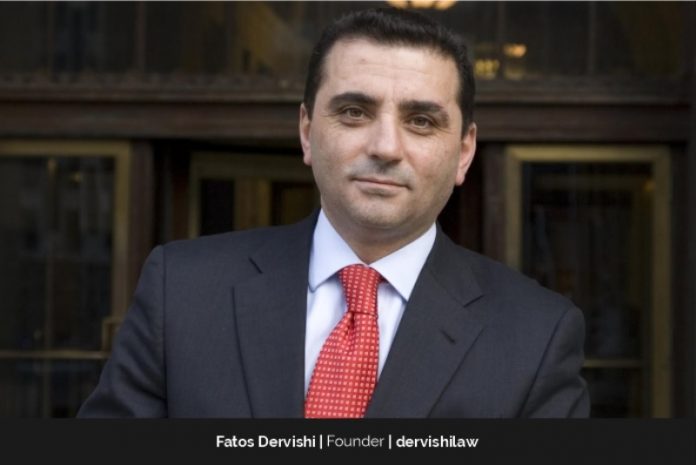 Fatos Dervishi was 28 when the Albanian Parliament elected him the Deputy Attorney General. After a remarkable five years in this position – from 1993 to 1998 – he moved to the U.S. In the new country, his experience didn't count for much. He had to start again from nothing, and there were challenges galore, the language barrier being one of them. But, once he gained a foothold through his hard work, he never looked back. Fatos today helms his own law firm – Dervishi Law Group, PC.
Being in the U.S. and running a law firm are major achievements for him. He also takes immense pride in having built a name and good reputation for himself and his firm in the highly competitive personal injury field in New York City. Success, for him, means reaching a certain level in the field of his choice and living up to one's expectations. He is successful in every sense of the word because of his diligence, dedication, and never-give-up attitude. And he is also successful because he truly cares for people. For him, the meaning of being a lawyer is to help people.
"When you are a prosecutor, you help a victim get justice," he says. "As a lawyer working on personal injury cases, you help accident victims get justice and get recovery from those whose negligence led to their injuries."
Life Before Moving to the US      
Fatos's father was a police officer. His work ignited in young Fatos a passion for the legal field, which continues to burn till today. "As I grew up in an environment where the field of law held immense importance, I always wanted to become a lawyer or investigator," Fatos says. He aspired to solve criminal cases. "Like what one sees in a movie," he recalls. "But, as my father was a police officer, I was not getting inspired by watching a movie. I was watching him solve criminal cases in real life."
Fatos obtained his law degree from Tirana University School of Law, Albania. In 1993, the Albanian Parliament elected him the Deputy Attorney General, making him responsible for all the criminal investigations in the country. "I investigated and prosecuted former Prime Ministers, Presidents, Ministers, and Members of the Parliament for corruption and misappropriation of state funds," Fatos says. In one of his cases, he secured the conviction of five ethnic Greek Albanians on charges of espionage. Another well-publicized case of his involved a U.S. Marine who was shot in a club in Albania. Fatos remembers that he was able to apprehend the culprit within 48 hours, and the then U.S. President, Bill Clinton, sent him a message, congratulating him on the swift arrest.
Leading the entire prosecutor's office at a very young age was not easy. He had to face plenty of challenges. As he was investigating the top officials of Albania, he was under constant media spotlight. The entire country was watching him, eager to know what he would do next – and not do. He had to be vigilant all the time and ensure no mistakes were committed on his watch. "I had to be straight to the point," Fatos says. The challenges that he encountered during his time as the Deputy Attorney General gave him a lot of experience to carve out his own path to success in a new country.
Starting from Nothing Again  
In 1998, Fatos moved to the U.S. following the 1997 civil unrest in his home country. Soon, his wife and older son, who was two and a half years old at the time, followed him. "When I came to this country, I left everything behind – all the good stuff," he says. All the successes he achieved and the accolades he received as the Deputy Attorney General were of no use in the U.S. He had to start from nothing. As he could not practice law in New York, he started working different jobs – delivering pizza and working in a store – to support his family.
In the new country, there were new rules. However, one advantage he had was his familiarity with the U.S. Constitution and its systems. He had gained that at his law school in Albania. One of his courses – the most difficult – made him aware of the legal systems followed in different countries. "So, I had a background," he says. "This made it easy for me to transition from criminal law to civil law."
Also, when he enrolled at Pace Law School in 2003, he found it easier compared to others to talk about the U.S. Constitution and its amendments. The only area where he struggled was state-based rules, as Albania did not have that. He, however, leaned about them quickly. In 2004, he earned his Master of Law degree.
Fatos points out that as a foreigner in New York, he could only appear for the bar exam after he had satisfied 28 credits in the basic American law. "I had 25 credits after 9 months," he says. He passed the bar exam on his first attempt and was admitted to the New York State Bar, making him eligible to practice in all courts of the state.
After that, he joined a big law firm in the field of personal injury. In September of 2008, Fatos teamed up with two other attorneys of the law firm, Jared T. Levine and Duane R. Morgan, to form DERVISHI, LEVINE & MORGAN, P.C. About five years later, in 2012, the three partners split, and Fatos established Dervishi Law Group. Most of the cases that Jared and Morgan were handling were Fatos's cases. "I would bring the cases to the table," he says. Even though the three former partners are no longer running the same law firm, they continue to work together on certain cases.
"Creating my own group was a good thing as I can make it more dedicated to my Albanian community as well as other communities," Fatos says. His office is located in an area, Arthur Avenue, Bronx, New York, where people from different communities live together. The second reason for founding his law firm was to provide the best service to each client. He and his partners take care of every aspect of a client's litigation process – from the start to the end. "We have been successful in handling big cases, for example, when a worker falls from scaffolding and breaks his arms, legs, back, and neck," Fatos says.
They are not only their clients' attorneys but also their second support system – after the family. They always show their compassion when injured workers need it the most and assure them that they are there for them and will help them.
Every day, Fatos meets his clients, both new and existing, to discuss the path ahead and what steps they need to take. He also prepares them for the deposition in court and makes them aware of their legal rights and other law-related aspects. His regular day at work also involves visiting courts.
He works for long hours and never turns down a client's request for an appointment. "It is always granted," he says. Clients can have a word with him even at 2 a.m. He is always available for them because he genuinely wants to help them – to help clients is his primary source of motivation.
Switching to Civil Law from Criminal
In his home country, Fatos was regarded as one of the great authorities on criminal law. He had no intention of switching to civil law, but, according to him, there came a point when he had to change course. Civil law was an unknown territory for him. "I had to bring myself up to speed," Fatos says. He was competing against those who had been practicing civil law for many years.
In New York's legal field, he didn't initially start as an attorney but began as a paralegal. "As a paralegal, I worked in the personal injury field and that gave me a lot of experience," Fatos says. Because of his paralegal work, he become familiar with courts, systems, how to do things, and document preparation – all of these were completely new to him at the time. This helped him when he began his practice as an attorney after passing the bar exam.
Now, about 25 years later, he is a noted authority in the personal injury field. Even though he is no longer practicing criminal law, he still does investigations. When handling personal injury cases, he has to investigate to figure out what happened, how it happened, who was involved, and an insurance company's requirements. There is a lot of processing to do, points out Fatos.
Memorable Cases 
An Albanian man working for a cleaning service was eating his lunch when an air conditioner fell on his head. It led to his hospitalization for almost a month. This case came to Fatos soon after he and his partners had established the law firm. From the beginning, he was relentless in his efforts to get a verdict in favor of his client. It took him three years to convince the judge that the plaintiff deserved some compensation because of negligence in maintaining some parts of the building. "We ultimately settled the case for $2.9 million," Fatos reveals.
In the 15 years since this case, Fatos has represented several personal injury victims and won to reach favorable settlements. But, for him, the Albanian man's case is the most memorable one, mainly because it was the first case he handled after founding the law firm. He says that he will remember it forever.
Another case he recalls is of a man who fell from a crane and suffered from PTSD. The jury awarded him $13.6 million. "The trial was handled by my partner Duane Morgan," Fatos says. "This shows that we worked very hard to achieve favorable verdicts and recover for our clients."
The Future
Fatos does not have any plans to transform Dervishi Law Group into an international law firm. It is primarily because personal injury laws vary considerably from one country to another. Even European countries and the U.S. do not have the same laws. "It is not the same that we do here in the U.S.," Fatos says. "So, I'll keep doing what I'm currently doing."
He and his wife Keti Dervishi is a VP/Private Banker at Dime Bank in NYC, are parents to two sons. The younger son, Matthew Dervishi, is in tenth grade, while their older son, Joey Dervishi, has followed in his father's footsteps and is an attorney. He works at Dervishi Law Group as well as Wingate, Russotti, Shapiro & Halperin LLP, where Fatos is an of counsel consultant.
Fatos expects Joey to become more actively involved in Dervishi Law Group and accelerate its growth. "That is the goal," he says. And he wants to be on the side, helping his son lead the firm and propel it to even greater heights.
A Message to Aspiring Lawyers
Fatos has always been resilient, even under the most dire circumstances. So, in his message, he tells aspiring leaders to "Never give up." He also encourages them to keep working hard because that will eventually unlock the door to success.