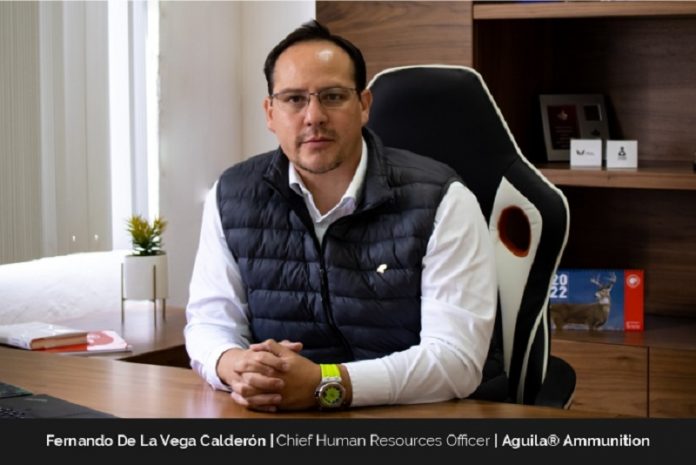 Fernando De La Vega Calderón is the Chief Human Resources Officer of Aguila® Ammunition, a proudly Mexican company that has specialized in the manufacture of ammunition for the government and sports market.
Founded in 1961 and present in more than 55 countries worldwide, Aguila® is one of the largest manufacturers of high-quality rimfire, centerfire, and shotshell ammunition in the world.
It has been developing and manufacturing a diverse range of ammunition by Industrias Tecnos, S.A. de C.V., in Cuernavaca, Morelos, Mexico, and has facilities in both Mexico and Texas.
Aguila® Ammunition uses cutting-edge technology to produce a comprehensive line of products for self-defense, recreational, hunting, law enforcement, and military ammunition, as well as seasonal and specialty items.
Answering the vocation of human resources
From the time he was young, Fernando realized that his strongest ability was to communicate with and persuade the people around him. Initially, he thought that marketing would be his ideal career.
However, in the third semester of Marketing, he took a break along the way and redirected his future towards what really mattered to him – people. He finished his major in Organizational Communication, and since then, with a genuine vocation and passion to serve, has spent 17 years on the wonderful path of human resources.
Fernando feels that he has been fortunate to enjoy and share many professional achievements throughout his career, but he considers his most important career achievement as supporting and directing the consolidation of the Labor Inclusion program at Fundación Teleton.
This not only represented a professional achievement for him, but also provided the opportunity for more than 670 adults with disabilities to obtain a stable and well-paying job, joining more than 250 companies throughout Mexico.
Highlighting quality and innovation at Aguila®
Aguila® Ammunition offers a diverse range of ammunition designed for dependability and performance, and it all starts with a careful, meticulous, and time-consuming process of sourcing raw materials to ensure that everything they create provides unparalleled performance.
Aguila® Ammunition sources their own premium raw materials for manufacturing, and produces all components in-house, with the exception of the powder. Only the best materials enter their factory and the only the best, high-quality products leave it.
Innovation has always been highly valued within the company and their mission is to deliver innovative performance with each and every shot. To create the highest-quality products, the company has pushed the boundaries of innovation in velocity, accuracy, precision, and power.
Aguila® Ammunition's products are engineered using state-of-the-art technology and high-quality components guaranteed to give shooters that competitive edge. It meets SAAMI and CIP standards by using all new brass and components, and its rimfire ammunition is manufactured using ELEY technology.
It is also the originator of the Minishell® and one of the few manufacturers to use a 72-meter shot tower – a method some top shot gunners believe is the only avenue to "truly round" pellets.
Aguila® Ammunition has earned a reputation among professional shooters as a high-quality, dependable product, supported by a group of brand ambassadors who believed in the Aguila® advantage long before they joined as ambassadors.
The company is proud to offer the best ammunition, defense products, and security services to law enforcement and other government institutions. In less than a decade in the U.S. Market, the Aguila® brand has acquired notable awards and recognitions for outstanding brand presence and commitment to innovation.
From tradeshows to local events to Team Aguila® wins and beyond, the company is active in the local community and around the world.
Harnessing technology to build Team Aguila®
Fernando's greatest talent is to generate healthy interpersonal relationships, through empathy and the focus of serving others. He found that the Human Resources profession was definitely the best place to develop himself, and love and respect his profession.
At Aguila® Ammunition, his main responsibility is to direct all functions related to Human Resources (recruitment and selection, training, administration, labor relations, organizational development, innovation and communication, general services).
"However, I am also responsible for the areas of HSE, asset security, and IT. If I had to define myself in a single word, it would be very persevering," Fernando remarks.
From the very beginning, when he joined Aguila® Ammunition, Fernando knew that they had to make a deep change, fundamentally incorporating technology and innovation into all communication processes and relationships.
With the knowledge that doing human resources without technology is impossible nowadays, he realized that the function must be at the height of innovation and social updating.
Under Fernando's leadership, Aguila® Ammunition created an entire technological ecosystem, and even developed their own APP that concentrates all the company's institutional communication and encourages interaction between all collaborators in real time.
"We designed a favorable environment where all employees could have opportunities for personal and professional development," says Fernando.
Success is the result of discipline and perseverance
Fernando thinks of success as the result of three fundamental factors: organization, punctuality, and cleanliness. He believes that everything must have a place, space, and time in the agenda of life; and that success is simply the result of discipline and perseverance.
Fernando also believes that nothing happens by chance, luck, or fate. "In the race of life, we will not all start from the same place. It will cost each one of us more or less effort to reach our goals, but we must value and trust ourselves regardless of the circumstances," he remarks.
Fernando also points out that successful people never complain and never make excuses; and that successful companies are a group of people who share the same dream and fight for the same goals.
Serving others has been the beacon that guides his path and human resources area became the best platform to materialize this goal. Fernando believes that leading through serving others is the only way to inspire.
Fernando observes that clever people learn from their mistakes, but are even smarter when they learn from the mistakes of others. While it may be very difficult to learn through the experience of others, it's not impossible.
"I have been evolving depending on the circumstances, and the greatest virtue that has allowed me to stay on my feet has been the ability to adapt to the circumstances, to receive blows, and keep going forward," he remarks.
Fernando makes it clear that life is not sweet; life hits very hard, so the only way to move forward is by training the mind, the body, and above all, the spirit. "One thing is certain, sooner or later life is going to knock you down and you'll have to get up," he notes.
Fernando credits his family with bringing him much-needed balance in life. "They are the anchors that allow me to face any storm. My work is my passion, but my family is my reason for being. Definitely focusing on my family will be the priority, although I would like to start a related business later," he reflects.
Fernando's parting message for leaders who wish to join Aguila® Ammunition has to do with transcendence. "If they are looking for a company where they can develop their maximum potential and witness the transformation that their work is capable of bringing about day by day, Aguila® is the place for you," he states.
"Successful people never complain and never make excuses." ~ Fernando De La Vega Calderón