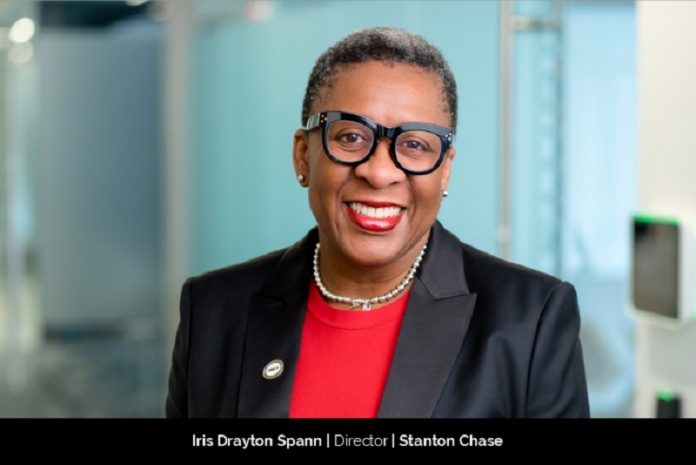 Iris Drayton-Spann, a Director at the Global Executive Search firm Stanton Chase takes DEI work very seriously. "It's not a passing thing to me. It is core to how I show up every day, with clients and candidates at Stanton Chase," she declares.
As a Director in the Washington, D.C. office of Stanton Chase, Iris is an expert in executive placements and leadership consulting based on her years of experience in human resources, diversity, equity, inclusion and belonging, for both corporate companies and non-profit organizations.
Prior to joining Stanton Chase, Iris served as Vice President of Human Resources and Chief Diversity Officer at WETA TV, one of the biggest producers of original material for public television in the United States.
In addition to being the chair of the Diversity, Equity, and Inclusion (DEI) Council at WETA, Iris created a strategic human resources function, which supported the organization's people strategy, by coordinating policies and programs with its strategic plan, mission, values, and culture.
Iris also addressed all other aspects of human capital strategy and operations, promoted good employee relations while serving on the senior leadership team, focusing on diversity, equity, inclusion and belonging, talent development, culture-building, innovation, and alignment with WETA's mission and goals.
In addition to her professional work, Iris serves as the chair of the Board for NEW (New Endeavors by Women, www.nebw.org), an organization that transforms lives by providing housing, fostering the development of life skills, and promoting education and employment to end the cycle of homelessness in Washington D.C., for women and children.
A majority of NEW's clients are African-American/Black females and children, and Iris is dedicated to ensuing that this organization stays diligent, attentive, and focused on its mission to the community.
"Don't sit down and wait for the opportunities to come. Get up and make them." ~ Madame C.J. Walker
Achieving recognition as a leader in diversity
Iris graduated from Howard University with a Bachelor's degree and George Washington University with a Master's. She received a Certified Diversity Executive certification from the Society of Diversity and has earned credentials from the Society of Human Resource Management, and the Human Resources Certification Institute.
Iris is also a member of the National Association of Multi-ethnicity in Communications (NAMIC) and supports the HR Leadership Forum of Northern Virginia. She is a volunteer member of Streetwise Partners, Employer Advisory Board, and the Mercer/Marsh Women's Executive Leadership (WEL) Group. She was recently named to Mogul's Top 100 DEI Leaders of 2021 (a national recognition).
While Iris received numerous accolades for her HR leadership, there are two that are particularly memorable to her. When DCA Live honored her as one of the 25 HR Leaders of the Year in the Washington, D.C. region, in 2019 (and again in 2021), the nomination was kept a secret "I was nominated by someone, and to this day, I don't know who nominated me, but I was so humbled and thankful for an accolade of doing the work I love to do. (If you nominated me, thank you again!)," she says.
The second recognition was receiving the Walk This Way Award at Goodwill Industries International many years ago. "I co-shared the honor that year with Joe Shaw (one of my great colleagues). This award was voted on by employees and senior leadership at Goodwill. The award represented living the values of Goodwill's mission every day. I have that plaque hanging in my home office to this day," Iris remarks.
"It took me quite a long time to develop a voice, and now that I have it, I am not going to be silent." ~ Madeleine Albright
Discovering a passion for HR and DEI
When she started her career, Iris didn't know she would end up in DEI and human resources.
"After getting my undergraduate degree in communications, I was trying to figure out where I wanted to land. In one of my early corporate entry-level jobs, I was so intrigued with the human resources team," she observes. Iris remembers how they engaged with everyone in the organization, from onboarding to employee relations to professional development.
"I wanted to learn more, so I reached out to the HR lead for insights, researched the many opportunities in HR, and was able to become a generalist in the field. I then obtained my Master's degree in Human Organizational Learning and my HR certifications," she says.
Iris worked her way up in various organizations, putting in the hard work with determination (and taking on the projects and tasks in HR that no one wanted to do), and went on to be promoted into a Vice President HR role.
"DEI has always been an integral part of my HR work, even before it was widely referred to as DEI. I've always looked at my HR scope and lens to include equity, inclusion, diversity, and belonging as a foundation of employee engagement. Having the tough conversations with other senior leaders in a way that they were able to see and recognize the importance of retaining top talent through inclusive opportunities for all in the workplace," Iris maintains.
"We will fail when we fail to try." ~ Rosa Parks
A firm where diversity & inclusion are ingrained and effortless
The Stanton Chase D.C. office is located in the heart of the U.S. capital and has an established track record of delivering consulting and executive search excellence to clients in the corporate, nonprofit, aerospace, media, PE, and government contracting sectors.
Drawing upon its diverse team and strong client partnerships, Stanton Chase D.C. successfully places senior executives in both large and small companies with public, private, nonprofit, and private equity ownership structures. The firm has leveraged its location in Washington to provide critical senior management roles (CEOs, COOs, and Presidents) as well as functional leadership roles for organizations across the country. access to critical talent, the firm has extensive experience recruiting.
Stanton Chase D.C. believes that leaders have a powerful impact on organizations, employees, their families, and their local communities. Their goal is to provide the highest-quality executive search, talent mapping, succession planning, and executive assessment services — exceeding their clients' expectations.
Stanton Chase D.C.'s team has extensive experience in strategic leadership roles at public, private, and nonprofit organizations. They are more than just headhunters; the trademark of their service is that they work closely with clients on each assignment, spending the necessary time to understand their organization and objectives.
Stanton Chase is committed to reflecting the global reality of diversity and inclusion, which is an important priority, with a growing impact on organizations of every kind – and to their employees, audiences, and communities. With diversity and inclusion fully integrated into their service, clients have an increased degree of comfort and trust in the partnership.
Additionally, at Stanton Chase, diversity and inclusion are ingrained and effortless, both in their team and in their mindset. Diversity and inclusion have become an increasingly important practice and are center stage as a driver with all their global consultants, of which 40% are women. Stanton Chase is steadfast in its commitment to diversity, equity, inclusion, and access.
A place where you're welcomed just as you are, for who you are
Iris notes that her area of expertise at Stanton Chase encompasses working with for-profit and non-profit organizations, specializing in commercial and public media executive placements, nonprofit organization executive placements, and human resource leadership placements.
"I also engage in diversity, equity, and inclusion consulting, and coaching for clients," she states. "Part of what I bring to the firm, in addition to executive search, is providing DEI consulting to clients, from having the tough and real DEI conversations, implementing strategic plans (with actions/metrics/goals), creating action-oriented DEI councils and committees, to recommending diversity coaching to senior leadership."
Iris remarks that her goals at Stanton Chase are to contribute to the executive search growth of the firm, bringing in new clients from different industries, expanding their coaching and consulting practice, welcoming new talent acquisition specialist and search consultants, while continuing to support their current team of specialists and consultants.
"Stanton Chase is a place where you are welcomed just as you are, for who you are, and you will be uplifted," she declares.
"You alone are enough. You have nothing to prove to anybody" ~ Maya Angelou
Success is happiness in touching the lives of others
Iris believes that success is something that everyone sees from their unique perspective. "To me, success is happiness in touching the lives of others – family, friends, coworkers, and anyone that I engage, to help them reach the goals they want to achieve in life. Be it career, personal, educational, or growth and development," she proclaims.
Admitting that challenges are tough, no matter if it is at work or in your personal life, Iris notes that everyone has challenges, and we have to be open to believe others when they share that they are having challenges, problems, issues – if someone speaks it, it is truth to them. Secondly, it is important to provide a safe and supportive environment for individuals in the workplace, from providing EAPs to paying for trauma counseling and wellness apps; and lastly, we have to recognize that we are all human, and no one is perfect.
"I faced some challenges in my career, especially being the only African-American female in leadership in many organizations where I worked. However, I never felt challenged (or defeated) I just wanted to bring more diverse people into leadership roles!" she remarks. "One of my most valuable lessons early in my career, was letting go of what leadership looks like – how you should dress, speak, hair, etc. I didn't accept those stereotypes from anyone. Leadership looks like you and me."
Iris hopes that her actions and commitment to integrate diversity, equity, inclusion, and belonging, in everything that she does, serves as an example to the next generation. "I come from a family, especially my late mother, Ethel, always told me I could be anything I wanted to be, with determination and commitment; and meeting people where they are, listening, and being intentional. All our actions can be powerful tools of positive influence," she observes.
"There is always light. If only we're brave enough to see it. If only we're brave enough to be it." ~ Amanda Gorman
The post-pandemic "re-awakening" of diverse individuals in the workplace
As Iris points out, businesses need to "wake up" or they will forever be in a vicious circle of turnover from a diversity and inclusion perspective.
"I believe that business organizations must walk the walk, and not just talk the talk, regarding diversity, equity, inclusion and belonging at their organizations. If an individual feels that don't belong, are not being seen, heard or recognized, promoted or valued, they will leave," she maintains.
Iris notes that even long tenure, "showing up happy every day," employees will leave, especially if they do not see themselves reflected in positions of authority or decision-making. She credits the pandemic (and events prior to that) with having widely contributed to the "re-awakening" of diverse individuals in the workplace.
"It's not just a 'check the box' (no more tokenism) to have a diverse person on your team," she remarks. "As an organization, what are you doing to eliminate unconscious bias in the workplace? How are you enabling diversity, gender identity, and gender expression at your office? How are you truly supporting employees' mental health? Is your organization really implementing systemic, long-lasting change?"
Enjoying the small things & living life with passion
Describing herself as a "passionate" individual, Iris maintains that she's passionate about life, family, friends, diversity, equity, inclusion, belonging, making a difference in the work that she does, being intentional, positive networking, and coffee (smile). "A regular day for me begins with coffee (everyone who knows me, will tell you that! Especially my wonderful husband)," Iris reveals.
A regular day also includes attending their team virtual morning check-in meetings, getting updates, and providing support to each other on their searches; scheduling regular meetings (virtual, phone and in-person) with her clients; reaching out to, and following up with candidates; researching new clients (you have to know who you are serving); and brainstorming business development opportunities with her colleagues.
"In my personal life, my husband, Jeffrey, and I enjoy traveling (near and far), we enjoy being in the moment, wherever we are, taking it all in, especially visiting out of the way local restaurants (we are both foodies)," she remarks. "I also enjoy watching movies and documentaries (a long-time public media lover), seeing my son, Michael, perform spoken word at local venues in the city; hosting family, especially my stepdaughter, Dana, and her boyfriend, Sheridan; sharing a laugh with my 84-year-old Dad, Willis, a retired chef who can't believe I now love cooking after all these years!"
Professionally, Iris notes that she likes to take the time to really listen to candidates. "I want to hear about them, their goals and aspirations. I want to ensure I'm being their advocate and partner, to assist them getting into the roles they want to thrive in," she states.
As an extrovert, through and through, Iris remarks that her colleagues at Stanton Chase know she will always have a smile, and that no matter what is happening, how hard a search is going, or if her internet goes out during a virtual meeting, she will keep smiling. "I also like to share positivity with my colleagues. Life is short; we have to stop and enjoy the small things (like a great cup of freshly brewed Red Bay coffee), as well as the big ones," she declares.
"If you're always trying to be normal, you'll never know how amazing you can be." ~ Maya Angelou