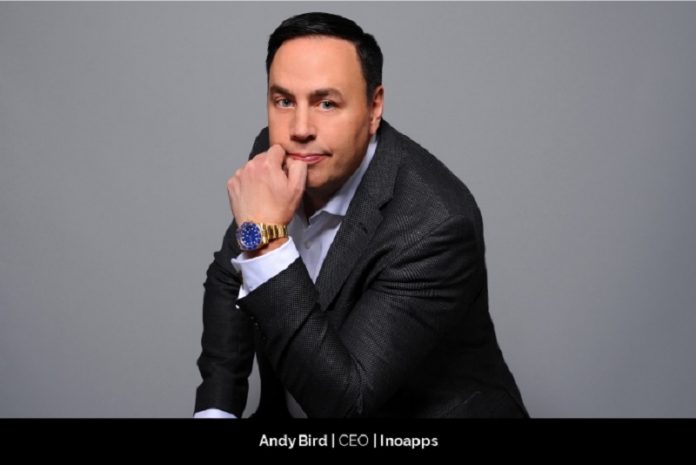 Revenue and margin are important metrics of success, but these alone do not cover the whole story. Andy Bird, CEO of Inoapps, believes building a solid team, earning the client's trust and planning future growth together also define success.
He expresses that the most rewarding aspect of success is building a solid team and nurturing it to grow further. It is important to support new professionals in the domain to help them keep pace with rapid and evolving growth.
The most important part of achieving success is to earn the client's loyalty and retain them in the long run. He boldly states, "Over the years, many of our clients have become friends, and we've gotten to know each other's families. Inoapps' first client remains a customer 15 years on. They are part of a much wider group of loyal customers to whom we're truly grateful for putting their trust in us."
All these factors that contribute to success are based on one simple thing—trust. The brand maintains trust by doing what they commit to and being honest with their clients even in distressing situations.
Climbing the ladder of success
Entrepreneurship was always present in Andy's soul. He always has a business idea, ready to deploy. Diving into the technology domain was not the first business choice that he made in his life.
He started his company following the birth of his first son, and his wife wanted to move back to her hometown of Aberdeen, Scotland.
Having good relationships with customers and realizing there was a gap in the market for an Oracle applications specialist in the Oil and Gas industry, he took matters into his own hands and laid the foundation of Inoapps.
He states, "It seems crazy now, but I never thought twice about whether I was doing the right thing. I just had the idea, phoned a few people to get their views, and then began convincing others to leave their jobs to join me. While I always felt confident Inoapps would be a success, I never thought the business would ascend to such heights on a global scale."
He believes that rising business leaders should chase their dreams and back them up with their skills and capabilities. Being an experienced leader, Andy adds, "My best advice is to go with your gut. In my experience, this approach is right far more often than not. You should, however, remain open-minded, allowing yourself to be challenged and be prepared to change your mind, but only if you are genuinely convinced by an alternative point of view. "
Growing with life's challenges
Andy is a firm believer that challenges push a person harder to progress and hone one's personality. In the early phase of the company, he steered Inoapps through the financial crisis and ensuing recession of 2008, and later he stood his ground even in the biggest downturn in the oil and gas industry. As the economic times were settling down, the COVID-19 pandemic disrupted businesses globally.
The team was shaken to the core and they even worried about going out of business. However, Andy held his ground and realized the value of their solutions to their customers was even greater during a crisis. He led the team to design the best solutions and offerings they could to retain customers during the recession caused by the pandemic, which included a historic drop in oil price and demand.
He adds, "Those who have started their own business will know it can be a lonely space with real uncertainty when faced with major decisions. My advice to them is that you may not always get it right, but making a decision is far better than not doing so and letting things flounder. If you do get it wrong, it's important to accept this and move on to another solution quickly."
Redefining Oracle and cloud solutions with Inoapps
Inoapps is a systems integrator, utilizing Oracle's technology and applications to deliver solutions that improve organizational performance and efficiency. They are focused on achieving operational excellence for their clients and maximizing the benefits of their Oracle investment. Since 2006, Oracle has been in their DNA.
Andy states, "Our core offering covers the whole range of Oracle solutions and services both on-premise and in the Oracle Cloud, including consultancy, implementations, change management, support, and training. Because of the dynamic nature of our client's needs, our aim is to build strong, long-term relationships by providing excellent service. When our customers decide to get more out of Oracle, and want to meet new business challenges, they can ask Inoapps."
Inoapps has always been ahead of the curve in the technological sector. He expresses, "We were very early to promote the Oracle Cloud product and one of the first to be live on ERP and HCM in Europe. We also recognized from the onset that customers using one version of the software would lose the ability to customize the cloud applications to develop a solution. We created new application extensions around the edge of Oracle's Cloud applications to meet these industry requirements. These Inoapps-developed cloud applications are available to our customers, either directly or via partners."
Inoapps is big enough to deliver large-scale projects, but more agile and flexible than their larger counterparts meaning they can respond quickly to a customer's changing requirements and they have demonstrated real innovation by enabling complex applications to run on early versions of Oracle Cloud Infrastructure . Since then, they have invested heavily in their Cloud Technology team across the globe as they believe this provides true customer value and a significant growth opportunity for their business.
They have been doing this longer than most and have found solutions to every challenge they have encountered on the Oracle journey with their customers.
Andy has steered the company's way to the top. He states, "Any recognition that I've personally received is all down to the amazing team around me. While Inoapps has been recognized for many awards from Oracle over the last 15 years, the one I'm most proud of came in 2016 when they named us Global Cloud Transformation Partner of the Year. I was delighted to accept this award on behalf of all my colleagues from Jeff Henley, who was Oracle Chairman at the time. Winning this accolade from Oracle, ahead of all its other global partners, was a real endorsement of our strategy and the great people driving our business forward."
Fueling the growth of the company as the CEO
Being the CEO of the company, Andy oversees different things to steer the company in the right direction.
Being an early bird, he manages his emails in the morning to focus on other things in the afternoon and evening. He adds, "Our largest customer base is currently in Europe, and we have a substantial workforce in APAC, which is all up and firing before I wake up."
He states, "I am normally at my desk by 7 am and on video calls until around 2 pm with only a comfort break in between – my colleagues are used to me eating during our meetings." During the working hours, he gives plenty of attention to the meetings with new and existing clients.
Being a team player, he knows the importance of a solid team, so he makes sure that everyone is motivated to create the best results for the company. He expresses, "Speaking to team members is a key priority for me, and I try to dedicate as much time as possible. I also conduct a monthly business review meeting with each team to review all aspects of the company's performance."
He also realizes that as the number of employees grows, keeping the morale high will be vital.
He plans three meetings every week with the leadership team. Two of them have no agenda and are all about sharing anything. He mentions, "I have also set up a twice-weekly 'Coffee Machine/Water Cooler Chat,' open to any employee, to join me for an informal chat as if we'd just bumped into each other in the office. Colleagues can book this as a one-on-one slot or as part of a small group discussion.  I can't speak for my colleagues, but I really enjoy this time as it provides an opportunity to get to know the people in our growing team. I plan to keep this going when we get back to normal and return to the office."
One of the leadership team meetings is focused on identifying strategies that will help the company progress further in the future. Every aspect is discussed, and changes are made according to the results of these discussions.
Other than that, the team has a unique communication platform which they call 'Feel Good Friday.' They encourage their colleagues to post news about something great that has happened during the week. This could be work-related, including recognition for a teammate's efforts, or cover developments outside of work from new babies to weddings or community activities.
Andy adds, "One of our colleagues posted about how she was making PPE for nurses at a local hospital, so we gave her some time to focus on that while her team pulled together to cover her Inoapps' workload." We were all really proud of her.
The team also encourages colleagues to celebrate their successes, including small individual and big company accomplishments. Andy comments, "These are small gestures, but they're also important as it lets the team know we care about them and are grateful for their immense contribution."
Creating balance in work and personal life
Having long experience in the domain, Andy has mastered the tactic of gear shifting. He knows when to spearhead some things and when to sit on the sidelines and let his teams win the game for the company.
While fueling the growth of the company, he manages to make ample time for himself and his family. He knows when to take a break and let the mind and body re-energize. He stresses the point by adding, "Where possible, I try to take a short break in the afternoons and do something, like run an errand or go to the gym, to get some respite from the computer or phone. This is important in giving me the time and space I need to clear my head and think."
In the current scenario, where work from home is the new routine, he occasionally arranges to spend the day in the office with a few colleagues.
Future outlook for the company
Through rapid global growth, the company's presence now extends across North America, Europe, the Middle East, and Asia, implementing and augmenting Oracle solutions in 30+ countries.
Customers range from major global blue-chip organizations with 5,000 + users to mid-size government agencies and fast-growth start-up companies.
Andy adds, "With nearly 500 people working for us, we are large enough to deliver but still of a size that we can build enduring partnerships with our clients and adapt quickly to changing customer requirements. We're proud to be able to say our first customer is still a customer."
He believes that even after achieving several milestones, there is a lot left to attain. The market for companies and organizations starting their digital transformation is still in the early stages. Oracle's technology and applications are the best, and they are continuing to invest heavily to make them even better.
Andy states, "We have an opportunity to expand into new areas of Oracle products and across new global regions. I believe there's a real opportunity for us to double our business over the next three years, building a team of more than 1,000 colleagues worldwide."