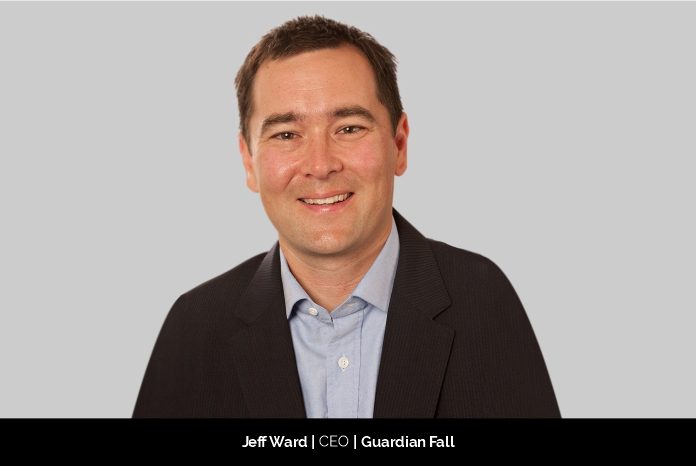 Some people perceive safety to be a bother, but Jeff Ward believes that by focusing on simplicity and attention to detail, safety can provide peace of mind while also empowering and enabling those who actually construct and build the environment around us.
Jeff is the CEO of Guardian Fall and has over 20 years of management experience in the industrial and consumer durables industries. He has worked in blue chip, private equity, and independent firms as an executive.
Before joining Guardian, Jeff Ward was the CEO of Centurion Safety Products Ltd., a 140-year-old firm that designs and manufactures construction and industrial workers' helmets, face, hearing, and respiratory protection systems. Prior to that, he worked for firms like Britax Child Safety and Newell Brands in marketing, sales, operations, and general management. Jeff has lived and worked in the United States, the United Kingdom, and Germany.
Guardian Fall
Guardian Fall began in 2018 as Pure Safety Group, a merger of many height safety acquisitions, each with a solid track record. Guardian possessed both scale and competence in the field of fall protection in the United States. With a manufacturing, training, and design centre in the United Kingdom, Checkmate boasted cutting-edge fall prevention design and innovation. Ty-Flot was a pioneer in the prevention of fallen objects and the exclusion of extraneous materials.
The team merged everything under the Guardian name in May of this year. The company is currently the largest independent fall protection and prevention brand in the world. Jeff says, "We are here to make it simpler for businesses to work safely at height.  We blend scale, agility and 360 degrees thinking to let our customers get on with what is important to them."
Throughout North America and the United Kingdom, Guardian Fall designs and manufactures height safety products as well as offers training and engineering system services. With a 360-degree height safety solution, the firm serves partners all over the world. There are 400 safety specialists working for the firm. Fall protection, dropped object prevention, and foreign material exclusion products are distributed through trusted distribution partners who service construction and general industry specifiers and buyers. Jeff says, "Our height safety training offer is a blend of in class, on site, and online training that we can design around our client's specific needs." He further adds, "Our engineered systems offer is one where we can design, supply and maintain fall arrest systems. This holistic offer aims to help clients take all the complexity and hassle out of height safety."   
"It's all about assisting the worker in returning safely to their family after a day of fixing, shaping or building something," Jeff explains.
Working for Both Company and Stakeholders
Jeff's parents are both educators, and they inspired him to run a business as a commitment to life-long learning for himself, his employees, and the firm as a whole. For all stakeholders, leading a firm is all about discovering new and better ways to do things.
Jeff was drawn to safety because he enjoys investing his time and energy in creating brands and products that improve people's lives, and Guardian offers goods and services that save lives. He says, "What I like so much in the safety industry is that I believe winners pay attention to detail and producing products and services that save lives inspire everyone to cross their t's and dot their i's in all that they do."
Taking On New Tasks to Learn  
Jeff believes that learning occurs when one steps beyond one's comfort zone. For Jeff, this has always been linked to moving to new areas. He chose to attend university in the South despite being from the North. He studied and worked in the United States, the United Kingdom, and Germany throughout his career.
He opines, "Operating outside of my comfort zone was also about constantly volunteering for new initiatives." He continues, "I signed up for all the new product task forces in my early career to learn how to prioritise and evaluate them.  I demonstrated tools on Home Shopping Europe even though I was terrible at DIY. I accepted large presentation opportunities inside and outside the company. I signed up to take new posts in other countries. I was often pretty nervous as it was new, and I tried to use this fear to stay curious and learn from it and be better the next time. I learned what I liked to do, what I was good at, and how I could best add value to a project. I learned that this is not static."  
Partnering with People on New Ideas and Technologies
Guardian Fall has just announced the opening of a new design centre in Houston, with many new engineers and product marketers being recruited to focus on the North American market. This will also include new testing equipment that will allow the company to continue to surpass rather than merely meet standard requirements. In addition, the firm has a team of engineers in the United Kingdom who will focus on the European market and standards. According to Jeff, if the firm builds the appropriate foundations and invests in user insights, it will continue to develop really unique problem solvers rather than merely gap-filling goods and services. Jeff says, "We pride ourselves as having scale as the world's largest independent fall protection & prevention brand. Given we are focused only on fall protection and prevention, we also have agility and remain approachable to partner with people on new ideas and technologies."   
Importance of New Perspectives
In every sector, innovation is critical, and it should not be restricted to new product creation, which is a common pitfall. Guardian Fall is keeping an eye on and respecting new goods and services from an increasing number of rivals, but it is currently focusing more on its consumers and their problems. Jeff says, "Just sourcing or gap filling a product we don't have is not enough to be a leader in the industry. Our distribution partners rely on us to be experts in fall protection & prevention because that is all that we do. To do so, we need to know our specifiers, and users and where and how they learn, work and play." He further adds, "You will see continued exciting investments from us that achieve that end.  I also like to enlist different people from around the organisation to contribute to ideas and meetings and getting diverse opinions and perspectives is a given for successful innovation." 
A Fit Body is the Way to a Stable Mind-set
Jeff is fond of using the phrase "work-life integration" instead of "work-life balance." He can't remember where he heard that, but it struck a chord with him. He believes that finding a balance implies that they are at odds or at different ends of the scale. The concept of integration shifted his perspective. At the dinner table, he enjoyed hearing his parents talk about their job and successes in teaching and coaching others. Jeff's wife and he both do the same thing. Jeff feels that it is acceptable to produce elements of one's own work as a pastime. According to him, the current pandemic, as well as more homeworking, may be reshaping this concept.
Jeff believes that it is important to work out your own body. He asserts, "My mind is sharper when I find ways to sweat and get exercise regularly.  If I am not working, then I am most likely out exercising or coaching youth sports. "
Success for Jeff
Jeff defines success as being a part of a team that achieves profitable growth. He is dedicated to assisting businesses and individuals in realising their maximum potential. Jeff loves to think that he can motivate and inspire others to achieve the greatest version of themselves. He says, "Success is witnessing people acquire new skills and confidence.  It is also about being able to look back and know you have left things holistically better than you found them."
Ideas for the Future
As CEO, Jeff's job is to help the company become the best it can be for all of its stakeholders. He attempts to accomplish so by concentrating on people, products, and processes. Jeff's long-term vision for Guardian is for it to be the brand that makes it easier for employees at heights to securely descend and get back to their families. Working at height is still the leading cause of mortality and serious injury in the workplace. It's because it's still a little too daunting and confusing for the health and safety team and the worker, according to the Guardian team. The team aims to do its share to make the procedure easier for people and to keep fatalities and injuries to a minimum.
According to Jeff, the company's future plans include expanding globally outside of the United Kingdom and North America, as well as providing more training and safety solutions for construction, general industry, and telecoms businesses. He says, "You will see us soon launch a website and improve our digital resources and experiences."