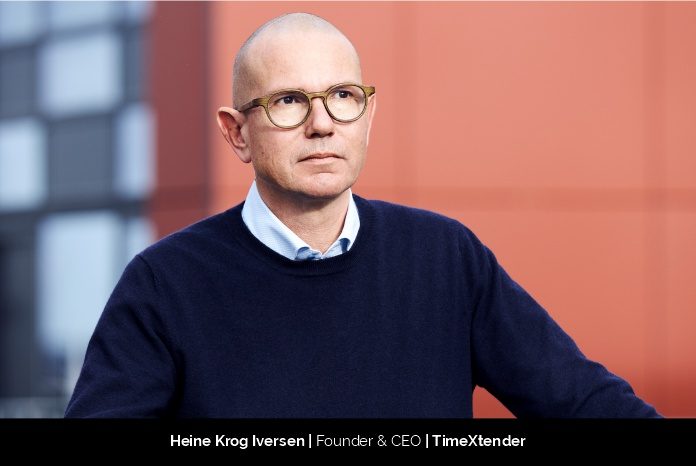 In this technologically advanced world, data plays an integral part for every business to grow. For better management of analytics data, Heine Krog Iversen, founder and CEO of TimeXtender, is leading the way with his company's sophisticated automated data management platform.
Climbing the ladder to success
Before the advent of TimeXtender, Heine co-founded another IT consultancy that provided business process optimization, workflow, ERP systems, and business intelligence services. During this phase, he realized that most every company looking to build a data warehouse was using manual coding, which was very time-consuming and expensive. This meant organizations were paying extensive fees for coding, consultants and associated technology that often led to delays when building an enterprise infrastructure for aggregating and managing corporate data.
So, by founding TimeXtender, Heine took matters into his own hands to bring a better way to reduce the costs and manage the data. He leveraged the power of automation to lay the foundation of the company, and to climb the ladder of becoming a market leader in the data technology space.
"The more organizations looked for a better way to get a handle on managing all their analytics data, and the more they heard about what TimeXtender had to offer, the more customers we acquired. Since 2006, we have built a global partner network of close to 200 companies and more than 3,300 customers across 95 countries around the world," said Krog Iversen.
Hurdles along the way
Heine expresses that the biggest challenge during TimeXtender's early years was to educate the corporate marketplace about the new, modern way of handling data. He adds light to the issue by saying, "It can be quite a challenge to get people to break away from classical thinking and to look at a whole new paradigm in business. In the past, organizations would hire big teams of consultants, invest large resources for their data warehouse and data management program, and sit back and wait for quite a long time for it to all come together."
However, TimeXtender was confident in their innovative product and unique approach and boldly went about educating corporations about the benefits of using TimeXtender technology. Eventually, TimeXtender broke through this older model and completely revolutionized the way of building a technical infrastructure and platform for managing organizational data.
"What we offered in the form of automation, rapid speed, no code/low code, simplicity and user empowerment was truly a game-changing business break-through for organizations."
Revolutionizing the industry with TimeXtender
Over the years, the demand from B2B organizations to enable their business users to have data literally at their fingertips has grown exponentially. This business requirement goes to the heart of TimeXtender.
"TimeXtender technology is an automated data management platform that helps implement and operate data lakes, data warehouses, and semantic access – without writing code – automating and accelerating the process of getting data ready for AI and analysis and for the implementation of a modern data estate specifically on Microsoft Data Platforms."
In the past, IT would be responsible for managing permissions and access for business users looking to get access to company data. These business users (accounting, finance, marketing, sales, operations, etc.) were moving along in their daily endeavors and would need to get insights into company information to make an important business decision and would have to submit a job ticket to IT to get approval to view some of their requested data.
This framework was inefficient and wasted a lot of time and resources. However, events changed with TimeXtender. With TimeXtender, data can be governed, enriched, and stored in a safe, central location that can pinpoint access for the right user to the right data and provide what is called "one version of the truth."
"TimeXtender's core purpose is to empower every person in every organization on the planet with instant access to data, for any use case they might have," added Krog Iversen.
Life as Founder and CEO of the company
As CEO, Heine oversees strategic planning, global outreach, positioning, differentiation, and organizational growth. He expresses that the team worked tirelessly to manage TimeXtender's growth and to build the management systems needed to support a rapidly growing organization with new regional offices, staff, customers, sales channels, alliances, and partnerships located around the world.
"I have enjoyed having the opportunity to work with companies and to share the word about the benefits of becoming a data-driven organization and how TimeXtender can help make that possible. We have much more to do, but so far, it's been a great ride in helping organizations understand the true significance of why a company should strive to build bridges between business units and IT departments, and in support of that objective, offering the next-generation technology to help make it all possible."
Innovative technology supported by innovative workplace.
TimeXtender's organizational structure is built on organizational purpose circles (OPCs).  With OPCs, TimeXtender has been able to adapt rapidly with a "new workplace" and continue its business progress during the pandemic through what they refer to as "One Global Team."
Purpose-driven leadership has become the central theme for the company, as OPCs enable TimeXtender staff to be mostly self-managed, translating into an organization that has become uniquely innovative, creative, and sustainable. This has also led to an environment that is adaptable and suitable for current times.
He states that competition comes from different directions. To stay abreast of the market, the company works hard to maintain its leadership role in this area.
"There are always new companies entering this competitive arena, but most of them work to offer one specific area in the data management field and nowhere near the broad platform offering that TimeXtender provides."
Future plans for the company
Today, Heine is leading his team to expand their global presence. With the aim and passion for empowering every person in every organization with instant access to data for any use case they might have, TimeXtender strives to enable organizations to achieve more by making superior business decisions with data, mind, and heart. The goal is aggressive, but TimeXtender continues to make great inroads across global regions.
"The formula for our success comes from the muscle provided by our technology, the X-People (what we call ourselves at TimeXtender) who do an outstanding job supporting our technology, customers, and partners; and our partner community of around 200 companies that work closely with our customers in the field to provide top-notch support and service," concluded Krog Iversen.