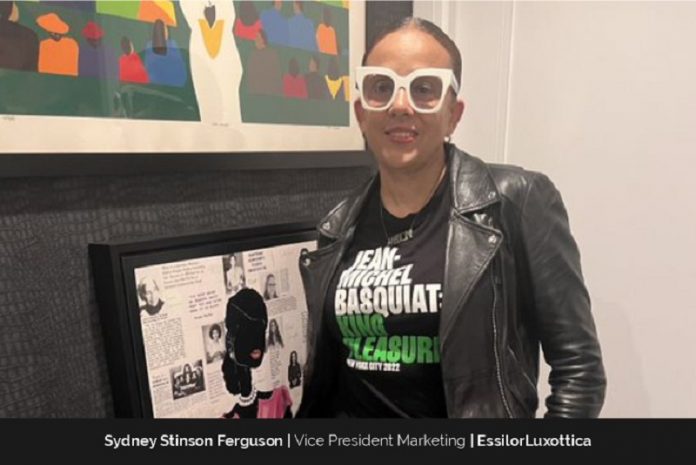 The definition of a successful marketing executive has significantly changed in the recent past. It's about more than just overseeing and executing campaigns and fielding requests from other departments. Today, being a marketing executive who creates impact takes so much more: being on the cutting-edge of creativity; guiding and collaborating with cross-functional colleagues to stay ahead of the curve; creating a team of the most sought-after talent in the business; inspiring constant innovation; and leading differentiated marketing campaigns that drive results.
We spoke to Sydney Stinson Ferguson about how she manages and measures both the business and her team, as a leader and an executive.
As the Vice President of Marketing for Sunglass Hut, North America, Sydney is a Corporate Leader to watch and one of the most inspiring Black Executives in the industry today. For her, success is all about her team. There is nothing she will not do to support, inspire and guide them to achieve their best, because she believes that will deliver the best results when it comes to overall team building. Sydney takes to heart the words of Nelson Mandela: "If you want the cooperation of humans around you, you must make them feel they are important, and you do that by being genuine and humble."
Lift Others to Lift Yourself 
"At some stage in my life, I came across the quote 'Sprinkle kindness everywhere you go–it costs you nothing but means so much.'," says Sydney, " and I was like 'wow, this has always been my approach to life overall and people' so it was natural for me to bring this to the workplace. This innate kindness, on both a personal and professional level, has earned her a high degree of loyalty from her team. Her colleagues/team members throughout her career declare that working with her is so much inspiring and fun that no one wants to leave, even when head-hunters approach them with compelling offers. She is always open and available to listen, which is beneficial in two ways: she herself gains knowledge, and (more importantly) the person she is listening to feels more valued. That means they give their best to the job, making it easier for them to meet objectives and excel. As a leading African American intellectual of the 19th Century, Booker T Washington said, "If you want to lift yourself, lift up someone else" and this exactly what Sydney has strived to accomplish since she began her career.
Exploring Uncharted Waters
Stinson Ferguson was not initially in the marketing profession, which happened by chance. After graduating from Spelman College in Atlanta, she found her first job in the banking world in Chicago and quickly realized it didn't match her creative spirit. She took a leap of faith and decided to embark on a professional adventure that explored more creative spaces. So, it was from banking to miscellaneous sales and marketing roles at the premium adult beverage company, Joseph E. Seagram & Sons (Absolut, Crown Royal, Perrier Jouet, Martell Cognac, to name a few) that she went, beginning a most exhilarating ride in the world of a highly competitive field.
Why wasn't Sydney afraid to test uncharted waters. Perhaps she draws courage from several of her best friends who are very successful in the corporate world. Her college roommate and best friend, Allison Green Johnson (Chief Diversity Officer and President of Lincoln Financial Foundation) encourages her every day. "We typically have early morning calls where we bounce ideas off each other, discuss and help find solutions to challenges and encourage each other to be our authentic selves". Another incredible woman who Sydney draws encouragement from is her dear friend and former co-worker, Shena Patel. No matter where Shena is in the world, she will carve out the time to be an incredible sounding board.
The Turning Point
Sydney's next leap was into the global soft drink's maker, The Coca-Cola Company. As one of the very rare breeds of marketing/brand managers (without traditional marketing experience or an MBA), she got a chance to strengthen her marketing foundation. "This is where I learned how to keep the consumer first and make business and marketing decisions based on balancing art and science," she says about the launch of her marketing journey.
This was the proverbial steppingstone that led her forward to leadership roles with bold-faced name brands like Sears Holdings, Walgreens, Chico's, White House Black Market, Pandora Jewellery, and now Sunglass Hut.
From Learning Nuances and Making Friends to Navigating Obstacles & Acing the Game
Sydney's risk-taking moves gave her a chance to learn from the most visionary leaders, all of which helped her become who she is today – a professional who inspires many others to be like her and a role model for many. Her kind approach combined with a hands-on work ethic at such diverse and renowned brands has also earned her numerous friends and admirers in the professional arena.
So how challenging was it to climb the corporate ladder in marketing for someone without an MBA? "If I'm honest, the challenges were never fun," she muses. "It was hard work that demanded discipline and dedication." But throughout the journey, what made her keep going was the realization that the Universe would never give her more than she could handle. This is why her most meaningful learnings came from working with the most challenging people—at every level.
Sydney came to understand, more than ever, that her innate kindness was underrated, so she leaned deeper into focusing on demonstrating extreme humility and empathy, along with that kindness.
"I tried to protect them (my team) from the disruptive leaders and any toxicity in the environment. And ultimately, it has made me more appreciative of all the great leaders and experiences I have had. And the most meaningful has been my current role–working for a person who is one of the kindest humans and amazing leaders. As a result, all the people I work with have a very similar approach," Sydney says, reiterating a reality of professional life: corporate culture is often driven from the top.
A Fine Balance: The Professional vs. The personal
The headlines are not lying: all work and no play, and neglecting time for yourself, friends and family is a recipe for poor physical and mental health. Sydney continues to strive to strike a balance between her personal and professional life. It is challenging, but she feels it is her responsibility to set an example for her team. "It's a work in progress, and I am constantly trying to improve. I have a love affair with NYC, so I try to soak up all the city offers with my husband Mike Ferguson, family and friends," she says.  Without hesitation, she shares what unwinding means to her: a staycation at the TWA Hotel at JFK Airport; shows at The Apollo Theater in Harlem; theater on Broadway; a great brunch at Ashford & Simpson's Sugar Bar on West 72nd or Avra on Madison. "New York has so much to offer, and I want to keep on "dating" this incredible city and exploring all it has to offer," Sydney gushes.  "I often leave extra time when I have to go somewhere and pack a pair of sneakers just so I can walk—I'll walk an extra 60 blocks just to soak in my beloved city!"
She also makes it a point to spend vacation days at local spa treatments and booking trips to explore other parts of the world.
 Decoding Sunglass Hut
For Sydney, Sunglass Hut is just what she had always dreamt of, and the most perfect job she could ever imagine. Her childhood passion for sunglasses, handbags and shoes perhaps was the reason for her intense affinity towards the company that has been "bringing the Sun since 1971". With over 1,800 locations throughout North America, the company has stores within easy reach of consumers and offers a wide range of products. At these store locations, there are well-trained and highly engaged store associates who can help curate sunglasses for the fashion needs of every customer.
The chain's Smart Shopper, an in-store digital tool, gives customers possibilities and choices- more than the ones physically available in the stores. Having access to so many brands in one place is an experience that customers love.
Since Sydney joined Sunglass Hut in 2019, she has witnessed the company become more of an omnichannel retailer, expanding its services to create seamless experiences for customers –physical store, website and social channels.
Keeping the Spirit High
The pandemic found citizens around North America (and the world) missing out on merriment and laughter. Stinson Ferguson took the lead to break the jinx. In the summer of 2021, when the world was slipping in and out of the pandemic, she motivated her team to find a way to "bring sunshine into peoples' lives".
The outcome was a roller-skating takeover– at well-known locations like Times Square and other iconic hubs in the US. Professional roller skaters showed off their incredible skills, not only bringing much-needed light to the public but also helping to reignite a roller-skating trend seen in music videos, Las Vegas shows, landmarks like Rockefeller Center and Central Park and all-around North America.
She also takes pride in the work done at Sunglass Hut to raise awareness and funds for the company's OneSight Essilor Luxottica Foundation, which provides sustainable vision care in marginalized communities around the world. Sunglass Hut is working with the Foundation towards a brighter future where everyone has access to sustainable vision care.
"It is an incredible feeling to know that our interaction with customers and engagement with the Foundation's programs can literally translate into changing the trajectory of someone's life for the better through clear sight," she shares.
Strong Leadership
How has she been able to perform so effectively at Sunglass Hut? Stinson Ferguson credits her success to her amazing peers on the leadership team, her direct team and the brand's North America GM, Giorgio Pradi, who she calls "an incredible human being in all aspects". Working for a leader who is equal parts business acumen and kindness makes a significant difference in her professional and personal life. "Having that type of leader makes it easier for me to be me and lead," "Stinson Ferguson said.
Innovation Leads the Way
According to Sydney, constant innovation is what keeps things new and exciting for Sunglass Hut's customers. On top of offering the most sought-after brands in the fashion industry, the company also layers in innovative tools to elevate the experience and aid in discovery. For example, Smart Shopper, an in-store tool, allows customers a chance to digitally explore and purchase a wide variety of sunglass collections. She explains that it is not just variations of the styles stocked in-store but also personalized as customers can select a custom combination of lenses, temples, colors, and engraving. Smart Shopper also has editorial content, allowing customers to discover curated sunglass selections based on current fashion trends. Then an updated frame advisor technology recommends frames based on face shape and other features. This has been a big hit with customers.
Training is key
Sydney believes that to perfect the overall shopping experience, the associates must be trained well. Sunglass Hut has an innovative training platform called Leonardo that employees can access at any time from any device. It has thousands of hours of videos, interactive lessons, podcasts, and virtual classrooms – everything they need to become confident experts in the sunglass category, trends and much more. This empowers Sunglass Hut associates to approach every customer interaction with confidence and a wealth of knowledge. The brand's key cultural indicators are woven throughout the extensive training process, including Building Relationships, Shared Wins, Drive, Fun and Inclusion. Ferguson finds herself lucky that these cultural indicators mirror her own values that she holds personally dear. "We truly live by 'people work for people' and everyone feels supported by their peers."
Landmark Moments
The above-mentioned spectacular roller skating activation resulted in Sunglass Hut and Stinson Ferguson's team being awarded BizBash's 2021 Best Guerrilla Marketing Campaign. BizBash is North America's No.1 source of ideas, news, and events resources and is one of the most influential names in live experiences. Sunglass Hut was nominated among other brand nominees such as – Pandora, Heineken, Revolve, Sephora x Kohl's, and American Express x Resy. Not only did it bring the brand closer to customers with unique storytelling, but it also provided an opportunity for the customers to engage in an uplifting activity during uncertain times.
Sydney also draws inspiration from the brand's new store design in locations across North America. The product is the hero of store with clean lines, and soft lighting that provides an inviting shopping experience.
"Sometimes I walk in and think: 'Ahh! This store reminds me of my dream house'. I always get excited going into our store as the associates' energy is so fun and contagious, but the new store design takes me to another level. You've really got to see it for yourself."
You can learn more about Sydney: Sydney Stinson Ferguson on Instagram    or    Sydney Stinson Ferguson on LinkedIn