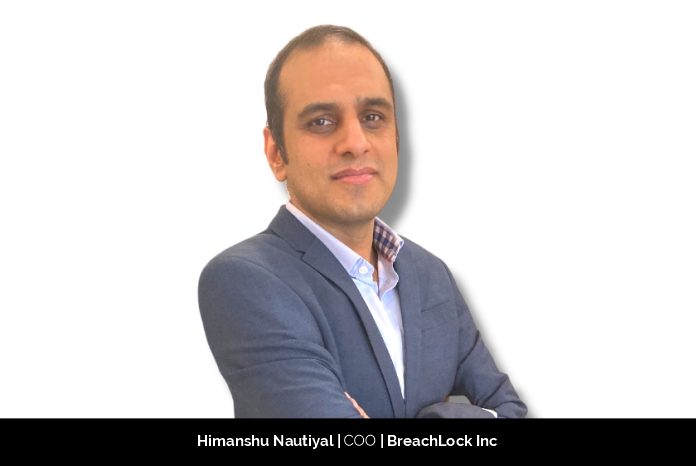 Management Guru Peter Drucker very rightly explained that for a business, profit is a given; it must have a social function. Himanshu Nautiyal, Chief Operating Officer at BreachLock Inc., is on a mission to make cyberspace a secure place by making security testing easy, affordable, and scalable.
The Problem Solver
Himanshu has held different interesting roles in cybersecurity throughout the past 20 odd years. He has set up new practices, led large security transformation programs for Fortune 100 companies advising their CTO, CIOs on security strategies. He has worked across multiple geographies and industries with leading firms like IBM and Deloitte. Besides his corporate career, he has been a regular speaker on cybersecurity in several international academic and industry forums raising awareness on cybersecurity.
His Security career started with security consulting on an assignment in Taipei. Back then cybersecurity was not a household term, and it was a hard sell even to large organizations. On his first assignment with a native Mandarin speaking client,  he had a hard time convincing the CFO to implement security controls to protect the integrity of their financial reporting. Being a business leader is a journey with many important milestones; no one is less important than others. This was his first such milestone with a rocky start. For Himanshu, the impact he was able to bring in was the recognition itself. He has been an innovator throughout his career. Even before starting as an entrepreneur with BreachLock, he was driving innovation by introducing new business offerings and revenue streams in his corporate career. With BreachLock he found a perfect fit.
A Twin-engine Jet
Seemant Sehgal, founder and CEO of BreachLock, reached out to Himanshu and inspired him to share the journey. Himanshu has held interesting roles in his corporate career rewarding him with both learning and growth. However, unlike a corporate career where you know exactly what to expect next, BreachLock offered a possibility of making what next would look like. It was this sense of adventure that inspired him to join BreachLock. With more than 20 years of experience in cybersecurity combined with Seemant's 20 years, BreachLock was like a twin-engine jet ready to soar high.
When Seemant and Himanshu discussed collaborating, there was a growth momentum and they talked about ambitious growth goals. However, by the time Himanshu was about to hit the floor, COVID19 hit the economy globally and revenue dried up. It was about survival and not ambition anymore. The duo agreed that the challenge was formidable, but it would be more fun to sail through together rather than alone. In the hindsight both of them believe that an adversity of this scale was the best time to test their mettle.
Having worked with Seemant in navigating BreachLock through that phase to the success they are seeing today with 120% YoY growth, is what Himanshu considers the best recognition.
Reinvent Yourself
Himanshu was trained to be a finance professional but landed in Cybersecurity by accident. The transition was not an easy one. He had to completely reinvent himself. To grow professionally, as well as personally, you need to solve new problems and to do that you need to continuously reinvent yourself.
Himanshu is in complete agreement with Anthony Robbins' words – "Every problem is a gift—without problems, we would not grow."
He does not consider success as a finite point in time but regards it as an everyday affair. He further elaborates, "if you are following your compass to stay on course to realize your potential, you have already succeeded. You need to pursue your passion without measuring yourself on the conventional parameters of success – money and title. When you do that results are bound to manifest in the form of accomplishments that everyone else considers as success."
Innovative Security Testing
BreachLock Inc. is one of the top 5 providers of PTaaS and vulnerability management solutions, offering on-demand, continuous and scalable testing services that generate rapid results. They are the only full-stack PTaaS provider covering web, network and cloud workloads and the only player using technology and AI to solve the problem of scale and speed inherent to pen-testing. They are successfully disrupting traditional security testing delivery models by offering an innovative solution. Given their achievements in such a short period of their existence , BreachLock was recognized as one of SC Magazine's 2020 SC Media Industry Innovators and has been named an innovator by Cybercrime Ventures, Gartner Peer Insights and other leading organizations.
Over time technology has evolved a lot, with billions of users connected to the internet and data spread across apps and clouds. DevOps is delivering new app versions every two months and cloud infrastructure has become highly mutable with the use of technologies such as Autoscaling and AWS Terraform. However, security testing is still manual, slow and expensive. Thus, it is done once a year at best, defeating the very purpose it is intended to serve. BreachLockers are using an innovation-driven approach to solve this problem. They are using a platform approach. While other platform players use a crowdsourcing approach to scale, Breachlockers are making the platform intelligent by integrating AI, automation and using a technology innovation approach to scale.
Accountability and Innovation
The culture of accountability and innovation is key to Breachlock's success. The company ensures that employees imbibe the BreachLock culture. Their team is on a mission. They do not have their values printed on employee ID cards. Instead, they believe in cascading them down through their conduct, every day. They are fully transparent with the employees and clients. They deliver what they commit. If there is a problem, everyone, right from the CEO to the engineers, gets their hands dirty till they have solved the problem. They celebrate their failures more than their successes.
Every BreachLocker is on a mission. When you are on a mission, work does not seem like work. Every employee is so plugged in, they know that they are a part of something bigger than themselves and that keeps driving them. BreachLock was born as a remote-first company much before COVID changed the way people work. They are innovation-centric. Employees cannot innovate on a fixed schedule, so they are allowed a lot of flexibility. Consequently, they bear full responsibility for their work outcomes.
Executing a Vision
Himanshu's role can be summed as executing BreachLock's vision. Himanshu and Seemant, as co-founders, work together on this shared vision of BreachLock. It is not a typical CEO-COO split of roles. They divide focus areas to lead and support each other where needed. In the current phase, BreachLock is a new organization with a new set of priorities every three months. Right now, Himanshu is focused on building a resilient team by hiring key talent in the US, while Seemant is focused on expanding in the UK as a strategic initiative.
BreachLock's goal is to ensure that it fulfils its potential of being a disruptive force in the security testing market. While they have a lot of clients already benefiting from their work, they want to change the way pen-testing is done in the industry. They are working to take a few investors and partners along to reach there faster.
Himanshu's personal goal is to grow as a leader and complete his entrepreneurial journey to be at a point where he can help others who need a nudge to start on their own entrepreneurial journey.