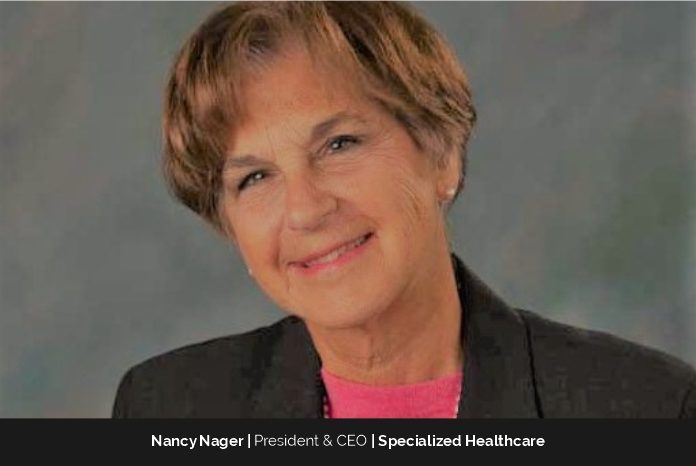 Since the majority of professionals have backgrounds in business, few make the move from clinical practice to healthcare administration. Businesspeople need to have experience working in a healthcare environment if they want to succeed in healthcare management. In general, healthcare executives collaborate extensively with other healthcare administrators, providers, financial managers, marketing experts, and a wide range of other stakeholders from the industry. They combine the expert opinions of delegates from several departments. They must be proficient in a variety of duties, including data analysis, effective group communication, teamwork, job delegation, and time management, in order to prosper in the fast-paced healthcare industry.
Nancy Nager is a healthcare expert with extensive experience in general management, strategic planning, marketing, operations, budgeting, fiscal affairs, regulatory requirements, and business development. She brings a valuable perspective to future-focused planning and programming thanks to her knowledge of the healthcare sector, insurance systems, changing service models, and payment laws and regulations. She is the president and CEO of Specialized Healthcare Services, which offers medical/behavioral health care services to the aged and disabled, as well as the creator and previous owner of SBSC, Inc., a leading national supplier of medical billing services. Nancy served as the Chief Operating Officer at Charles River Hospital, a 62-bed mental institution, before starting Specialized Healthcare Services.
Most recently, Nancy increased the range of services offered by her business to include consulting with hospitals and other healthcare facilities on turnaround, audits, compliance, management structure, and other relevant concerns.
Nancy served as the Chief Operating Officer at Charles River Hospital in Wellesley, Massachusetts, where she was in charge of the daily operations of a 62-bed psychiatric facility with annual revenues of around $12 million, prior to launching Specialized and SBSC. Nancy later worked as a corporate consultant for Community Care Systems, Inc., the parent company of Charles River, where she collaborated with the owner of the company on a variety of unique initiatives. Nancy has several boardroom backgrounds. From 1999 until 2009, she sat on the board of directors of Candela Laser Corporation, a $130 million medical device firm (NASDAQ:CLZR), where she helped to authorize the company's sale to a global medical device company. While serving on the Candela board, she was a member of the Audit, Nominating, and Compensation Committees. Nancy has served on the advisory boards of the private for-profit businesses FirstMatrix Health and XB Insight. The May Institute, Visiting Nurse Community Care, Teaching Learning Alliance, New England Baptist Hospital, and the MA Association of Mental Health are just a few of the not-for-profit organizations on whose boards she now serves.
Nancy was the president of The Boston Club for Executive Women, a certified nursing home administrator and registered nurse, as well as a member of the Healthcare Business Management Association and the Association for Behavioral Health. She graduated from Boston University with a Bachelor of Science in Nursing and a Master of Science in Psychiatric Nursing. Nancy has given talks on business and health care topics at places like Northeastern and XPX New England, in addition to being published in the Boston Business Journal, Innovation Showcase, a local TV station, and other publications.
Specialized Healthcare
Nancy is an energetic human being and an inspiring leader. She runs the company and provides support and direction to her staff. She provides customer relations, new client acquisition, financial oversight and hiring/firing. As mentioned, prior to SHM, she was an employee, starting as a dietary aide and progressing to a nurse's aide, a bedside nurse, a nurse educator, a nurse scheduler, a nursing director, an assistant administrator, and a COO, to name a few.
"Every problem has a solution. You just need to find it!"
Creating Solutions for Every Challenge
Nancy said that during her 32 years as a company owner in a highly regulated sector, she encountered several obstacles and difficulties. First of all, she was a woman and was competing with the men for customers. She struggled with payer changes and regulatory adjustments. She had trouble acquiring funding. Nancy discovered that in order to keep going forward, one must constantly strategize, diversify, be innovative, be adaptable, and overcome problems.
The other difficulty was Specialized Healthcare's first seven years of explosive expansion. The company suddenly took off and expanded consistently at a rate of 20% annually. She says, "We had to change product lines and direction which sets you back a bit. While bringing on the billing company piece of business, it was like a start-up. We were also looking at challenges coming up down the road and establishing some new business lines. The second 7 years were rough and tough, but we emerged after that in a strong trajectory and began another period of 20% annual growth. I sold the major portion of my company five years ago for a large sum."
Success Meaning
Nancy, a nurse, worked her way up through the nursing ranks to become COO of a psychiatric institution. Despite loving her work as COO, she quit to establish her own company in 1990. However, she left because she realized she was putting in a lot of effort to earn money for others while having no influence over how the corporate office was handled or how their actions affected her job. Nancy wanted to manage a company in the way she believed was appropriate, so she did.
She asserts, "Success for me is providing a service that both meets the needs of the clientele in a quality manner and is profitable for the organization. It is what I call the clinical/fiscal imperative, and it is achievable!"
Placing Work and Life Together
Controlling her work/life balance was another reason Nancy started her own firm. She increased its profitability, but she didn't let it get to the point where it engulfed her. She was always present at dinnertime, at every sporting event or school function, in the carpools, etc. She had two kids and a husband.
Nancy maintained her staff motivated by treating them with respect, treating them as customers, listening to their requirements, assigning them to tasks they could do and then surpass, paying them fairly, and working just as hard as they did, if not harder. She cherishes them!
Plans for the future of Specialized Healthcare
Nancy states, "I will try to close out the ends of SHM in the next couple of years." She is now focused on board work and an executive women's organization where she just finished her term as President but remains active. She also loves to travel and has been doing much of that.
Entrepreneurs should take Nancy's advice and follow the market. She says that the market will reveal what it is prepared to purchase. She then advises becoming adaptable, ensuring that there is a market for your product or service, and being resilient because business will present numerous challenges.