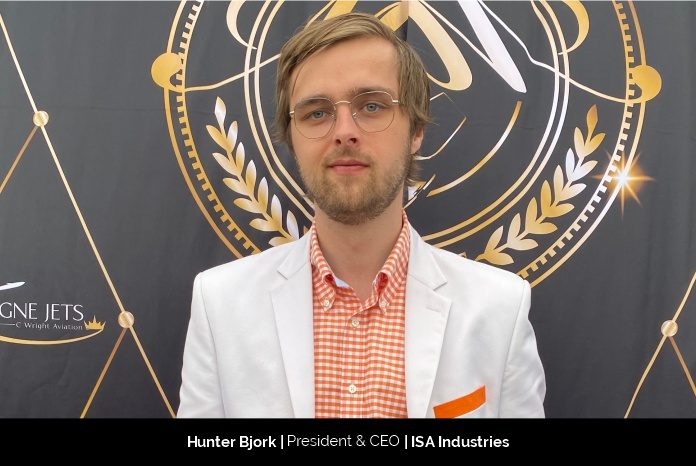 Advancements and the modern way of life have continued to consume increased amounts of electricity. Today the byproducts emitted from traditional sources of energy generation have devastated our environment, and are now the largest contributors to pollution on the planet. The once-great system we created to power our civilization is fundamentally flawed and has become rapidly unsustainable. Hunter Bjork, President, and CEO of ISA Industries, Inc, is a visionary founder whose company is developing a new way to generate clean energy that could solve our world's biggest problem.
The Energy Problem
For Hunter, humanity without intervention is currently on course for disaster. Solving the present energy crisis is imperative to securing our survival. ISA's mission is to help solve the world's energy problem by accelerating the transition to sustainability through the research, development, and commercialization of breakthrough clean energy technologies. Hunter opines, "When we embarked on this journey, we knew that we were sailing into uncharted waters which would possess large amounts of inherent risk." However, the risks and repercussions associated with not trying to solve our world's energy problem, in Hunter's opinion, greatly outweigh the risk of failure that might be associated with pursuing new solutions to the issue. The company states, "We believe that together we can create a better tomorrow for generations to come, and are dedicated to developing the energy assets needed to support a sustainable future."
Finding True Happiness
One's definition of success varies from person to person depending on their view towards life. Financial success is not what everyone is seeking. For Hunter, success is measured by one's progress towards fulfilling their life's purpose. As he believes that everyone has two types of bank accounts, the first being a financial bank account and the second an emotional bank account. Through his journey, he discovered that the vast majority of people utilize their financial bank account as the primary metric to gauge their success, and in the end ignore their emotional needs and bank account. He recalls, "My younger self did the same thing until I was taught that true happiness and fulfillment comes from fulfilling your purpose."  
Learning From Difficult Times
Every business leader has encountered roadblocks at some point in their journey, learning from each challenge is an important part of the process. For Hunter, one of the biggest challenges and learning lessons in his life was miraculously surviving a severe car accident when he was 19 years old. The experience was a devastating moment for him as the accident nearly killed him, and landed him in significant medical debt. Hunter says, "I learned during that time how precious every waking minute is. From that point on, I've done my best to live each day as if it was my last. If it wasn't for that crash, I wouldn't have learned how to be grateful enough to see and seize the opportunity that we call life." 
On The Cutting Edge
ISA is an exotic research and development firm focused on the commercialization of emerging renewable energy technologies. Founded in 2016, the company has been developing a new method of generating electricity using magnetism. At ISA, the team executes experiments, documents research, and develops self-charging energy management systems. Hunter states, "We've discovered a proprietary way to apply stress to a magnetic field, resulting in electromotive force used to provide additive electricity into an output circuit." Split Flux™, the company's flagship technology, is capable of increasing the efficiency of energy storage systems by up to 500%. The cutting-edge technology is currently being custom engineered for use in electric vehicles, data centers, and battery systems.
A Team of Integrity Driven People
According to Hunter, integrity is the core value at ISA. The standard of excellence the team holds is a key component of the company's culture. ISA's board has worked very hard to bring on integrity-driven people who possess proficiency in their given responsibilities. He opines, "Our work is extremely critical and requires our team members to be world-class human beings. If we don't admire one's ethics and or want to be like them in some way shape, or form, we probably aren't going to hire them in the first place."
Born An Entrepreneur 
Hunter spent his childhood learning business practices as both of his parents were small business owners. Over the years, he had the opportunity to watch them work for themselves. He mentions, "They both worked very hard and earned a modest living for our family, which influenced me greatly in my early years." He asserts, "I honestly thought it was normal to start your own business after watching my parents, and it wasn't until later in life that I realized that entrepreneurship was somewhat uncommon."
In his early teens, Hunter began to create projects to make money. From custom branded clothing to buying and selling things online, he was obsessed with coming up with things that could generate income and serve as an outlet for his creativity. He adds, "I didn't really know what an entrepreneur was until I graduated high school, moved away to the nearest big city, and got my first real job."
Hunter always has had the spirit of an entrepreneur. After working as a videographer for a little over a year in his early working days, he quickly realized that he would never be happy working for someone else. Soon after coming to this conclusion, he quit his job and started his first tech company, where he fell in love with entrepreneurship and creating things that changed the world around him.
Responsible for Keeping Everything Aligned 
As the CEO and President of the company, Hunter primarily focuses on three key areas of business; where ISA is heading as a company, developing great products, and working on the strategic acquisition of complementary businesses. For him, a usual day involves planning for the future with his team, negotiating and meeting with other companies, and solving complex problems when they arise. He asserts, "One day I might be assisting with a technical demonstration, and the next day be reviewing paperwork to purchase a company. I love my work, and as a result, I often end up creating and planning late into the evening."
Fueled by Purpose
One of the great things about being on the cutting edge is that it's inherently exciting. At ISA, Hunter does not have to motivate his team, encourage them to explore new ideas, nor push them to take things to the next level. He believes that motivation is a natural byproduct when one is truly passionate about what he or she does. He further adds, "The work we're doing here at ISA is so much bigger than any one of us, and it's the vision of a better tomorrow that continues to pull us forward each day."