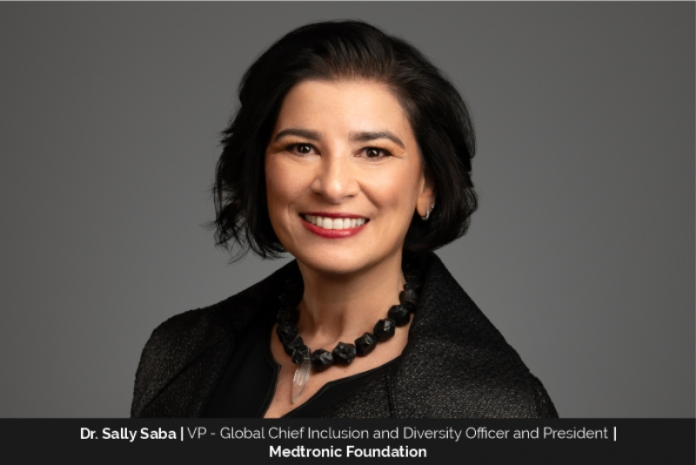 Dr. Sally Saba is the first Chief Inclusion Diversity Officer (CIDO) at Medtronic, the leading global healthcare technology company, and President of the Medtronic Foundation. In her role, which she has held since 2020, Dr. Saba is responsible for developing and executing the company's inclusion, diversity, and equity (ID&E business strategy) across global teams operating in 150 countries around the world.
In less than three years, Dr. Saba has driven the company's transition to a leader-led model of ID&E, in which accountability for ID&E outcomes is tied to executive compensation and measured on a regular basis to achieve success against long-term representation and inclusion goals.
Growing up in Egypt, Dr. Saba met cultural expectations that often conflicted with her goals and aspirations. Despite this, she continued to push forward and grow, learning the value of resilience and adaptability.
Dr. Saba has had a diverse career, including a background as an anesthesiologist and various leadership roles in Egypt and the U.S. She holds a medical degree from Cairo University, Egypt, an MBA from École Supérieure Libre des Sciences Commerciales Appliquées (ESLSCA) in Paris, and executive leadership certificates from both Harvard Business School and Cornell University. In 2022, she was named in the Top 100 Diversity Officers in Healthcare by DiversityFIRST, as well as a Top 50 Women Leaders of Minnesota; in 2015, she was named one of the Top 100 Diversity leaders under 50 by MBA Magazine and one of the most influential women in Business by the San Francisco Business Times.
Dr. Saba changed her career path from being a physician to working at mobile network company Vodafone Egypt. She played many different roles, from running program management teams, marketing campaigns, and nationwide retail stores for three years. She then moved to the U.S. and started her own product business in 2007. Having her own business taught her about supply chain, negotiating contracts and the challenges many small businesses face.
In 2009, she joined Kaiser Permanente Health Plan and Hospitals, where she helped improve the company's high-profile supplier diversity program and developed a five-year plan to spend $1 billion with women and minority-owned businesses. In 2011, Kaiser Permanente launched the initiative and achieved its goals in 2014, becoming a member of the Billion Dollar Roundtable (BDR).
Impacting Lives with Medtronic
Medtronic has been engineering the extraordinary since 1949, starting with the world's first battery-powered pacemaker. United by its Mission to "alleviate pain, restore health, and extend life," they are creating lasting impact for patients, physicians, employees, and communities to ensure future generations live better and healthier lives. With more than 95,000 people across 150 countries, Medtronic technologies and therapies treat more than 70 complex and challenging health conditions. Last year, the company's treatments improved the lives of more than 76 million people, or two lives every second.
Life Before Medtronic
Being a woman, a foreigner, and an abandoned child, Dr. Saba said that it was often challenging to come to terms with the trauma she had experienced. However, in her personal journey, she found that diversity and inclusion work can also be a work of healing. This insight led her to a vocation that combined her background as a physician with a career centered on inclusion, diversity, and equity.
Dr. Saba's life before Medtronic has been a series of leaps of faith – trusting those who believed in her to take on new challenges even if she had no experience in those areas before. Being a physician taught her the art and science of diagnosing an issue before treating it. Leaving the medical field wasn't easy; however, she prepared herself for the future by earning an MBA to equip her to face the business world.
Dr. Saba recalls once telling her boss, "If my career path proves anything, it proves that I'm adaptable. I'm resilient. I'm a self-starter. I never let anything happening in the world keep me down." When asked to move into inclusion, diversity, and equity, she declined the offer initially, as she didn't think there was a career in this but was told that her business acumen would help advance the company's diversity and inclusion strategy. Along the way she learned the art of influencing hearts and minds and the ability to galvanize an organization around an audacious and inspiring common goal.
Dr. Saba's Journey at Medtronic
When Dr. Saba joined Medtronic in 2020, the company had already been on its inclusion, diversity, and equity journey for several years. This strong foundation – built upon existing leadership commitment, governance surrounding ID&E initiatives and measurement of outcomes – helped ensure that the company was set to capitalize on its existing momentum.
Dr. Saba helped build upon this foundation to take the company's ID&E progress to the next level, through new partnerships for early career talent, the introduction of a leader-led model for ID&E outcomes and accountability (including tying executive pay to ID&E outcomes), and the regular review of progress against ID&E goals to ensure that systemic challenges are quickly identified and course-corrected.
Dr. Saba also helped Medtronic consider how it could best leverage the entirety of its size and scale to affect meaningful change not just within its own walls, but also in its broader industry and within communities where its employees and patients live. In July 2020, for example, Medtronic and the Medtronic Foundation announced a $16 million commitment to partner with organizations that work to improve the lives of Black Americans.
In her view, Dr. Saba's most significant contribution to the company has been to crystalize the belief that ID&E work must be a true business strategy, rather than an initiative that is owned and managed by any single department or team.
"If an organization is to excel and make progress on diversity and inclusion, every person in the company who has decision-making rights on the hiring, promotion, and development of people needs to own this work," she said. "Every employee who works for the company also shares ownership and accountability, by helping foster an environment that is inclusive and welcoming for those around them."
"Here at Medtronic, we know that to engineer the extraordinary, we must unleash the full potential of every single employee and innovate from a range of perspectives as diverse as the patient communities we serve – and this requires every single employee across the entire organization to play a role."
Shared accountability for ID&E progress is especially critical in helping an organization maximize the diversity of ideas that ultimately lead to ground-breaking innovations.
"We believe that diverse and inclusive teams are simply smarter teams. Smarter teams are more innovative, creatively engaged, and can find and mitigate risk better," she said. "We need groups of individuals who see the same problem from many different perspectives so that we don't fall into groupthink and have the capacity as teams to outsmart our competition and produce the best possible, most innovative products for our patients. So, diversity and inclusion are a competitive advantage for our company – and now enough research has proven this."
Dr. Saba emphasizes that for her, inclusion, diversity, and equity is not a job; it is a cause, and a most meaningful one.
"Once I was in this space, I learned up close why this work matters so much and how companies can have an impact on the lives of people in a significant way," she said. "I had been leading in diversity for over a decade before I joined Medtronic, but every step of my journey before this was setting me up for it without me even knowing."
At Medtronic, Dr. Saba partners with other leaders to strengthen the company's ID&E strategy. She also works to advance its inclusive culture, ensuring the company is well-positioned to attract and retain top talent. She consistently wants to help leaders and organizations understand that this work requires time and involves real behavioral change on the part of every person.
Dr. Saba's motto in this work is: "Diversity and inclusion isn't one big thing you do; it's a million things you do every day. Then you look back at the end of the year, take stock, learn, and repeat from a place of better knowing."
Definition of Success
When Dr. Saba was young, the definition of success was like everyone else: a secure job, family, title, status, money, and house. However, she felt empty, unfulfilled, and drained when she got there with all those things.
"My success now is when every day I wake up grateful to be here, with a mind whose internal dialogue is like a loving, supportive best friend, my family feels my love and devotion, and that I am deeply grounded in a knowing faith that no matter what life throws at me, I will be ok," she said.
"As a CIDO, I know that behavioral change is very challenging (as anyone who ever tried to build a new habit, even as simple as drinking more water every day, can attest to) – because advancing ID&E requires us to disrupt not only habits, but also beliefs and human capital system processes, and replace them with unfamiliar, new sets of habits and behaviors on an organization-wide scale – and that is no small endeavor. But success is consistent progress, not perfection."
Three Steps to Build Integrity at the Workplace
Building integrity in the workplace all starts with organizational mission. Dr. Saba says, "Medtronic is an organization that lives and breathes its Mission daily. We touch people's lives through the innovative products we design, so integrity and quality are of utmost importance to everyone working here."
On the foundation of a mission-driven workforce, she says it's important for leaders to foster an environment that allows them to speak up freely about what is going well and what is not.
"Psychological safety allows employees to share diverse ideas and perspectives – even and especially when doing so may go against the consensus in the room. It also helps ensure that each team member knows that it's both acceptable and encouraged to challenge their leaders, so that the best ideas are truly able to reach the end customer, user, or patient."
A third ingredient to fostering a diverse and inclusive culture is transparency, which is why Medtronic has been public about its own ID&E journey.
One way that Medtronic does this is by publishing its Global Inclusion, Diversity and Equity Annual Report, so that every employee and member of the general public can understand the company's ID&E goals and the efforts its making to achieve yearly progress.
Balancing Personal and Professional Life
Dr. Saba says, "Balance is the key to my ability to lead. Being fully present in whatever moment I am in matters most, not the number of hours I give to each area of my life. Taking time to think, reflect, and read is crucial in maintaining thought leadership and a more nuanced understanding of emerging challenges. Also, being a continuous learner is my motto."
"I work to live, not the other way around. Therefore, my time is precious for recharging and connecting with my loved ones, nature, and soul. I have developed a practice of meditation that is one of the best things I have ever gifted myself. It keeps me grounded, inspired, and present."
Dr. Saba's Biggest Life Lessons
Embrace yourself: Growing up in a country like Egypt with the culture that existed at the time, almost every decision Dr. Saba wanted to make for herself became a roadblock. Every step of the way, she tried to be smarter, faster, and quicker, just to be treated equally to a male colleague or given the same opportunity.
Be a vulnerable leader: Reflecting on her leadership journey, Dr. Saba says the most challenging roadblocks were within her, not from the external world. During the early part of her career, she had trained herself to never show weakness as a protective mechanism, to always appear strong and perfect on the outside. One day, however, she shared a very vulnerable and personal story about her struggles with depression, and suddenly her team members felt she was human. Then they helped her understand that when a leader is able to display personal vulnerability, it permits their teams to do the same.
Win hearts and minds: Dr. Saba says "that the best recognition for her is not receiving accolades and awards but when she gets a personal note from someone whose life has changed because of the work she helps lead. Gratification in this work is not an accolade; it is the healing of hearts, the breaking of invisible barriers, and the enlightening of minds one conversation at a time."
Future Plans for Medtronic
Dr. Saba feels optimistic about where Medtronic is headed as a company. They have experienced leaders, a compelling pipeline, and positions of strength in some of the industry's most attractive markets, allowing them to serve the unmet needs of patients worldwide.
From the standpoint of ID&E, Medtronic continues to drive forward in pursuit of zero barriers to opportunity. The company has made meaningful progress towards its 2026 representation goals, has expanded strategic partnerships to advance diversity in STEM, and enhanced benefits to meet a wide spectrum of employee and family needs.
Words of Wisdom
To aspiring businesswomen Dr. Saba's message is simple: Be you. For many women leaders, the journey has been challenging. Remember that you have intrinsic power within you, and your most real gift to the world is to be uniquely you. You will get to where you want to go if you approach the world with an avid curiosity and a continuous learner's mindset. Be open to examining your beliefs about the world and yourself and take charge of your career. Make sure you live your life by design – not default!
To those who are early in their careers: Dr. Saba advises those just starting their careers to not live by other people's measures of success, but rather prioritize their mental health and well-being, and find what truly lights them up inside – and find creative ways to make that their vocation.
Awards & Recognition
2022 Notable Leaders in Diversity, Equity, and Inclusion — Twin Cities Business
2022 Top 100 Diversity Officers in Healthcare — DiversityFIRST
2022 Top 50 Women Leaders of Minnesota — Women We Admire
2015 Most Influential Women in Business — The San Francisco Business Times
2015 Corris Boyd Leadership Award recipient — Federation of American Hospitals
2012 Top 100 Under 50 Diverse Executive Leader Awardee — Diversity MBA Magazine
Conclusion
Dr. Saba is known for her "listen and learn" leadership approach. She is strategic, a voice for the voiceless, a catalyst, and a visionary. She fervently believes in collective responsibility for ID&E and aims to equip leaders with the tools necessary to transform people's lives.
"Do the best you can until you know better. Then when you know better, do better." –  Maya Angelou